Americans Really, Really, Really Don't Like Donald Trump
A new poll shows that public opinion about Donald Trump is at the lowest point its been since he entered the race. That bodes poorly for Trump, and for the the political party that has chosen to nominate him for President.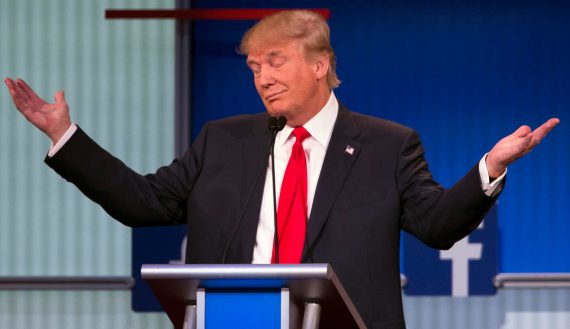 The latest ABC News/Washington Post poll shows that Americans view of Donald Trump is turning even more negative than it has been in the past (emphasis mine):
In the latest sign Americans are dreading their general election options — and particularly one of them — negative views of Donald Trump have surged to their highest level of the 2016 campaign, according to a new Washington Post-ABC News poll.

Trump's unfavorable rating, in fact, far surpasses Hillary Clinton's even as the presumptive Democratic nominee receives her worst ratings in more two decades in public life.

The poll finds 70 percent of Americans have an unfavorable view of Trump, including a 56 percent majority who feel this way "strongly." Negative ratings of Trump are up 10 percentage points from last month to their highest point since he announced his candidacy last summer, nearly reaching the level seen before his campaign began (71 percent). The survey was conducted Wednesday through Sunday among a random national sample of U.S. adults, coming after last week's primary contests, but with the large majority of interviews completed before Sunday's massacre at an Orlando club.

Clinton is also seen negatively, with 43 percent reporting favorable impressions and 55 percent unfavorable. Attitudes have not significantly changed since last month, but negative views of the former secretary of state have technically ticked up to their highest level in all Post-ABC polls since 1992, when Clinton had yet to become first lady.

Unfavorable ratings toward both Clinton and Trump are higher than for any major-party presidential nominee in Post-ABC surveys from 1984 onward.

(…)

But Trump's recent slide has reopened an advantage for Clinton, whose 55 percent unfavorable mark is now 15 points below Trump's. Among registered voters, Trump's unfavorable mark exceeds Clinton's by 13 points (69 percent vs. 56 percent), a break from a Post-ABC poll last month finding both candidates' standings even at 57 percent unfavorable among this group.

Negative views of Trump have risen among a wide range of groups, jumping by double digits among liberals and conservatives and among both Republican women and Democratic men. But his standing has also worsened among two key voting groups: independents and white Americans who do not have a four-year college degree.

Trump's net favorable rating (favorable minus unfavorable) among non-college whites has flipped from a plus-14 in May to slightly negative minus-7 in the latest survey. Among independents, Trump's net rating has shifted from from -19 last month to -38 in the latest survey, returning him to roughly the same standing as in April (-37).

Both groups widely dislike Clinton, setting up a hold-your-nose choice for many in November. Clinton's net favorable rating of -47 among non-college whites continues to be much worse than Trump's, while her -29 net rating among independents is slightly better.
It's been the case since the beginning of this campaign that Trump is viewed negatively by most Americans, of course, and that was largely due to the reputation that Trump had developed long before he entered politics. Additionally, while his numbers did improve among Republicans as a whole improved as the race for that party's nomination went on, with many Republicans seemingly becoming more positive about him as it became more apparent that he would win the nomination, the larger public has maintained its consistency in both overwhelmingly disliking him and in viewing him far more negatively than they view Secretary Clinton. What's different now, if these numbers are accurate, is that Trump's negative numbers have skyrocketed to such a degree that it's impossible to see him having any realistic chance of winning the General Election if numbers like this continue through November. Additionally, favorable numbers this low are far more likely to have an impact on down ballot races, which could have a real impact on the GOP's ability to maintain control of the Senate and could even cause Republicans to lose seats in the House of Representatives, although it still seems unlikely that control of the House is in jeopardy at this point.
Digging further in the poll, we find that one group in particular has very negative opinions about the presumptive Republican nominee:
Trump continues to be deeply unpopular with Hispanics, with 89 percent saying they have an unfavorable view of him, his highest mark in Post-ABC polling this campaign. Three-quarters of Hispanics see Trump in a "strongly unfavorable" light (76 percent), similar to 78 percent last month. Clinton has a largely positive image among this increasingly Democratic group – 64 percent favorable vs. 34 percent unfavorable.
Given that this spike in anti-Trump sentiment among Hispanics comes at the same time that Trump was ranting about a "Mexican" Judge issuing unfair rulings against him in the Trump University case, this is hardly surprising. Electorally, though, it poses even more problems for Trump in that it places several important states in doubt for Republicans in the fall, including Florida, Colorado, Virginia, and even Arizona, all of which have strong and growing Hispanic populations. If this disdain for Trump translates into increased voter turnout among that voting bloc then it will be next to impossible for Trump to get anywhere close to the 270 Electoral Votes he needs to win the nomination, something that was already in doubt to begin with.
It is fair to point out, as Ed Morrissey does, that the poll shows that both candidates are seeing their favorable numbers dip, but it's hard to avoid the fact that Clinton is clearly likely to benefit from the fact that her numbers are dipping to far less of a degree than Trump's and not nearly to as low a point as Trump's are fleeing. Additionally, Clinton maintains a high degree of support among many important demographic groups, including women, African-Americans, Hispanics, and other voting blocs, while Trump continues to see himself being viewed more and more unfavorably across the board:
[L]ook at Trump's numbers among various voter groups. Trump is viewed unfavorably by 73 percent of moderates; 77 percent of women; 89 percent of Hispanics; 88 percent of nonwhites; 75 percent of voters under 40; 59 percent of whites; 71 percent of white college graduates, 67 percent of white women, and even 52 percent of white men and 53 percent of non-college whites.

Needless to say, those numbers would appear to complicate Trump's hopes of riding a wave of white backlash into the White House. In fact, according to the crosstabs, among the only groups who view Trump favorably are non-college white men, by 52-46. As noted above, he's underwater with white women and white men writ large, and even with non-college whites when both genders are taken into account. That's because he's also viewed unfavorably by 60 percent of white women without a college degree.

Trump is underwater among many constituencies that should be a natural part of his coalition (whites overall, white women of both the college and non-college variety, blue collar whites). But Clinton actually does comparatively well among some of her key constituencies. She's viewed favorably among women by 51-47, among Hispanics by 64-34, and among nonwhites by 66-32. While she is viewed unfavorably by 59 percent of white college grads, which is bad, Trump fares worse, at 71 percent. And while Trump is in a deep hole among moderates, Clinton is tied among them at 49-49.

Overall, as Post polling guru Scott Clement puts it: "Trump's unfavorable rating, in fact, far surpasses Hillary Clinton's even as the presumptive Democratic nominee receives her worst ratings in more than two decades in public life."
These new numbers, which will likely be followed by a new round of "horse race" numbers from the same poll in the next day or two, come at the same time as a new poll from Bloomberg showing Clinton leading Trump 49% to 37%, a twelve point advantage that is higher than anything we've seen in head-to-head polling between the two for months. The same poll shows Libertarian Party candidate Gary Johnson at 9%, suggesting that the negative favorable numbers for both candidates are causing voters to take a far more serious look at third-party alternatives than they have in the past and that there is at least room for Johnson to continue growing to the point where he gets to the 15% threshold needed to get an invitation to the Presidential debate. According to RealClearPolitics, this puts Clinton's polling average at 40.7% to 36.5% for Trump and 8.5% for Johnson, thus giving Clinton a 4.2 point average lead. In a head-to-head match-up without Johnson, Clinton is averaging 44.1% to 38.6% for Trump, resulting in a 5.5 point lead for Clinton. As I said the other day, it's still early and the usual caveats about early polling apply, but as things stand Donald Trump seems destined to drive the GOP to an electoral disaster in November unless there's some kind of radical change in the manner in which the public perceives him.
I hate to say I told you so Republicans, but I did tell you so.