Larry Hogan As A 2020 GOP Challenger To Trump?
Could Maryland Governor Larry Hogan be just the kind of Republican to challenge Trump in 2020?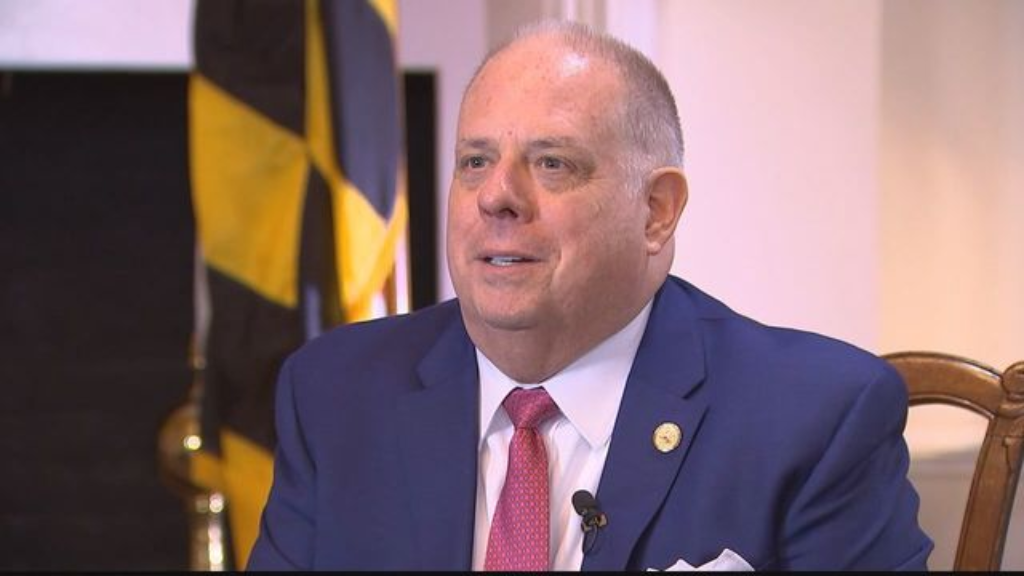 Maryland Republican Governor Larry Hogan is quite possibly the most popular Republican in the country right now, and after the Inaugural Address he gave earlier this week to mark his second term as Governor, some are speculating that he could become a potential challenger to President Trump in 2020:
Republican Gov. Larry Hogan is acting a lot like a guy who wants to run against Donald Trump in 2020 — and the president's reelection team is taking notice.

The second-term Maryland governor has been implicitly going after Trump in speeches, meeting with Never Trump Republicans, and planning a March trip to Iowa as vice chair of the National Governors Association.

It's all fueling speculation that Hogan, a 62-year-old cancer survivor who coasted to reelection in liberal Maryland and remains one of the most popular governors in the country, is open to the prospect of a long-shot primary challenge to the incumbent president. His flirtation comes at a time when Trump is facing increasing blowback over his handling of the protracted government shutdown and bracing for a potentially devastating report by special counsel Robert Mueller.

Hogan used his inaugural address on Wednesday to repudiate the "debilitating politics" of Washington — and to raise the specter of impeachment. He recalled how his father, former Rep. Lawrence Hogan, was the first Republican congressman to support the removal of Richard Nixon.

The governor didn't utter Trump's name, but the implication was clear.

"Despite tremendous political pressure, he put aside partisanship and answered the demands of his conscience to do what he thought was the right thing for the nation that he loved," Hogan said of his late father.

The White House is paying close attention. The president's political aides have been monitoring the Maryland governor for months, and several said they regarded the inauguration speech as an unmistakable act of aggression. They noted that Trump 2016 primary rival Jeb Bush was a featured speaker at the ceremony, and that Mark Salter, a longtime Republican speechwriter and a fierce Trump critic, helped craft Hogan's address.

"Any potential challenger should understand that the Trump campaign is better organized than any campaign in history, especially with the support of the Republican Party, which is firmly behind the president," said Chris Carr, the Trump 2020 political director.

Hogan aides strenuously deny that he's actively exploring a White House bid and point out that he's stressed the themes of above-the-fray moderation and bipartisanship throughout his tenure.

Yet he's given hope to Never Trump Republicans like Bill Kristol, a high-profile conservative commentator who's been waging a Hail Mary campaign to stop the president from being renominated in 2020.

Kristol was invited to Hogan's inauguration — though he didn't attend — and he's expected to meet soon with the governor. Kristol and Hogan briefly chatted last month after the Maryland Republican delivered a speech at the Niskanen Center, a right-of-center think tank that's been critical of the president.

"He went out of his way to be a little more forward-leaning than he needed to be. He could have given a very good inaugural speech for his second term as governor without the father, without the impeachment, without the contrast with Washington, so he knows what he's doing," Kristol said.

"He's a savvy pol," Kristol added. "He wanted people to see that he had some interest in the national scene."

(…)

The governor is mostly playing coy about his intentions.

Last week, he hosted a handful of Niskanen Center officials for lunch ahead of his swearing-in. The discussion focused largely on policy matters, but Hogan, who'll be termed out of office in 2022, was asked about his interest in launching a presidential bid. He did not rule out the possibility, one person familiar with the gathering said.

Similarly, when POLITICO asked Hogan in November about a potential 2020 campaign, the governor responded: "Never say never."
Buzzfeed also has a profile of Hogan, and New York Times columnist Bret Stephens speaks positively of him as an alternative to Trump:
First is the fact that Trump is losing his showdown over the shutdown. Having volunteered — on camera, no less — that he was "proud to shut down the government for border security," he cannot disavow the consequences.

Instead of building a wall that Mexicans will pay for, Americans are going unpaid for a wall that's not going to be built. For Trump, it can only end with a government in crisis, surrender to Nancy Pelosi, or the declaration of a bogus "national emergency" that sets a dangerous precedent and will alienate other Republicans. Either way, it will cost the president political support that a bold primary challenger could reap.

Second, it is no longer mere wishful thinking that Trump either won't serve out his term or won't be on the ballot next year. Thursday's BuzzFeed bombshell that the president directed Michael Cohen to lie to Congress may prove a dud, but there is no question the president's legal jeopardy is increasing. A Republican who challenges him early could reap benefits in fund-raising and visibility, not to mention personal honor.

Most important, though, is the future of the G.O.P. itself. Every democracy is bound to have a party that represents society's conservative instincts. The question is: What kind of conservatism? As Jerry Taylor of the Niskanen Center puts it, "The party deserves a choice about whether it wants to continue down the path of Le Pen-style blood-and-soil nationalism or return to its noble origins as the party of Lincoln."

Larry Hogan isn't the only Republican who understands the need for that choice. But he is one of the few who can offer a serious and meaningful alternative to the corroded conservatism we have in Washington today. Stepping forward now would mean stepping fully into his father's shoes.
From the perspective of Republicans who are opposed to Trump, whether they've admitted it publicly or not, there's a lot about Hogan to like. He's managed to succeed politically in a state that has been traditionally Democratic for decades. In fact, he is the first Republican re-elected to a second term as Governor since Theodore McKeldin, who served as Governor from 1951 to 1959. Additionally, although he has served with a legislature dominated by Democrats he has managed to be rather successful in getting an agenda through the legislature and getting mandatory measures such as the state budget passed with relatively little difficulty. Furthermore, he managed to do all of this during a first term during which he was forced to deal with a cancer diagnosis that came shortly after taking office for his first term. Rather than stepping aside during treatment, Hogan continued to serve and did so quite effectively to the point where he easily beat his Democratic opponent in November's election, which he won by a wider margin than he did in 2014 notwithstanding the fact that voter turnout in November was far higher than it had been in 2014. In this respect, I suppose, Hogan is much like former New Jersey Governor Chris Christie with the exception that, until now, Hogan has not received much media attention and that Hogan does not have the same bombastic style that Christie did. Instead, much like his fellow Republican-In-A-Blue-State Massachusetts Governor Charlie Baker, who also won election to a second term in 2018 by a convincing margin, Hogan seems to prefer a more consensus-seeking approach to politics that doesn't emphasize differences or involve victimization of one's political enemies. In other words, not just Never Trump but the anti-Trump.
If he did challenge Trump, Hogan would face several difficulties that would make victory seemingly impossible, assuming you define victory in terms of actually winning the election.
First of all, history which shows us that there has not been a successful intra-party challenge to an incumbent President since the beginning of the modern primary era. The closest anyone has come was in 1968 in the case of Lyndon Johnson but, of course, Johnson decided to decline to run for re-election rather than actually being defeated and he actually won the primary that many people attribute to his decision to drop out of the race, the 1968 New Hampshire Primary. Other than that, there have only been a handful of challenges to incumbents, and none of them were successful in denying the incumbent the nomination. The first came in 1976 when Ronald Reagan challenged Gerald Ford for the Republican nomination, while Reagan came close and took the fight all the way to the convention in Kansas City, he ultimately lost to Ford, although Reagan's near-victory did mark a sea change in direction of the Republican Party. The second significant challenge came four years later when Ted Kennedy challenged Jimmy Carter for the Democratic nomination in 1980. Once again, Kennedy put up a fight, but Carter won rather easily, although it was Kennedy who stole the show at the Democratic convention in New York City with a stemwinder of a speech that cemented him as the leader of the party's liberal wing throughout much of the 1980s. Finally, in 1992 George H.W. Bush faced an insurgent challenge from the right in the form of Pat Buchanan. While Buchanan was never really a serious challenger, didn't win a single primary or caucus, and didn't even come close to defeating Bush, he did arguably weaken Bush, especially after his controversial speech at the Republican National Convention in Houston. Additionally, while he lost Buchanan's speech was in many ways a preview of the direction that the Republican Pary and conservatism would head in the years and decades to come. Taking all this history into account, the odds are decidedly against Hogan or any other challenger to Trump except, perhaps, if he is so politically wounded by four years of opposition and investigations that he becomes easy to topple.
In that regard, though, the polls tell us that any challenger to Trump is likely to face an uphill battle. While the President's job approval numbers among the public as a whole remain historically low, among Republicans they are historically high notwithstanding all of his political and legal quagmires. The most recent example of this can be seen in the most recent Huffington Post/YouGov poll, which finds that most Republicans do not want anyone to challenge the President. Additionally, Trump remains extraordinarily popular among self-identified Republicans in every job approval poll that is released. Indeed, given that he is extraordinarily unpopular among Democrats and upside down among Independents, it's likely the fact that he remains so popular among Republicans that is preventing his overall job approval numbers from dropping below the 40-42% range that it has been in since he became President. As long as that's the case, a challenge to the President would be essentially doomed.
On a final note, while Hogan has been a success in Maryland it seems clear that he is ideologically out of step with the Republican Party nationally. While he is generally conservative, Hogan is not nearly as conservative as the Republican base. In that sense, he's in line with Republicans such as Chris Christie who, obviously, didn't do very well in the race for the GOP nomination in 2016. While this may be the direction that the Republican Party should be moving, it isn't the direction that it is moving. Therefore, no matter how attractive a candidate Hogan, or practically anyone else, may seem to be, a challenge to Trump would be seemingly doomed from the start.