Bill Kristol Reportedly Floating National Review Writer As Independent Candidate For President
Bill Kristol's plan to stop Donald Trump involves a long shot independent bid for the White House by someone most Americans have never heard of before.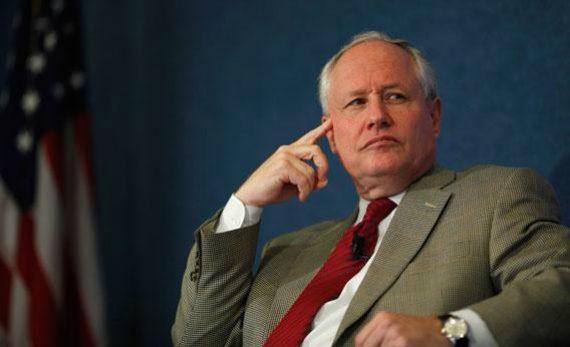 Over the extended holiday weekend, Weekly Standard editor Bill Kristol hinted that the efforts to find an independent conservative to enter the Presidential race on behalf of "Never Trump" conservatives who don't want to vote for Hillary Clinton or a Libertarian Party candidate but who nonetheless still want to express their disdain for the candidate that has won the Republican Party's nomination:
Just a heads up over this holiday weekend: There will be an independent candidate–an impressive one, with a strong team and a real chance.

— Bill Kristol (@BillKristol) May 29, 2016
Kristol, of course, has been among the Republican insiders trying to recruit someone, anyone, to run as an independent candidate ever since it became clear that Trump would be the Republican nominee, and was said to have been pushing Mitt Romney or Nebraska Senator Ben Sasse to take on the task of being the "Stop Trump" candidate. As recently as as week before Memorial Day, Erick Erickson was publicly imploring Romney to enter the race even though the case for a Romney candidacy was, to put it mildly, laughable at best. In the wake of Kristol's weekend tweet, speculation immediately turned back to Romney, and there were even reports that the final touches were being put on an independent ticket consisting of Romney and Ohio Governor John Kasich. Instead, it appears that the candidacy that Kristol is pushing is that of a writer for National Review that few people have ever heard of:
Two Republicans intimately familiar with Bill Kristol's efforts to recruit an independent presidential candidate to challenge Donald Trump and Hillary Clinton have told Bloomberg Politics that the person Kristol has in mind is David French – whose name the editor of the Weekly Standard floated in the current issue of the magazine.

French is a veteran of Operation Iraqi Freedom. According to the website of National Review, where French is a staff writer, he is a constitutional lawyer, a recipient of the Bronze Star, and an author of several books who lives in Columbia, Tenn., with his wife Nancy and three children.

Reached in Israel late Tuesday afternoon, Kristol declined to comment on his efforts to induce French to run. The two Republicans confirmed that French is open to launching a bid, but that he has not made a final decision. One of the Republicans added that French has not lined up a vice-presidential running mate or significant financial support.

However, according to this person, some conservative donors look favorably on the prospect of French entering the fray.

In Kristol's piece in the WeeklyStandard's June 6 issue, he argued that "the fact of Trump's and Clinton's unfitness for the Oval Office has become so self-evident that it's no longer clear one needs a famous figure to provide an alternative." After mentioning Mitt Romney and other possibilities such as Judd Gregg and Mel Martinez, Kristol invoked French's name and résumé, writing, "To say that he would be a better and a more responsible president than Hillary Clinton or Donald Trump is to state a truth that would become self-evident as more Americans got to know him."
The Washington Post's Robert Costa has more details:
Tennessee attorney David French, who in recent years has become a prominent right-wing writer, is being urged by some conservative leaders to make a late entry into the 2016 presidential race as an independent candidate, according to two people close to him.

William Kristol, the editor of The Weekly Standard magazine and a former Republican White House official, is at the fore of the draft effort. A group of well-known evangelical leaders and GOP operatives is also involved in the discussions, the people said, requesting anonymity to discuss private conversations.

The push to get French into the race was first reported Tuesday by Bloomberg Politics.

If launched, a French campaign would almost surely be a quixotic endeavor that could draw pockets of Republican voters away from Donald Trump. And it would face steep logistical and financial hurdles, with many states' ballot deadlines rapidly approaching.

Trump on Tuesday dismissed Kristol's attempts to thwart him. "Bill Kristol is a loser," Trump said at a news conference in New York. "His magazine is failing, as you know. It's going to be down — I don't think it even survives. He's getting some free publicity."

But Kristol and others remain convinced that many conservatives nationally are unwilling to vote for Trump or likely Democratic nominee Hillary Clinton, and he has been searching for weeks to see if someone would step up and serve as their standard-bearer.

When reached by text message, Kristol compared French's possible bid to "Jim Buckley 1970," a reference to the surprising victory in New York's 1970 Senate race by Conservative Party candidate James Buckley, the brother of William F. Buckley, who founded National Review magazine.

Decades later, James Buckley's insurgency remains fondly remembered by activists on the right as one of the rare instances where a hard-line conservative candidate, operating outside of the Republican Party, won a federal contest. Buckley would go on to lose his reelection campaign in 1976.
If nothing else, the fact that Kristol's seemingly quixotic effort has settled on someone that most people, including many people who are actively involved in politics, have never heard of an who has never before run for political office is a fairly strong indication that their effort to recruit a viable candidate has ended in failure. The Bloomberg report about French's potential candidacy, for example, states that the initial search for a potential independent candidate had at least one of several traits that the parties involved deem as essential to a bid at this point, including fame, vast wealth, and elective experience. It's easy to see why the effort was focused on those criteria given the circumstances of such a bid at this point. A candidate who was already well-known would mean that a campaign would not have to spend much time or money introducing the candidate to a public that likely won't be paying much attention to politics over the summer, especially since such a campaign would be competing for air time against the Republican and Democratic conventions and the Summer Olympics. A candidate with vast wealth can potentially help to fund a campaign that is going to need access to a lot of money very quickly just to get on the ballot (one estimate, for example, is that an independent candidate would need to collect nearly two million valid signatures nationwide between now and August in order to get on the ballot in most states.) Finally, there are obvious advantages in having previously run for and held office, not the least of them being the fact that they give a candidate at least some measure of credibility.
Unfortunately for Kristol, and for French's potential candidacy, is that David French meets none of these criteria. To be fair, who he is a graduate of Harvard Law School who had a career in private practice before switching careers to become a political writer some years ago. He also served several years in the U.S. military, including at least one tour of duty in Iraq. He is, however, not famous even among conservative pundits, he apparently is not vastly wealthy, and he has never run for nor held elective office. He's a fine writer who makes provocative arguments, but that doesn't make for a credible candidate,  and the fact that a draft effort that started out trying to persuade Mitt Romney, John Kasich, or a sitting U.S. Senator to run has apparently settled for a media pundit shows just how ineffective that effort has turned out to be.
To a large degree, Hot Air's Ed Morrissey summed up what seemed to be the general reaction among conservatives to the news of a potential David French candidacy:
Huge respect for both @DavidAFrench & @BillKristol, but this is like picking @GeorgeWill to pitch for your fantasy baseball team.

— Ed Morrissey (@EdMorrissey) May 31, 2016
The difference is that that Will has likely thrown a baseball before. French is a neophyte, and the fact that this is the candidate that Kristol initially lauded as "impressive" is a good indication of just how badly his recruitment efforts have failed.