Republican Insiders Still Talking About Quixotic Independent Run For POTUS
With Donald Trump now destined to become the GOP nominee, some Republican insiders are trying to put together another 'too little, too late' strategy to stop him.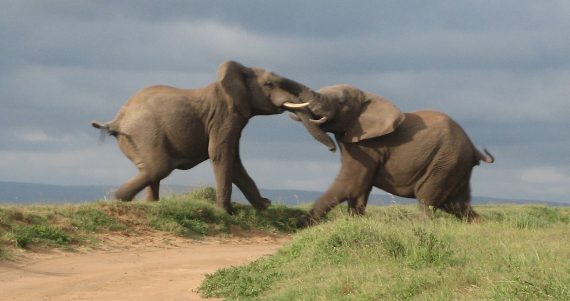 The Washington Post's Robert Costa and Philip Rucker are reporting on the efforts of several Republican insiders, including Mitt Romney, to put together a third-party challenge to Donald Trump and Hillary Clinton:
A band of exasperated Republicans — including 2012 presidential nominee Mitt Romney, a handful of veteran consultants and members of the conservative intelligentsia — is actively plotting to draft an independent presidential candidate who could keep Donald Trump from the White House.

These GOP figures are commissioning private polling, lining up major funding sources and courting potential contenders, according to interviews with more than a dozen Republicans involved in the discussions. The effort has been sporadic all spring but has intensified significantly in the 10 days since Trump effectively locked up the Republican nomination.

Those involved concede that an independent campaign at this late stage is probably futile, and they think they have only a couple of weeks to launch a credible bid. But these Republicans — including commentators William Kristol and Erick Erickson and strategists Mike Murphy, Stuart Stevens and Rick Wilson — are so repulsed by the prospect of Trump as commander in chief that they are desperate to take action.

Their top recruiting prospects are freshman Sen. Ben Sasse (R-Neb.), a conservative who has become one of Trump's sharpest critics, and Ohio Gov. John Kasich (R), who withdrew from the 2016 race May 4. Romney is among those who have made personal overtures to both men in recent days, according to several people with knowledge of the former Massachusetts governor's activities.

Earlier prospects included former senator Tom Coburn (R-Okla.) and retired Marine Corps Gen. James N. Mattis. Former secretary of state Condoleezza Rice and retired Army Gen. Stanley A. McChrystal have been bandied about as potentially potent political outsiders.

The recruiters also delved into the world of reality television for someone who might out-Trump Trump: Mark Cuban, the brash billionaire businessman and owner of the Dallas Mavericks basketball team.

Again and again, though, these anti-Trump Republicans have heard the same tepid response: Thanks, but no thanks.

"I don't see it happening," Cuban wrote in an email

(…)

Draft promoters have been telling potential candidates that 2016 already has proved to be an unpredictable cycle and that anything could happen, such as Trump's candidacy shriveling under the expected Democratic advertising assault. What's more, they tell them, you would have no bigger platform to promote your ideas than in a three-way general election that would attract global attention.

Pollsters have been conducting private surveys over the past week to measure the plausibility of an independent candidate, said three people working closely on the project.

Whether wealthy donors would fund a candidate with such long odds is unclear. Dan Senor, a former Romney adviser and a confidant of House Speaker Paul D. Ryan (R-Wis.), has been informally briefing high-level GOP donors opposed to Trump on how an independent campaign might work and has found them to be willing to invest if the right candidate stepped forward, according to people involved.

Spencer Zwick, who was Romney's 2012 national finance chairman, said, "If this was just a 'Never Trump' option and there's no hope of actually winning — in other words, a kamikaze mission — I'm not sure there's enough money. If there were a real alternative, it changes the dynamic. But who's going to do that?"
So far at least, the answer to that question appears to be nobody.
Based on Costa and Rucker's reporting, none of the candidates that the group has approached have been the least bit interested in taking part in what appears to be a campaign that would be doomed from the start and which would seemingly destroy whatever political ambitions the potential candidate(s) might have in the future. Looking at the reality, it's easy to see why. Right off the bat, there's the fact that it is arguably too late for any candidate on the right to launch a third-party bid due to the fact that we're already in the period where it will be next to impossible for a candidate to get on the ballot in a sufficient number of states to actually make a difference in the race. The deadline to get on the ballot in Texas, for example, has already passed, and deadlines in other states are set to expire in swift succession over the coming weeks and months. While the group apparently believes that they can use the courts to get around these deadlines, but there's no guarantee that a court would rule in their favor, or that such a ruling would come in sufficient time for them to be able to launch a campaign, and the fact that they would be filing lawsuits challenging these deadlines well after the deadlines suggests that they could run afoul of the same laches argument that doomed several Republican candidates who waited until after the expiration of Virginia's signature deadline to challenge the ballot access rules in the Old Dominion four years ago. In addition to ballot access issues, a third party bid that starts this late would face serious issues when it comes to fundraising, voter outreach, and even the seemingly simple task of finding people to work on the campaign.
Even if this group did manage to convince someone to run as a conservative alternative to Trump and Clinton, and even if they were able to get beyond the logistical challenges noted above, it seems clear that such a run would be doomed to failure at this point. For one thing, unless the campaign were headed by some well-known candidate that voters on the right and in the middle could get behind, the most that a campaign could hope to do would be to split the conservative vote in a host of traditionally red states with Trump and potentially allow Clinton to win with a plurality of the vote in states that she would otherwise lose, thus having an impact similar to the one Ross Perot had in 1992 and, to a lesser extent, 1996 to the benefit of Clinton's husband. This would lead to a larger than expected Clinton victory in the Electoral College, and could potentially put the Republican majority in the Senate at even further risk than it already is today. In almost no conceivable scenario would it lead to the "independent" candidate getting 270 Electoral Votes, or Trump doing so either. This reality has apparently led some of the insiders to consider even more alarming scenarios:
Some anti-Trump Republicans are downsizing their ambitions to a more focused, state-specific effort. Murphy, who ran a super PAC for former Florida governor Jeb Bush in his failed 2016 bid, is pushing one such proposal. Murphy envisions an independent candidate on what he termed "an honorable mission" in Colorado, New Hampshire and Ohio — three battleground states with relatively lax ballot-access rules.

"Running an anti-Trump protest candidate in a handful of swing states really appeals to me," Murphy said. "You could deny Trump the presidency and perhaps help important Senate and other down-ballot races by giving another choice to Republican voters who abhor Hillary Clinton and can't cross the moral line to vote for Trump."

One related objective is to prevent both Clinton and Trump from clinching a majority in the electoral college and thus throwing the presidential election to the House of Representatives, under the provision of the 12th Amendment of the Constitution. This scenario played out in 1824, when Andrew Jackson won a plurality of electoral and popular votes but was defeated in the House by John Quincy Adams.
The hope of such a strategy, of course, is that the House of Representatives, which would likely still be controlled by Republicans in January 2017 would hopefully choose to elect the independent candidate to the White House even if it turned out that one of the other two candidates had more popular votes and more electoral votes. This is what happened in the Election of 1824, when John Quincy Adams was elected President by the House despite the fact that Andrew Jackson had the plurality of both Electoral and Popular votes. The result of that outcome was four years of political conflict that saw Adams unable to accomplish much of anything and only served to focus the anger of Jackson and his supporters, who returned four years later to easily beat Adams in the Election of 1828. The result of such an outcome would likely be similar if an 'independent conservative' were elected to the White House in this manner.
If nothing else, reports like this speak volumes about how Republican insiders are really reacting to the idea that Donald Trump is going to be at the top of the ticket. While there have been a number of top Republicans on Capitol Hill and elsewhere who have started to rally around Trump as the nominee, it's clear that there is a significant segment of the GOP base that still isn't accepting the idea of Trump leading their party and are willing to consider even the most bizarre, convoluted scenario designed to prevent him from winning in November while at the same time trying to save the GOP's down ballot candidates. As I said weeks ago, though, the entire effort to stop Trump has been the story of too little, too late. Rather than trying to take him on last summer, or last fall, when his campaign had turned into a constant and nearly daily barrage of insults, racially tinged invective in stump speeches, and policy proposals that were both clearly unconstitutional and at odds with long-stated conservative principles, insiders and most of the candidates running against Trump chose to hold their fire and let him continue with his nonsense as he rose in the polls. Instead, they waited until Trump had won one primary after another and clearly taken command of the race to try to stop him. It shouldn't surprise anyone that they failed to deny him the nomination and now are acting in obvious panic mode as they face the prospect of seeing the party of Lincoln and Reagan ripped apart by a clown. It's their fault, really, but one wonders if they're capable of being introspective enough to realize that.