Dilbert Canceled
Newspapers across the country are dropping the popular strip over a racist rant.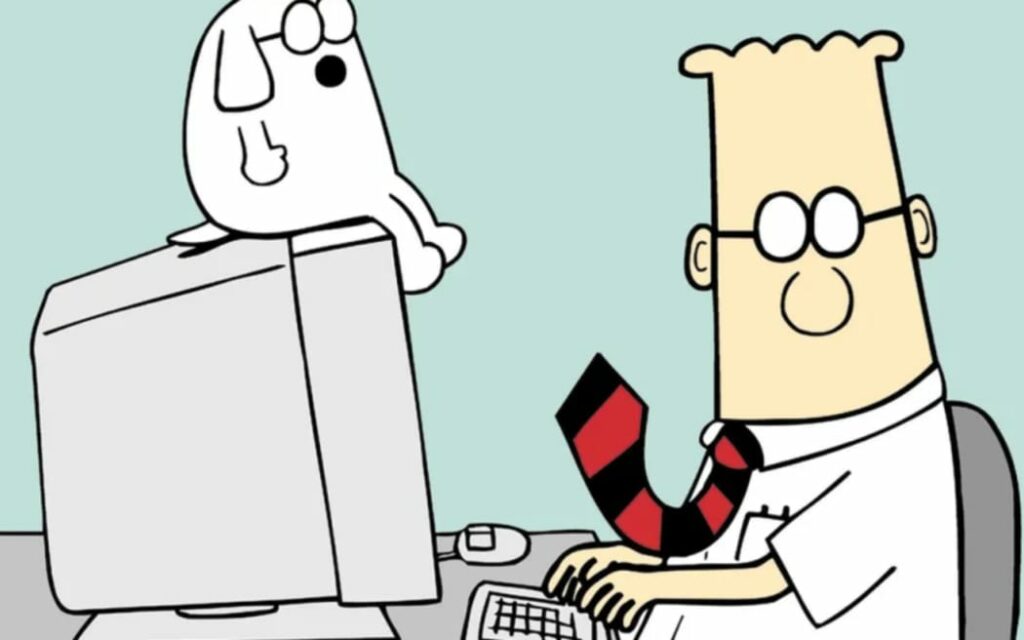 Yesterday morning, I saw the Cleveland.com headline "We are dropping the Dilbert comic strip because of creator Scott Adams' racist rant: Letter from the Editor" but did not actually read the story. The headline is fairly self-explanatory but here's the gist for further context:
Scott Adams, creator of the Dilbert comic strip, went on a racist rant this week on his Coffee with Scott Adams online video show, and we will no longer carry his comic strip in The Plain Dealer.

This is not a difficult decision.

Adams said Black people are a hate group, citing a recent Rasmussen survey which, he said, shows nearly half of all Black people do not agree with the phrase "It's okay to be white."

"I would say, based on the current way things are going, the best advice I would give to white people is to get the hell away from Black people," he says in the video.

He says a lot more in the video, mostly hateful and racist, all viewable on Youtube. It's a staggering string of statements, all but certain to result in the loss of his livelihood. I hate to quote him at all, but I do so to dissuade responses that this is a "cancel culture" decision.

No, this is a decision based on the principles of this news organization and the community we serve. We are not a home for those who espouse racism. We certainly do not want to provide them with financial support.

Adams' reprehensible statements come during Black History Month, when The Plain Dealer has been publishing stories about the work being performed by so many to overcome the damage done by racist decisions and policy.

We're not the first newspaper to drop Dilbert. Last year, according to The Daily Beast, 77 newspapers published by Lee Enterprises dropped it after Adams introduced his first Black character, apparently to poke fun at "woke" culture and the LGBTQ community. We are part of Advance Local, and the leaders in all Advance Local newsrooms independently have made the same decision we did to stop running the strip. That includes newspapers in Michigan, New York, Pennsylvania, New Jersey, Alabama, Massachusetts and Oregon.
Today, I see that the Washington Post has joined suit.
Newspapers across the United States have pulled Scott Adams's long-running "Dilbert" comic strip after the cartoonist called Black Americans a "hate group" and said White people should "get the hell away from" them.

The Washington Post, the USA Today network of hundreds of newspapers, the Cleveland Plain Dealer, the Los Angeles Times and other publications announced they would stop publishing "Dilbert" after Adams's racist rant on YouTube on Wednesday. Asked on Saturday how many newspapers still carried the strip — a workplace satire he created in 1989 — Adams told The Post: "By Monday, around zero."

The once widely celebrated cartoonist, who has been entertaining extreme-right ideologies and conspiracy theories for several years, was upset Wednesday by a Rasmussen poll that found a thin majority of Black Americans agreed with the statement "It's okay to be White."

"If nearly half of all Blacks are not okay with White people … that's a hate group," Adams said on his live-streaming YouTube show. "I don't want to have anything to do with them. And I would say, based on the current way things are going, the best advice I would give to White people is to get the hell away from Black people … because there is no fixing this."

Adams, 65, also blamed Black people for not "focusing on education" during the show and said, "I'm also really sick of seeing video after video of Black Americans beating up non-Black citizens."

Outrage followed.

By Thursday, The Post began hearing from readers calling for the strip's cancellation. On Friday, the USA Today Network said that it "will no longer publish the Dilbert comic due to recent discriminatory comments by its creator." The Gannett-owned chain oversees more than 300 newspapers, including the Arizona Republic, Cincinnati Enquirer, Detroit Free Press, Indianapolis Star, Austin American-Statesman and Milwaukee Journal Sentinel.
For both good and ill, the consolidation of the news business such that single conglomerates own 300 or 77 newspapers means that a handful of decisionmakers control what tens of millions of readers spread across the country get to see.*
Canceling Adams' strip is ultimately a business decision. Presumably, the editors in question think that continuing to run the strip will cost them more subscribers than they will lose by canceling it.
The ethics of the decision is more complex. "We are not a home for those who espouse racism. We certainly do not want to provide them with financial support" is a straightforward enough principle. But I suspect Adams is not the only cartoonist published by these entities with objectionable beliefs. Then again, most cartoonists don't host a talk show where they share their personal views.
I haven't been a regular Dilbert reader in a very long time, simply because the modality of my news consumption—a handful of Internet aggregators—doesn't tend to surface comic strips in the way that the newspaper format I consumed in the 1980s, 1990s, and early 2000s did. But I was a big fan of the strip when it first appeared, during what was a golden age of the genre with strips like Gary Larson's "The Far Side" and Bill Watterson's "Calvin and Hobbes."
I found Adams himself interesting, too, and bought a handful of his non-cartoon books, notably The Dilbert Principle (1996). He gave off a vaguely Republican vibe but seemed quite mainstream, aside from a belief that writing affirmations out fifteen times a day will magically enable anyone to achieve wildly ambitious goals like being the world's most successful cartoonist.
I cited his blog quite a lot in the early days of OTB but gradually drifted away from reading it in much the way I did other blogs. Overall, he seemed like a really bright guy with some interesting insights into the world.
I hadn't given him much thought in years, though, until he resurfaced as a thinly-disguised Trump supporter during the 2016 campaign. At first, he seemed to be simply a detached analyst, noting that, however absurd Trump's claims seemed to a rational observer, they were actually incredibly powerful as influencing measures. Soon, though, that drifted into some QAnon-adjacent conspiracy-mongering and just plain weirdness.
A run through the poorly-organized "Political and social views" section of his Wikipedia page is instructive:
Adams has often commented on political and social matters. In 2016 he wrote on his blog, "I don't vote and I am not a member of a political party."[78] In 2007, he suggested that Michael Bloomberg would make a good presidential candidate.[79] Before the 2008 presidential election he said, "On social issues, I lean libertarian, minus the crazy stuff."[80] In December 2011 he said that if he were president, he would do whatever Bill Clinton advised him to do because that "would lead to policies that are a sensible middle ground."[81] On October 17, 2012, he wrote, "While I don't agree with Romney's positions on most topics, I'm endorsing him for president."[82] In a blog post from September 2017, Adams described himself as being "left of Bernie Sanders, but with a preference for plans that can work."[83]

In 2015, although Adams stated that he would not endorse a candidate for the 2016 elections, he repeatedly praised Donald Trump's persuasion skills.[84][85] He extensively detailed what he called Trump's "talent stack."[86] Adams correctly predicted that Trump would win the Republican nomination and the general election.[87][20] In 2018, Adams similarly praised the persuasion skills of Alexandria Ocasio-Cortez.[88]

Of the 2016 Democratic National Convention, he said the following: "If you're an undecided voter, and male, you're seeing something different. You're seeing a celebration that your role in society is permanently diminished. And it's happening in an impressive venue that was, in all likelihood, designed and built mostly by men."[89] Adams said that he temporarily endorsed Hillary Clinton out of fear for his own life, stating that he had received direct and indirect death threats ("Where I live, in California, it is not safe to be seen as supportive of anything Trump says or does. So I fixed that.").[90] In late September, however, Adams switched his endorsement from Clinton to Trump. Among his primary reasons were his respect for Trump's persuasion skills, Clinton's proposal to raise the inheritance tax, and his concerns over Clinton's health.[91] In mid-October, Adams predicted a Clinton victory would ensure that a male president would never again be elected.[92] He has also stated that being labeled a "Donald Trump apologist" ended his public speaking career and reduced his income by about 40%, and that his number of friends had decreased by about 75%.[90][93]

Adams predicted in March 2020 that Trump, Sanders and Joe Biden would all contract COVID-19 and that one of them would die from it by the end of the year; in December 2020, when all three men remained alive (although Trump did catch the virus), Politico named Adams' prediction one of "the most audacious, confident and spectacularly incorrect prognostications about the year."[94] Adams received further attention in December 2021, in reference to his July 2020 prediction that if Biden were to win the 2020 presidential election, then Republicans would be hunted and there's a "good chance" they'll be "dead within a year" and "Police will stand down" — none of which ultimately occurred.[95] On September 30, 2021, Adams had also tweeted "My worst prediction of all time was 'If Biden gets elected, there's a good chance you will be dead in a year.' It was closer to two years. I missed it by 100%", which also did not occur.[96]

Adams has compared women asking for equal pay to children demanding candy.[97] He pointed out "satanic coincidences" in the Joe Biden presidential campaign.[98] On Twitter in July 2022, Adams argued that if parents believe their son poses a danger to themselves and others, they have only two options, either they should murder their own son or watch him die and maybe kill others.[99]

In January 2023, Adams announced that he was considering taking legal action against political cartoonist Ben Garrison for an allegedly defamatory cartoon about his view on masking and COVID-19 vaccines.[100]
The machinations there are simply weird.
But here's the thing: Adams has been writing and saying really, really weird things for years now. Presumably, enough people were enjoying Dilbert to make it profitable for these corporations to run the strip. Granted that I'm a white male, I would argue that the sexist comments noted in the above excerpt are more egregious than the weird take on a single polling question was racist.
Again, I don't object to the various press oligopolies making a business decision or in any way question their right to stop publishing a cartoon strip. Nor do I think Adams' speech rights have been infringed; he has several large platforms where folks who want to hear his rants can do so. (If, say, YouTube bans him from what amounts to a monopoly platform, I'd be much more concerned.) But it's odd that this particular rant was the final straw.
____________
*UPDATE: It turns out that today's editions were the last print editions for The Birmingham News, Mobile Register, and Huntsville Times—all owned by Advance. They had been reduced to thrice weekly a decade ago. So, the Advance-owned AL.com website remains the only "local newspaper" for most of the state of Alabama. There are only a handful of dailies remaining, the most significant of which is the Montgomery Advertiser, serving the state capitol.