Rob Rogers Fired For Drawing Too Many Anti-Trump Cartoons
The Pittsburgh Post-Gazette's editorial cartoonist is out after twenty-five years.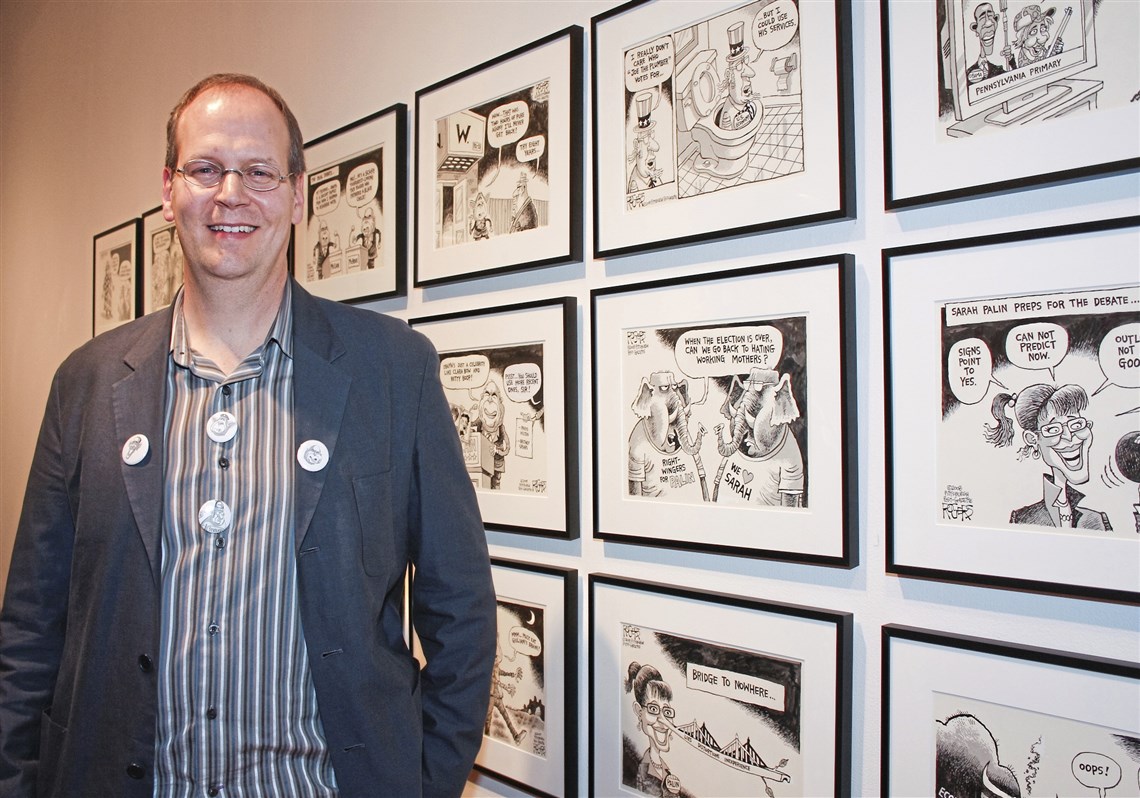 CBS ("Rob Rogers, cartoonist who clashed with Post-Gazette editors, says he's been fired"):
A longtime newspaper cartoonist who says his work has been banished from the editorial page lately because of "political differences" with his editors says he's been fired. Rob Rogers tweeted Thursday he's been fired after 25 years as the Pittsburgh Post-Gazette's editorial cartoonist.

The paper has declined to run many of his cartoons in recent months.

Rogers told CBS Pittsburgh political editor Jon Delano last week that 19 of his ideas and cartoons have been rejected since March.

Rogers said he was willing to cooperate with the publisher "to a degree," but he wouldn't draw cartoons he disagreed with, the station reported.

The Association of American Editorial Cartoonists recently issued a statement linking Rogers' situation to "the recent arrival of a Trump-supporting editorial page editor."

Keith Burris became the paper's editorial director in March. Burris did not immediately return a call and email seeking comment. A message left with publisher John Block wasn't immediately returned.

Block told The Washington Post last week the matter "had little to do with politics" or Mr. Trump but primarily involved the editing process.
Poynter ("Pittsburgh paper fires longtime editorial cartoonist after dispute over Trump work"):
Rob Rogers says he saw it coming.

A new editorial page chief had come to the Pittsburgh Post-Gazette with the support of the newspaper's owner, a supporter of President Trump. Rogers, the paper's highly regarded editorial cartoonist for the past quarter-century, suddenly started seeing his cartoons being rejected for print.

On Thursday, he was fired. "Fired … for doing his job," tweeted the American Association of Editorial Cartoonists — a view shared by targets of his cartooning from the left and right.

"I don't know if anything could have been changed," Rogers said in an interview. He said he asked if his cartoon could be moved to the Op-Ed page opposite the Editorial Page of the paper. (One page offers political views from around the nation; the other represents the view of the paper's editorial board.)

He said he could not avoid cartooning Trump; nor stop drawing off the news in ways that some might find critical of the historically unpopular leader. Nor should Rogers, wrote supporters from Democratic mayor of Pittsburgh (often lampooned by Rogers) or a spokesman for the former Republican governor of Pennsylvania (another frequent target).

"This is precisely the time when the constitutionally-protected free press — including critics like Rob Rogers — should be celebrated and supported," Mayor Bill Peduto said in a statement, "and not fired for doing their jobs."

From the former gubernatorial aide and journalist Dennis Roddy: "When I worked in the Corbett administration, he did his darnedest to make me unemployed. God knows I've wanted to choke Rob on more than one occasion. He's opinionated, unrestrained, and a wisenheimer of the top chop. In short, he's doing his job. He is the indispensable irritant that keeps us scratching and thinking."

Rogers said he knows the Post-Gazette is a privately owned newspaper, his position was not union protected and the owner, John Robinson Block, ultimately can do what he wishes. Nonetheless, he says, "I gave 25 years of hard work here, and in the process of doing this, I was disrespected, pushed out the door."
Rogers is a talented cartoonist and will hopefully find work soon. Still, this is a shame.
The Post-Gazette has long tended to lean right editorially and its owner is not only a vocal supporter of President Trump but frequently campaigned with him. It's hardly surprising that he would not want his paper to publish anti-Trump cartoons on a regular basis—let alone drawn by the cartoonist whose salary he pays. And, at least by their own accounting, they did try to reach an accommodation between firing Rogers and forcing him to draw pro-Trump cartoons.
Post-Gazette ("Pittsburgh Post-Gazette fires editorial cartoonist Rob Rogers"):
In a statement, Stephen Spolar, the Post-Gazette's chief human resources officer, said: "The Post-Gazette does not provide details about employment matters, but in light of Mr. Rogers' public comments today, we do want to acknowledge his long service to the newspaper and our community. Any further discussions will be conducted with Mr. Rogers as a private matter."

In recent weeks, a number of his cartoons, including some on President Donald Trump, were killed by the paper's editorial director, Keith Burris.

Mr. Burris said Mr. Rogers, 59, was offered a deal in which he would be an independent contractor and produce two cartoons per week for the paper's op-ed page along with his weekly strip, "Brewed on Grant."

"We tried hard to find a middle way, an accommodation to keep him at the paper," said Mr. Burris.

He said he did not "suppress" Mr. Rogers' cartoons but that Mr. Rogers was unwilling to "collaborate" with him about his work and ideas.

"We never said he should do no more Trump cartoons or do pro-Trump cartoons," said Mr. Burris. "For an in-house staff cartoonist, editing is part of it. Rob's view was, 'Take it or leave it.'"
Pat Bagley, President of the Association of American Cartoonists, issued a scathing statement:
Management of the Pittsburgh Post-Gazette just demonstrated disdain for their readership and lack of concern about declining circulation by firing their cartoonist of twenty five years, Rob Rogers. Rogers is one of the best in the country and his cartoons have been a wildly popular feature of the Post-Gazette. Readers looked forward each morning to opening their papers to see Rogers' latest pointed commentary.

Rogers' fortunes recently took a turn when Trump acolyte, Keith Burris, was hired as the new editorial page editor. Burris promptly started killing Rogers' cartoons that were critical of Trump. The publisher, John Robinson Block, issued a statement that spiking Rogers' cartoons had "little to do with politics, ideology or Donald Trump" when obviously it had everything to do with all three and in its brazenness, displayed a penchant for Trump-like lies.

Expect the Post-Gazette to issue a statement listing their reasons for Rogers' dismissal. Expect it to be filled with more lies. It's as simple as this: Rogers was fired for refusing to do cartoons extolling Trump. Let that sink in.

The firing of Rogers and the absence of his cartoons from the editorial pages is a blow to free expression and to the existence of a free and open marketplace of ideas.
The city's Democratic mayor weighed in as well:
Pittsburgh Mayor William Peduto criticized the paper for firing Rogers, calling the move "disappointing" in a statement in which he also called out President Trump without using his name.

"This is precisely the time when the constitutionally-protected free press — including critics like Rob Rogers — should be celebrated and supported, and not fired for doing their jobs," Peduto said. "This decision, just one day after the President of the United States said the news media is 'Our Country's biggest enemy,' sets a low standard in the 232-year history of the newspaper."
I commend Rogers for sticking by his guns and not drawing cartoons that violated his moral compass. But this isn't a free expression issue: he's not entitled to publish his views in someone else's paper. Ultimately, as the saying goes, freedom of the press is reserved to those who own one.  Indeed, he was able to publish the rejected cartoons on his personal site.
Beyond that, here was the last Rogers cartoon published by the Post-Gazette: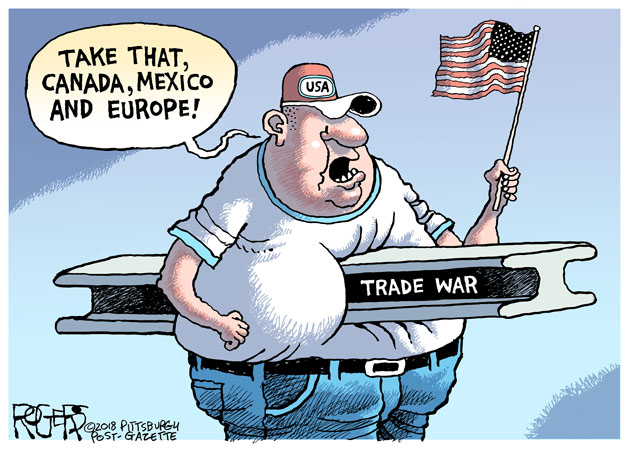 That's not exactly a pro-Trump stance! The ones they rejected were a little more severe. The most recent ("Summit," dated June 13):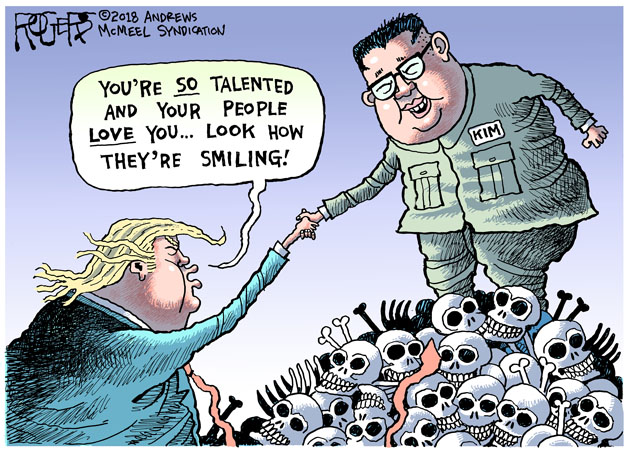 The June 3 edition, "Pardon"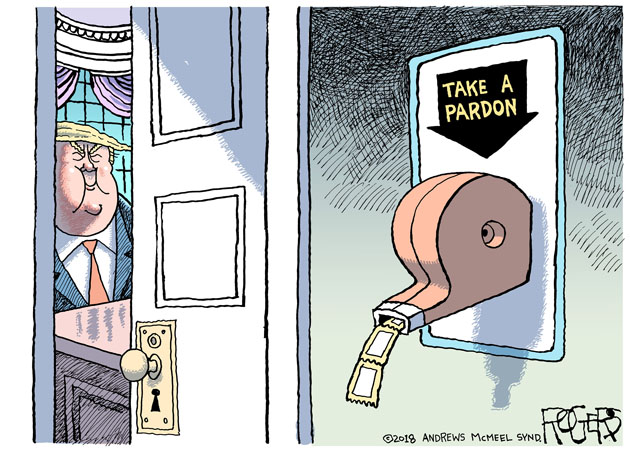 The May 31 edition, "Ambien"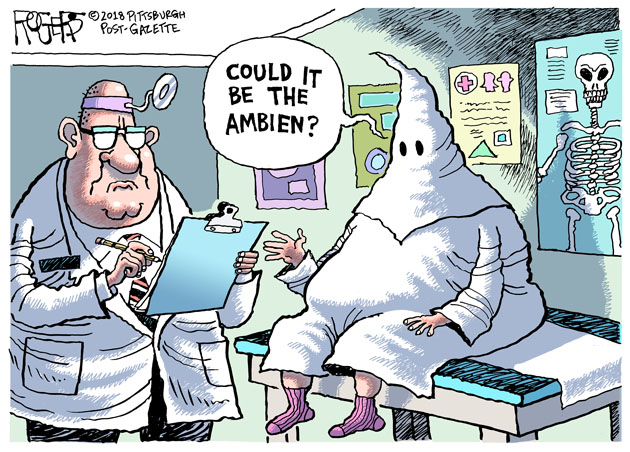 For my personal tastes, "Summit" is fantastic, "Pardon" meh, and "Ambien" very good if perhaps too edgy for a family paper. "Summit" is a spot-on commentary on Trump's rhetoric, "Pardon" a bit oblique and not all-that-great as political commentary, and "Ambien" perhaps too on-the-nose.
UPDATE: Readers point out that "Ambien" was a response to a Roseanne Barr incident about which I'd forgotten. Out of context of the daily news flow, it brought to my mind the mini-brouhaha over then-White House physician Ronny Jackson handing out Ambien willy-nilly aboard White House flights. I guess that pink socks should have clued me in. I've edited the last two sentences of the post accordingly.