YouTube Shooter Nasim Aghdam Was Crazy
The woman who wounded three people at the video company before killing herself posted insane rants all over social media.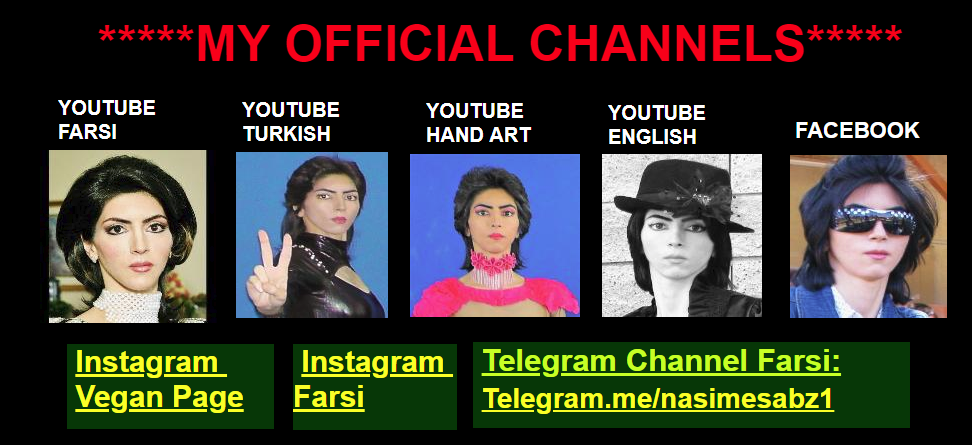 Nasim Aghdam went on a shooting spree at YouTube yesterday. In hindsight, it's not the least bit surprising.
NYT ("YouTube Shooting: Woman Wounds 3 Before Killing Herself, Police Say"):
Chief Ed Barberini of the San Bruno Police Department said at a news conference that three victims had been transported away with gunshot wounds. He had previously indicated that there were four shooting victims; the discrepancy stemmed from the fact that at least one person was injured while fleeing the building but not shot.

The gunshot victims were taken to Zuckerberg San Francisco General Hospital, the only Level 1 trauma center in San Francisco. Brent Andrew, a spokesman for the hospital, said at a news conference that a 36-year-old man was in critical condition, a 32-year-old woman in serious condition and a 27-year-old woman in fair condition.

Sundar Pichai, the chief executive of Google, which owns YouTube, said in a statement late Tuesday afternoon that Google was "doing everything we can to support them and their families at this time."

The police found a woman, believed to be the attacker and later identified as Ms. Aghdam, dead in the building from a self-inflicted gunshot wound. Social media postings associated with her included a video in which she criticized YouTube.

Chief Barberini said that the suspect had used a handgun, and that there was no evidence of a second attacker.

Ms. Aghdam's gender is noteworthy because mass shootings are almost always perpetrated by men. An F.B.I. study released in 2014 found that, from 2000 to 2013, women were responsible for only six of 160 mass shootings in the United States.
LAT ("Authorities probe whether woman who opened fire at YouTube had grudge against video platform"):
A woman opened fire at YouTube headquarters in San Bruno, Calif., shooting three people with a handgun before taking her own life and causing widespread panic in the technology hub south of San Francisco.

San Bruno police identified the shooter as Nasim Aghdam, 39, a San Diego resident.

Investigators initially believed the shooting was a domestic incident, with the shooter targeting someone who worked on the YouTube campus. But San Bruno police said in a release late Tuesday that "there is no evidence that the shooter knew the victims of this shooting or that individuals were specifically targeted."

One law enforcement source said the investigation is now looking into a website that appears to show the same woman complaining about YouTube stifling traffic and suppressing videos. The source stressed that the investigation is in its preliminary stages.

"Youtube filtered my channels to keep them from getting views!" reads the site, which along with complaints about the streaming video service includes videos promoting veganism and photos of a woman in an array of outfits, including long dresses and a camouflage unitard.

"There is no equal growth opportunity on YOUTUBE or any other video sharing site, your channel will grow if they want to!!!!!"

Social media accounts linked from the page were deactivated late Tuesday.

A YouTube account linked from the page was "terminated due to multiple or severe violations of YouTube's policy against spam, deceptive practices, and misleading content or other Terms of Service violations," according to the streaming video site.

About two weeks ago, Aghdam vented to her family that YouTube stopped compensating her for her videos, her father told the Bay Area News Group.

Ismail Aghdam said that the family had called police to report his daughter missing Monday because she hadn't answered her phone for two days. He said he had told police she might be going to YouTube because she "hated" the company.

He told the news agency he knew nothing about her owning a gun.
As is typical in these events, people filled the gaps in available information with their pre-existing biases. For example:
ThinkProgress ("Dana Rohrabacher immediately links shooting at YouTube to 'illegal aliens'"):
Rep. Dana Rohrabacher (R-CA) appeared on Fox Business Network amid breaking news reports of a shooting at YouTube headquarters on Tuesday afternoon.

The interview occurred less than an hour after the shooting, before authorities provided any official information about the identity of the shooter. Nevertheless, the congressman immediately linked the shooting to "criminal illegal aliens."

"You were going to talk to me about sanctuary cities and the sanctuary state movement, and it fits right into what you are talking about right now," Rohrabacher said. "Would anyone be surprised?"

"Would anyone listening to you right now say: 'Well, this certainly wouldn't be an illegal immigrant,'" he continued. "It could be!"

Rohrabacher said the shooting proved that "[a]ny illegal in this state should be sent back whether he's a criminal or not."

His comments went unchallenged on the air.

"Congressman, you bring up an excellent point," the Fox Business host said, before teeing up an interview with an eyewitness who helped a YouTube employee who was shot in the incident.
That spree shooters are essentially never illegal aliens apparently never occurred to anyone on the set. Then again, they're almost never women, either.
One the shooter's identity was revealed, it became pretty easy to fill in the gaps. Spoiler alert: she was crazy.
The San Jose Mercury News ("YouTube shooter's father says she was angry at company"):
The night before Nasim Aghdam opened fire in a courtyard at YouTube's headquarters Tuesday afternoon, Mountain View police found the San Diego woman sleeping in her car.

She had been reported missing by her family in Southern California, and her father Ismail Aghdam told police she might be going to YouTube because she "hated" the company. Police called the family at 2 a.m. Tuesday to say she'd been found and that everything was "under control," her father said.

But hours later, his daughter was dead of a self-inflicted gunshot after shooting three people and causing an afternoon of terror at YouTube's headquarters.

In an interview Tuesday night with the Bay Area News Group, Ismail Aghdam said his 38-year-old daughter told her family a couple of weeks ago that YouTube had been censoring her videos and stopped paying her for her content. "She was angry," he said in an interview from his Riverside County home.

It wasn't clear Tuesday night what Mountain View police knew about her history with YouTube.

A police spokeswoman confirmed that officers had found a woman of the same name asleep in a vehicle early Tuesday morning in a parking lot.

"Our officers made contact with the woman after the license plate of her vehicle matched that of a missing person out of Southern California," said Mountain View Police spokeswoman Katie Nelson.

"The woman confirmed her identity to us and answered subsequent questions. At the conclusion of our discussion, her family was notified that she had been located."

Ismail Aghdam said his daughter was a vegan activist and animal lover. As a youngster, she would not even kill ants that invaded the family home, instead using paper to remove them to the back yard, he said. State records show she had once established a charity called Peace Thunder Inc., to "educate people about animal cruelty, environmental pollution" and other causes.

"For me, animal rights equal human rights," Aghdam told the San Diego Union-Tribune at a People for the Ethical Treatment of Animals protest in 2009 outside Camp Pendleton.

She told her family that YouTube had stopped paying her for the content she posted to the site, Ismail Aghdam said. YouTubers can receive payment for advertisements accompanying their videos, but the company "de-monetizes" some channels for various reasons, meaning ads don't run with them.

Aghdam was prolific on social media, posting videos and photos on Instagram, Facebook, YouTube. Her YouTube channel included strange workout video clips, graphic animal abuse videos and vegan cooking tutorials. But recent posts show evidence of her growing frustration.

Aghdam's YouTube, Facebook and Instagram pages were all taken down late Tuesday, but not before reporters from this news organization were able to view much of the material.

On a March 18 Instagram post, she railed at YouTube: "All my youtube channels got filtered by youtube so my videos hardly get views and it is called "merely relegation." This is also happening to many other channels on youtube. This is the peaceful tactic used on the internet to censor and suppress people who speak the truth and are not good for the financial, political … gains of the system and big businesses. I recently got filtered on instagram too and maybe its related to youtube and youtube staff asked instagram to filter me here too!!?"

On Jan. 28, Aghdam recorded a video of herself lamenting her perceived "discrimination" by YouTube, particularly railing on how YouTube determined her ab workout video was too racy and, therefore, filtered it.

"I'm being discriminated and filtered on YouTube and I'm not the only one," the video begins, as Aghdam, wearing a black, white and orange long-sleeved shirt and short jet black hair stands in front of a background of green and white stars. "They age restricted my ab workout video. A video that has nothing bad in it. Nothing sexual."

On one of her many websites, she claims to have at least four YouTube channels, one in English, and then others in Farsi and Turkish.

A law enforcement source on Tuesday afternoon said investigators were looking into whether she may have been targeting a boyfriend, however San Bruno Police late Tuesday night confirmed she was the attacker but said investigators were trying to determine her motive.
"At this time there is no evidence that the shooter knew the victims of this shooting or that individuals were specifically targeted," the department said in a press release.

In the interview with this news organization, her father said the family knew nothing about Nasim owning a gun. "Maybe she bought one" recently, he said.

Nasim's brother, Shahran Aghdam, spoke to reporters from the foyer of the family's home in Menifee in Riverside County on Tuesday night. His mother could be heard crying in the home and his father asked one reporter about the condition of the victims.

The family came to California from Iran in 1996, Shahran said. He said Nasim had been living recently with her grandmother in San Diego. "She was always complaining that YouTube ruined her life," he said.
BuzzFeed ("This Is What We Know About YouTube Shooter Nasim Aghdam") has an extensive collection of screen captures from Aghdam's social media profiles. While my doctorate is not in a mental health field and even mental health professionals are well-advised not to diagnose people from afar, I'm going to go out on a limb and assess her to have been a raving lunatic.
As in so many of these cases, however, it's not obvious what we could have done about it beforehand. Lots of people post strange things on social media platforms. It's not clear when she bought the gun but I don't know on what basis we'd have denied her the right to buy one. Absent the additional bit of evidence that she engaged in a public shooting spree before taking her own life, there would have been no reason to think she was a danger to herself or others.
UPDATE: See my follow-up post "Confirmation Bias, Hidden Agendas, and the Challenges of Conversation."