Have There Really Been 355 'Mass Shootings' This Year? Only If You're Relying On Bad Data
No, there really haven't been 355 'mass shootings' since January 1st. Not unless you're relying on completely unreliable data.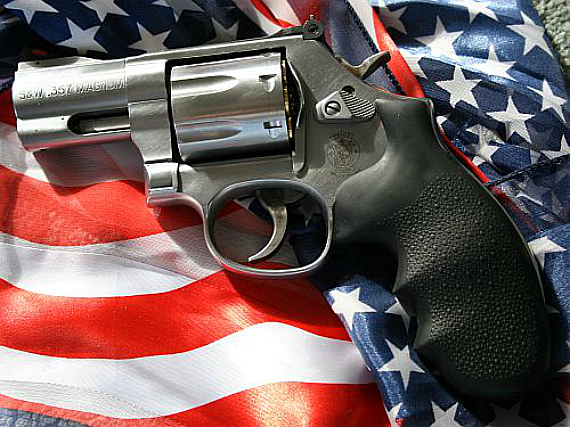 In the wake of the shootings in Colorado Springs and San Bernardino, which occurred within less than a week of each other, several media outlets have been repeating statistics about the number of 'mass shootings' that have have occurred so far this year that sounds shocking when you first hear it. According to these numbers, there have been some 355 'mass shootings' in the United States since January 1st, as The Washington Post's Christopher Ingraham explains:
The San Bernardino shooting is the 355th mass shooting this year, according to a mass shooting tracker maintained by the Guns Are Cool subreddit. The Reddit tracker defines mass shootings as incidents in which four or more people, including the gunman, are killed or injured by gunfire.

The Mass Shooting Tracker is different from other shooting databases in that it uses a broader definition of mass shooting — the old FBI definition focused on four or more people killed as part of a single shooting.

It would be also be the second mass shooting just today — in the early morning hours, one person was killed and three were injured in an incident in Savannah, Georgia.

(…)

The number of mass shootings so far this year has already surpassed the total number of mass shootings in 2014, according to the Reddit tracker. And the pace is well above 2013's pace, when a total of 363 mass shootings occurred.
The Post provides this calendar showing the number of 'mass shootings' per day: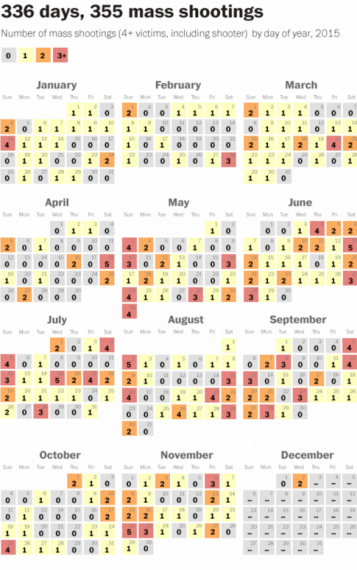 You can see an enlarged version of the calendar here, but basically any day that is colored yellow is a day on which there wa at least one 'mass shooting,' on a day colored orange there were two, and on a day colored red there were three or more. It is, quite obviously, an alarming chart, and it's clearly intended to be alarming. If you believe these numbers, after, then there has been, on average, at least one mass shooting every day this year. If we maintain the average through today of 1.050295857988166 'mass shootings' per day through the end of the year, there will have been 383 such events by the time the year ends on December 31st. Notwithstanding the data that James Joyner cited in his post today that conclusively establishes that gun violence in the United States has declined substantially over the past two decades, numbers like this reinforce the narrative that there is an 'epidemic' of gun violence and, especially, 'mass shootings' in the United States, a narrative that politicians from the President on down repeat on a regular basis as the propose legislation that, even when it consists of things that have broad public support such as expanded background checks for gun purchases, seem unlikely to actually do anything substantive to stop the kind of mass shootings that grab the headlines and shock the conscience of the American public even when they occur on the other side of the country.
Once you get past the shock of this 'mass shooting' statistic, though, there's something about it that doesn't quite make sense. After all, the typical 'mass shooting' incident is now one that gets special reports and near wall-to-wall coverage from the cable news networks, typically coverage that lasts for days as both the cable and broadcast networks send their top reporters and even their chief anchors in some cases to the scene of the incident to talk to law enforcement, talk to victims and their families, and, well, basically just talk incessantly for days on end. It happened after the Virginia Tech incident, the Tucson, Arizona shooting that involved Congresswoman Gabrielle Giffords, the shootings in an Aurora, Colorado movie theater, the shooting at Sandy Hook Elementary in Connecticut, and the shooting at a Sikh temple in Wisconsin. This year alone, it's happened after the shootings a church in Charleston, South Carolina, the murder of a local television reporter and her cameraman just outside Roanoke, Virginia, the mass shooting at a community college in Oregon, and of course the recent shootings in Colorado Springs and San Bernardino. The fact that it is relatively easy to recount these incidents from memory even though they stretch back as far as eight years would suggest that they really aren't as common as we're being led to believe. Indeed, if the 'mass shootings' number that Ingraham and others in the media, as well as many politicians was accurate, then one would expect a lot more media coverage of other incidents that simply doesn't exist. While some would suggest that this means that the media is ignoring some 'mass shooting' incidents based on where they occur or who the victims are, and this isn't necessarily an argument that should be dismissed out of hand, the logical conclusion would seem to be that the statistics the media is using are wildly inflated.
Mark Fullman, who serves as national affairs editor at Mother Jones, which is hardly a publication that can be said to be on the "pro-gun" side of current political arguments, argues in The New York Times that the statistic that is being used right now is quite simply wrong and ought to be abandoned:
At Mother Jones, where I work as an editor, we have compiled an in-depth, open-source database covering more than three decades of public mass shootings. By our measure, there have been four "mass shootings" this year, including the one in San Bernardino, and at least 73 such attacks since 1982.

What explains the vastly different count? The answer is that there is no official definition for "mass shooting." Almost all of the gun crimes behind the much larger statistic are less lethal and bear little relevance to the type of public mass murder we have just witnessed again. Including them in the same breath suggests that a 1 a.m. gang fight in a Sacramento restaurant, in which two were killed and two injured, is the same kind of event as a deranged man walking into a community college classroom and massacring nine and injuring nine others. Or that a late-night shooting on a street in Savannah, Ga., yesterday that injured three and killed one is in the same category as the madness that just played out in Southern California.

While all the victims are important, conflating those many other crimes with indiscriminate slaughter in public venues obscures our understanding of this complicated and growing problem. Everyone is desperate to know why these attacks happen and how we might stop them — and we can't know, unless we collect and focus on useful data that filter out the noise.

For at least the past decade, the F.B.I. regarded a mass shooting as a single attack in which four or more victims were killed. (In 2013, a mandate from President Obama for further study of the problem lowered that threshold to three victims killed.) When we began compiling our database in 2012, we used that criteria of four or more killed in public attacks, but excluded mass murders that stemmed from robbery, gang violence or domestic abuse in private homes. Our goal with this relatively narrow set of parameters was to better understand the seemingly indiscriminate attacks that have increased in recent years, whether in movie theaters, elementary schools or office parks.

The statistics now being highlighted in the news come primarily from shootingtracker.com, a website built by members of a Reddit forum supporting gun control called GunsAreCool. That site aggregates news stories about shooting incidents — of any kind — in which four or more people are reported to have been either injured or killed.

(…)

There is value in collecting those stories as a blunt measure of gun violence involving multiple victims. But as those numbers gain traction in the news media, they distort our understanding. According to our research at Mother Jones — subsequently corroborated by the F.B.I. — the more narrowly defined mass shootings have grown more frequent, and overwhelmingly involve legally obtained firearms. Experts in the emerging field of threat assessment believe that this is a unique phenomenon that must be understood on its own.
It's worth quoting at length from the F.B.I. study that Fullman links to, because it puts the reality of the 'mass shooting number into perspective:
In this study, the FBI identified 160 active shooter incidents, noting they occurred in small and large towns, in urban and rural areas, and in 40 of 50 states and the District of Columbia. Though incidents occurred primarily in commerce and educational environments (70.0%), they also occurred on city streets, on military and other government properties, and in private residences, health care facilities, and houses of worship. The shooters victimized young and old, male and female, family members, and people of all races, cultures, and religions. The findings establish an increasing frequency of incidents annually. During the first 7 years included in the study, an average of 6.4 incidents occurred annually. In the last 7 years of the study, that average increased to 16.4 incidents annually. This trend reinforces the need to remain vigilant regarding prevention efforts and for law enforcement to aggressively train to better respond to—and help communities recover from—active shooter incidents.
The findings also reflect the damage that can occur in a matter of minutes. In 63 incidents where the duration of the incident could be ascertained, 44 (70%) of 63 incidents ended in 5 minutes or less, with 23 ending in 2 minutes or less. Even when law enforcement was present or able to respond within minutes, civilians often had to make life and death decisions, and, therefore, should be engaged in training and discussions on decisions they may face.

As expected, therefore, many incidents ended before police arrived.18 Of the 160 incidents, at least 107 (66.9%) ended before police arrived and could engage the shooter, either because a citizen intervened, the shooter fled, or the shooter committed suicide or was killed by someone at the scene A total of 1,043 casualties occurred during the incidents included in this study (486 killed, 557 wounded). If a shooter died as a result of the incident, that individual was not included in the casualty totals. In addition, a small number of those identified as wounded were not injured by gunfire but rather suffered injuries incidental to the event, such as being hit by flying objects/shattered glass or falling while running. For the purposes of this study, the FBI did not seek to isolate the exact number of individuals that fell into this category, when research did not allow for that type of injury to be easily discerned.

The median number of individuals killed in each incident was 2, and the median number of  individuals wounded in each incident was 2.

The FBI found that 64 incidents (40.0%) would have been categorized as falling within the new federal definition of "mass killing," which is defined as "three or more killings in a single incident."
That's 64 incidents over the period from 2000 to 2013, or an average of roughly 4.6 such shooting incidents per year. While that's certainly not something that should be considered acceptable, and the F.B.I. study does show what seems to be an upward trend on these types of incidents, it's far less than the more than 300 such incidents per year that the media and many politicians and pundits are citing.
There are also arguably better ways to define 'mass shooting' than the way the F.B.I. does. The Congressional Research Service, for example, defines it this way:
Policy makers may confront numerous questions about shootings such as the December 2012 incident at Sandy Hook Elementary School in Newtown, CT, that claimed 27 lives (not including the shooter). Foremost, what are the parameters of this threat? How should it be defined?

There is no broadly agreed-to, specific conceptualization of this issue, so this report uses its own definition for public mass shootings. These are incidents occurring in relatively public places, involving four or more deaths—not including the shooter(s)—and gunmen who select victims somewhat indiscriminately. The violence in thse cases is not a means to an end—the gunmen do not pursue criminal profit or kill in the name of terrorist ideologies, for example

Applying this understanding of the issue, the Congressional Research Service (CRS) has identified 78 public mass shootings that have occurred in the United States since 1983. This suggests the scale of this threat and is  intended as a thorough review of the phenomenon but should not be characterized as exhaustive or definitive. According to CRS estimates, over the last three decades public mass shootings have claimed 547 lives and led to an additional 476 injured victims. Significantly, while tragic and shocking, public mass shootings account for few of the murders or non-negligent homicides related to firearms that occur annually in the United States.
There's a lot about this CRS definition that makes sense. While multiple victim shootings involving fights between criminal gangs are a serious matter, especially when they result in injuries or fatalities to people who are innocent bystanders as often happens in cities such as Chicago, are a serious criminal problem, they are a different type of problem from the kind of mass shooting that most Americans think of when they use the term, and the kind that law enforcement seems least equipped to prevent in no small part because warning signs are often hard to detect and attacks thus harder to prevent. Additionally, it's worth noting that if an incident such as Wednesday's shooting does turn out to have been inspired by international terrorism, or even something that was planned abroad in some sense, then it ought to be treated differently than the typical 'random' mass shooter incident such as the shooting in Oregon in October, or even Adam Lanza's horrific actions in an elementary school in Connecticut. At the very least, though, if we're going to talk about this issue, we ought not be polluting the debate with largely phony statistics, and the numbers the media are using right now to claim that there have been more 'mass shootings' than there have been days in the year is simply not providing an accurate picture of what's happening. This is especially true when the statistic that the media and politicians are using was created by a group with an obvious political agenda that clearly wants to inflate the problem as much as possible to achieve their goals. Nobody is denying that there is a gun violence problem, but it doesn't always take the same form and it doesn't have the same causes or solutions. If we can't be honest about the numbers, we're never going to be able to honestly discuss a solution.
H/T to Taylor Millard at Hot Air for the link to the Congressional Research Service report.