Ten Dead, Multiple People Injured, In Shooting On Oregon College Campus
Up to 13 people are dead and as many 20 injured after another mass shooting on a college campus.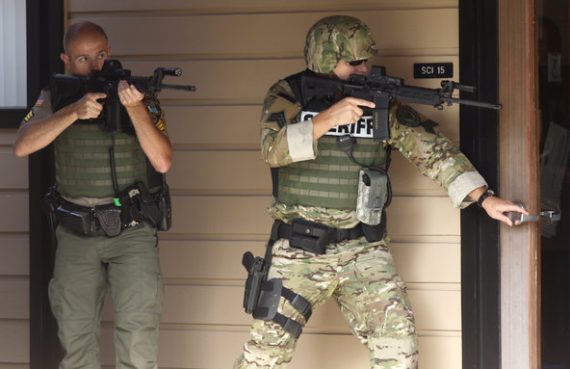 Ten victims including the gunman are dead, and multiple people are injured, after a shooter opened fire on the campus of a community college in southern Oregon:
A 20-year-old man went on a shooting rampage at a community college in Roseburg, Ore., on Thursday, killing multiple victims and injuring at least 20. Officials said the gunman died after an exchange of gunfire with the police.

Accounts of how many people were dead varied, with officials in the office of the Oregon attorney general, Ellen F. Rosenblum, putting the number at 13.

"We are just heartbroken here in Oregon that an act of this magnitude has occurred in our state," Ms. Rosenblum told MSNBC. She cautioned that the situation was still developing.

The shooting occurred at Umpqua Community College, which has about 3,000 students, in a rural community about three hours south of Portland. The first calls came in at 10:38 a.m., local officials said, and the college was put on lockdown as a number of law enforcement agencies responded.

A student, Brady Winder, 23, who moved to Roseburg from Portland three weeks ago, said he was in a room in Snyder Hall adjacent to where at least one shooting took place.

"I heard at least nine shots," he said.

"There's a door connecting our classroom to that classroom, and my teacher was going to knock on the door," Mr. Winder said. "But she called out, `Is everybody O.K.?' and then we heard a bunch more shots. We all froze for about half a second."

"We heard people screaming next door," he said. "And then everybody took off. People were hopping over desks, knocking things over."

All the classrooms in the building open to the outdoors — there are no hallways, Mr. Winder said — and "as we were running away, I think there were more shots, but my brain was kind of panic mode, just focused on running as fast as I could."

The Douglas County sheriff, John Hanlin, said at a news conference that the gunman died after an exchange of gunfire with officers. He said officials were still trying to determine if anyone else might be involved, but other officials said he acted alone.

The campus remained on lockdown. Those without injuries were being transported by buses to the Douglas County fairgrounds, and friends and relatives were being directed to meet them there. The name of the gunman has not been released, though his age was given as 20.

Cory Grogan of the Oregon Office of Emergency Management said that at least 20 people had been wounded. Most of the wounded were taken to nearby hospitals, he said, but some were still being treated at the college.

Mercy Medical Center in Roseburg said in a posting on its website that it had received nine victims from the incident, with three more en route. No details were provided about their conditions.
More from The Washington Post:
ROSEBURG, Ore. — A shooter described as a 20-year-old man opened fire on a rural community college campus in Oregon on Thursday morning, killing multiple people and injuring even more.

Ellen F. Rosenblum, the Oregon attorney general, said her office believed that 13 people were killed in the shooting and another 20 people were injured.

"We are just heartbroken here in Oregon that an act of this magnitude has occurred in our state," Rosenblum said in an interview on MSNBC. She said the figures were from the Oregon Department of Justice's Criminal Justice division. She cautioned that the situation was still developing, and other officials confirmed few details.

The lone gunman was killed following an exchange of fire with police, said Douglas County Sheriff John Hanlin during a news conference Thursday afternoon.

Hanlin said he could not confirm accounts from other officials regarding the number of people who were killed and injured. "We have confirmed that there are confirmed injuries and there are confirmed fatalities," he said. "At this point, it's a very active scene."

No officers were believed to be injured, he added.

He said it was too soon to know if anyone else was involved in the shooting.

Between 20 and 25 people may have been injured and as many as 15 people may have been killed, according to Mike Lane, assistant chief of the fire department in Roseburg.

The scene was chaotic at Umpqua Community College in Roseburg, Oregon. Ambulances ferried victims to local hospitals, and students reported on social media that they had been trapped inside classrooms.

The shooting was first reported before 10:40 a.m. local time, the Douglas County Sheriff's Office said in a statement. Students and faculty were evacuated from campus to the county's fairgrounds, the sheriff's office said.

Jasmyne Davis, 19, was in class when the gunfire began. She said she heard one shot, followed by a 30-second pause, before she heard an argument and eight more gunshots from the classroom next door

Two students ran out the door of her classroom, but a female student who tried to run out was shot in the right arm, Davis said. "Close the door!" the student yelled as she fell back into the classroom.

"I've lived in Douglas County my whole life and I never thought I'd see anything like this," said Danny Medak, 20, a basketball player at Umpqua. He said he heard a loud noise, a pause and then a round of gunshots..

After being released, they boarded a bus for the 13-minute drive to the Douglas County Fairgrounds, where Red Cross volunteers handed out food and water.

Kenneth Ungerman, 25, a Navy veteran and student at the college, was just outside of Snyder Hall when the shooting started. Ungerman said he and a National Guard recruiter heard the pop of gunshots. "We're both veterans. We know what a gunshot sounds like," Ungerman said.

He added that the shooter was walking towards Snyder hall on the left side of the building. "It looked like a male, I saw him with a handgun. He was shooting outside at the windows of Snyder Hall," Ungerman recounted. According to Ungerman, the man was wearing a dark shirt and jeans.

As 15 to 20 shots rang out, students began running out of the right side of the hall yelling: "There's a shooter! Run, run! Get out of there!"

"We got underneath my jeep rolled on top, and took off," Ungerman said. They stopped at the entrance to the campus to stop traffic.

The News-Review newspaper in Douglas County quoted a student, Kortney Moore, saying the shooter had asked people their religion before opening fire. Moore could not be immediately reached for comment.

Federal authorities joined officials from Oregon in swarming the rural community college, located about three hours south of Portland. Agents from the Bureau of Alcohol, Tobacco and Firearms had arrived in the morning and additional agents were also being dispatched. The FBI field office in Portland also said it was sending agents to the scene.
While authorities have stated the age of the deceased shooter, there has been no indication as of yet as to his identity. Most likely, law enforcement is withholding this information until they are able to conduct a more detailed investigation, including searching his home assuming they're able to locate it. As you may recall, when police searched the home of James Holmes, the Aurora, Colorado theater gunman, they discovered extensive booby traps that were obviously meant to harm first responders when they arrived at the scene. From that point forward, caution has been the watchword with law enforcement in these sorts of situations. There have also been unverified reports that the gunman, or at least someone, had been online last night making threats about an incident that would occur at the college at some point today. According to these reports, several of the people who witnessed the postings expressed concern about what was being said, but there's no indication if any of them attempted to determine the poster's identity or to contact law enforcement. That news, though, combined with the reports that the shooter was reportedly asking people what religion they were before he shot them, raises concerns that this was a premeditated attack of some kind motivated by bias in much the same manner as the June shootings in Charleston, South Carolina.
Until we have more information, it's rather pointless to speculate about what the motivation in this case may have been, of course, or about how this attack may have been possible. That being said, it's inevitable that this will lead to yet another discussion about gun control laws in this country just as we've seen after each of the mass shootings that have occurred over the past five years or so. In that regard, it's at least worth noting that Oregon recently enacted a universal background check system that is intended to be more stringent than Federal laws, but we don't know at this point if the weapons used in this incident were purchased before or after the new law went into effect. Also relevant, obviously, will be the question of whether or not the shooter had some sort of mental illness such as was the case with murderers such as James Holmes, Adam Lanza, Seung-Hui Choi, and Jared Lee Loughner. Whatever the answers, though, the seemingly uniquely American phenomenon of the mass shooting has repeated itself, and even beyond the issue of firearms one has to wonder why it is that these things keep happening here.
Update: Overnight, the death and injury totals were revised downward to ten dead, including the gunman, and seven injured. I have revised the post title and the opening of the post accordingly. Also, today's edition of The Oregonian includes compelling interviews with people in the lecture hall at the time of the shooting. Additionally, the shooter has been identified as Charles Harper Mercer, 26.
Photo via The New York Times