Shots Fired At Connecticut Elementary School, Multiple Deaths Reported
Apparent tragedy at a Connecticut Elementary School.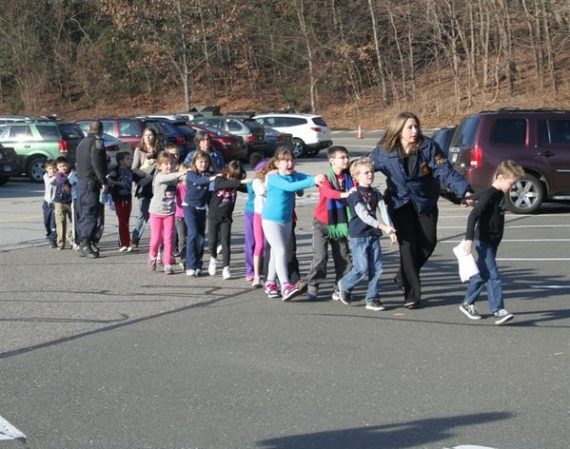 An elementary school in Newton, Connecticut has been the scene of a mass shooting:
Multiple people, including children, have been killed in a shooting at Sandy Hook Elementary School.

The number of dead is unclear, but there are at least 20 shooting victims. Many of the shootings took place in a kindergarten classroom, sources said.

A person believed to be a shooter is dead. Earlier reports of a second shooter are unconfirmed.

ABC News reported through federal, local officials that more than a dozen people, including children, were shot and killed.

Police were still searching the school at 11 a.m., and police dogs had been brought in. Around noon, the triage area was broken down, stretchers were taken away and the SWAT team left the building.

Shortly after 9:40 a.m., police reported that a shooter was in the main office of the school. A person in one room had "numerous gunshot wounds," police said.

Groups of students — some crying, some holding hands — were being escorted away from the school by their teachers. Some students were still in the school at 10:30 a.m., parents said.

School and local emergency officials are accounting for the children, who will be released to their parents to get them home. A staging area has been set up at the Sandy Hook fire department, directly in front of the school.

Frustrated parents are trying to get information from officials, who are still actively searching the school.

Eight-year-old Alexis Wasik, a third-grader at the school, said police were checking everybody inside the school before they were escorted to the firehouse.

"We had to walk with a partner," she said.

One child leaving the school said that there was shattered glass everywhere. A police officer ran into the classroom and told them to run outside and keep going until the reach the firehouse.

Dozens of state troopers are on the scene assisting local police. Heavily armed police gathered in front of the school around 10:45 a.m., and a number of stretchers were set up.
Further details from CBS News:
A shooting at a Connecticut elementary school Friday left several children and the gunman dead, law enforcement sources tell CBS News. At least one teacher was wounded in the shooting that sent frightened pupils into the parking lot.

It is unclear if there was more than one gunman at the school.

Law enforcement sources told CBS News senior correspondent John Miller that preliminary and unconfirmed information indicates that the shooter was the father of a student.

The shooter was killed and apparently had two guns, a person with knowledge of the shooting told The Associated Press. The person spoke on condition of anonymity because the investigation was still under way.

It wasn't clear how many people were injured at Sandy Hook Elementary School in Newtown. CBS Hartford affiliate WFSB-TV reports around 600 students attend the school.

Connecticut State Police spokesman Lt. Paul Vance described the situation to CBS New York station WCBS-AM as a "very serious school shooting."

A dispatcher at the Newtown Volunteer Ambulance Corps said a teacher had been shot in the foot and taken to Danbury Hospital.

Stephen Delgiadice said his 8-year-old daughter heard two big bangs and teachers told her to get in a corner. His daughter was fine.

"It's alarming, especially in Newtown, Connecticut, which we always thought was the safest place in America," he said.

Lisa Bailey, a Newtown resident with three children in Newtown schools, told CBSNewYork.com, "Newtown is a quiet town. I'd never expect this to happen here. It's so scary. Your kids are not safe anywhere."
Multiple news agencies are reporting different things and it's difficult to know what's truth and what's rumor. The ABC report of more than a dozen dead is a relatively recent one and hasn't been confirmed. Other reports have indicated that at least two of the dead include the school's Principal and a school psychologist. Other reports have stated that the shooter, who has been killed, was the parent of one of the students at the school but that hasn't been confirmed, and neither have the initial reports that there was a second gunman who was arrested on the scene.
Updates to follow as warranted.
Update: CBS News is now reporting that as many as 27 people are dead:
NEWTOWN, Conn. (CBSNewYork) - Twenty-seven people are dead including 14 children after a gunman opened fire at an elementary school in Newtown, CBS News reports.

Officials say the gunman was also killed and apparently had two guns. It happened around 9:40 a.m. Friday at Sandy Hook Elementary School.

At least three people were injured, two children and an adult. All three were taken to Danbury Hospital.

An 8-year-old student told CBS 2-s Lou Young he was on his way to the school's office when he saw the gunman.

"I saw some of the bullets going down the hall and then a teacher pulled me into her classroom," he said.
There is also a report that the gunman is believed to be a 20 year old man from New Jersey rather than a student's parent. What connection he has to an elementary school in a relatively rural area of Connecticut is unclear. Also, the Hartford Courant is reporting that an entire classroom of children is unaccounted for, but this may just be students who ran off on their own rather than going to the fire station next to the school. Needless to say, this is just horrific.
Update: There was a Connecticut State Police news conference at 1pm today but very little information was released, including no confirmation of the number of dead and injured as of yet. That may be because families are still being notified. In any event, CNN is reporting that the shooting suspect is being identified as Ryan Lanza, a 20 year old former resident of Newtown who now lives in Hoboken. According to other reports, the suspects home in New Jersey has been searched and a body has been found that may or may not be his mother. Hoboken is about an hour and a half away from Newtown, although driving time would likely be longer if the trip were made in the morning rush hour.
Update: The New York Post is reporting that the shooter's name is actually Adam Lanza and that his brother, Ryan Lanza, is the one being questioned by police. Additionally, it appears that Lanza's mother, who was a kindergarten teacher at the school, may have been the initial target in that nearly all the deaths took place in her classroom. Also, there appears to be a dead body at the mother's home in Newtown and the suspect's home in Hoboken.