Obama Administration Sending Mixed Signals On Marijuana
President Obama's recent statements on the legalization of marijuana in Colorado and Washington are not consistent with his own Administration's policies.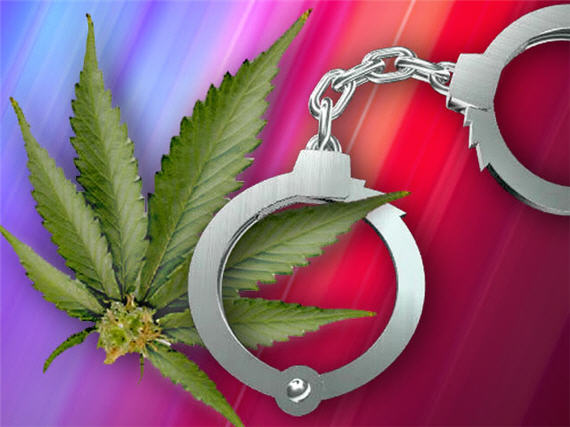 President Obama is getting a lot of attention for comments he made in an interview with Barbara Walters regarding his reaction to the recent election results in Colorado and Washington that resulted in marijuana being fully legalized in both states:
President Obama says recreational users of marijuana in states that have legalized the substance should not be a "top priority" of federal law enforcement officials prosecuting the war on drugs.

"We've got bigger fish to fry," Obama said of pot users in Colorado and Washington during an exclusive interview with ABC News' Barbara Walters.

"It would not make sense for us to see a top priority as going after recreational users in states that have determined that it's legal," he said, invoking the same approach taken toward users of medicinal marijuana in 18 states where it's legal.

Obama's comments on marijuana are his first following Colorado and Washington voters' approval of Nov. 7 ballot measures that legalize the recreational use and sale of pot in defiance of federal law.

Marijuana, or cannabis, remains classified under the Controlled Substances Act as a Schedule I narcotic whose cultivation, distribution, possession and use are criminal acts. It's in the same category as heroin, LSD and "Ecstasy," all deemed to have high potential for abuse.

Obama told Walters he does not – "at this point" – support widespread legalization of marijuana. But he cited shifting public opinion and limited government resources as reasons to find a middle ground on punishing use of the drug.

"This is a tough problem, because Congress has not yet changed the law," Obama said. "I head up the executive branch; we're supposed to be carrying out laws. And so what we're going to need to have is a conversation about, How do you reconcile a federal law that still says marijuana is a federal offense and state laws that say that it's legal?"

The president said he has asked Attorney General Eric Holder and the Justice Department to examine the legal questions surrounding conflicting state and federal laws on drugs.

"There are a number of issues that have to be considered, among them the impact that drug usage has on young people, [and] we have treaty obligations with nations outside the United States," Holder said Wednesday of the review underway.
It sounds pretty good doesn't it? Well, if you're an advocate of federalism and individual liberty it certainly does. I'm among those people who believe that people should have the right to smoke marijuana if they wish to, and that individual states should have the right to legalize it in whole or in part if they wish to. Some would argue that it's a hopeful sign that the President is saying that he considers going after pot smokers in Colorado and Washington be too low priority for the Federal Government. They're correct, of course, but the problem is that the President said very similar things before becoming President four years ago. Back then, he told us that he would direct his Justice Department to not direct enforcement action against people involved in the medical marijuana business in states like California where it has been legalized. Despite that promise, the Department of Justice has continued to pursue cases against growers and dispensers in California and other medical marijuana state, and shows now sign of letting up. Given that, you'll pardon me if I don't take the President at his word.
Matthew Yglesias is also skeptical:
The simple fact of the matter is that the DEA doesn't remotely have the resources to target, arrest, and prosecute recreational marijuana users. But Colorado and Washington didn't legalize recreational marijuana use. They set up a framework for legal marijuana cultivation, for marijuana processing, and for wholesale and retail sales of marijuana.
The DEA doesn't have the resources to target a guy for sharing a bowl with his friends, but they certainly do have the resources to target a large marijuana farm or a fixed-location marijuana retailer trying to establish a legal business. What's more, they have the resources to arrest and prosecute state officials who involve themselves in the licensing and permitting for legal marijuana businesses. Given resource constraints, these are in fact exactly the bigger fish that the DEA has to fry that would make it unreasonable for them to be worried too much about recreational use. The actual question on the table isn't whether the federal government is going to be able to replace state and local law enforcement, the question is whether the federal government will do everything in its power to subvert the new frameworks in CO and WA. The president's statement to Walters is entirely consistent with a posture of maximum subversion.
That's exactly the issue. The Federal Government rarely goes after the guy who has maybe a couple ounces of pot that he smokes himself or shares with his friends anyway. Quite simply, it isn't worth their time or resources to prosecute cases that normally would be handled by the state authorities. Even now, with the state authorities in Colorado and Washington no longer prosecuting marijuana cases, those types of cases really aren't worth the time of Federal law enforcement and U.S. Attorneys. The growers and sellers, however, are a different story. Just as they have in California you can expect to see the Federal Government cracking down on the "big guys" in Colorado and Washington and continuing to prosecute a failed War On (Some) Drugs for reasons that nobody seems to be able to explain logically.