Trump Administration Reverses Obama Era Policy On State Marijuana Legalization
The Trump Administration is reversing policy on an Obama Era policy that allowed states to choose their own course on marijuana laws.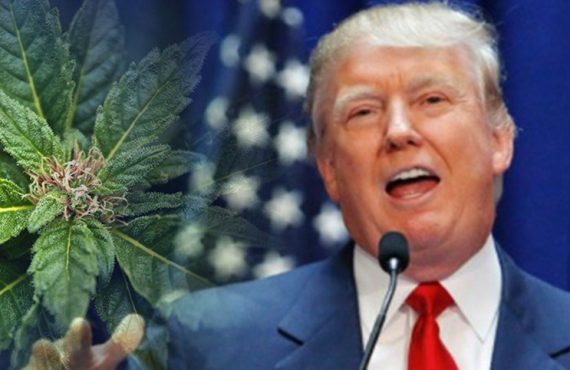 The Trump Administration is reversing an Obama Administration policy that generally refrained from interfering with state efforts to either legalize marijuana or make it more widely available for medical purposes:
The Trump administration freed federal prosecutors on Thursday to more aggressively enforce marijuana laws, effectively threatening to undermine the legalization movement that has spread to six states, most recently California.

In a move that raised doubts about the viability and growth of the burgeoning commercial marijuana industry, Attorney General Jeff Sessions rescinded an Obama-era policy that had discouraged federal prosecutors from bringing charges of marijuana-related crimes in states that have legalized sales of the drug.

In a statement, Mr. Sessions said the Obama-era guidance undermined "the rule of law" and the Justice Department's mission to enforce federal statutes.

"Today's memo on federal marijuana enforcement simply directs all U.S. attorneys to use previously established prosecutorial principles that provide them all the necessary tools to disrupt criminal organizations, tackle the growing drug crisis, and thwart violent crime across our country," he said.

In a briefing with reporters, Justice Department officials refused to say whether they intended for federal prosecutors to carry out a federal crackdown on marijuana dispensaries, or whether the Trump administration was merely creating ambiguity to chill growth of the semi-legal commercial marijuana industry.

But the move seemed certain to increase the confusion surrounding whether it is legal to sell, buy or possess marijuana in the United States. Federal law has long prohibited those activities, and in 2013, after voters in Colorado and Washington State voted to decriminalize marijuana for recreational use, the Justice Department deliberated about how to handle the resulting disconnect between state and federal law.

Ultimately, the Obama administration decided not to sue such states, and the Justice Department issued a policy memo instructing federal prosecutors to de-prioritize marijuana-related prosecutions in those states — except in certain cases, such as when there were sales to children, gang-related activity, or diversions of the product to states where it remained entirely illegal.

That guidance was known as the "Cole memo" after the then-deputy attorney general who issued it, James Cole.

The federal government's hands-off approach allowed a new industry to flourish in states that had decided to legalize and regulate marijuana use and sales for recreational and medical use. In Colorado, one of the first states to broadly legalize the drug for adult use, marijuana sales now top $1 billion each year and thousands of people work in the industry, in jobs ranging from "bud trimmers" to marijuana tour guides for out-of-state visitors.

Huge grow warehouses sprouted up inside old industrial neighborhoods, and companies that produce marijuana-laced candies, infusions and drinks have large-scale production facilities — all of which may now have a bull's-eye on their backs.

"I do expect to see the larger investors and businesses targeted," said Kevin Sabet, a prominent critic of legalized marijuana and former drug-control policy official in the Obama administration, who praised the step. "I'm not sure whether local mom-and-pop marijuana shops will be affected."
Jonathan Adler at The Volokh Conspiracy notes that this constitutes a serious threat to concepts of federalism that conservatives claim to care about:
The Attorney General has the authority to reorient federal enforcement priorities in this way, but I believe that is a mistake. Given the breadth of federal criminal laws, the Justice Department must prioritize its limited enforcement resources. A logical way to prioritize enforcement efforts is to focus federal resources on those crimes that implicate distinctly federal interests (such as interstate trafficking) or that are difficult for state and local authorities to handle on their own (such as some complicated financial crimes and matters that cross state lines). Such an approach is not only more efficient, it is also consistent with the underlying constitutional structure, in which the federal government has limited and enumerated powers — including the power to regulate commerce "among the several states" — and in which general police power is reserved to the states.

The Cole memorandum issued during the Obama Administration was largely consistent with this sort of federalist principle. If anything, this memorandum did not go far enough. Ideally, Congress would reform federal drug laws to facilitate state experimentation while also protecting states in which prohibition is maintained from any excesses of their neighbors. (Note to members of Congress poised to criticize AG Sessions: Why don't you do your job and push legislation to address this issue?)
This move doesn't come entirely as a surprise. While he was a U.S. Senator, Jeff Sessions was an outspoken critic of the marijuana legalization movement and of the Obama Administration's decision not to interfere with states where the substance had been legalized, decriminalized, or even merely legalized for medical purposes. Because of that, there had been repeated speculation over the past year since he began serving as Attorney General that he would take steps to reverse the policies put in place by the Obama Justice Department that essentially took a hands-off approach on the enforcement of Federal marijuana laws in such states unless it involved the transportation of cannabis across state lines or had links to international drug trafficking. As a result, the states had been given a relatively free hand to set policies of their own either through voter initiatives or legislative action. To a large degree, this policy was consistent with principles of federalism that conservatives and Republicans claim to champion. By reversing the policy, Sessions and Trump are effectively seeking to supplant the will of the people in the states where marijuana has been legalized, decriminalized, or made available for medical purposes and deal a significant blow to the growing nationwide movement in favor of outright legalization.
The move also seems to run counter to public opinion on the issue of legalization. According to an October poll from Gallup, legalization is supported by 64 percent of the public, including a majority of self-identified Republicans. This is one of the major reasons why the legalization movement itself has proven to be so successful at the polls in recent years. Over the past seven years, we've seen a growing number of states change their laws to reflect these changes in public opinion, and to reflect the reality that all of the available evidence has shown that marijuana is not nearly as harmful as other illegal drugs such as cocaine or heroin, that it is not physically addictive, that there is no evidence it is a "gateway drug" that leads users to more dangerous substances, and that it is in many respects less harmful than legal substances such as alcohol and nicotine. Additionally, there have been several studies that have established the medical benefits that cannabis can have for people suffering from ailments such as glaucoma and who are trying to deal with nausea caused by chemotherapy used in treating cancer. The trend toward legalization began to gain steam in 2010 when Colorado and Washington both passed citizen referenda legalizing cannabis. Four years later similar measures passed in Oregon, Alaska, and the District of Columbia passed similar referenda. Most recently marijuana was legalized in 2016 in California, Massachusetts, Nevada, and Maine via citizen referenda and voters in a number of other states approved legalization for medicinal purposes. As this map from Wikipedia shows, the laws regarding marijuana have been liberalized to at least some extent in virtually every state in the country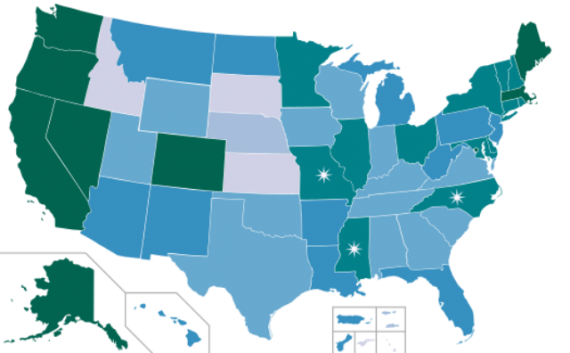 Here's the key to the map: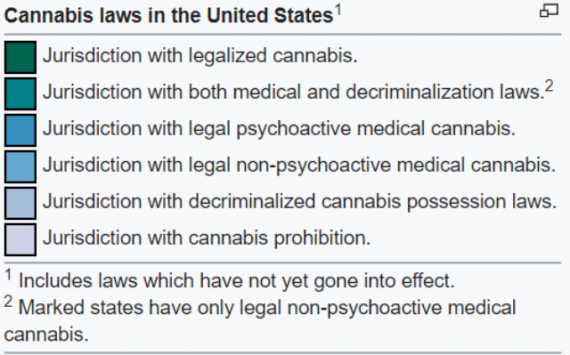 It's important to note that this policy change doesn't necessarily mean that we're going to see Federal agents busting down the doors of marijuana businesses in the states where it has been legalized, but it does create a high degree of legal uncertainty for an industry that is just beginning to grow. Sessions' announcement basically leaves it to individual U.S. Attorneys to decide how they will deal with the issue of marijuana in their jurisdiction. In some cases, this could mean that there will be little change from the current policy due to the fact that Federal law enforcement in the affected jurisdictions could decide that it would be a waste of limited resources to try to enforce Federal laws against what is essentially a legal business in their particular states. At this point, though, it's not at all clear that this will be the case, and we could see U.S. Attorneys who want to curry favor with an Attorney General who is decidedly opposed to legalization by using Federal law to bust people that are engaging in activities that are, for purposes of state law, engaged in an entirely legal activity. At the very least, without the Obama Era policy in place, these businesses will now be operating in an environment where they will have to be concerned about the possibility of Federal law enforcement targeting them even though they are engaged in a legal activity within the borders of their respective states.
Ideally, Congress will follow Professor Adler's advice and step in to reform Federal law in a way that protects states that have chosen to legalize or decriminalize marijuana. In that regard, it's interesting to note that Sessions' announcement has been greeted most prominently by condemnation from Colorado Republican Senator Cory Gardner, who is decidedly conservative:
Colorado politicians on both sides of the aisle resoundingly lambasted U.S. Attorney General Jeff Sessions' decision Thursday to end an Obama-era policy that allowed for marijuana legalization to spread in U.S. states despite pot being federally unlawful.

They said the change put Colorado's pot marketplace at serious risk — though it still was unclear what the impact would be in the nation's first legal recreational market.

The decision "has trampled on the will of the voters," tweeted U.S. Sen. Cory Gardner, a Republican.

"This industry has been implemented, the sky has not fallen like many of us thought it would and it's being done responsibly across the country," said Denver Mayor Michael Hancock, a Democrat, calling the decision a disappointment in an interview.

The rallying cries against Sessions' reported rescinding of the so-called Cole Memo were joined by Gov. John Hickenlooper, a fellow Democrat, as well as Republican U.S. Rep. Mike Coffman, who questioned if the nation's top law enforcement officer understood the Constitution. All of those officials had opposed the legalization of recreational marijuana before 55 percent of Colorado voters approved it in 2012.

Gardner threatened Thursday to withhold support for Justice Department nominees until the policy dispute was resolved.

"Before I voted to confirm Attorney General Sessions, he assured me that marijuana would not be a priority for this administration," Gardner said in a statement. "Today's action directly contradicts what I was told, and I am prepared to take all steps necessary, including holding (U.S. Department of Justice) nominees, until the attorney general lives up to the commitment he made to me prior to his confirmation.

"In 2016, President Trump said marijuana legalization should be left up to the states and I agree."
Gardner also spoke about the issue from the floor of the Senate today, arguing that the change in policy is an assault on state's rights and on the lives and livelihoods of the Coloradans he represents:
Gardner was joined in his criticism by Dean Heller of Nevada and Lisa Murkowski of Alaska, who also represent states that have legalized marijuana in recent years, as well as Kentucky Senator Rand Paul. Over in the House, California Republican Dana Rohrbacher joined Gardner and these other Senators:
Rep. Dana Rohrabacher (R-Calif.) is sharply criticizing Attorney General Jeff Sessions's decision to allow federal prosecutors to target marijuana users in states where use of the drug is legal.

In the Thursday statement on his website, Rohrabacher ripped Sessions for the decision, which the lawmaker warns will only hurt GOP chances at the ballot box during November's midterm elections.

"The attorney general of the United States has just delivered an extravagant holiday gift to the drug cartels. By attacking the will of the American people, who overwhelmingly favor marijuana legalization, Jeff Sessions has shown a preference for allowing all commerce in marijuana to take place in the black market, which will inevitably bring the spike in violence he mistakenly attributes to marijuana itself," Rohrabacher said in his statement.

"By taking this benighted minority position, he actually places Republicans' electoral fortunes in jeopardy," he added.
The California lawmaker's statement came after Sessions earlier Thursday rescinded orders that directed federal prosecutors to deprioritize prosecution of marijuana-related cases in states where the drug is legal. Recreational marijuana, already a booming industry, became legal in Rohrabacher's home state earlier this week.
It remains to be seen whether Gardner, Rohrbacher, and the others speak for a large number of their fellow Republicans, but with elections coming up in November it will be interesting to see if there is a significant movement in Congress to rein in this action on the Administration's part.