Support For Marijuana Legalization Continues To Be High
One month before voters in several states head to the polls to vote on legalization referendums, a new poll shows that public support for legalization remains at record high levels.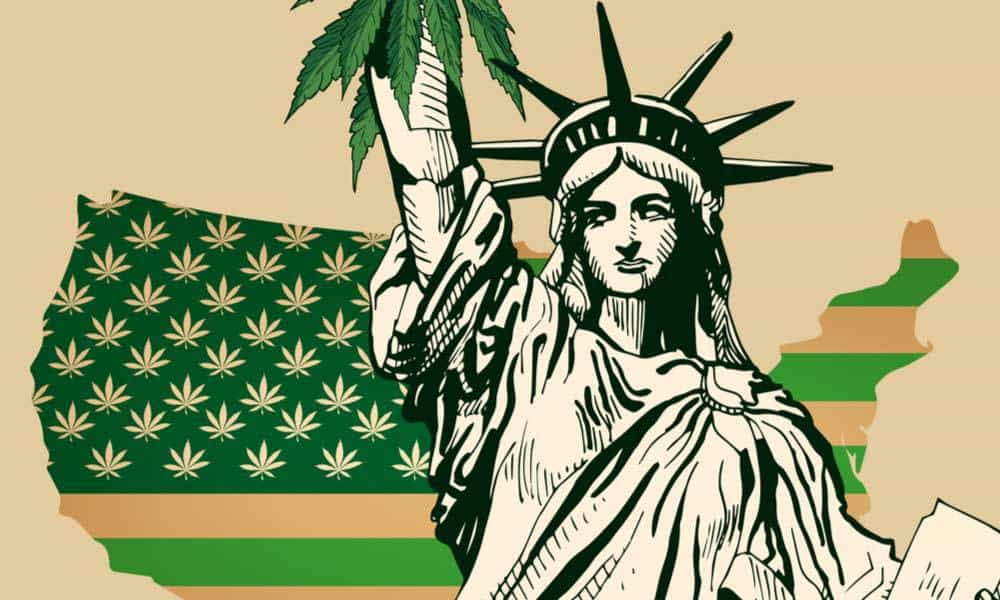 Yet another poll shows that acceptance of legalized marijuana is becoming more and more prevalent among Americans, suggesting that the momentum we've seen on this issue is only likely to continue:
More than 6 in 10 Americans support legalizing marijuana, according to a new survey released by the Pew Research Center.
The survey found that 62 percent of Americans favor legalization, a figure that represents a steady increase in support in recent years.

Support jumped just 1 percent from 2017 but has doubled from the 31 percent of the nation that supported marijuana legalization in 2000, according to Pew.

Pew notes that support for legalizing marijuana splits along party lines. Sixty-nine percent of Democrats are in favor of legalizing the drug, while just 45 percent of Republicans back the idea. Fifty-one percent of Republicans oppose legalizing marijuana.

But the 45 percent of Republicans supporting marijuana's legalization represents a 6-point increase since 2015, Pew noted.

The rising support for legalizing marijuana comes as more states are easing their laws on the drug. Recreational marijuana is currently legal in nine states and Washington, D.C., and medical marijuana is legal in another 29.

States like Michigan, North Dakota and Oklahoma will be voting on marijuana initiatives this November. Oklahoma residents voted to legalize medicinal marijuana in June.

Michigan and North Dakota voters will vote on whether the states should permit recreational use this November. Missouri and Utah voters will vote on whether the states can permit medical marijuana use.

In April, support for legalization reached 63 percent in in a poll conducted by Quinnipiac University, the highest level of support recorded by the survey.

Support for medical marijuana reached 93 percent, according to the poll. Only about 5 percent of respondents opposed it.
This latest poll continues a trend that began at the beginning of the decade, has continued unimpeded for the past seven years, and which shows no signs of stopping or reversing itself any time soon. In 2011, for example, polling showed that support legalization had reached the 50% level, while even larger numbers supported legalization supported legalization for medical purposes or decriminalization. By 2013, the number of Americans supporting legalization had passed the 50% mark. That mark reached 55% in 2014 and 58% in 2015.  By this time last year, polling showed that support for legalization had reached 64% and a poll taken five months ago showed support at 63%. So, we've basically reached the point where two-thirds of the American public supports complete legalization and, according to this newest poll and other polls upwards of 90% of Americans support legalization of marijuana
As these poll numbers have increased, the movement toward liberalization of marijuana laws and outright legalization has moved steadily forward. It began to gain steam, of course, in 2010 when Colorado and Washington both passed citizen referenda legalizing cannabis. Four years later similar measures passed in Oregon, Alaska, and the District of Columbia. Most recently marijuana was legalized in 2016 in California, Massachusetts, Nevada, and Maine via citizen referenda and voters in a number of other states approved legalization for medicinal purposes. Even though we're only four months in 2018 has seen several advances in this area. For example, January was the biggest month yet for the legalization movement given the fact that the most populated state in the nation, California, officially legalized marijuana based on the aforementioned 2016 referendum. This year, several states, including Michigan and North Dakota will be voting on full legalization in November and several other states will be voting on legalization for medical use. Additionally, Vermont became the first state to legalize marijuana through the legislature instead of a voter referendum. New Jersey stands likely to be the second state where that happens thanks to the election of a Democratic Governor who supports legalization a Democratic state legislature that spent eight years trying to liberalize drug laws in the Garden State only to be thwarted by the veto of former Governor Chris Christie. Governor Murphy has already taken steps to use his regulatory powers to expand access to the state's medical marijuana program. Additionally, earlier this summer, in anticipation of the passage of a bill that would legalize marijuana by the state legislature, the New Jersey Attorney General announced that marijuana prosecutions would be put on hold.  On the national level, meanwhile, former Speaker of the House John Boehner has announced that he's changed his mind on the issue of legalization and joined the board of a company that grows and sells cannabis in states where it is legal for either medical or recreational purposes. Finally, less than two weeks ago Senate Minority Leader Chuck Schumer introduced a bill that would give states freedom to set their own marijuana laws free from Federal control and to protect the citizens of those states from being charged with Federal crimes if they are acting in accordance with state law.
As this map from Wikipedia shows, nearly every state has liberalized its laws on marijuana in recent years:
What we're looking at, clearly, is what seems to be an inexorable march toward what will effectively be the nationwide legalization of marijuana for all purposes, something that would have been unthinkable as recently as ten years ago but which now seems to be within reach. As it stands now, there are only four states — Idaho, South Dakota, Nebraska, and Kansas — that continue to prohibit marijuana for any use. Even the relatively conservative areas of the Deep South, where one would expect the greatest opposition to the idea, one finds that, at the very least, marijuana is legal for medical use, although in some cases that is more tightly regulated in some states than in others. As I've said before, all of this mirrors the manner in which we've seen another recent change in social attitudes have an impact on the law:
[T]here are unmistakable similarities between the tend that we've seen in polling on this issue and the trend that we saw in the polling on the issue of marriage equality in the years before the Supreme Court's decision in Obergefell v. Hodges.In both cases, the change seems to be rooted in changes in society and culture that have recognized that previous attitudes were based on incomplete information or biases that had no basis in fact. In some sense, the change in public opinion on marijuana legalization has been even more radical than the changes we saw with respect to marriage equality in that it has occurred over a much shorter period of time. The noticeable difference, of course, is that this increase in support for legalization has not led to the same rapid changes in the law that we saw with the marriage equality issue. To a large degree, though, this is because most of the progress with regard to same-sex marriage was made via the Court system rather than the legislative process or citizen referendums. For many reasons, the court system is not well suited to deal with the marijuana legalization, though, and the efforts that have been made have been largely unsuccessful. For example, last year a group of Plaintiffs in New York attempted to get a Federal Court to declare the scheduling of marijuana as a Schedule 1 drug by the Drug Enforcement Administration invalid, but that effort was dismissed. Instead, the progress on marijuana legalization has had to take the slower route of using the legislative and political process to change the law. Those routes generally operate at a  much slower pace than the court system does, and often be blocked by a determined minority of voters. Despite this slower pace, though, the trend toward more liberal marijuana laws and eventually nationwide legalization, seems to be fairly clear. At this point, it's not a matter of if, but when.
These latest developments are just another step down that road.