Poll: Majority Support For Marijuana Legalization
A new Pew Research poll shows that a majority of Americans now support legalizing marijuana:
A clear majority of Americans support legalizing marijuana for the first time in 40 years, according to a poll released Thursday.

In the Pew Research Center poll released Thursday, 52 percent support legalizing the drug and only 45 percent oppose legalization. While support has generally tracked upward over time, it has spiked 11 percentage points since 2010.

The first public poll on legalizing marijuana, taken by Gallup in 1969, found a whopping 84 percent of the country opposed.

In November 2012, voters in Washington and Colorado both decided to legalize marijuana, making those the first two states to do so. Three-fifths of Americans said the federal government shouldn't enforce marijuana laws in those states. And 72 percent said the government efforts to enforce marijuana laws cost more than they're worth.

Support for legal weed use has increased across age groups, genders, education levels, ideologies and ethnic backgrounds since 2010. The largest jumps have come from Hispanics, where support rose from 35 percent to 51 percent, and moderate or liberal Republicans, who increased support from 36 percent to 53 percent. Support is lower among older people, and among Republicans and conservatives.
This chart shows just how much public attitudes regarding marijuana have changed in my lifetime: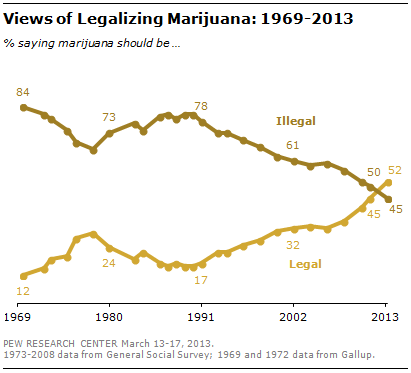 Much like public attitudes toward same-sex marriage, it seems rather apparent that we're looking at the impact of generational change here. Baby Boomer's and younger voters are the ones leading the forces of change here, and we see the impact of it in both the success of the initiatives in states like Colorado and Washington but the widespread acceptance in pretty much all parts of the country except the Deep South of the legalization of marijuana for medical purposes. Even there, though, the changes are taking place. Just as we've seen the nation move inexorably toward legalization of same-sex marriage, I think it's fairly clear that we're looking at a process that will lead to either complete legalization or at least decriminalization of marijuana in the near future.