Federal Lawsuit Seeks To Challenge Federal Laws Against Marijuana
A Federal Court in New York City is set to hear argument tomorrow in a case that essentially argues that a large swath of Federal laws regarding marijuana are unconstitutional.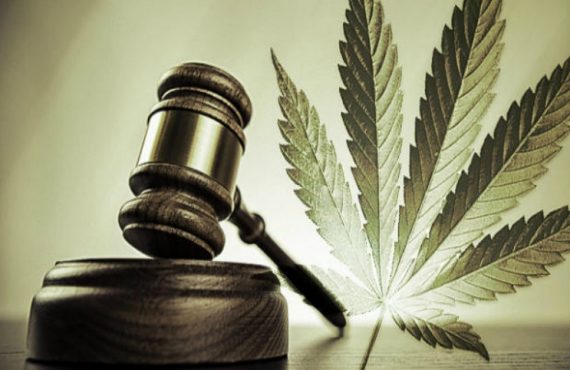 Tomorrow in New York City, a Federal Court Judge will hear argument in a case that was filed last July seeking to force a change in the Federal Government's policies regarding marijuana:
Besieged by litigation about its travel ban, its immigration agenda, its prohibition on transgender soldiers and numerous potential conflicts of interest, the presidency of Donald J. Trump has seemed at times like a high-stakes spinoff of "The People's Court" with Mr. Trump in the starring role as defendant in chief.

On Wednesday, yet another courtroom battle promises to pull the White House into the legal spotlight as crucial arguments are heard in New York in a sweeping lawsuit that is challenging the administration's marijuana policy by seeking to legalize pot under federal law.

When the suit was filed in Federal District Court in Manhattan in July, it appeared to be an intriguing, if limited, effort to help its five named plaintiffs — among them, a former professional football player with a business selling pot-based pain relievers and a 12-year-old girl who treats her chronic epilepsy with medical marijuana. But the case was thrust into national relevance last month when Attorney General Jeff Sessions issued an order encouraging prosecutors to aggressively enforce the federal marijuana law, endangering the viability of the multibillion-dollar weed industry in states where it is legal.

In its 98-page complaint, the suit presents its case for legalization not only through a host of constitutional arguments, but also by way of a world-historical tour of marijuana use — from its first purported role 10,000 years ago in the production of Taiwanese pottery to the smoking habits of President Barack Obama in his younger days. It points out that the ancient Egyptians used the drug to treat eye sores and hemorrhoids, and Thomas Jefferson puffed it for his migraines. James Madison credited "sweet hemp" for giving him "insight to create a new and democratic nation," the suit notes.

The suit also includes archival material quoting John Ehrlichman, an adviser to President Richard Nixon, saying that the early efforts to criminalize pot were a way to disrupt the hippies and the black community after the 1960s. The contention is bolstered by an affidavit from Roger J. Stone, Jr., a pro-pot Nixon-era operative and adviser to Mr. Trump.

This is not the first time lawyers have sought to use the courts to question whether marijuana should still be classified as a so-called Schedule 1 drug under the 1970 Controlled Substances Act, the most restrictive category reserved for the most dangerous narcotics. Many of those efforts have come in criminal cases, and judges — including those on the United States Supreme Court — have routinely upheld Congress's decision to make marijuana illegal.

The current legal action is a somewhat rare attempt to use civil claims to legalize weed and has offered some novel arguments as to why its classification has violated the constitutional rights of those who filed the suit.

The former football player, Marvin Washington, for instance, is contending that the Controlled Substances Act has impeded his ability to transact business in states where pot is legal in contravention of the Constitution's commerce clause. The girl with epilepsy, Alexis Bortell, has argued that the law illegally restricts her right to travel with her medicine in states where pot is not allowed or to places controlled by the federal government — including on airplanes. A third plaintiff, the Cannabis Cultural Association, a nonprofit group created to assist minorities in the marijuana industry, has alleged the law has been used for years to discriminate against them.

"It's the first time a young child who needs lifesaving medicine has stood up to the government to be able to use it," said Joseph A. Bondy, one of the lawyers who brought the suit. "It's the first time that a group of young millennials of color has stood up to the government and said the marijuana law is wrong and has destroyed their communities."

The suit has made another claim based on what amounts to government hypocrisy: It asks why the government has classified pot as a pernicious substance, when in 2003 the Department of Health and Human Services obtained a patent on compounds in the drug to protect against brain damage and then in 2015 the surgeon general under President Obama declared in public that pot has medical benefits.

Against these claims, lawyers for the government have argued that Congress decided nearly 50 years ago that pot should be a Schedule 1 drug, and if the plaintiffs don't agree, they should try to change the law. Their suit, the lawyers wrote in one of their filings, "is the latest in a long list of cases asserting constitutional challenges to marijuana regulation under the C.S.A. Those challenges have been uniformly rejected by the federal courts."

No matter how the lawsuit ends, the judge who is considering the case, Alvin K. Hellerstein, is clearly taking it seriously. At a hearing in September, Judge Hellerstein said he would give the matter his "prioritized attention," setting it ahead of all of his other cases.

The hearing on Wednesday, scheduled to entertain arguments to dismiss the case, is likely to be marked by a whiff of drama as marijuana activists from across the country are expected to descend on the courtroom. Mr. Bondy said he is also trying to arrange a live-stream of the proceeding so that young Alexis, unable to travel to New York, can watch it from her home in Colorado.
Though filed in July of last year, this hearing happens to come at a time when legalization for both medical and recreational purposes has become an even more prominent issue than it has had in recent years. German Lopez at Vox, for example, cites January as the biggest month yet to advance the cause of legalization given the fact that California officially came under the provisions of the referendum that was passed in 2016 legalizing marijuana statewide in the nations most-populated state. Additionally, Vermont became the first state where a law to legalize marijuana was passed by the state legislature rather than coming into effect during a voter referendum. New Jersey stands likely to be the second state where that happens thanks to the election of Democratic Governor Phil Murphy, a supporter of legalization and has a Democratic state legislature that spent eight years trying to liberalize drug laws in the Garden State only to be thwarted by the veto of former Governor Chris Christie. Indeed,  Governor Murphy has already taken steps to use his regulatory powers to expand access to the state's medical marijuana program, which is the one area where former Governor Christie went along with the legislature when it came to marijuana use. In 2017, we saw polling show that nearly two-thirds of Americans, including a majority of self-identified Republicans, support legalization, a new high for that question. With the move in Vermont, there are now 30 states where marijuana is either fully legalized, decriminalized, or at least legalized for medical use. Finally, north of the border, Canadian Prime Minister Justin Trudeau is moving forward with his party's promise during the 2015 election to legalize marijuana in Canada.
On the negative side of the ledger, of course, there is the January announcement by Attorney General Jeff Sessions reversing an Obama Era policy that gave deference to states that had legalized marijuana and directing that Federal law enforcement in those states concentrate on interstate on international distribution rather than targeting users, sellers, and producers in states where marijuana is legal. As Lopez notes, though, the impact of this decision is unclear since the Justice Department directive that Sessions issued gives discretion to individual U.S. Attorneys to decide how to prioritize cases.  In many cases, the U.S. Attorneys in jurisdictions that have legalized marijuana have already stated that they don't envision targeting in-state use or sales or changing how they approached marijuana as a law enforcement issue from the policy they were following under the Obama Administration.
Given all these developments, this lawsuit comes at a particularly significant moment, though it's unclear if the lawsuit itself would have a significant impact.
As a legal matter, the arguments that the case make are certainly intriguing. In essence, the Complaint, which is embedded below, spends 89 pages and 440 numbered paragraphs setting forth both the history of cannabis cultivation and use dating back tens of thousands of years and the manner in which, prior to the establishment of the first Federal laws regulating the substance in 1937, it has been used as both a commercial product and for medical and recreational purposes. In that regard, the Complaint notes an interesting history with regard to marijuana's cultivation and use in the United States prior to the 1930s, including its use as the primary source of paper and the manufacture of items such as clothing and flags during Amerca's colonial era and the fact that several of our nations Founding Fathers, including George Washington and Thomas Jefferson, made note in their diaries and other papers of having used marijuana, which at the time was referred to as "sweet hemp," for medical and even recreation purposes. The Complaint also details the history of the Federal Government's legal battles against marijuana that began in 1937 and became significantly stronger amid the so-called "War On Drugs" that began under the Nixon Administration. In that last regard, the Complaint alleges that the Administration's decision to significantly crack down on marijuana was due to its popularity among younger Americans in general and African-Americans in particular, essentially arguing that the decision to crack down on marijuana use and possession and to classify marijuana as a Schedule One drug was based in motives utterly unrelated to science or the realities of marijuana's history as a commercial, medical, and recreational product for roughly the previous 200 years or more. Based on these allegations, the Complaint alleges that Federal laws regarding marijuana in general, and its classification as a Schedule One drug under the Due Process Clause of the Fifth Amendment as well as other provisions of the Constitution.
As I said, this is certainly a unique legal argument, and while I admittedly have not checked all of the historical sources cited in the Complaint, the case it makes is rather compelling from a fact-based point of view. As a legal matter, though, I'm skeptical of the arguments that the Complaint makes and whether they have a real chance of getting the legal relief they request, which is essentially a Court order finding a large swath of Federal law regarding marijuana to be unconstitutional. As a general rule, Courts are reluctant to step into an area such as this where the legislature and the President have acted, especially when the laws have been a long-standing as the ones at issue in this case. This is doubly true when it comes to issues such as the scheduling of marijuana as a Category One substance by the Drug Enforcement Administration. Given that, I'm not sure that this Judge, who was appointed by President Clinton in 1998 and during his time on the bench has previously made the news when he presided over several terrorism cases arising in New York City, will be all that receptive to such a wide-ranging ruling, especially since it is in many ways a case of first impression that raises issues that Federal Courts have not dealt with in the past. That being said, it will be interesting to see how the oral argument goes tomorrow, and what that could mean for the broader legalization movement in the future.
Here's the Complaint:
Washington Et Al v. Sessions Et Al by Doug Mataconis on Scribd