Election Day Was A Good Day For Marijuana Legalization
On Tuesday, Michigan joined the ranks of the states where marijuana is legal and several other states legalized it for medical purposes.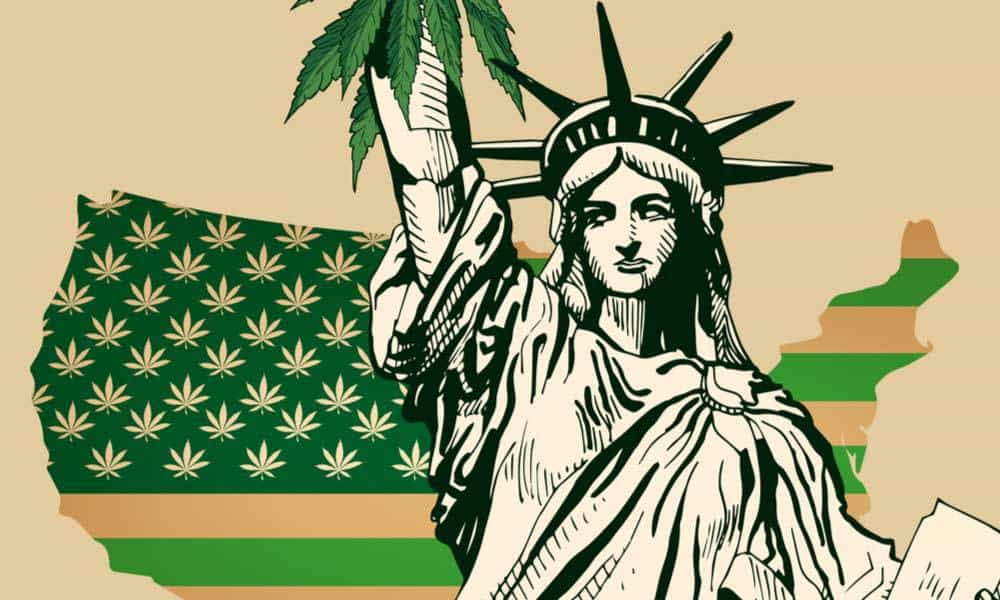 Marijuana legalization was on the ballot in several states and, with the exception of an unsuccessful legalization effort in North Dakota, it was another set of victories, including in Michigan which became the tenth state to legalize marijuana for recreational use:
Marijuana advocates scored a number of substantial ballot victories in the middle of the country on Election Day, chief among them the legalization of recreational marijuana in Michigan, which becomes the 10th state in the nation to approve recreational use of the drug.

"Michigan will be the first state in the Midwest to end marijuana prohibition and replace it with a system in which marijuana is regulated for adult use," Marijuana Policy Project deputy director Matthew Schweich, who directed the legalization campaign, said in a statement. "Adults will no longer be punished for consuming a substance less harmful than alcohol, and rather than having to resort to the illegal market, they will be able to access it safely and legally from licensed businesses."

The results in Michigan follow the opening of recreational marijuana markets in Canada and the repeal of marijuana prohibition in Mexico. With the addition of Michigan, nearly 80 million Americans — 25 percent of the total U.S. population — live in a state or jurisdiction that has legalized recreational marijuana. The most recent polling by Gallup shows that two-thirds of American adults support legalization of the drug.

In deep-red North Dakota, on the other hand, voters overwhelmingly rejected an unusual bill that would have legalized marijuana without setting any possession limits or regulatory structure. The outcome in North Dakota underscores Republican skepticism of legalization — in the Gallup surveyjust 53 percent of Republicans nationwide said they supported marijuana legalization, compared to 71 percent of independent voters and 75 percent of Democrats.

"Tonight, parents can sleep easy knowing their children won't wake up to more marijuana use in their schools," said Luke Niforatos, senior policy adviser to Smart Approaches to Marijuana, a group that opposes legalization. "The sensible, wonderful people of North Dakota have rejected marijuana commercialization in their state."

Elsewhere on the ballot tonight, voters in Missouri approved one out of three medical marijuana measures up for consideration, avoiding a potentially messy fight over which measure would go into law if more than one passed. Missouri's Amendment 2 allows doctors to recommend marijuana for a number of medical conditions. Patients would be able to obtain the drug either through a dispensary or by growing it at home.
In addition to these measures, there was also a medical marijuana referendum on the ballot in Utah which appears to have been approved based on the latest available returns. The impact of this vote is unclear, though, in light of the fact that supporters and opponents of the ballot referendum had reached a deal that would lead the Governor to call a Special Session of the state legislature for the purposes of writing a compromise bill. This was necessitated because Utah law allows legislators to override the results of a referendum with a simple majority vote. Notwithstanding this, though, it does appear that Utah will eventually join the list of states that allow at least the use of marijuana for medical purposes.
Ilya Somin comments, and ties the outcome of the referenda listed above to the President's decision to fire Attorney General Jeff Sessions, a noted proponent of the War On Drugs:
The combination of these three developments significantly increase the chance that Congress might finally abolish or at least severely curtail federal marijuana prohibition in the relatively near future. Earlier this year, Colorado GOP Senator Cory Gardner cut a deal with Trump under which the latter would potentially back the elimination of federal prohibition in states that had legalized marijuana under their own laws. In June, Gardner and Democratic Senator Elizabeth Warren proposed the STATES Act, which would do exactly that. So far, the bill has made little progress. But it or something like it would have a better chance next year. A Democratic-controlled House could pass it without having to worry about the Hastert Rule or potential opposition from socially conservative Republicans who still favor federal prohibition.

The GOP's net gain of two or three seats in the Senate (at this point it is not clear who will prevail in the close race in Arizona) could potentially make passage harder in that chamber. But Gardner would only need a handful of GOP votes (in addition to his own) to get a bill like the STATES Act over the top. And there is a good chance that several other GOP senators might support it on some combination of federalist and libertarian grounds. Eliminating federal prohibition would be an important success for constitutional federalism as well as legalization. Senate Majority Leader Mitch McConnell is unlikely to go to the mat to oppose such a bill, especially given his own enthusiasm for hemp.

Federal marijuana legalization is not yet a done deal. Various factors could still derail it. Even if it does happen, there is still a long way to go on curbing the broader War on Drugs, which inflicts far greater harm than marijuana prohibition alone. Still, prospects for legalization are definitely looking up.
Unlike Somin, I am not willing to cheer the dismissal of Sessions as a victory for drug war opponents. For one thing, it is clear that Sessions' positions on drug policy and the actions of the Justice Department in that area had nothing to do with the reasons behind his dismissal. Instead, it is clear that Sessions was fired as part of the President's continued and ongoing efforts to undermine the investigation into Russian interference in the 2016 election and the question of collaboration between the Trump campaign and people with links to Russia. Additionally, it's clear that the President does not disagree with the positions that Trump took on drug policy or the manner in which the Justice Department would enforce Federal drug laws. Indeed, there is every reason to believe that Trump supported this aspect of Sessions' work in the Justice Department. Finally, it's obvious that whoever Trump might pick to replace Sessions will hold the same views as he does on drug policy and will continue the same policies.
Putting aside this caveat, and the minor setback in North Dakota, it's clear that this is good news in the fight for marijuana legalization and it reinforces developments that have taken place over the past eight years. Just last month, for example, new polling data showed that two-thirds of Americans support the legalization of marijuana for recreational use and even more support legalization for medical purposes. This is, of course, just the latest example of the extent to which marijuana use has become more socially acceptable, and the extent to which laws have changed to adapt to public opinion.
It began to gain steam, of course, in 2010 when Colorado and Washington both passed citizen referenda legalizing cannabis. Four years later similar measures passed in Oregon, Alaska, and the District of Columbia. Most recently marijuana was legalized in 2016 in California, Massachusetts, Nevada, and Maine via citizen referenda and voters in a number of other states approved legalization for medicinal purposes. Even though we're only four months in 2018 has seen several advances in this area. For example, January was the biggest month yet for the legalization movement given the fact that the most populated state in the nation, California, officially legalized marijuana based on the aforementioned 2016 referendum. Additionally, Vermont became the first state to legalize marijuana through the legislature instead of a voter referendum. New Jersey stands likely to be the second state where that happens thanks to the election of a Democratic Governor who supports legalization a Democratic state legislature that spent eight years trying to liberalize drug laws in the Garden State only to be thwarted by the veto of former Governor Chris Christie. Governor Murphy has already taken steps to use his regulatory powers to expand access to the state's medical marijuana program. Additionally, earlier this summer, in anticipation of the passage of a bill that would legalize marijuana by the state legislature, the New Jersey Attorney General announced that marijuana prosecutions would be put on hold. Tuesday's victories are just the latest victory in the war against the insane, pointless, and lost war on drugs.