New Jersey Puts Marijuana Prosecutions On Hold, Anticipating Legalization
The Garden State has put a hold on marijuana prosecutions in anticipation of full legalization by the end of the year.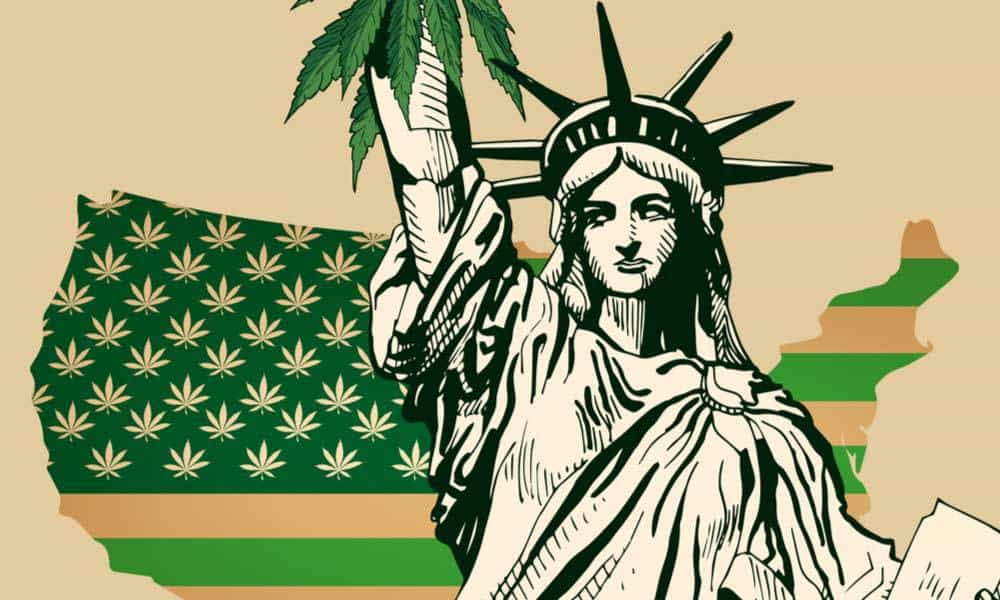 The State of New Jersey has announced a hold on prosecutions for marijuana possession ahead of what is expected to be a legislative push for legalization later this year:
In a move that will affect thousands of defendants and millions of residents, New Jersey's attorney general has announced an immediate adjournment of all marijuana cases in municipal courts statewide until at least September.

In a letter to prosecutors obtained exclusively by NJ Advance Media, New Jersey Attorney General Gurbir Grewal wrote that he was asking "that all municipal prosecutors in New Jersey seek an adjournment until September 4, 2018, or later, of any matter involving a marijuana-related offense pending in municipal court" so that his office could develop "appropriate guidance" for prosecutors.

Sharon Lauchaire, spokeswoman in the attorney general's office, said that nothing in the letter directs police to stop making marijuana arrests.

Meanwhile, a source in the state Senate also told NJ Advance Media on Monday that a bill legalizing adult-use marijuana sponsored by state Sen. Nick Scutari, D-Union — himself a municipal prosecutor in the city of Linden — was expected to reach the Senate for consideration by September as well.

(…)

In May, NJ Cannabis Insider reported that of the nearly 36,000 people who were arrested on marijuana charges in New Jersey in 2016, more than 32,000 were charged for possession of small amounts of marijuana.

New Jersey has the second-highest marijuana arrest rate in the country, behind only Wyoming, and the third-highest total number of weed-related arrests, following Texas and New York, according to 2016 FBI crime data.

New Jersey also saw the largest increase in marijuana arrests from 2015 to 2016.

Such marijuana possession convictions can cause offenders to lose their homes, cost them financial aid, or see the revocation of their driver's licenses.

(…)

On Tuesday, at a press conference on school funding held in Cliffside Park, the governor briefly discussed the Attorney General's guidance and proposed legislation.

"I'll tell you what we want the final product to be — and we were just doing some business walking in here — which is adult use legalization, sooner rather than later," said Murphy, gesturing to the Senate president Sweeney standing behind him. "I'm all in."

Wayne Blanchard, the president of the New Jersey State Troopers Fraternal Association, said he expected there would be no change in enforcement as a result of the attorney general's directive.

"We have a duty and obligation to enforce the laws as their written right now," said Blanchard.

In June, Gov. Phil Murphy endorsed federal legislation that would stop the federal government from enforcing anti-marijuana laws in states that have legalized the drug, and has been pushing for legalization to occur within New Jersey by year's end.
Assuming that the effort to pass a legalization bill is successful, it would fulfill a campaign promise that New Jersey Governor Phil Murphy made last year during his run for the Governor's Mansion. Previously, the state legislature had attempted to pass a legalization bill into law, but they were met with opposition from former Governor Chris Christie, who opposed legalization and only reluctantly ended up supporting a bill that legalized marijuana for medical purposes. Even that bill, though, is rather restrictive in that it made medical marijuana far more highly regulated than it is in other states that have adopted similar laws and made it far more difficult for patients who might otherwise be medically eligible to obtain marijuana due to their health condition to get access to it than they would in other states. Meanwhile, efforts to pass a legalization bill since Murphy became Governor have been somewhat forestalled by the fact that the legislature and Governor were focused on other issues such as the state budget.
Legalization in the Garden State would also be the latest development in a trend toward legalization that has been going on for the better part of the past decade.  It all started, of course, in 2012 when Colorado and Washington became the first states to legalize cannabis for recreational use through citizen initiatives on the November ballot that year. Four years later, there were similar referenda passed in Oregon, Alaska, and the District of Columbia. In 2016 the movement gained even more steam thanks to the passage of legalization ballot measures in California, Massachusetts, Nevada, and Maine while voters in a number of other states approved legalization for medicinal purposes. 2018 has seen similar progress on this issue at the state level. For example, January was the biggest month yet for the legalization movement given the fact that the most populated state in the nation, California, officially legalized marijuana based on the 2016 referendum. Additionally, earlier this month Vermont officially became the ninth state to legalize marijuana around the same time that it was announced that a legalization referendum had qualified for the November ballot in Michigan. More recently, former Speaker of the House John Boehner has announced that he's changed his mind on the issue of legalization and joined the board of a company that grows and sells cannabis in states where it is legal for either medical or recreational purposes. Meanwhile, in Congress, Senate Minority Leader Chuck Schumer introduced a bill that would give states freedom to set their own marijuana laws free from Federal control and to protect the citizens of those states from being charged with Federal crimes if they are acting in accordance with state law. Finally, the most recent poll on the issue found that nearly two-thirds of Americans said they supported legalization of weed, continuing a trend in the polls that had begun around roughly the same time as the referenda in Colorado and Washington.
Furthermore, as this map from Wikipedia shows, the laws regarding marijuana have been liberalized to at least some extent in virtually every state in the country: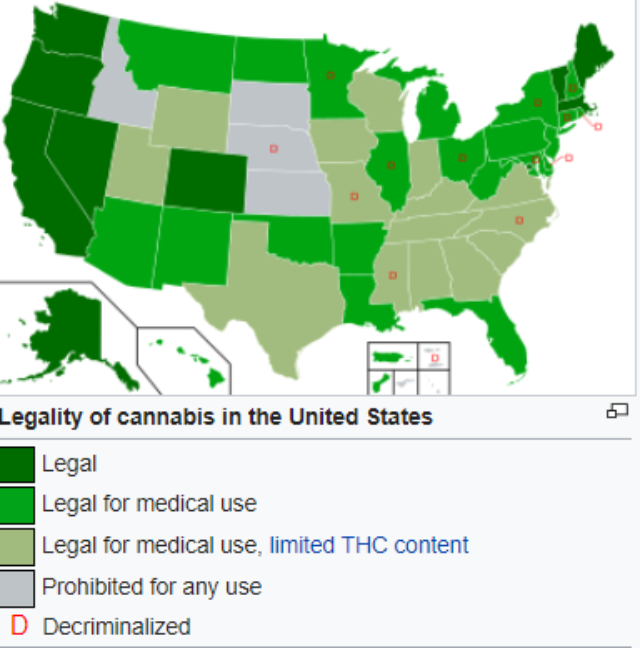 As I've said before, all of this mirrors the manner in which we've seen another recent change in social attitudes have an impact on the law:
[T]here are unmistakable similarities between the tend that we've seen in polling on this issue and the trend that we saw in the polling on the issue of marriage equality in the years before the Supreme Court's decision in Obergefell v. Hodges.In both cases, the change seems to be rooted in changes in society and culture that have recognized that previous attitudes were based on incomplete information or biases that had no basis in fact. In some sense, the change in public opinion on marijuana legalization has been even more radical than the changes we saw with respect to marriage equality in that it has occurred over a much shorter period of time. The noticeable difference, of course, is that this increase in support for legalization has not led to the same rapid changes in the law that we saw with the marriage equality issue. To a large degree, though, this is because most of the progress with regard to same-sex marriage was made via the Court system rather than the legislative process or citizen referendums. For many reasons, the court system is not well suited to deal with the marijuana legalization, though, and the efforts that have been made have been largely unsuccessful. For example, last year a group of Plaintiffs in New York attempted to get a Federal Court to declare the scheduling of marijuana as a Schedule 1 drug by the Drug Enforcement Administration invalid, but that effort was dismissed. Instead, the progress on marijuana legalization has had to take the slower route of using the legislative and political process to change the law. Those routes generally operate at a  much slower pace than the court system does, and often be blocked by a determined minority of voters. Despite this slower pace, though, the trend toward more liberal marijuana laws and eventually nationwide legalization, seems to be fairly clear. At this point, it's not a matter of if, but when.
The latest moved from New Jersey, which will hopefully lead to full legalization later this year, is another step down that road, and another sign of progress.