Support For Marijuana Legalization Reaches A New High
Nearly two-thirds of Americans support marijuana legalization according to a new poll.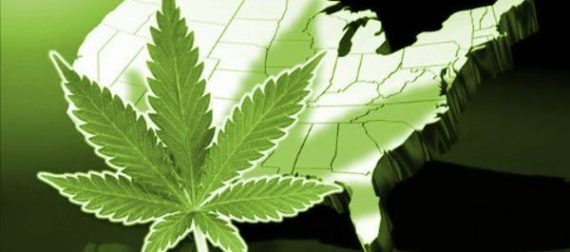 A new poll finds that support for legal marijuana is at an all-time high:
Nearly two-thirds of U.S. voters back legalizing marijuana, according to a Quinnipiac University poll released Thursday.

Support for legalization hit 63 percent in the survey — the highest level of support recorded by a Quinnipiac poll. A third of American voters still oppose legalization, the poll found.

Support for medical marijuana is even higher, at 93 percent. Only about 5 percent of respondents opposed it.

The poll also found little support for Attorney General Jeff Sessions's decision earlier this year to rescind an Obama-era policy that paved the way for individual states to legalize marijuana without federal interference.

Seventy percent of respondents said that they oppose enforcement of federal laws prohibiting marijuana in states that have moved to legalize the substance, while only 23 percent were in favor of such enforcement.

So far, nine states and the District of Columbia have legalized the use of recreational pot, and two dozen states have approved medical marijuana. Nevertheless, the substance remains federally prohibited.

In January, Sessions rescinded the Cole memo, which discouraged federal prosecutors from prioritizing marijuana-related charges in states that had voted to legalize it.
This latest poll continues a trend that began at the beginning of the decade, has continued unimpeded for the past seven years, and which shows no signs of stopping or reversing itself any time soon. In 2011, for example, polling showed that support legalization had reached the 50% level, while even larger numbers supported legalization supported legalization for medical purposes or decriminalization. By 2013, the number of Americans supporting legalization had passed the 50% mark. That mark reached 55% in 2014 and 58% in 2015. The most recent national survey on the issue, taken in the autumn of law year, showed that support for legalization had reached 64%. Much like the polling on marriage equality that we saw in advance of the legal victories that issue began scoring in the courts, the trend seems to be rather obvious and most likely irreversible.
As these poll numbers have increased, the movement toward liberalization of marijuana laws and outright legalization has moved steadily forward. It began to gain steam, of course, in 2010 when Colorado and Washington both passed citizen referenda legalizing cannabis. Four years later similar measures passed in Oregon, Alaska, and the District of Columbia. Most recently marijuana was legalized in 2016 in California, Massachusetts, Nevada, and Maine via citizen referenda and voters in a number of other states approved legalization for medicinal purposes. Even though we're only four months in 2018 has seen several advances in this area. For example, January was the biggest month yet for the legalization movement given the fact that the most populated state in the nation, California, officially legalized marijuana based on the aforementioned 2016 referendum. Additionally, Vermont became the first state to legalize marijuana through the legislature instead of a voter referendum. New Jersey stands likely to be the second state where that happens thanks to the election of a Democratic Governor who supports legalization a Democratic state legislature that spent eight years trying to liberalize drug laws in the Garden State only to be thwarted by the veto of former Governor Chris Christie. Governor Murphy has already taken steps to use his regulatory powers to expand access to the state's medical marijuana program. More recently, former Speaker of the House John Boehner has announced that he's changed his mind on the issue of legalization and joined the board of a company that grows and sells cannabis in states where it is legal for either medical or recreational purposes. Finally, less than two weeks ago Senate Minority Leader Chuck Schumer introduced a bill that would give states freedom to set their own marijuana laws free from Federal control and to protect the citizens of those states from being charged with Federal crimes if they are acting in accordance with state law.
This map from Wikipedia shows the extent to which legalization, decriminalization, or at least legalization for medical purposes has swept across the country and even into very conservative states in the south where you'd expect the resistance to such moves to be toughest: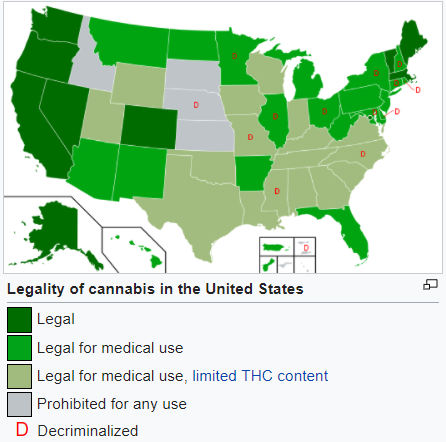 As  I've noted in the past, there are unmistakable similarities between the tend that we've seen in polling on this issue and the trend that we saw in the polling on the issue of marriage equality in the years before the Supreme Court's decision in Obergefell v. Hodges. In both cases, the change seems to be rooted in changes in society and culture that have recognized that previous attitudes were based on incomplete information or biases that had no basis in fact. In some sense, the change in public opinion on marijuana legalization has been even more radical than the changes we saw with respect to marriage equality in that it has occurred over a much shorter period of time. The noticeable difference, of course, is that this increase in support for legalization has not led to the same rapid changes in the law that we saw with the marriage equality issue. To a large degree, though, this is because most of the progress with regard to same-sex marriage was made via the Court system rather than the legislative process or citizen referendums. For many reasons, the court system is not well suited to deal with the marijuana legalization, though, and the efforts that have been made have been largely unsuccessful. For example, last year a group of Plaintiffs in New York attempted to get a Federal Court to declare the scheduling of marijuana as a Schedule 1 drug by the Drug Enforcement Administration invalid, but that effort was dismissed. Instead, the progress on marijuana legalization has had to take the slower route of using the legislative and political process to change the law. Those routes generally operate at a  much slower pace than the court system does, and often be blocked by a determined minority of voters. Despite this slower pace, though, the trend toward more liberal marijuana laws and eventually nationwide legalization, seems to be fairly clear. At this point, it's not a matter of if, but when.