Support For Marijuana Legalization Now Stands At 64% Of Americans, Majority Of Republicans
A new poll shows that a record majority of Americans, including a majority of Republicans, support legalization of marijuana.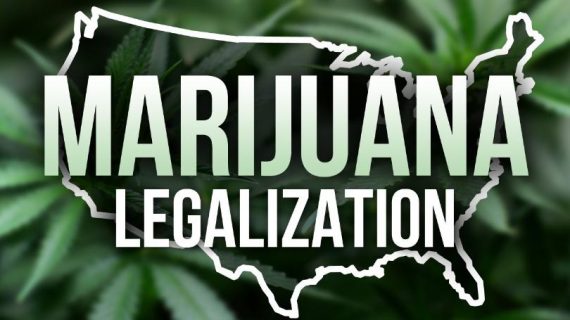 A new Gallup poll shows that public support for marijuana legalization continues to increase among Americans:
A record high number of respondents to a Gallup poll released Wednesday said they support the legalization of marijuana, including more than half of Republicans polled.

Overall, 64 percent of those reached by Gallup said they support the legalization of marijuana, up 4 percentage points from October 2016. The percentage of Gallup respondents who support legalization has climbed consistently since 2012, when 48 percent of those polled said they supported it.

Marijuana remains illegal under federal law, but the drug has been legalized by eight states and the District of Columbia. Many other states allow marijuana use for medicinal purposes under laws with varying degrees of strictness.
This isn't entirely surprising, of course. Polling over the past several years has shown an increase in the number of Americans supporting full legalization of marijuana, with even broader majorities supporting things such as legalization for purely medicinal purposes and decriminalization and other reforms to the laws regulating possession of cannabis to the point where most recreational possession is treated more like a traffic ticket than a criminal offense. A 2011 poll, for example, found that that 50% of those surveyed supported legalization, while even larger numbers supported legalization for medial purposes or decriminalization. By 2013, the number of Americans supporting legalization crossed the 50% barrier and that support for medical marijuana and decriminalization were even higher. That number reached 55% in 2014, and 58% by 2015, again with support for medical marijuana and decriminalization rising even higher. The trend, though, was clear. By increasing numbers, Americans were becoming comfortable with the idea of legalizing marijuana and the support for changing the laws regulating it at the state level only looked to be increasing in the future. With this poll showing nationwide support for legalization above sixty percent (60%) for the first time, the trend is even more clear and we appear to be on the course to a point where opposition to legalization is a distinct minority across the nation.
During that same period of time we've seen a growing number of states changing their laws to reflect the changes in public opinion and to reflect the reality that increasing evidence has shown that marijuana is not nearly as harmful as other illegal drugs such as cocaine or heroin, that contrary to popular myth it is not physically addictive, and that it is in many respect less harmful than legal substances such as alcohol and nicotine. The trend toward legalization began to gain steam in 2010 when Colorado and Washington both passed citizen referenda legalizing cannabis. Four years later similar measures passed in Oregon, Alaska, and the District of Columbia passed similar referenda. Most recently marijuana was legalized in 2016 in California, Massachusetts, Nevada, and Maine via citizen referenda and voters in a number of other states approved legalization for medicinal purposes. As this map from Wikipedia shows, the laws regarding marijuana have been liberalized to at least some extent in virtually every state in the country: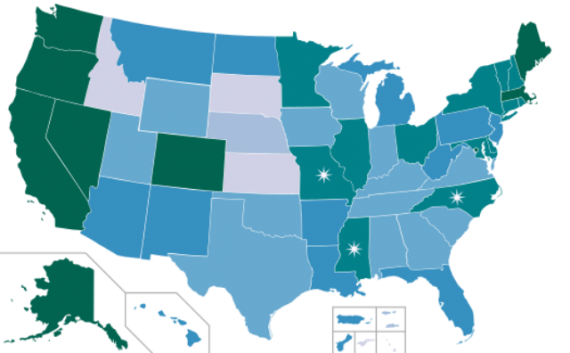 Here's the key to the map: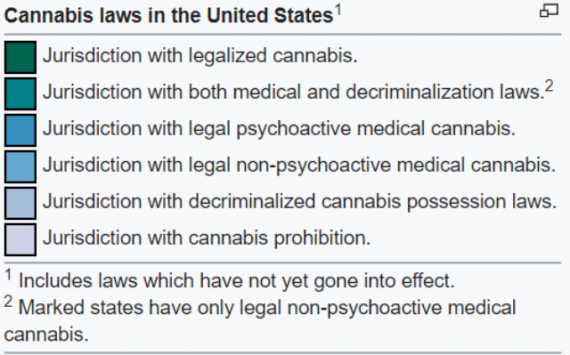 As Christopher Ingraham notes in The Washington Post, perhaps the most significant result from the new poll is the fact that, for a first time, a majority of Republicans also support legalization:
For the first time in nearly 50 years of Gallup polling on the question, a majority of American Republicans say they support marijuana legalization.

Fifty-one percent of Republicans surveyed by Gallup this month said they support legalization, up sharply from 42 percent a year ago. Even larger majorities of independents (67 percent) and Democrats (72 percent) are in favor of legal marijuana.

Overall, 64 percent of Americans now support legalization, the highest percentage ever in Gallup polling.

(…)

The sharp shift in Republican voters' views on pot is the most significant finding in the Gallup poll, coming during a time of increased federal skepticism of marijuana legalization efforts. Attorney General Jeff Sessions has asked lawmakers to undo federal protections for medical marijuana, repeatedly calling it   a "dangerous drug."

But greater support for legalization could complicate any administration efforts to crack down on pot. "Attorney General Jeff Sessions could find himself out of step with his own party if the current trends continue," Gallup wrote.
As Gallup notes in its analysis of the data, there are many similarities between the trend that we've seen in this polling and the polling on the issue of same-sex marriage that showed support for marriage equality increasing at a more rapid pace over a very short period of time. In both cases, the change appears to be rooted in cultural and societal changes that have recognized that previous attitudes were based on incomplete information or biases that simply weren't true. While it's true that this increase in support for legalization has not led to the same rapid changes in the law we saw when it came to marriage equality, much of that can be attributed to the differences in how those laws can be changed. In the case of marriage equality, many of the changes in the law came through court rulings that found the laws against same-sex marriage to be unconstitutional and it was ultimately a decision from the U.S. Supreme Court that led to the legalization of same-sex marriage nationwide. In the case of marijuana, changes in the law can only really come through either the legislative process or, as has been the case in many states, through a referendum taken to the voters. The process for either of these events to happen moves much slower than the court system does, and can only often be blocked by a determined minority of voters. Despite this slower pace, though, the trend toward more liberal marijuana laws and eventually nationwide legalization, seems to be fairly clear. At this point it's not a matter of if, but when.