New Poll Shows Support For Marijuana Legalization Continues To Rise
Public support for marijuana legalization continues to rise. As with the marriage equality movement, it's obvious where this will end, The only question is how long it will take to get there.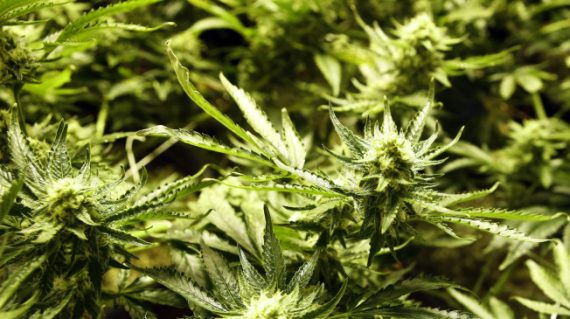 A new poll shows that public support for marijuana legalization continues to grow, boding well for efforts of those in states such as California trying to copy the legalization efforts of other states:
PRINCETON, N.J. — A majority of Americans continue to say marijuana use should be legal in the United States, with 58% holding that view, tying the high point in Gallup's 46-year trend.

Americans' support for legal marijuana has steadily grown over time. When Gallup first asked the question, in 1969, 12% of Americans thought marijuana use should be legal, with little change in two early 1970s polls. By the late 1970s, support had increased to about 25%, and held there through the mid-1990s. The percentage of Americans who favored making use of the drug legal exceeded 30% by 2000 and was higher than 40% by 2009.

Over the past six years, support has vacillated a bit, but averaged 48% from 2010 through 2012 and has averaged above the majority level, 56%, since 2013.

The higher level of support comes as many states and localities are changing, or considering changing, their laws on marijuana. So far, four states and the District of Columbia have made recreational use of marijuana legal, and Ohio voters are set to decide a ballot initiative that would do the same this coming Election Day. The topic has been an issue on the 2016 presidential campaign trail, and several candidates have expressed a willingness to let states set their own marijuana laws even though federal law prohibits marijuana use.
Not surprisingly, support is strongest among younger Americans, but there's really only one age bracket left where legalization remains unpopular:
Gallup has previously reported that two of the biggest differentiators of Americans' opinions on legal marijuana are age and party identification. Younger Americans, Democrats and independents are the most likely of major demographic and political groups to favor legalizing use of the drug, while Republicans and older Americans are least likely to do so.

Younger Americans have always shown the most support of any age group for making marijuana legal, but this has grown from 20% of 18- to 34-year-olds in 1969 to 71% of those in the same age group today. But even older age groups today are more likely to favor legal marijuana than the comparable age groups in the past. For example, 35% of senior citizens today (aged 65 and older) are in favor of legalization, compared with 4% of senior citizens in 1969. Among all age groups, the increase in support has been proportionately greater over the last 15 years than it was between any of the earlier time periods.

These patterns by age indicate that one reason Americans are more likely to support legal marijuana today than they were in the past is because newer generations of adults, who are much more inclined to favor use of the drug, are replacing older generations in the population who were much less inclined to want it to be legalized.

But the increase in support nationwide is also a function of attitude change within generations of Americans over the course of their adult lifespans. Gallup's historical data allow for a look at how views on marijuana legalization have changed over time among independent samples of those in the same birth cohorts. For example, Americans who are aged 65 through 79 today — born between 1936 and 1950 — are more supportive of making marijuana legal in 2015 than those born in the same years were 15, 30 and 46 years ago. This birth cohort's support has increased from 20% in 1969 to 29% in 2000/2001, and is 40% today.
In many ways, the rising public support for marijuana legalization mirrors the evolution we saw in polling on the issue of same-sex marriage and general acceptance of same-sex relationships. In both cases, we have seen a sharp increase in support of the idea of greater personal freedom over the relatively short period of time that has elapsed since the mid-1990s, and there's every indication that this support will continue to increase as time goes on. To a large degree, of course, this is a reflection of broader changes in public mores and attitudes toward the acceptability of marijuana use. Fifty years ago, smoking marijuana was seen by most of society as something confined to a criminal, fringe element of society and the belief that use of marijuana would have the same kind of negative consequences as the use of harder drug use was widespread thanks to films such as Reefer Madness that presented a ridiculously exaggerated look at the impact of marijuana use. Those attitudes began to change significantly during the 1960s, of course, and marijuana use became quite common among anti-war protesters and other parts of the counter-cultural movement that helped define that decade. As those Baby Boomers have gotten older, their attitudes have become more widespread, and the old propaganda about the evils of marijuana have been thoroughly discredited. Additionally, several decades of the War On Drugs has seen people sent away to jail, or even Federal Prison, merely for possession of marijuana while the gangs that have cornered the market in distributing pot have grown in power and turned many inner cities into war zones. Thanks to this combination of social change and the evidence of the futility of the way we've approached this issue from a law enforcement perspective, public attitudes have shifted significantly to the point where four states and the District of Columbia have legalized marijuana, several jurisdictions have decriminalized it to the point that possession is no longer a criminal offense per se, and many more states have taken steps to make marijuana legal for medicinal purposes.
Politically, there are many signs that legalization is an idea that is likely to spread, although perhaps not as quickly as the legalization of same-sex marriage did in the years leading up to Obergefell v. Hodges. This year, for example, Ohio voters are being asked to vote on Issue 3, which would legalize marijuana, and while polling seems to show that the public is divided, advocates for the measure seem confident. Efforts to get similar measures on the ballot in states that include California, where Lt. Governor Gavin Newsom has predicted such a measure would pass, Missouri, Maine, Massachusetts, Hawaii, and Nevada. It's unclear if initiatives will get on the ballot in all these states, and we may see others act as well, but it's clear where the momentum on this issue is headed. Also, as I noted yesterday, the newly elected Liberal Party government in Canada is committed to legalizing marijuana in America's closest neighbor. It may take time, but the direction of public opinion on this issue is clear, and the law will eventually catch up with it.