Chuck Schumer Introduces Measure To Decriminalize Marijuana
The highest ranking Democrat in the Senate has introduced a bill that would effectively decriminalize marijuana nationwide and leave it up to each state to decide how far they wish to go with regard to cannabis regulation. It's a huge step in the right direction.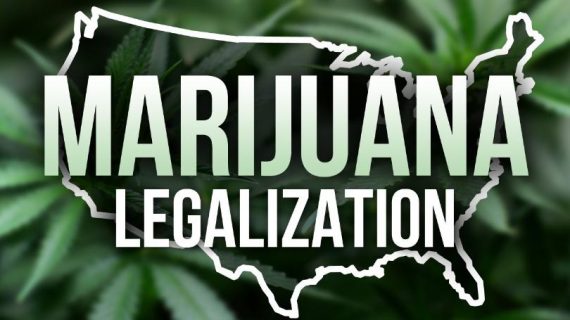 In a move that seems clearly designed to appeal to his party's base and place a rather sizable chip on the table for Democrats as a whole, Senate Minority Leader Chuck Schumer is introducing a bill that would allow states to legalize marijuana free from Federal interference:
The Senate's top Democrat announced Friday that he is introducing legislation to decriminalize marijuana, the first time that a leader of either party in Congress has endorsed a rollback of one of the country's oldest drug laws.

Senate Minority Leader Charles E. Schumer (D-N.Y.) in a statement called the move "simply the right thing to do."

"The time has come to decriminalize marijuana," Schumer said. "My thinking — as well as the general population's views — on the issue has evolved, and so I believe there's no better time than the present to get this done. It's simply the right thing to do."

Schumer first shared his intentions Thursday in an interview with Vice News Tonight on HBO, in which he decried the negative effects of current marijuana laws, under which the drug has the same legal classification as heroin. He said too many people caught with small amounts of marijuana had spent too much time in jail and that current laws have had a disproportionate effect on minority communities.

Marijuana legalization, which spent years as a fringe political cause, has become increasingly popular with all voters and increasingly embraced by Democrats. In January, the Pew Research Center found 61 percent of Americans supportive of legalization, with support reaching 70 percent among millennials.

Last year, Sen. Cory Booker (D-N.J.), who is seen by many Democrats as a potential presidential candidate in 2020, introduced the Marijuana Justice Act, which would legalize the drug nationwide; it was later endorsed by Sen. Ron Wyden (D-Ore.), whose state legalized marijuana in 2015, and Sen. Kirsten Gillibrand (D-N.Y.), who is also seen as a potential presidential contender. Sen. Bernie Sanders (I-Vt.), who endorsed a marijuana-legalization initiative in California during his 2016 presidential campaign, endorsed Booker's bill Thursday morning.

Schumer is introducing separate legislation on Friday — a date that is an unofficial holiday for marijuana users. His bill would not legalize marijuana outright, but instead allow states to decide whether to make the drug available commercially. It would end the limbo that marijuana sellers find themselves in, months after Attorney General Jeff Sessions rescinded Obama-era guidance that prevented federal law enforcement officials from interfering with the marijuana business in states where it had legal status.

"The bill lets the states decide and be the laboratories that they ought to be," Schumer said. "It also will ensure that minority- and woman-owned businesses have a dedicated funding stream to help them compete against bigger companies in the marijuana business. Critically, we ensure that advertising can't be aimed at kids, and put real funds behind research into the health effects of THC," referring to the primary psychoactive substance in marijuana.

The legislation would also maintain federal authority to regulate marijuana advertising in the same way it does alcohol and tobacco advertising. The aim, Schumer said, is to ensure that marijuana businesses aren't allowed to target children in their advertisements.

Schumer's move was quickly celebrated by legalization supporters, who began the week by thanking Senate Majority Leader Mitch McConnell for fast-tracking a bill that would legalize industrial hemp.

"In the past week or so we've seen an unprecedented escalation of political support for marijuana law reform," said Tom Angell, chairman of Marijuana Majority. "It seems as if both parties may have finally realized just how popular marijuana legalization is with voters and are afraid of the other party stealing the issue."
To be honest about it, the odds that the Republican Party would "steal" the issue of marijuana legalization seem as though they are pretty low. Notwithstanding the fact that there are some segments of the GOP that would likely be sympathetic to a "state's rights" argument in favor of permitting states to decide the issue for themselves, the "law and order" segment of the party appears to remain strong enough to make it unlikely that support for full legalization would become a banner issue for the GOP any time in the near future. In the meantime, the field appears to be wide open for Democrats to get ahead on an issue that clearly appeals to younger voters, and to a growing segment of the American public. In addition to Schumer's introduction of this bill, evidence of that can be seen in phenomena such as New York Governor Andrew Cuomo appearing to take the first steps toward decriminalization or possibly even full-on legalization in the Empire State. Similar moves appear to be afoot in neighboring New Jersey, which has both a Democratic Governor and legislature for the first time in eight years.
Politically speaking, this seems like a smart move for Democrats, and one that Republicans would be wise to mimic given the fact that marijuana legalization has become increasingly accepted across the nation in just the last several years. In 2011, for example, polling showed that support legalization had reached the 50% level, while even larger numbers supported legalization supported legalization for medical purposes or decriminalization. By 2013, the number of Americans supporting legalization had passed the 50% mark. That mark reached 55% in 2014 and 58% in 2015. The most recent national survey on the issue, taken in the autumn of law year, showed that support for legalization had reached 64%. Much like the polling on marriage equality that we saw in advance of the legal victories that issue began scoring in the courts, the trend seems to be rather obvious and most likely irreversible.
Over roughly that same period of time, a growing number of states have changed their laws to reflect changes in public opinion. Those moves have also been motivated by the recognition of the evidence that has shown that marijuana is not nearly as harmful as other illegal drugs such as cocaine or heroin, or even legal substances such as opioids, that it is not physically or psychologically addictive, and that it is many respects less harmful than legal substances such as alcohol and nicotine. The trend toward legalization began in 2010 when  Colorado and Washington both passed citizen referendums legalizing cannabis. Four years later similar measures passed in Oregon, Alaska, and the District of Columbia. In 2016, legalization was approved in California, Massachusetts, Nevada, and Maine and voters in a number of other states approved legalization for medicinal purposes. Finally, and most recently, Vermont became the first state where legalization was accomplished via the state legislature rather than citizen initiative. As this map from Wikipedia shows, the laws regarding marijuana have been liberalized to at least some extent in virtually every state in the country: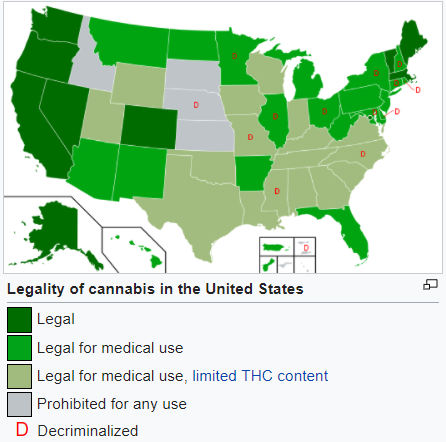 To be fair, Schumer's bill falls short of nationwide legalization, in no small part because the Federal Government lacks the authority to change state laws on the issue. It would, however, effectively enshrine in Federal law the Obama Era policy that allowed states to draft their own laws on legalization, decriminalization, or whatever they deem appropriate without fear of Federal retribution or action against them or their citizens. This seems to be the wisest strategy, and given the fact that the nationwide trend on this issue seems to be so clear, we're likely to reach the point where every state in the Union has either decriminalized or legalized marijuana far sooner than anyone may have anticipated.
Realistically speaking, I don't expect that Schumer's bill will advance any further than the competing measure co-sponsored by Senator Booker has, but that's beside the point. As recently as ten years ago, the idea of a bill like this even being introduced in Congress would have been largely unthinkable. Now we're at the point where the senior Democrat in the Senate is pushing for something that nobody would have thought possible back then. Eventually, and I don't think it will take very long, a measure like this one, will be seriously considered by Congress and will mostly likely pass both Houses. Much like the progress that was made on same-sex marriage over a relatively short period of time, that's a huge cultural shift in a very short period of time.