Trudeau Introduces Bill To Legalize Marijuana In Canada
Fulfilling a promise.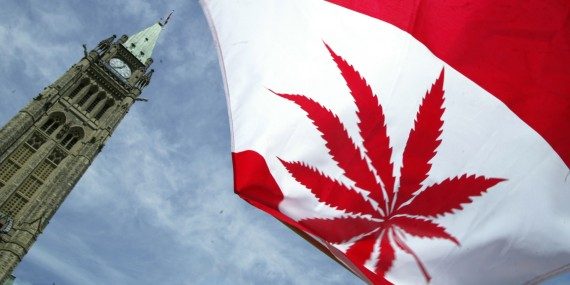 Fulfilling a promise made during 2015's General Election, Canadian Prime Minister Justin Trudeau has introduced a bill in Parliament that would legalize recreational marijuana throughout all of Canada:
OTTAWA — Fulfilling a campaign pledge, Prime Minister Justin Trudeau introduced legislation on Thursday to legalize the recreational use of marijuana in Canada.

Many nations have either decriminalized marijuana, allowed it to be prescribed medically or effectively stopped enforcing laws against it. But when Mr. Trudeau's bill passes as expected, Canada will become only the second nation, after Uruguay, to completely legalize marijuana as a consumer product.

"Criminal prohibition has failed to protect our kids and our communities," said Bill Blair, a lawmaker and former Toronto police chief whom Mr. Trudeau appointed to manage the legislation.

Mr. Blair said at a news conference that the government hoped to begin allowing legal sales by the middle of 2018. While the government's plan has been broadly shaped by a panel of experts, many issues still need to be ironed out.

"We do accept that important work remains to be done," he said.

While the federal government will license and regulate growers, each of Canada's provinces will need to decide exactly how the drug will be distributed and sold within its boundaries. The government will have to develop the marijuana equivalents of breathalyzers so that drivers can be checked for impairment at the roadside and workers can be tested for safety on the job. Diplomats will have to address conflicts with international drug treaties. And many in the medical field are concerned about the long-term health effects of increased use of marijuana by Canadians under the age of 25.

Though eight American states have legalized marijuana to various extents, the drug remains illegal under federal law. Mr. Trudeau's move eliminates any such ambiguity in Canada. It follows a court-mandated legalization of marijuana for medical purposes, which was introduced with tight controls in 1999 and later broadened by further court orders.

While the new legislation will take Canada beyond its medical marijuana system, it stops far short of creating an open market. The law will require purchasers to be at least 18 years old — though provinces can set a higher minimum — and it will limit the amount they can carry at any one time to 30 grams, about an ounce.

Households will be allowed to grow up to four marijuana plants. But the legislation seems built on the assumption that most users will be supplied by commercial growers, who will be licensed and closely supervised by the federal government.

Growing, importing, exporting or selling marijuana outside licensed channels will remain serious crimes, according to Mr. Blair and Ralph Goodale, the public safety minister.

Each province will decide where and how marijuana may be sold, and will set prices in conjunction with the federal government.

How much marijuana will cost and how heavily it will be taxed will be influenced by Canada's experience with tobacco, which is also tightly regulated.

When the country tried to discourage smoking by sharply increasing cigarette taxes, it inadvertently created a growing black market for cigarettes smuggled from the United States and elsewhere.

Since one of the government's main aims with the new law is to wipe out — or at least reduce — illicit marijuana dealing, it will want to avoid measures that spur its growth.

It is unclear where users will be able to buy the drug. Several provinces restrict alcohol sales mainly to government-run liquor stores, and a similar arrangement may be used for marijuana. But a federal task force that released its findings late last year recommended that marijuana not be offered in shops that also sell alcohol.
As I said above, this move fulfills a promise that Trudeau's party made during the 2015 General Election and which became apparent last month when the government announced that a legalization bill would be introduced in April with the goal of complete legalization coming in 2018. Given the fact that Trudeau's party has the majority in Parliament, it's essentially guaranteed that the new law will pass into law relatively easily. The main question will be how heavily regulated the sale and marketing of marijuana will be, but it appears that this is a matter that the proposed legislation will likely leave to the discretion of the individual provinces and territories, much like Federal law here in the United States leaves much about the marketing and sale of alcohol and cigarettes to the individual states. Ideally, this is how it should be in the United States. The Federal Government should not be taking any role in deciding the legal status of marijuana, or how it is sold and distributed where it is legal.
As I noted back in March, the significance of this move by Canada should not be underestimated. Recreational marijuana is already legal in eight states, the District of Columbia, and on a number of Native American Reservations, and polls indicate that the majority of Americans approve of legalization, with only Republicans and voters over 65 among the major demographic group where there is still any significant opposition to the idea. At that rate, it's likely that legalization in the United States will take much the same path that legalization of same-sex marriage did, with some state leading the way while the others take longer. The only difference is that there isn't really a basis for challenging laws against recreational marijuana in Court, so the process is likely to take more time than legalization of same-sex marriage did. Of course, the process could be sped up significantly with a few minor steps by the Federal Government. As I've noted before, marijuana is currently listed as a Schedule I drug by the Drug Enforcement Administration, meaning that it is considered as dangerous as "hard" drugs such as cocaine and heroin. Medical professionals, though, tend to agree that this designation is rather absurd and not supported by any real evidence regarding the effects and dangers of marijuana itself. If that designation were to change, it would likely spur more states to act to legalize at a far more rapid pace. Unfortunately, it doesn't seem likely that this would happen under the current Administration, so we'll have to rely on action at the state level to repeal laws that never should have been passed in the first place.