Gunman In Standoff At Colorado Springs Planned Parenthood Clinic, Motive Unclear. Update: Shooter Now In Custody
A gunman is holed up in a Planned Parenthood clinic in Colorado Springs after shooting multiple people, but it's unclear what if any motive may be involved in the shooting.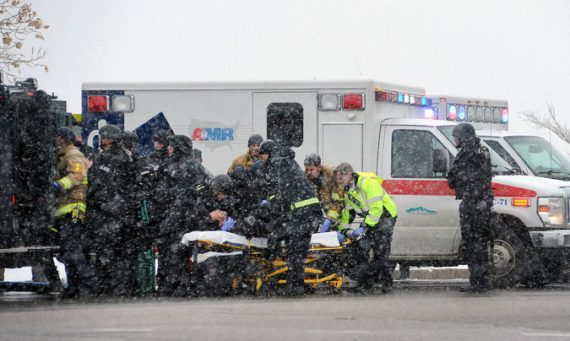 A gunman is involved in a standoff inside a Planned Parenthood clinic in Colorado Springs, Colorado after having shot at least eight people, including up to four police officers, and may be holding hostages in what is currently still described as an active shooter situation:
COLORADO SPRINGS — A gunman inside a Planned Parenthood center here was exchanging gunfire with the police, the authorities said on Friday, after an hours long shooting spree that left at least eight people injured including four officers. People in the surrounding buildings, including the clinic, were told to shelter in place.

Lt. Catherine Buckley, a police spokeswoman, said during a news conference that the police were exchanging shots with the gunman, who was barricaded in a windowless office. He was described as white man in a trench coat with an assault rifle.

The encounter could be heard on the police scanner.

"We're exchanging gunfire," one officer said on the radio, "We are trying to keep him pinned down."

"Put gunfire through the walls," came a reply. "Whatever, we got to stop this guy."

Near the Planned Parenthood center, about 10 ambulances were lined up.

"We're not sure of what the connection is to Planned Parenthood," but that was the original address received, Lieutenant Buckley said during the news conference.

Two hospitals said they had received a total of six patients, though their conditions were unknown.

Denise Speller, a manager at a Supercuts salon near the shooting scene, said she saw police cars screaming through the small shopping center and pull up by a nearby Chase bank as gunshots echoed across the parking lot. She said she saw one officer positioned by his cruiser apparently struck by a bullet.

"We just saw him go down," Ms. Speller said in a telephone interview.

Security concerns at the clinic were high enough that the clinic had a "security room" with a supply of bulletproof vests, but, according to an officer on the scanner, some of the vests are still in the room, and one may have been worn by the gunman.

With people sheltering inside the clinic and area restaurants and stores, the police ordered residents to stay away from Centennial Boulevard and were checking on the safety of those in the area. "We have put officers and detectives in the different businesses at this point." Lieutenant Buckley said.
When this story initially broke, the reports stated that there had been shots fired "near" the clinic and that police arived there because that is where the initial 911 call had come from. Quite inevitably, this led various people on both sides of the political aisle to take to social media to skim initial reports to try to find things to confirm or deny the implication that this may or may not be someone targeting the clinic itself, but we still seem to be at the point where that is not entirely clear. Some initial reports from witnesses who called in to CNN and MSNBC seem to indicate that initial shots were fired at or near a bank that is located in the same general area as the clinic, which would suggest that the clinic may not have been the target but rather a convenient location that the shooter ran to when it became necessary to seek shelter when police arrived. Other reports claimed to indicate that the initial shots did in fact come from an area close to, or directed at the clinic. Given the nature of eyewitness testimony, it's best not to jump to conclusions based on what people who are still being told to shelter in place are saying, and the fact that echoes and other phenomenon make it difficult for people without a line of sight to reach any conclusion about where gunshots originated from, though, it's worth taking any of these reports with a grain of salt.
However the standoff started, though, it is clear that it has ended up at the clinic. A reporter for the CBS affiliate in Denver conveyed to me on Twitter that police had confirmed that the shooter was inside the clinic, but that it was unclear what their motive might be:
@PennyDreadful81 @dmataconis CSPD CONFIRMED the shooter is in Planned Parenthood. CONFIRMED their officers are taking fire inside

— Karen Morfitt (@KarenMorfitt) November 27, 2015
@dmataconis @PennyDreadful81 they do NOT know what motive is or if planned parenthood was targeted. IT IS happening in Planned parenthood — Karen Morfitt (@KarenMorfitt) November 27, 2015
Although its worth noting that there was this report from the same reporter that the incident started as a report of shots fired from inside the clinic:
@FreedomDefined1 @dmataconis @PennyDreadful81 PD spokesperson says this started as a shots fired call from inside planned parenthood 11:38

— Karen Morfitt (@KarenMorfitt) November 27, 2015
The Denver Post has more:
COLORADO SPRINGS —At least four police officers have been shot and multiple civilians have been injured in an ongoing active shooter situation at a Colorado Springs branch of Planned Parenthood on Friday afternoon. "This is still a very active situation," Colorado Springs Police Lt. Catherine Buckley said. By 3:19 p.m., six people injured in the incident had been transported to Penrose Hospital in Colorado Springs, according to a hospital spokeswoman. The spokeswoman did not know the patients' condition or whether they were police officers or civilians. Three more victims were taken to Memorial Hospital, according to a spokesman there. A SWAT truck was seen evacuating people from the clinic. In one run, first responders unloaded an apparently injured person onto a gurney. In another run, people wrapped in blankets and others wearing hospital scrubs climbed out of the truck and into waiting patrol cars, which then drove away from the scene. A line of more than a dozen ambulances waited at the scene. At 2:15, the police department reported on Twitter that officers were "encountering gunfire" from a suspect inside the Planned Parenthood building. The gunman has not made any demands or made any statements to officers, Buckley said. She said initial reports described his weapon as a long gun, such as a rifle. "We do not know about this person's mentality or ideology," Buckley said. Buckley said the first call for service came at 11:38 a.m. and came from the Planned Parenthood address. The branch is located at 3480 Centennial Blvd., just north of West Fillmore Street. Joan Motolinia said his sister is in the clinic, and he talked to her by phone about 1:30 p.m. She was at the clinic for an appointment and was hiding under a table and was only able to talk briefly. "She was very afraid," he said. While she was talking, he could hear gunfire in the background and after about two minutes, his sister hung up on him. "She was telling me to take care of her babies," he said. "I heard some shots so people were in there shooting for sure." At a news conference at about 1:30 on Friday afternoon, Buckley said police cannot confirm where the shooter is located and said the situation is "very active." She said officers didn't yet know for sure whether there was a single shooter or multiple gunmen. She said police have "brought all of our resources to bear" to the situation. Earlier, Colorado Springs police Commander Kirk Wilson told media at the scene that police were having trouble getting officers to the shooting area. "We haven't been able to get in the scene yet," he said. Cathy Alderman, vice president of public affairs for Planned Parenthood of the Rocky Mountains, said the situation was fluid and the organization had little information to go on. "We're monitoring the situation live like everyone else," she said. "Obviously the safety of our patients and staff is our greatest concern. We're hoping for the best."
Additionally, the website of the Colorado Springs Gazette is posting live updates on the situation as news becomes available as well as livestreaming of local news coverage. As I note above, one thing that is unclear is whether there are any people left inside the clinic other than the gunman and the police at this point. There has been some discussion online and on the news coverage about possible hostages, but the police have not confirmed that at this point and any such discussion about that would be pure speculation. In any case, the situation does not appear to be over yet. So, updates as warranted. Update: The Public Information Officer for the Colorado Springs Police Department just completed a press briefing that seems to clear up some matters, but still leaves much unexplained. Right off the top, she told reporters that the entire incident started with shooting at the Planned Parenthood facility, which is in its own standalone building in a larger area that includes other medical office buildings and a strip mall. This would appear to discount earlier reports that the shooting may have started at or near a Chase Bank branch nearby the clinic, and it would lead to the obvious inference that the clinic may have been specifically targeted. She also stated that the gunman had brought "items" with him into the building that police will need to examine even after the standoff ends, with the obvious though unstated concern that they may be some kind of explosive device. Beyond that, though, there weren't many more details provided. Apparently, police are not in direct contact with the gunman, and it's still unclear if he's holding any hostages at the moment. Additionally, the police are apparently still exchanging fire with the gunman inside the clinic. From the tenor of her comments, it appears the police are settling in for a long standoff, which may end up being made longer by virtue of the fact that there is a snowstorm in the area that appeared from the coverage on CNN to be getting worse as she spoke. Update #2: it is now being reported by multiple media sources that the gunman has been captured alive:
CBS NEWS SOURCES confirm suspect in custody

— Karen Morfitt (@KarenMorfitt) November 27, 2015
BREAKING: Colorado Springs Planned Parenthood shooting suspect is in custody, @CBSNews and @NBCNews reports

— BuzzFeed News (@BuzzFeedNews) November 28, 2015
BREAKING: Police confirm to @Dana_Molina that the Planned Parenthood shooter gave himself up. He is in custody.

— KRDO NewsChannel 13 (@KRDONC13) November 27, 2015
Update 11/28/2015: Late yesterday, police confirmed that three people died in the attack, including University of Colorado at Colorado Springs Police Office Garrett Sawsey and two civilians who have yet to be identified. The shooter has been identified as 59 year-old Robert Lewis Dear of North Carolina.
Photo via Associated Press