Colorado Springs Shooter Is An Enigma, But The Shooting Is Being Politicized Anyway
We still don't know very much about Robert Dear, the man who shot and killed three people at the site of a Planned Parenthood clinic in Colorado, but that hasn't stopped the usual suspects from politicizing the case.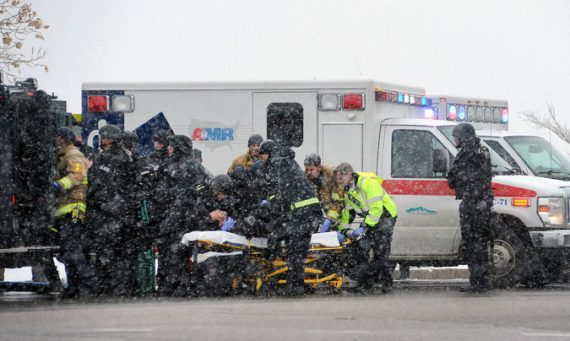 The shooter who killed three and injured several others at the site of a Planned Parenthood clinic in Colorado Springs remains something of an enigma, and while both sides of the political aisle have chimed in about the shooting it isn't clear at all that he was particularly or specifically motivated by politics to commit his crimes:
HARTSEL, Colo. — Robert L. Dear Jr. was a man who lived off the grid.

In this lonely, snow-covered patch of land in a hamlet ringed by the Rocky Mountains, his home was a white trailer, with a forest-green four-wheeler by the front door and a modest black cross painted on one end.

As police officers surrounded it on Saturday, looking for clues to what they said had sent its owner on a shooting rampage at a Planned Parenthood center that left three dead and nine wounded, neighbors said they barely knew him, beyond one man's memory of his handing out anti-Obama political pamphlets.

Van Wands, 58, whose wife owns a local saloon, said there were two types of people in the area: the old-timers who put effort into getting to know their neighbors, and the newcomers who wished for solitude. Mr. Dear, he said, fell solidly into the second category.

"That'd be one that preferred to be left alone," he said.

A day after the shooting, a portrait emerged of a man with a sporadic record of brushes with the law, neighbors and relatives. In 1997, Mr. Dear's wife at the time reported to the police that he had locked her out of her home and pushed her out of a window when she tried to climb back in. In 2002, he was arrested after a neighbor complained that he hid in bushes and tried to peer into her house. An online personal ad believed to be posted by Mr. Dear sought partners for sadomasochistic sex.

With Colorado Springs residents telling chilling tales of hours spent hiding in stores near the shootout on Friday, the authorities shed no light publicly on whether they believed Mr. Dear, 57, had deliberately targeted Planned Parenthood. But one senior law enforcement official, who would speak only anonymously about an ongoing investigation, said that after Mr. Dear was arrested, he had said "no more baby parts" in a rambling interview with the authorities.

The official said that Mr. Dear "said a lot of things" during his interview, making it difficult for the authorities to pinpoint a specific motivation.

In Washington, Attorney General Loretta E. Lynch said in a statement that the shooting was "not only a crime against the Colorado Springs community, but a crime against women receiving health care services at Planned Parenthood, law enforcement seeking to protect and serve, and other innocent people. It was also an assault on the rule of law, and an attack on all Americans' right to safety and security."

Senior Justice Department officials were looking into whether to move forward with a federal case. Along with examining whether Mr. Dear could be charged with a hate crime, officials were exploring whether he may have violated federal laws intended to protect abortion clinics. In 1994, President Bill Clinton signed the Freedom of Access to Clinic Entrances Act, which makes it a crime to use physical force against patients and clinic employees.

President Obama on Saturday again called on America to tackle gun violence. "This is not normal," he said in a statement. "We can't let it become normal. If we truly care about this — if we're going to offer up our thoughts and prayers again, for God knows how many times, with a truly clean conscience — then we have to do something about the easy accessibility of weapons of war on our streets to people who have no business wielding them."

Mr. Dear, who had surrendered to the police on Friday evening, remained in custody without bond at the El Paso County criminal justice center. Law enforcement records and interviews began to paint a portrait of an itinerant loner who left behind a trail of disputes and occasionally violent acts toward neighbors and women he knew.

His former wife, Pamela Ross, 54, who was with him for 16 years or so and once called the police to accuse him of domestic violence, recalled that Mr. Dear could be angry at times, sometimes with her. But he was the kind who usually followed a flash of anger with an apology, though he was not much for chitchat.

He was an independent art dealer with a degree in public administration from a Midwestern college, she said, who struck deals with artists, mostly Southern ones, who painted Charleston, S.C., street scenes, Old South plantation tableaus, magnolias and pictures of the Citadel campus. He tended to buy the rights to paintings, commission 1,000 or so prints, then market and sell the prints and keep the proceeds.

He was born in Charleston and grew up in Louisville, Ky., but he had strong ties to South Carolina. His father was a graduate of the Citadel, Charleston's famous public military college. Robert Lewis Dear Sr., the father, died in 2004. He was a Navy veteran who served in World War II and worked 40 years for the Liggett & Myers Tobacco Company.

The younger Mr. Dear was raised as a Baptist, Ms. Ross said in an interview in Goose Creek, S.C., where she now lives. He was religious but not a regular churchgoer, a believer but not one to harp on religion. "He believed wholeheartedly in the Bible," she said. "That's what he always said; he read it cover to cover to cover." But he was not fixated on it, she added.

(…)

He seemed to have a separate life online. An online personals ad seeking women in North Carolina interested in bondage and sadomasochistic sex showed a picture that appeared to be Mr. Dear and used an online pseudonym associated with him. The same user also appeared to have turned to online message boards to seek companions in the Asheville area with whom he could smoke marijuana.

In his new home in the Rocky Mountains, where he had been registered to vote for only a year, neighbors said they did not know Mr. Dear well. Zigmond Post, who lives about a half-mile from Mr. Dear, said that he had met him only a few times, but that his dogs had once gotten loose on Mr. Dear's property. When he went to fetch them, Mr. Dear handed him a few pamphlets strongly critical of Mr. Obama. Mr. Post said the pamphlets were strictly political and did not have any anti-abortion messages or racist overtones.

"He gave us these pamphlets and said, 'Hey, if you ever want to talk about this stuff, look this over,' " Mr. Post said in a telephone interview. "I think we threw them into the campfire that night."
As noted, there have been reports that Deer said something to the effect of "no more baby parts" when police took him into custody on Friday evening, but this has not been confirmed by police, and even the source who is quoted as providing this information to the press has said that investigators have not really been able to pin down a specific motive for what happened, or what may have motivated Dear. Indeed, for the most part law enforcement has been relatively quiet over the weekend as they conduct their investigation at the crime scene, which has included parallel investigations at the home Deer has kept for the past several months Colorado and his small, nondescript home in the mountains of North Carolina. It's possible, of course, that this investigation will lead to evidence that Dear was acting out of some political motivation, and the comments about "no more baby parts," which would seem to be a reference to the controversy that erupted over the summer that Planned Parenthood was profiting from the sale of tissue from aborted fetuses, which would be a violation of the law if true. Additionally, as more than a few people have suggested, the fact that Dear seems to have chosen a Planned Parenthood clinic as the sight for his attack does support the conclusion that he was targeting the organization in some way. However, there is apparently no indication that he was at all involved in the pro-life community in either Colorado or back home in North Carolina, and the portrait of him as a loner who seems to have odd obsessions of his own also suggests that he fits into the pattern of other criminals who are acting independent of any real goal other than causing havoc, or perhaps, addressing some evil perceived largely due to what may well be mental illness. At this point, and until law enforcement provides more detail, we simply don't know what was motivating this man when he opening fire on Friday.
Despite the fact that Dear's motivates, his mental state, and even how he obtained the weapon he used all remain unknown as of this point, that hasn't stopped people on both sides of the political aisle from weighing to characterize Friday's events in a manner that suits their particular narrative.
The Democratic candidates for President, for example, immediately jumped on the idea that Deer was motivated by anti Planned Parenthood rhetoric even before the leaked report noted above. Pundits, meanwhile, advanced the argument that the attack put the Republican candidates for President in a "politically uncomfortable" position due to the alleged combination of abortion and gun politics in the case. Other commentators on the left were noting, within mere hours after the attack and on a holiday weekend no less, that most of the Republican candidates for President had been largely silent on the case thus far. The fact that it was a holiday weekend and that we didn't really have any information about what may have motivated Dear apparently didn't occur to the people who pointed to this alleged silence. In any case, the silence from Republican candidates didn't last long, and the comments have largely sought to condemn the shootings while seeking to distance the event from the wide pro-life movement:
Several Republican presidential candidates on Sunday condemned the attack on a Planned Parenthood facility in Colorado Springs but stopped short of agreeing with liberal critics who say that fiery antiabortion rhetoric contributed to the shooting.

"It's obviously a tragedy. Nothing justifies this," former Hewlett Packard CEO Carly Fiorina said on "Fox News Sunday." "Any protesters should always be peaceful. Whether it's Black Lives Matter or pro-life protesters."

Calls to defund Planned Parenthood through congressional action have escalated in recent months amid a protracted national debate about the ethics of collecting fetal tissue for research.

That dialogue was cast in a grim light after reports that the suspected Colorado gunman is said to have used the phrase "no more baby parts" while discussing his motives for the attack, as reported by The Washington Post on Saturday. Liberal critics of antiabortion activism have linked escalating rhetoric on the right with Friday's attack, including Vicki Cowart, president of Planned Parenthood of the Rocky Mountains.

"We've seen an alarming increase in hateful rhetoric and smear campaigns against abortion providers and patients over the last few months," Cowart said in a statement. "That environment breeds acts of violence."

Fiorina rejected such comments, calling them "typical left-wing tactic."

"This is so typical of the left to immediately begin demonizing a messenger because they don't agree with the message," she said. "The vast majority of Americans agree what Planned Parenthood is doing is wrong."

(…)

Business mogul Donald Trump called the alleged Colorado shooter a "sick person" in an interview on Sunday with NBC's Chuck Todd on "Meet the Press."

"Well, this was an extremist. And this was a man who they said prior to this was mentally disturbed," Trump said, according to an early transcript of the interview. "So, he's a mentally disturbed person. There's no question about that."

He added: "I will tell you, there is a tremendous group of people that think it's terrible, all of the videos that they've seen with some of these people from Planned Parenthood talking about it like you're selling parts to a car," he said. "I mean, there are a lot of people that are very unhappy about that."

Retired pediatric neurosurgeon Ben Carson called the shooting the work of "extremism."

"Unfortunately, there's a lot of extremism coming from all areas. It's one of the biggest problems that I think is threatening to tear our country apart," Carson said on ABC's "This Week" with George Stephanopoulos, according to a transcript of the exchange. "We get into our separate corners and we hate each other, we want to destroy those with whom we disagree."

Carson did not directly address antiabortion rhetoric but did warn of increasing political divisions in the country.

"If we can get rid of the rhetoric from either side and actually talk about the facts, I think that's when we begin to make progress," he said. "And, you know, a lot of people, when they don't have facts, when they don't have a good backup, that's when the rhetoric starts. That's when the name-calling starts."

Former Arkansas governor Mike Huckabee expressed similar dismay at the attack and added that the gunman's actions in fact stood against the principles held by antiabortion activists.

"Regardless of why he did it, what he did is domestic terrorism," Huckabee said on CNN's "State of the Union." "What he is did is absolutely abominable, especially to those of us in the pro-life movement, because there's nothing about any of us that would condone or in any way look the other way at something like this."
As they get back out on the campaign trail after the holiday weekend, I'm sure we'll here much the same from the other Republican candidates, while Democrats and others will continue to make an effort to tie Dear's actions into the wider political arguments over abortion generally and Planned Parenthood specifically. This will happen regardless of whether or not the evidence actually justifies it. As the left is trying to tie Deer to the wider political movement opposed to abortion and Planned Parenthood, many conservatives spent the hours after the attack doing whatever they could to deny that Planned Parenthood was relevant to the attack at all, and now some of them have apparently turned what appears to be a clerical error in Colorado voting records into a claim that Dear is a transgender woman, an assertion for which there is absolutely no evidence whatsoever. While this is is, perhaps, inevitable given the fact that we live in a country where pretty much everything becomes politicized at some point, it strikes me that it's neither justified nor healthy. At the risk of provoking a war on an issue that I tend to avoid simply because of the vitriol that debates on the issue inevitably devolve into, it strikes me that there are reasonable arguments on both sides of the abortion issue, and on the issues revolving around whether or not Planned Parenthood should receive Federal funding or whether it was potentially violating Federal law as alleged over the summer. So far, the investigations that have been conducted since the release of those controversial videos. To date, none of the investigations that have been conducted because of those videos have found any violation of the law, but that doesn't mean the investigations were unwarranted. In any case, trying to tie one side of a political debate to the actions of someone who may well be a deranged lunatic with no coherent agenda at all strikes me as something that ought to be avoided on both sides of the aisle.