Planned Parenthood, Komen, And The Never Ending Culture Wars
Once again, the culture wars intrude into yet another area of life.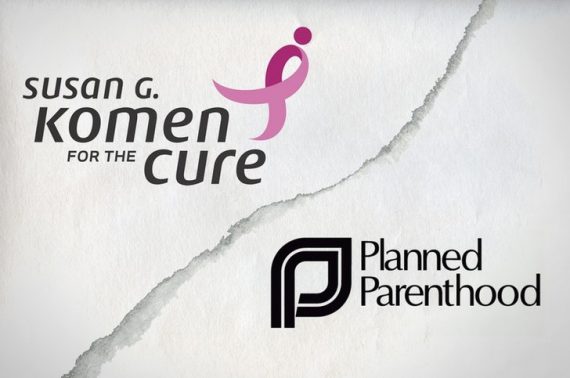 Outside of the Presidential campaign, the biggest controversy this week has erupted surrounding the decision of the Susan G. Komen Foundation to end certain funding for Planned Parenthood. The result has been that a charity that has built its brand on fighting breast cancer, something that everyone can agree on regardless of their political opinions, into the middle of the culture wars. The reaction has been about what you'd expect. On the right, the decision is being praised by pro-life advocates many of whom have called on supporters to increase donations to the Foundation as a sign of support. Among pro-choice advocates and supporters of Planned Parenthood, the reaction has been quite different, of course. Koman affiliates on the West Coast have openly opposed the decision, and one board member stepped down as a result of the decision. New York Mayor Michael Bloomberg has pledged to donate a quarter million dollars of his own money to Planned Parenthood. Two dozen Members of Congress signed a letter urging Komen to restore funding, and, this morning, The New York Times published an editorial describing the decision as "a painful betrayal."
In attempting to justify the decision, one has to say that the spokesmen for Komen have been all over the place. Initially, they said that the decision was made as a result of Foundation policy that money would not be given to any organization under investigation. As it turns out, Planned Parenthood is under investigation by Republican Congressman Cliff Sterns over allegations by pro-life groups that it used government funds for abortions, which is forbidden by Federal law. There's little evidence that the investigation has any merit, though, and it's worth noting that this policy didn't exist until very recently and is only being applied to Planned Parenthood. As several people noted online yesterday, Komen gives research funding to Penn State University, which is itself under investigation by two Federal agencies related to the Jerry Sandusky scandal. Those funds are apparently not going to be cut off, so the "under investigation" rule seems to be very flexible or very specifically directed.  Komen spokespeople have also claimed that part of the motivation for the decision was that Planned Parenthood doesn't provide mammograms at its facilities, but instead refers patients to facilities where they can be obtained. Of course, that's true for pretty much every doctor practicing medicine in the United States, very few of whom have the equipment to perform mammograms on-site.
Through all the explanations, though, there's been the denial that Komen was specifically looking for a way to target Planned Parenthood. Jeffery Goldberg at The Atlantic, though, seems to suggest that the facts say otherwise:
Komen, the marketing juggernaut that brought the world the ubiquitous pink-ribbon campaign, says it cut off Planned Parenthood because of a newly adopted foundation rule prohibiting it from funding any group that is under formal investigation by a government body. (Planned Parenthood is being investigated by Representative Cliff Stearns, an anti-abortion Florida Republican, who says he is trying to learn if the group spent public money to provide abortions.)

But three sources with direct knowledge of the Komen decision-making process told me that the rule was adopted in order to create an excuse to cut off Planned Parenthood. (Komen gives out grants to roughly 2,000 organizations, and the new "no investigations" rule applies to only one so far.) The decision to create a rule that would cut funding to Planned Parenthood, according to these sources, was driven by the organization's new senior vice president for public policy, Karen Handel, a former gubernatorial candidate from Georgia who is staunchly anti-abortion and who has said that since she is "pro-life, I do not support the mission of Planned Parenthood." (The Komen grants to Planned Parenthood did not pay for abortion or contraception services, only cancer detection, according to all parties involved.) I've tried to reach Handel for comment, and will update this post if I speak with her.
If this is true, it is entirely inexplicable to me. I don't understand why a charity like Komen would willingly inject itself into one of the most hotly contested and impossible to resolve issues in American history. One of the main reasons that the Foundation and its ubiquitous pink ribbon campaign (so ubiquitous that it was featured prominently in every NFL game in the month of October) has been so successful is because of universal appeal. Deliberately pissing off at least half the population by making a decision like this that was so obviously directed at Planned Parenthood specifically and then handling the PR part of it in such and ham-handed manner is a striking departure from what has been a finely-tuned operation. Was it Handel's appointment as VP that led them down this road? Janice Brinker, who founded and still heads the foundation, denies that she played a role in the decision but the coincidence seems far too convenient to ignore. I'm not saying it was wrong to hire Handel, but why they would listen to advice that was so obviously political I don't understand at all.
Megan McArdle defends the decision as being in the long term interest of the Foundation:
Goldberg clearly disapproves of the decision.  Though I'm pro-choice, I don't share the outrage that was roiling my Twitter feed this morning.  It is, as Josh Barro noted, absurd to pretend that abortion is somehow incidental to Planned Parenthood's services, and since money is fungible, giving them money is probably helping to fund abortion provision.  Since I think this is a very tough issue on which reasonable people can disagree, I can see why the federal government, and private foundations, would decline to fund their operations.

(…)

Susan G. Komen is part of the broad constellation of "women's groups" that tend to hand together on various issues, including (maybe especially) abortion.  Why would they cut ties to a group that in past decades would have been a natural ally?

I'm tempted to credit shifting public opinion, but polling about abortion has been

pretty stable

over the last 15 years.  It could be a shift in the donor base, or the board itself.  Or perhaps it's a more subtle shift in opinion.  While most people think that abortion should be legal, most people don't support the current state of abortion law; polling seems to suggest that the majority either wants abortion to be illegal in all cases, or legal only in the first trimester–and even then, possibly only in the case of rape, incest, and the life of the mother.  A majority of people polled say that abortion is morally wrong.  And pro-life identification runs neck-in-neck with pro choice.

In that environment, you can see why an organization that does not itself have a mission to support abortion access would want to pull back from funding Planned Parenthood, even for related services.
I guess so, although again abortion is such a polarizing issue on both sides of the ball, something that seems to be becoming true about Planned Parenthood thanks to what can only be called a very effective attack campaign from the right. Wouldn't it be better for a charity to simply take no position on an issue like this at all and only act in a manner that advances the cause it exists for?
That's why I agree with Jazz Shaw when he calls this entire affair a tragedy:
We've taken a group which was singly and purely focused on preventing breast cancer – a malady which affects both "bad girls" and "good girls" alike – and dragged them into the political battlefield on a subject which they never sought to engage. The final result – no matter how you feel about abortion, Planned Parenthood, or any of the myriad soldiers involved – is that less money winds up going to fight a fully preventable disease afflicting women who cut across all political and ideological lines.

So for those who are doing an end zone dance this week over the decision made by Komen… I hope you're proud of yourselves. I see no reason to celebrate.
I'd argue that the same thing has happened to Planned Parenthood, an organization that does far more than provide abortions. In fact, according to most reports abortion accounts for no more than 10% of the business that the organization does, the rest of it involves education and providing contraceptives and preventive heath care services (including early breast exams) to poor women in cities and rural areas. Thanks to the eternal culture war over abortion, though, they've been demonized and now Komen has too. That's just sad all around.
Update: Komen is announcing this morning that it is reversing its decision and will restore all funding to Planned Parenthood. Prepare for a backlash from the pro-life crowd.
Photo via Pegasus News