Is There Anything That Won't End Up Being Politicized?
This week we learned that even breast cancer can become politicized. Is there anything that can't at this point?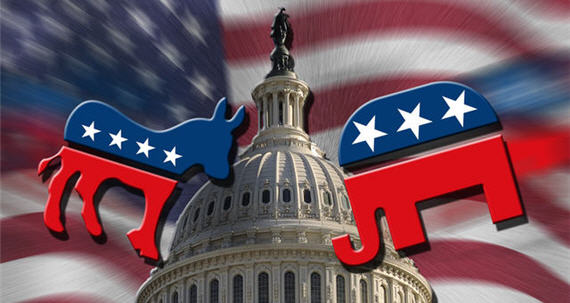 In today's New York Times, Gail Collins opens a column about the Susan G. Komen Foundation/Planned Parenthood controversy that arose this week by observing the extent to which nearly everything in our society ends up becoming politicized:
This week we had a huge political fight about breast cancer. Clearly, we have now hit the point where there's nothing that can't be divided into red-state-blue-state.

Nothing. The other day I saw a blog called "I Dig My Garden" that had a forum on whether Republicans could truly love gardening. And there was a little dust-up in Albany over politicization of a local pet blog, which had featured a discussion on Mitt Romney's driving to Canada with the family dog strapped to the roof of the car.

But breast cancer would seem like the last thing to go. Everybody hates cancer and everybody likes breasts — infants, adults, women, men. Really, it's America's most popular body part.
Indeed, part of the reason for the overwhelming success that the Komen Foundation has had over the years is the extent to which it has been able extend its pink ribbon campaign into so many different parts of our culture. You see pink-adorned packages in grocery stores, for example, and both the NFL and Major League Baseball have taken up the cause at various points during their respective seasons. Some on the outside have criticized Komen in this regard because of its aggressiveness in defending its trademarks, not to mention the fact that it often seems that "Breast Cancer Awareness" crowds out attention that should also be paid to other diseases, some of which are even deadlier. Nonetheless, up until this week, it was hard to think of anything more non-political than being against breast cancer and in favor of the most well-known foundation dedicated to fighting it.
That's all over now, of course. I don't know how long Komen has been giving grant money for early breast cancer screenings to Planned Parenthood, but I can honestly say that until this week I neither had any idea that they were doing it, nor would I have particularly cared had I found out about it. For reasons that are worthy of a post all its own, though, Planned Parenthood has become a political lightning rod in recent years thanks largely to the fact that a relatively small portion of what it does, by most reasonable estimates no more than 10% per year, includes abortion services (not the 90% that Jon Kyl once claimed and then deleted from the Senate record after his staff emphasized that what he said was "not intended to be a factual statement.") Its understandable why people who feel strongly about that issue would have strong opinions about Planned Parenthood, but when one takes into account the fact that the organization also provides services to poor women, including providing contraceptives and screenings for breast and cervical cancer, the notion that the entire organization and anyone who donates to it must be condemned strikes me as completely nonsensical. (Note that I am not addressing here the issues surrounding Federal funding of Planned Parenthood, which is an entirely separate issue in my mind, although it is worth noting that polling indicates that the public opposes the Republican position on that issue).
In a rational world, it strikes me that one should be able to make a distinction between those aspects of an organizations practices one approves, and those one does not. In Komen's case, they had obviously made the determination that helping to fund Planned Parenthood's early breast cancer screenings was compatible with the mission of the Foundation which they have described in the past as including both funding research to find a cure for breast cancer and increasing the survival rate for those diagnosed through better early detection methods. As with any form of cancer, the early breast cancer is detected, the more likely it is that someone will survive. Viewed from that perspective alone, the decision to provide grants to organizations like Planned Parenthood makes perfect sense.
Of course, once an issue that people feel strongly about gets involved, the possibility for rational discussion goes out the window. When Komen decided to cut off the grant to Planned Parenthood, pro-choice groups reacted negatively and rallied around Planned Parenthood. Now that they've changed their mind, it appears that pro-life groups are reacting the same way. For the most part, this is because it appeared from the beginning that Komen's decision was based in politics, not in any objective evaluation of whether or not the grant was in the Foundations interest. So, whether it intended to or not, the Komen Foundation has now become known as an organization that took sides in the culture war, then switched sides, under circumstances that look perfectly amateurish from a Public Relations point of view.
Why these seemingly simple health issues should become so politicized is the question Collins asks.
But of course, it's not just health issues that seem to have become politicized. Just this past fall, while he was leading the Denver Broncos to a series of seemingly improbable come from behind victories, a young Quarterback named Tim Tebow found himself the latest battleground in the culture wars. Tebow's successes were touted by many Christians as proof of the power of his faith, and his losses were often cheered by obnoxious atheists like Bill Maher.  Tebow was even being courted by Republican candidates for President for an endorsement. To his credit, Tebow didn't encourage any of this nonsense and remained far more sanguine about his success than the people who had latched on to him. Nonetheless, just like women's health for a time something as seemingly non-political as professional football quite literally became a football itself in the culture wars.
Those are just two examples of how seemingly innocent subject have become politicized for no rational reason. Some of it, no doubt, is based on cultural differences between different parts of the country, but that alone doesn't explain it all.  Perhaps it's a reflection of how polarizing the Red State/Blue State divide has become in recent years that even the things that should unite us end up dividing us. Perhaps it's the pervasiveness of the cable news/talk radio culture.  Whatever the cause, it doesn't strike me as very healthy that we have, as Collins notes, reached a point where quite literally anything can become a battleground between Team Blue State and Team Red State.