Republicans Vying For Tim Tebow Endorsement
Republican candidates have reached out to Tim Tebow for an endorsement. Desperation?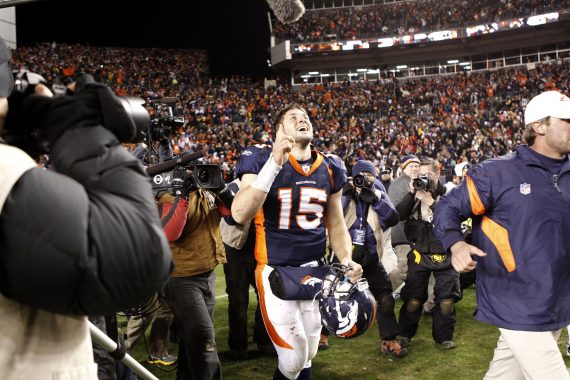 With the Tim Tebow hype hitting a fever pitch in advance of Saturday night's Bronc0s-Patrioits game, it appears that America's favorite athlete (for the moment) is being courted by politicians:
Tim Tebow is already the hottest property in professional sports, and now Republican presidential candidates are lining up for the blessing of the Denver Broncos quarterback.

The "Mile High Messiah" told The Associated Press on Sunday that more than one of the GOP hopefuls has asked for his public support.

He declined their offers, and also wouldn't tell the AP which candidates had reached out to him for an endorsement.

"I think you have to have so much trust in who you support, just from product endorsements to endorsing a candidate," Tebow said, "because if that person or company does something [bad], it reflects on you."
Tebow isn't saying who he's heard from among the Republican candidates, but his name has been dropped by nearly every candidate ever since the "Tebow phenomenon" became a thing earlier this season:
During a Dec. 15 debate in Sioux City, Iowa, Texas Gov. Rick Perry noted that many experts "said Tim Tebow wasn't going to be a very good NFL Quarterback. … And he won two national championships, and that looked pretty good. We were the national champions in job creation back in Texas. And so, am I ready for the next level? Let me tell you, I hope I am the Tim Tebow of the Iowa caucuses

Perry may have lifted the idea of invoking Tebow's name from a video tribute, produced by an unnamed supporter of former candidate Michele Bachmann, which appeared online just four days earlier.

Tebow, the video's narrator said, "doesn't drink, smoke, cuss, or even kick his opponents when they're on the ground. He has no baggage, and — oh, yeah — he's a born-again Christian. Well, the same can be said of Michele Bachmann. … Like Tebow, she keeps fighting and she just keeps winning votes."

(…)

Reacting to former Massachusetts Gov. Mitt Romney's decisive victory in Tuesday's New Hampshire primary election, Michigan Attorney General Bill Schuette told reporters during a conference call on Wednesday that "it was Tebow time last Sunday and Romney time last night." Schuette chairs Romney's Michigan campaign.

In a Jan. 3 essay, a member of the faculty at Georgia's LaGrange College drew a similar comparison between former Pennsylvania Sen. Rick Santorum and the NFL star. "Santorum's chances for winning the nomination are lean, to put it kindly," wrote political science professor John Tures. "But so were Tebow's chances of leading the hapless Broncos to the playoffs, right?"

Reporters drew connections between Tebow and Speaker of the House Newt Gingrich on Dec. 31 after Gingrich told Iowans, "I pray before virtually every speech and virtually every major decision."

And on Monday the Daily Paul website, which is operated by supporters of Texas Rep. Ron Paul, published the musings of a Paul supporter who wrote, "Imagine if Tim Tebow endorsed Ron Paul … I don't think it will happen, but I can daydream cant I?!"
On some level, it's kind of silly for politicians to be courting a rookie Quarterback for an endorsement, but Tebow has become something of a cultural phenomenon, embraced by the conservative community for his religious faith. In fact, it seems that anyone who questions Tebow at this point is accused of doing so because of his faith, not because he's just a rookie who has been, at best inconsistent this year. After all, what can you really say about a player who pulled off an impressive victory over Pittsburgh one week after being held to a single field goal by the Kansas City Chiefs? Greatest Quarterback ever? Certainly not. More importantly, given how politicized and saturated in the rhetoric of the culture wars our nation has become, can't we at least leave it out of sports?
In any event, much like the culture war that some of chosen to erect around him, it strikes me as kind of unfair to Tebow to turn him into a political symbol. After all, does anyone really believe that Rick Perry's flailing campaign would suddenly be revived by a Tebow endorsement, or that Newt Gingirch would suddenly not be a total jerk just because he got the Tim Tebow stamp of approval? I'm doubtful of the value of the endorsements to begin with, an endorsement from a sports figure seems worth even less.
On a final note, since we're talking about Tebow, it seems appropriate to share this piece from Jimmy Fallon's show last night, which may be one of the best song parodies I've seen in a long time: