Tim Tebow To Sign With New England Patriots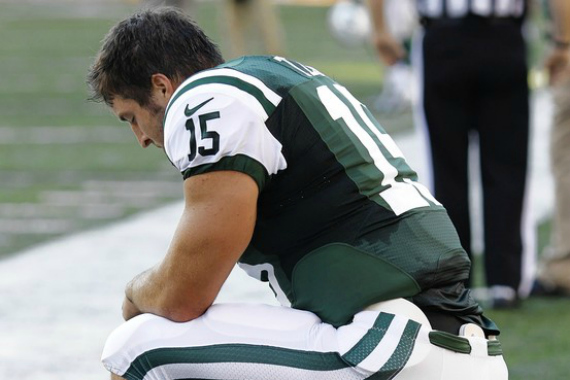 Okay, file this one under sports headlines I never really thought I'd read:
Bill Belichick is now just kicking the New York Jets while they're down. Tim Tebow is on his way to Foxborough to join the New England Patriots.

The former Jets and Denver Broncos quarterback and utility player is expected to sign with the Patriots on Tuesday and be on the field this week for the team's minicamp, a person informed of the signing told USA TODAY Sports. The person spoke on condition of anonymity because the move won't be official until Tuesday.

The signing contradicts recent reports that Belichick didn't like Tebow as a player and that Tebow had given up on his chances of continuing his NFL career following his disaster of a season with the Jets in 2012, when he was passed over for Greg McElroy late in the season after Mark Sanchez lost his starting job.

Belichick certainly hasn't given up on Tebow. And if any coach or team is best suited to handle the sideshow Tebow brings, it's Belichick and the Patriots.

Belichick certainly hasn't given up on Tebow, and if any coach and team are best suited to handle the sideshow Tebow brings, they are Belichick and the Patriots.

Remember, too, that Josh McDaniels, Tebow's head coach in Denver, is the Patriots' offensive coordinator.

And there's more, Jets fans: If Tebow makes the roster, the Jets will face castoffs in back-to-back games –former disgruntled cornerback Darrelle Revis and the Bucs at home in the opener on Sept. 12, then Tebow in New England four days later.

Tebow brought his baggage to the Jets last year and, despite owner Woody Johnson's visions of him being a draw for the fans, he was nothing more than a distraction. Even Sanchez admitted as much following the year by stating, "I just don't know if it was the best situation for either of us. … You can avoid that stuff on your own if you like, in my opinion, but he's a popular guy and people gravitate towards the guy."

Consider this Belichick's way of showing the Jets how to handle the attention Tebow brings. If he succeeds, gets some production out of Tebow and doesn't distract from the overall goal of continued success during his regime, that'll be yet another dart sent in the direction of Florham Park, N.J.
You know, on some level, I'm not really sure that the Patriots really need to be playing mind games with the Jets. Given the relative performances of the two teams over recent years, and especially last year, it's not as if the Jets have been a serious threat to New England recently. Indeed, if Tebow does manage to make it past the Patriots minicamp and onto the roster, I'm not at all sure what role he would play on the team.
In many ways, he would end up being in precisely the same position he was with the Jets at the start of last season, a "star" (and I use the quotes deliberately) Quarterback playing second chair to a first stringer. The only difference is that the Patriots have a far better, far more capable, first stringer in Tom Brady than the Jets ever did in Mark Sanchez.  Given Sanchez's performance for most of the Jets 2012 season, there would have been more than enough excuses for Rex Ryan to start Tebow in a game ahead of Sanchez, but he never did. Absent an injury, I doubt that opportunity will ever arise in New England. Say what you will about Tom Brady, but he is an superior Quarterback and, absent an injury, I cannot conceive of any scenario where a coach would throw Tebow into a game instead of him.
So, what are the Patriots up to here? Will we see Tebow debuting as a Tight End, something many football analysts have suggested? Or, will New England's Tebow experiment end in as much failure as New York's did? I'm not sure, but I do know that if Tim Tebow doesn't make a name for himself in the upcoming season his next career will be as a greeter as a casino in Reno, Nevada.