Manning Deal Done, Broncos Trade Tim Tebow To New York Jets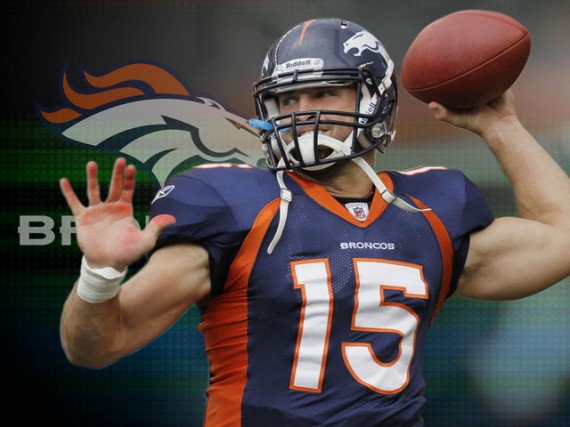 With the deal to bring Peyton Manning to Denver now official, the Denver Broncos wasted no time at all in getting rid of Tim Tebow:
Unusually quiet in recent weeks, the New York Jets shattered the calm Wednesday by completing a trade for polarizing quarterback Tim Tebow, the team confirmed.

The Jets will send a fourth-round pick to the Denver Broncos, a source said.

Tebow, a former first-round pick, went on the trading block Monday when the Broncos secured free agent Peyton Manning, who signed a five-year, $96 million contract.

Several teams expressed interest, including Tebow's hometown Jacksonville Jaguars, but the Jets — perceived as a sleeper at the outset — pulled off the splashiest trade of the offseason.

Tebow — he has three years remaining on his contract, with a base salary in 2012 of $1.1 million — will join a cast of backups behind incumbent Mark Sanchez, but his presence could ignite a quarterback controversy. Cornerback Antonio Cromartie tweeted before the trade that "we don't need Tebow," expressing his confidence in Sanchez and the current roster.

The timing of the trade is curious.

Two weeks ago, the Jets gave Sanchez a three-year, $40.5 million contract extension, professing their faith in him even though he regressed in certain areas last season. They signed former Detroit Lions backup Drew Stanton last week to be their No. 2 quarterback, handing him a $500,000 signing bonus. They also have former Alabama star Greg McElroy.
One doubts they'll get rid of Sanchez, who may be inconsistent at times but still manages to perform very well in a high pressure in environment. So they could always trade away one of the other two. Nonetheless, don't be surprised to see a Quarterback controversy in New York next season, especially if Sanchez gets off to a slow start as he has in the past. At first glance though I can't say the move makes a whole lot of sense for the Jets unless they really are intending on making Tebow starting QB some day.
Two observations come to mind. First of all, John Elway really didn't like Tebow at all did he? A 1st round draft pick who took the team to the playoffs gets traded away for a 4th round pick, that's harsh. Second, if Tim Tebow thought he was in the center of a media maelstrom last season, that was nothing compared to the New York sports media. High pressure doesn't even begin to describe it.