Dan Reeves, 1944-2022
The legendary football player and coach is gone at 77.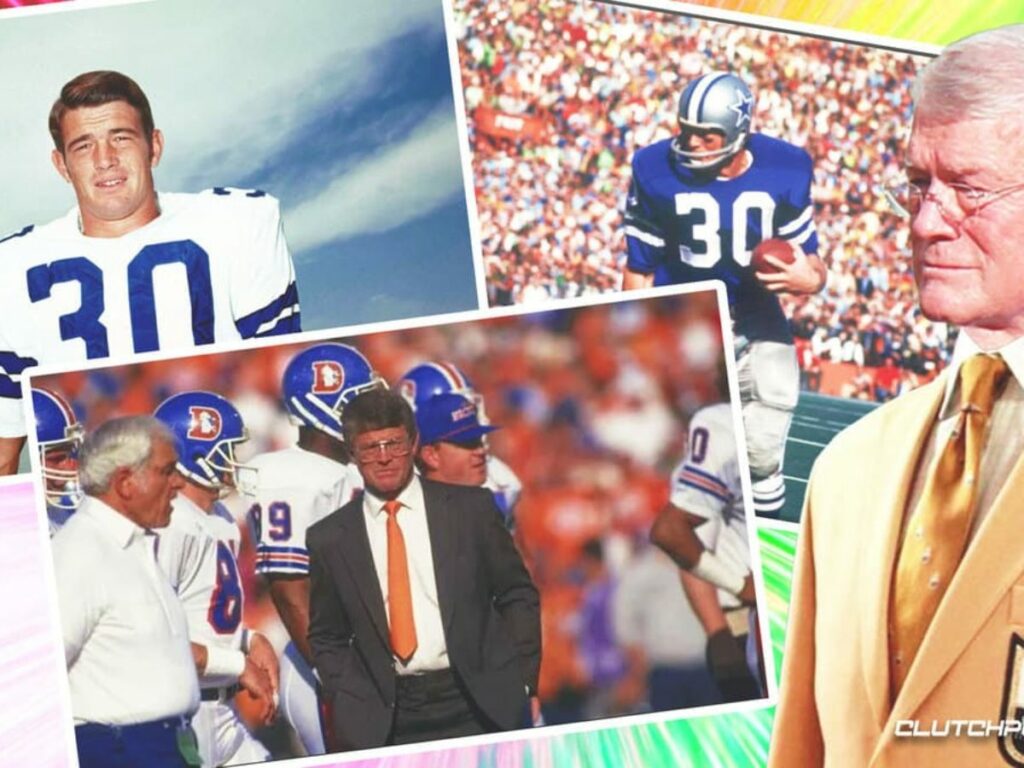 Washington Post ("Former NFL coach Dan Reeves dies at 77"):
Former NFL coach Dan Reeves died Saturday at 77, his family and former teams announced. Reeves, a head coach for 23 seasons with the Denver Broncos, New York Giants and Atlanta Falcons, won 201 games in his NFL coaching career, including the postseason.

Teaming with quarterback John Elway, Reeves led the Broncos to three Super Bowl appearances in four years (1987, 1988 and 1990) and then guided the Falcons to Super Bowl XXXIII in 1999, but his teams never won the big game, losing by a combined score of 170-59 in his four appearances. He was a part of nine Super Bowls as a player, head coach and assistant coach, the third most by an individual.

Reeves did experience Super Bowl glory as a player and as an assistant coach. He played eight seasons with the Dallas Cowboys as an undrafted running back from 1965 to 1972 and helped the Cowboys win Super Bowl VI before retiring. He was the offensive coordinator for the Cowboys when they won Super Bowl XII.

But his first opportunity to be a head coach came with the Broncos in 1981, when he was named the ninth coach in franchise history, making him the youngest head coach in the NFL at the time at 37. Reeves's stint with Denver was his most successful coaching tenure; he led the Broncos to six playoff berths and five AFC West titles in addition to the Super Bowl appearances. He's a member of the Broncos Ring of Fame.

"Reeves coached the Broncos with integrity, character and toughness along with sincere appreciation for his players and coaches," the franchise said in a statement, crediting the coach with setting "the foundation for the Broncos' decade of dominance in the 1980s and championship tradition for years to come."

Over 11 seasons with the Giants and Falcons, he produced three more playoff seasons, including Atlanta's first appearance in the Super Bowl. The Falcons lost, 34-19, to Elway and the Broncos.

"Dan Reeves leaves a lasting legacy in our game as a player and coach. His track record of success in Dallas, Denver, New York and Atlanta over several decades speaks for itself, marking a long and successful life and career in football," Falcons owner Arthur Blank said in a statement. "On behalf of the Atlanta Falcons I extend our condolences to Dan's family and friends as they mourn his passing."

Reeves was twice named coach of the year by the Associated Press (1993 with the Giants and 1998 with the Falcons) and has the ninth-most regular season wins among coaches in NFL history (190). Among retired coaches, only Marty Schottenheimer won more games without being enshrined in the Hall of Fame.
NYT ("Dan Reeves, Coach Who Reached (but Lost) Four Super Bowls, Dies at 77"):
Dan Reeves, a former Dallas Cowboys running back who, as a coach, guided teams to four Super Bowls (although he lost them all), died on Saturday at his home in Atlanta. He was 77.

The cause was complications of dementia, according to a family statement.

Reeves played and coached with the Dallas Cowboys during a stellar period when they won two Super Bowls, one when he was a player-coach and one when he was an offensive coordinator, working for Coach Tom Landry. After several seasons as an assistant to Landry, he was hired as the Broncos' head coach in 1981, replacing Red Miller.

Over 12 seasons in Denver, his teams had a record of 110-73-1 and were among the best in the American Football Conference. Led by quarterback John Elway, they lost the Super Bowl in 1987, 1988 and 1990 by wide margins to the New York Giants, the Washington Redskins and the San Francisco 49ers.

Reeves clashed with Elway over the Broncos' offensive scheme and disagreed with the team's owner, Pat Bowlen, over control of the team. Reeves fired his offensive coordinator, Mike Shanahan, in early 1992 for insubordination, believing that Shanahan had driven a wedge between him and Elway, who would later say it was "hell" playing for Reeves.

Following an 8-8 season in 1992, Bowlen fired Reeves.

"When you own a football team," Reeves said afterward, "you should be able to run the ball club the way you would like to." Bowlen said that he could have renewed Reeves's contract but that within a year "we both would have been miserable and at each other's throat."

Reeves was hired in early 1993 by the Giants, who had dismissed Ray Handley after a 6-10 season.

"When you've gone and lost three Super Bowls and that's what people will remember the most about you, that's what drives you," Reeves said at the news conference where he was introduced.
ESPN ("Dan Reeves, former NFL coach and player, dies at 77"):
Dan Reeves, who appeared in nine Super Bowls as a player, assistant coach and head coach, died at his home in Atlanta on Saturday. He was 77.

Reeves is one of only 10 coaches to have won at least 190 regular-season games in his career, and he guided two teams — the Denver Broncos and Atlanta Falcons — to the Super Bowl and was the head coach of the New York Giants for four seasons.

With a 201-174-2 NFL coaching record overall, including the postseason, he is one of only nine coaches in NFL history with 200 total wins. His Super Bowl appearances as an individual have been topped only by quarterback Tom Brady and New England Patriots coach Bill Belichick.
Dallas Morning News ("Once considered Tom Landry's heir apparent with Cowboys, Dan Reeves found greatness elsewhere"):
There was a time many in the NFL assumed Reeves would be Landry's heir apparent. That never unfolded. But he did go on to coach Denver, the New York Giants and Atlanta, accumulate 201 regular-season and postseason wins and lead the Broncos and Falcons to the Super Bowl.

Reeves would play or coach in nine Super Bowls before his professional career was done. New England's Bill Belichick (12) and Tampa Bay's Tom Brady (10) are the only men with more appearances.

Five of those trips — two as a player, three as an assistant coach — came with the Cowboys. His time in Dallas laid the foundation for the success he would enjoy for 23 seasons as one of the league's most respected head coaches.

"I think he knew where his future lay," Hall of Fame safety Cliff Harris said. "It was going to be in coaching. Coach Landry saw that, too.

"He was the motivator and a smart guy that could direct a successful team."

A quarterback with the South Carolina Gamecocks, Reeves signed with the Cowboys as an undrafted rookie free agent in 1965 to play defense and special teams. He was shifted to halfback because of injuries and one year later led the league with 16 touchdowns.

A serious knee injury in Week 4 of the '68 season altered his playing career and accelerated his path to coaching. Reeves was a player-coach for three seasons before retiring as an active player with 1,990 rushing yards, 1,693 receiving yards and 42 touchdowns.

"If I were going to describe him as a player, he was a smart, technical guy who was a really good athlete that knew the system, knew football, knew how to run and make yardage," Harris said. "The reason he could do that is he was a good athlete and smart.

"He got the Landry system, and Coach Landry knew he got the system."

Reeves would coach the offensive backfield, special teams, receivers and fill the role as the Cowboys offensive coordinator before leaving in '81 to replace Red Miller as Denver's head coach.
While I was alive for Reeves' turn as a player with the Dallas Cowboys, he had retired by the time I started rooting for the team in earnest. And while he was the team's offensive coordinator the first few seasons I watched closely the media environment was very different then, so the assistants were nearly invisible.
From afar, at least, he always seemed like a good guy and a top-notch coach. And he really should be a Hall of Famer. Clark Judge makes the case for Sports Illustrated:
Nobody has been in more Super Bowls than Dan Reeves. He played in two. He was an assistant in three. And he was a head coach in four.

That should count for something. It should count for Hall-of-Fame consideration.

Yeah, right, you say. So how many times was he the winning head coach? Answer: Zero. His Broncos lost three times, and his Falcons lost once. And big deal.

But wait a minute, I hear you protest, doesn't the Pro Football Hall-of-Fame's board of selectors measure coaches … like quarterbacks …by their rings? In other words, shouldn't that 0-4 record disqualify Reeves from the conversation?

Well, yes.

And no.

Yes, coaches are measured for rings, but, no, Reeves' record doesn't disqualify him from anything but a phone call from the President. Quick, now, tell me how many Lombardi Trophies Marv Levy won? Answer: As many as Dan Reeves. He's 0-4. Yet it didn't keep Levy out of Canton. And what about Bud Grant? He went to four Super Bowls, too, and guess what? He didn't win, either. And he's in the Hall.

But, people tell me, Levy's situation was unique because he went to four straight Super Bowls. Not only is that remarkable; it's never been duplicated. And they're right. But look what Reeves accomplished in Denver: He went to three Super Bowls in four years and was the only AFC coach in the 1980s to lead his team to consecutive Super Bowls.

Reeves ranks eighth all-time in coaching victories with 190. Nine times in his career he won 10 or more games. Three times he won 12 or more. He was 11-9 in the playoffs, won six division titles and was a two-time NFL Coach of the Year. Yet he not only can't get into the Hall; he hasn't even been nominated as a finalist.

You gotta be kidding.

"Not only Bud Grant and Marv Levy," Hall-of-Fame tight end Shannon Sharpe told the Denver Post, "but, help me, my Super Bowl memory is a little foggy. What did George Allen win again?"

Uh-huh. Zilch. And Allen was 2-5 in the playoffs.

"My biggest regret," Reeves once said, "is that we didn't win a Super Bowl for Denver."

I understand. But that shouldn't preclude him from getting to Canton. Dan Marino didn't win one for Miami, either. And he went to only one. Dan Fouts and Warren Moon didn't. They went to none. But that didn't prevent them from going to the Hall. And it shouldn't prevent Dan Reeves.

Oh, and one more thing: Reeves was one helluva player, too. He could run. He could catch. And he could pass, launching the longest completion of the "Ice Bowl," a 50-yard touchdown strike to Lance Rentzel. He could score, too, setting a team record with four TDs in a 1967 game vs. Atlanta, putting up 16 touchdowns in his first year at running back and scoring via the pass, run and catch in a game against Philadelphia.

Yeah, I know, that's not supposed to count. You either go into the Hall as a player, or you go in as a coach. Period. To which I say, "Huh?" That rule must change, and here's hoping it changes in time for Dan Reeves – as good on the field as he was on the sidelines — to make the final cut to 15 so his credentials can be fairly evaluated.

In the meantime, his coaching record speaks for itself. He was good enough to resurrect the Denver Broncos and put them in the Super Bowl. Three times, no less. He was good enough to turn around the floundering New York Giants and put them in the playoffs. And he was good enough to rebuild Atlanta and put it in its first … and only … Super Bowl.
I've long argued that, given the massive size of NFL rosters, it's absurd to limit inductees to seven a year. It creates travesties like having Drew Pearson, the first-team all-decade wide receiver for the 1970s, having to wait almost forty years to get his gold jacket. It also means that coaches and players who retire to become television commentators go to the front of the line, because their names remain top of mind.