Tim Tebow: It's Just A Football Game
Tim Tebow has been at the center of a culture war battle, but he seems to have a more balanced view of the whole thing.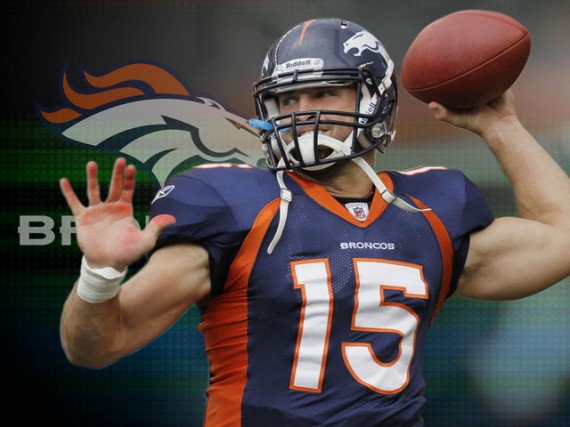 As I noted in my earlier post, Denver Broncos Quarterback Tim Tebow has become, in a very short period of time, some kind of weird symbol of the cultural wars. On the one side you've got secularists like Bill Maher who openly cheer when Tebow performs badly as if that by itself confirms their atheism. On the other side we have religious conservatives who seem to view every Tebow victory, or even the mere coincidence that his number of passing yards is similar to a particular Bible verse, to be proof of their own beliefs. Observing all of this from mostly the sidelines, I've found the entire thing to be more than a little ridiculous. The idea that God, if such a thing actually existed, would care one way or the other about the outcome of a sporting event has always struck me as profoundly silly and on a level with the ancient animistic religions that saw divine intervention every time there was thunder and lightening.
It is perhaps because he's gotten caught up in this weird cultural/political war that Tebow has become such a focus of media attention, although the fact that he's telegenic and winning football games in dramatic fashion probably has something to do with it too. In any case, whatever side you take in the culture wars, it's worth noting that Tebow himself is far more sanguine about his success than either side in this weird debate that has swept across the country:
As he prepares for Saturday night's NFL playoff game between Denver and New England, Broncos quarterback Tim Tebow told "The NFL Today" host James Brown that his parents taught him the perspective he brings to the sport:

"I think number one is, what my mom and dad preached to me when I was a little kid: Just because you may have athletic ability and you may be able to play a sport doesn't make you any more special than anybody else," Tebow said. "Doesn't mean God loves you more than anybody else.

"We play a sport. It's a game. At the end of the day, that's all it is, is a game. It doesn't make you any better or any worse than anybody else. So by winning a game, you're no better. By losing a game, you're no worse. I think by keeping that mentality, it really keeps things in perspective for me to treat everybody the same."

"The guy is a wonderful young man," Brown told Charlie Rose. "There is no phoniness in him at all. What you see is what you get. He's been the same way, Charlie, from Pop Warner football. If you can win over a testosterone-laden locker room where there's some crusty hard-nosed guys in there, bottom line is, he's a winner.

"He does come to the NFL level, the highest form of football, without a polished skill set that's associated with an elite level quarterback. But he's overcome challenges each and every step of the way. And hey, if he's learning at the NFL level and he's got his team in the post-season, that's a pretty good athlete in my book."

"The NFL Today" host described the quarterback as self-effacing, who does not want to discuss his charity, such as helping young people with serious health problems. "The big thing with Tebow, he says, 'I'm using football as a platform for bigger and better things,' and who can argue with that?" said Brown.
By all accounts, Tebow is genuine in his beliefs and the same in person as he comes across in public, which is itself a rarity in professional sports. On some level, though, I think it's unfair to him that he's has been turned so quickly, by others, into something more than what he actually is, which is a football player. It doesn't appear to me that it's a role he ever asked for. Yes., he's been public about his faith but that's his right. The fact that his pre-game sideline prayer ritual has become an internet meme actually strikes me as a bit insulting to him given that it takes something that is important to him and trivializes it so that people can post pictures of themselves on the Internet doing something other than planking. It even became the subject of a bet between the Mayors of Denver and Pittsburgh before last weeks AFC Wild Card Game. The prayer ritual doesn't mean that much to me, but mocking it in that manner strikes me as pretty dumb.
In other words, Tebow is being more mature and more level-headed about this than any of the people who have adopted him as either a cultural hero or enemy. Perhaps they could all take a clue from him and just enjoy the game. The Broncos are currently 13.5 point underdogs heading in to Foxboro, which isn't surprising considering that Denver lost the last game against the Patriots by nearly 20 points. It's going to take another stellar performance to pull off a win this weekend,  and personally I doubt Tebow will be able to do it. Whichever way it turns out, though, lets not pretend that it means anything. Other than deciding which team goes on to the AFC Championship Game, that is.