Newt Gingrich Wins South Carolina, Republican Race In (Temporary) Chaos
Last night, South Carolina was Gingrich Country.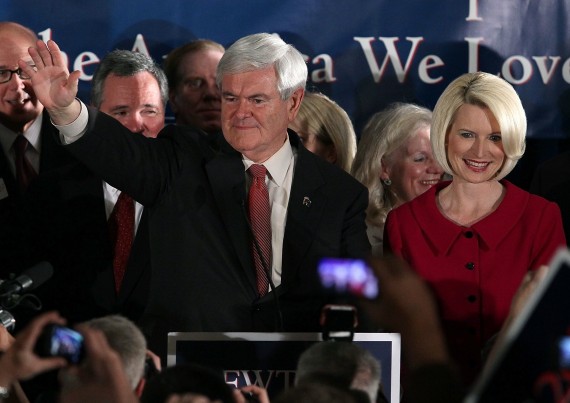 As I noted yesterday morning, it was apparently by the end of the week that Newt Gingrich was going to win the South Carolina primary. Two debate performances that played well with the Republican base, including one that included the kind of attack on the media that conservatives love, along with a week of rather surprising mis-steps by the Romney campaign, meant that the wind was at Gingrich's back. There were some doubts during the day, though. The weather in many parts of the Palmetto State was more severe than had been originally forecast, including Tornado Watches and Warnings in several parts of the state, and it was unclear how that would impact turnout in the heavily evangelical parts of the state where Gingrich was believed to be strong. In the end, though, it wasn't even a contest:
CHARLESTON, S.C. — Surprising his rivals and scrambling the Republican race for the presidency, Newt Gingrich won the pivotal South Carolina primary Saturday, just 10 days after a distant finish in New Hampshire left the impression that his candidacy was all but dead.

It was a striking development in a months-long Republican nominating contest that has seen the restive base of conservative voters ping-pong among the alternatives to the party establishment's favorite, Mitt Romney.

With late-night tallies showing Mr. Gingrich beating Mr. Romney by 12 percentage points, it was no small win. Exit polls showed Mr. Gingrich had done it with a formidable coalition of groups that have resisted Mr. Romney's candidacy all election season long: evangelical Christians, Tea Party supporters and those who call themselves "very conservative."

Mr. Gingrich now heads to Florida, where he faces a daunting test in seeking to capitalize on his new status as the candidate who poses a singular, insurgent threat to Mr. Romney. He used his victory speech to cast himself as the champion of the party's anti-establishment wing, reprising his popular castigation of the news media and other "elites" while keeping his focus on the defeat of President Obama.

Standing beside his wife, Callista, as he addressed an exuberant crowd in Columbia, Mr. Gingrich attributed his victory to "something very fundamental that I wish the powers that be in the news media will take seriously: The American people feel that they have elites who have been trying for a half-century to force us to quit being American and become some kind of other system."

Complimenting the other candidates, he repeated his criticism of Mr. Obama as the best "food stamp president" in history, saying he, by contrast, would be the "best paycheck president."

The crowd greeted Mr. Gingrich with chants of "Newt can win," their answer to the party establishment's doubts about his ability to ultimately defeat Mr. Romney.

But for a night, at least, there was no arguing with the results.

Just 10 days before, Mr. Romney left New Hampshire as the presumed front-runner. He now moves on to the next fight claiming just one of the first three nominating contests, having been stripped last week of his incorrectly declared victory in the Iowa caucuses. That win was instead given to Rick Santorum, who placed third in South Carolina on Saturday.

"This race is getting to be even more interesting," Mr. Romney, with circles under his eyes and an unfamiliar pallor after days of hard campaigning here, told his supporters in Columbia. "This is a hard fight because there is so much worth fighting for. We've still got a long way to go and a lot of work to do."

But Mr. Romney still has a considerable advantage over Mr. Gingrich when it comes to money and organization, both of which will be vital in the expensive campaign state of Florida, which has its primary on Jan. 31. And Florida is different political terrain from South Carolina, where Mr. Gingrich had cultivated the Tea Party movement's leaders since its start.

Mr. Romney and the "super PAC" supporting him have been advertising heavily in Florida for weeks, including on Spanish-language television. An analysis by Kantar Media/CMAG shows that Mr. Romney has spent at least $4 million on advertising there.

Mr. Romney's team was expected to come into the state trumpeting major endorsements and reasserting his status as a favorite of the biggest names in Republican politics. But his hopes of landing the coveted endorsement of former Gov. Jeb Bush of Florida were dashed when Mr. Bush said he would not make an endorsement. He told Bloomberg News that Mr. Romney, Mr. Gingrich and Mr. Santorum had all sought his support.

He called on the candidates to leave the "circular firing squad" of their rivalry and make sure that the tone of their debate did not alienate independent voters, especially on immigration. And Mr. Romney should release his tax returns while competing in Florida, Mr. Bush said.

Mr. Gingrich and his supportive super PAC — which pounded Mr. Romney here relentlessly — have not advertised in Florida yet, though Mr. Gingrich has visited the state often. On one visit last week, he told Floridians that his plan was to win in South Carolina and then compete strongly there. It seemed unlikely then.

Mr. Gingrich seized on his South Carolina victory less than an hour after the polls closed.

"Thank you South Carolina!  Help me deliver the knockout punch in Florida. Join our Moneybomb and donate now," he wrote on his Twitter feed. His campaign placed a large ad on the Web site the Drudge Report, popular among conservatives, seeking donations as well.
Here's how the numbers look with 100% of precincts reporting:
Newt Gingrich — 243,143 votes (40.4%)
Mitt Romney — 167,279 votes (27.8%)
Rick Santorum — 102,055 votes (17%)
Ron Paul — 77,993 (13%)
Others — 10,473 (1.8%)
This was a far more extensive victory for Gingrich than I was expecting, and Santorum's leap into third place over Ron Paul was an unexpectedly good showing from a candidate who seemed to be fading during the same week he was finally told that he'd won the Iowa Caucuses. Indeed, if you look at the map at the above-link, you'll see that Gingrich won every single county in the state except for those around Columbia and the coastal areas from Charleston down to Hilton Head Island. This means he picked up large swaths of the state won by John McCain in 2008 as well as those one by Mike Huckabee that year. It was a decisive and surprising win by a candidate who had limped into South Carolina down in the polls and with his December rise in the polls seemingly at an end.  Considering the amount of negative feedback that Gingrich had gotten from his initial efforts to make an issue of Mitt Romney's time at Bain Capital, one would not have been unwarranted in thinking that the race was almost over. Once you take a look at the exit polls, though, it's clear what happened. People who made up their minds in the two days prior to the primary broke for Gingrich. Moreover, two-thirds of the exit poll respondents said that the debates were important in helping them make up their minds.
As Byron York notes, though, the debates weren't the only reason that Gingrich not only won last night, but won handily:
In the next few days, there will be plenty of analysis attributing Gingrich's victory to other factors: his commanding performances in debate, his next-door advantage in South Carolina, and Romney's now-traditional difficulties in the state.  But after all the talk of ground game and debate war, there's a simpler reason Gingrich won: On the stump, in town hall after town hall, across South Carolina, Gingrich has been a markedly better campaigner than Romney.

Romney stages perfect events.  For example, on the eve of the primary, Romney's rally in North Charleston was perfect from a production point of view: stage just right, big flags, big Romney signs, smooth introductions from South Carolina Gov. Nikki Haley and Virginia Gov. Bob McDonnell, all topped off by a showy entrance by Romney, who arrived in his big campaign bus that drove right into the room.

It was perfect in every sense but engaging with the voters.  Romney's stump speech was a clipped — some would say dumbed down — list of generalities, concluding with this: "I love this land, I love its Constitution, I revere its founders, I will restore those principles, I will get America back to work, and I'll make sure that we remain the shining city on the hill."  Romney offered his supporters very little to chew on.  In this primary race, voters are hungry for substance, and Romney didn't give them much.

Gingrich's last event before the voting, a couple of hours later, was a rally on the hangar deck of the USS Yorktown, a World War II aircraft carrier that is now a floating museum across the bay from Charleston.  It was a most un-perfect affair.  To begin with, it just so happened that dozens of Cub Scouts were having an overnight on the Yorktown at the same time as Gingrich and the press showed up for the rally.  Their presence contributed to an air of happy chaos on board, and Gingrich was delighted to invite a few scouts on stage with him at the beginning of his speech.  When Gingrich got to the substance of his remarks, he was wandering, expansive, and detailed, where Romney had been brief and canned.  But Gingrich kept the crowd with him the whole way, and in the end had engaged his audience more than Romney could have hoped for.  Gingrich respected them enough to discuss issues with them seriously.

(…)

Gingrich's success here in South Carolina shows more than just a skepticism toward establishment Republicanism.  It also shows a hunger for real substance in the campaign, for a candidate who will talk to voters and give them more than phrases like "I believe in America."  Mitt Romney's team of seasoned campaign professionals may not think Newt Gingrich has any business playing a deciding role in the race.  But they better believe it, and they better take seriously what the Gingrich challenge represents — before it's too late.
For better or for worse, Gingrich succeeded in South Carolina because the voters sensed that he was providing the substance that Romney lacked, and because he did a better job connecting with them. That last part will be attributed by many to Romney's wealth and his seemingly patrician lifestyle, and it's not necessarily a fatal flaw. After all, both George H.W. Bush won the White House despite having very little in common with the average vote and candidates like Al Gore and John Kerry won their party's nomination despite suffering from the same problem. The other problem, though, will require Romney to re-tool himself somehow. Having watched a few Romney stump speeches these past several months, I can say that he's clearly capable of bringing substance, but it seems like he utterly failed to do so in South Carolina. Was it because the campaign got knocked off its game after the tax return became an issue? Well, to the extent that's the reason, they just need to release the tax returns and get that issue behind them.
The big question, of course, is what this means for the race going forward. Right now, Romney holds a commanding lead in Florida and, with early voting well underway (some counties have had early voting open since last Monday) one can assume that he is benefiting from what everyone concedes is the superior ground operation in the state.  The problem for Romney is that the most recent public poll in the Sunshine State was taken five days ago, when his meltdown in South Carolina was just beginning. While one can assume that the campaigns are going their own internal polling, we've got indication right now of just how badly, if at all, events in the Palmetto State have effective Romney's position in what will be the biggest contest to date. It's entirely possible that the gap between Gingrich and Romney is far narrower now, and with Gingrich just starting to campaign in the state, we're clearly in for an intense nine days.
Of course, Gingrich faces big hurdles in repeating his South Carolina success in Florida. From north to south, the state has some of the most expensive media markets in the country and, absent massive ad buys from the pro-Gingrich SuperPAC it's not clear that Newt will be able to compete with Romney on the airwaves. Furthermore. it's not going to be nearly as easy for his campaign to do the kind of barnstorming campaign in Florida that he did in South Carolina, both because Florida is such a larger state geographically and because there are so many more people. To put in perspective, it's likely that by the time the counting is over in Florida more people will have voted via absentee or early voting alone than voted in Iowa, New Hampshire, and South Carolina combined. This is the first big test of the race, and despite all of his flaws it still looks like a state that is more suited to Mitt Romney than Newt Gingrich. Moreover, Romney is helped at least marginally by the fact that Rick Santorum is staying in the race and will likely continue to draw at least of the some evangelical/social conservative vote away from Gingrich.
At the very least, last night's results means that this race will not end in Florida as the 2008 race effectively did. So far, we've had a different winner in each of the first three contests, something that's never happened in a Republican race before and even if Romney wins decisively next Tuesday, Newt Gingrich at the very least is likely to stay in the race for the foreseeable future. Florida doesn't have many big contests, but the three that will draw the most media attention are very favorable to Romney. Nevada's caucus on the 4th of February is widely expected to be a win for Florida due at least in part to the heavy Mormon population in the state. At the end of the month we have primaries in Romney's home state of Michigan, and in Arizona, which also has a significant Mormon population. Gingrich may be able to put up a fight in Arizona, but one would think that February 28th will be a good day for Romney as well. That takes us to Super Tuesday where both Romney and Gingrich have home state advantages in Massachusetts and Georgia respectively, but where the biggest prize will be Ohio (Romney, of course, will win Virginia where Gingrich isn't even on the ballot).
How Super Tuesday pans out will depend on how much longer the race lasts, but I honestly cannot see Gingrich giving this race up easily, at least not as long as there's money available for his campaign and the SuperPAC. My initial thought this morning, though, is that this race is likely to go deep into April unless Romney manages to put Gingrich down quickly and decisively by the Illinois Primary on March 20th. Whether Gingrich's continued presence in the race will be good for the GOP or not is an open question.