Palmetto State Preview
The polls are open in the South Carolina.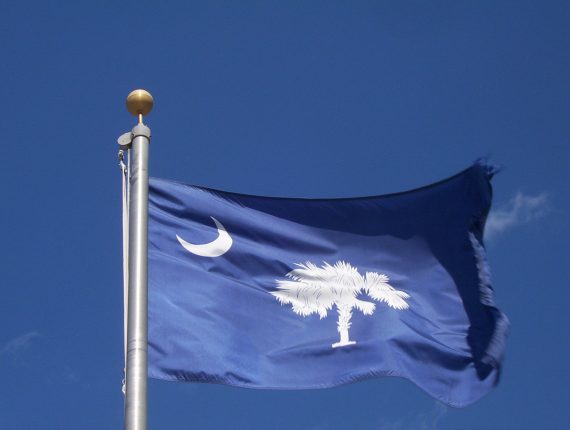 As I write this, polls in South Carolina have been open for just about two hours and, if the last poll released from Public Policy Poling is any indication, Newt Gingrich is headed for a victory tonight:
Newt Gingrich heads into South Carolina election day as the clear front runner in the state: he's now polling at 37% to 28% for Mitt Romney, 16% for Rick Santorum, and 14% for Ron Paul.

Gingrich's lead has actually increased in the wake of his ex-wife's controversial interview with ABC. Although one night poll results should always be interpreted with caution, he led the final night of the field period by a 40-26 margin. One thing that continues to work to his advantage are the debates.  60% of primary voters report having watched the one last night, and Gingrich has a 46-23 lead with those folks.

The other reason his ex-wife's interview isn't causing him much trouble is that there's a lot of skepticism about it. Only 31% of voters say they think her accusations are true while 35% think they are false and 34% are unsure. 51% of voters say that they have 'no concerns' about what came out in the interview.

The skepticism of Republican voters toward the media is helping Gingrich as well.  Just 14% of likely voters have a generally favorable opinion of the media, while 77% view it negatively.  Gingrich's attacks on the media have clearly played well with the party base.

Gingrich is leading with pretty much every key segment of the Republican electorate. He's up 41-21 on Romney and Santorum with Evangelicals, he has a 52-18 advantage on Romney with Tea Partiers, he leads Santorum 44-21 with 'very conservative' voters with Romney at 20%, and he's up 39-26 with men.

In the final week of the campaign Gingrich rose from 24% to 37% in PPP's polling while Romney basically stayed in place, going from 29% to 28%. Romney saw a 15 point decline in his net favorability in the closing stretch from +24 (57/33) to just +9 (51/42). Gingrich saw a modest increase in his numbers over the final week from +14 (51/37) to +17 (54/37).
Additionally a Clemson University Palmetto Poll released yesterday showed Gingrich with a six point lead which leaves the final poling chart right here: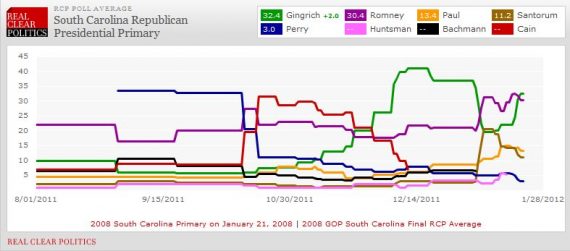 Looking at the numbers it's still a close race between Romney and Gingrich but, as Nate Silver points out, the momentum for the past week has all been going in Newt Gingrich's direction, and if that continues through the end of the voting tonight then it's fairly clear where things are headed:
South Carolina has been surveyed by more than a dozen distinct polling firms over the past week, and the surveys are in agreement that Mr. Gingrich gained significant ground on Mr. Romney after the Monday night debate in Myrtle Beach. If Mr. Gingrich was also helped by the Thursday night debate, as the Public Policy Polling data suggests, his margin of victory in South Carolina could be impressive — perhaps reaching into the double digits.

Nevertheless, Mr. Romney retains some chance of winning. Although momentum holds up more often than not in primaries and caucuses, there have been some important exceptions — like when Hillary Clinton won the New Hampshire primary in 2008 despite Barack Obama's polling surge following his Iowa caucus win.

There is also an unusually large amount of disagreement in the South Carolina polls, which contributes to the uncertainty there. And those looking for hopeful signs for Mr. Romney can find a couple. First, Mr. Gingrich somewhat underperformed his polling in both Iowa and New Hampshire, perhaps as a result of his middling voter turnout operation. Second, the race appears to be much tighter — essentially a tossup — if you look solely at polls conducted using live interviewers, rather than those like Public Policy Polling that use automated scripts.

Still, the more recent the polling data, the better Mr. Gingrich tends to do in the surveys. And Mr. Gingrich has also gained considerable ground on Mr. Romney in national polls of Republicans, which makes it less likely that his polling momentum in South Carolina is a statistical fluke.
One possible good sign for Romney can be found in the Clemson poll mentioned above, where  as many as 20% of the respondents said they were undecided. This is far higher than the PPP poll, which showed only 5% undecided, but that may be partly accounted for by the fact that PPP is an auto-dial/automated poll and that people may find it easier to press a number on a keypad in response to a question rather than giving a definitive verbal answer to a live pollster. In any case, the Clemson Poll's finding is consistent with anecdotal evidence reported by The New York Times:
BELTON, S.C. — Heidi Trull does not usually allow customers to talk politics or religion at Grits and Groceries, her restaurant here in the farmland that defines the northwest corner of the state.

People's opinions are usually too strong. And a heated argument can ruin a good dish of Carolina shrimp and grits.

But Friday afternoon, less than 24 hours before the state's Republican presidential primary, her ban on political talk did not matter one bit.

No one had found a candidate they liked enough to argue for.

From country restaurants like this one to suburban shopping malls in Spartanburg and espresso bars in Greenville, voters facing four options in the Republican primary seemed to shrug and say, "I haven't decided."

As South Carolina residents began voting today, polls were showing Newt Gingrich gaining ground on Mitt Romney while Ron Paul and Rick Santorum battled for third place. But those polls do not always reflect what is happening on the ground, particularly in a region that has emerged as a coveted electoral battleground.

Thursday's debate swung some undecided voters from one camp to another and back again. A relentless barrage of political ads only added to the confusion.

Thus, in a state known for its fickle, independent political nature, people appear to be waiting until they step into a voting both to decide.
So we've essentially got three scenarios that are likely to play themselves out today. Either Romney mounts a comeback and ekes out a narrow victory, Gingrich wins but narrowly so, or Gingrich scores a decisive (as in more than 2-3 percentage points) victory (the odds of a decisive Romney win seem remote at this point). If Romney somehow manages to win this thing, even narrowly, then it would likely change yet again the narrative of this race, this time back to the "Romney inevitability" argument. Anything else sends us on to Florida where we'll see if Romney's currently huge lead holds up over the next ten days, and whether he manages to bounce back from the worst week he's had on the campaign trial so far.
Personally, I'm predicting Gingrich pulls this out and wins by at least 3.5% of the popular vote. Behind Romney's second place showing will be Ron Paul in third, and Rick Santorum in 4th place. Santorum will, in all likelihood, drop out of the race sometime in the next several days, providing at least a temporary boots to Gingrich. It will throw the race into temporary chaos, and it will cause the Republican establishment to rally behind Mitt Romney rapidly, with endorsements from prominent Republicans flooding the Inbox's of political reporters starting Monday morning. Romney's fate in Florida, meanwhile, will depend mostly on whether he decides to stop playing defense and start hitting Gingrich with the ample reams of opposition research we all know his campaign has on the former Speaker. In other words, it's going to be an interesting ten days.