Romney And Gingrich Neck And Neck In Florida
It's pretty much a dead heat in Florida between Newt Gingrich and Mitt Romney.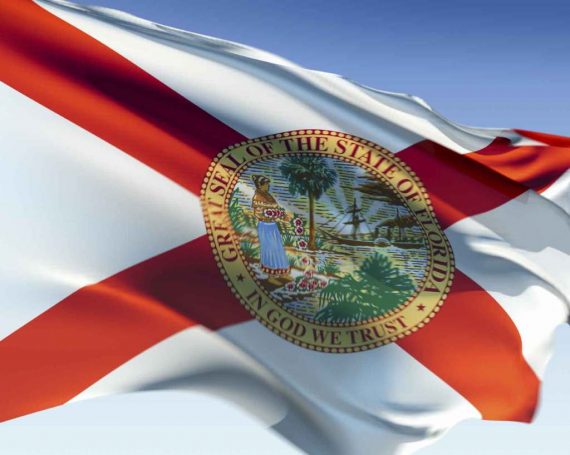 The first round of post-South Carolina/post-debate polling out of Florida shows a very tight race developing between Mitt Romney and Newt Gingrich, with Rick Santorum and Ron Paul pretty much becoming non-factors in the Sunshine State. This is a slight reversal from what we saw coming out of South Carolina, which appeared to show Newt Gingrich getting a huge bounce from the good week he had last week. Since Monday's debate, however, where Newt Gingrich appeared to hold back while Mitt Romney went on the attack in a way that he had not in the Palmetto State, Romney has seemingly bounced back while Gingrich has slipped. All that guarantees, of course, is that tomorrow night's debate is likely to be a very lively affair and this coming weekend is going to be one on tense campaigning from Tallahassee to Key West. Earlier in the week, Public Policy Polling showed Gingrich up by five points, which was outside the Margin Of Error, but a trio of polls released today show a much closer race.
First up, there's a new poll from Quinnipiac which actually shows Romney in the lead, largely because the po,lling period covered two days before the South Carolina primary:
What a difference a big win can make.

A new poll indicates that since Newt Gingrich's double digit victory in Saturday's South Carolina primary, the former House speaker's surged among people likely to vote in next Tuesday's Republican presidential primary, and he's moved ahead of former Massachusetts Gov. Mitt Romney.

According to a Quinnipiac University survey released Wednesday morning, Romney is at 36% support, with Gingrich at 34%, former Sen. Rick Santorum of Pennsylvania at 13%, Rep. Ron Paul of Texas at 10%, and seven percent undecided. Romney's two point margin is well within the poll's sampling error.

The survey was conducted Thursday through Monday, both before and after the South Carolina primary. Looking at the numbers for Thursday through Saturday, before the results of the Palmetto State contest were known, Romney had a 37% to 26% lead over Gingrich, with Santorum and Paul each at 15%.

But looking just at Sunday and Monday numbers, after the news of Gingrich's big win in South Carolina, the former House speaker has a 40% to 34% advantage over Romney, with Santorum at 11% and Paul at 6%.

"Florida is essentially a dead heat and a two-man race between Gov. Mitt Romney and Speaker Newt Gingrich entering the last week of the campaign," said Peter A. Brown, assistant director of the Quinnipiac University Polling Institute. "Gingrich's South Carolina victory clearly gives him a boost in Florida. The question is whether there is more of that to come, or whether any bump from a previous victory will dissipate as happened to Rick Santorum in New Hampshire after winning Iowa and Romney in South Carolina after taking New Hampshire."

According to the survey, 38% say they might change their mind on which candidate they are backing, and there's little difference among Gingrich and Romney supporters in terms of thinking they may alter their decision.
The Quinnipiac poll also shows a gender gap similar to the one we saw in South Carolina polling, with men supporting Gingrich over Romney by a 37%-33% margin among men while women support Romney over Gingrich by a  38%-31% margin. The exit poling in South Carolina did not show the same gender gap the pre-election polls did, though, so its unclear what this means.
Another poll taken for the Florida Chamber of Commerce found Gingrich and Romney tied:
TALLAHASSEE, FL (January 24, 2012) – With only one week remaining before Republicans cast their vote in Florida's Republican Primary, a new Florida Chamber of Commerce poll shows presidential candidates Newt Gingrich and Mitt Romney in a dead heat race among Florida Republicans.

"Following the South Carolina primary, Republican presidential candidates Mitt Romney and Newt Gingrich arrive in Florida and begin the final week before Florida's January 31 primary at a dead even heat – 33% each. Rick Santorum is in third place with 10% followed by Ron Paul with 6%," said Marian Johnson, Senior Vice President of Political Operations for the Florida Chamber of Commerce. "It's clear that both candidates need to aggressively campaign for votes in Florida."

The poll of 504 registered Republicans was conducted January 22-23, 2012 by Cherry Communications and has a 4.4% +/- margin of error with a 95% confidence level.
Finally, there's a new CNN/Time/ORC poll that shows yet again a neck and neck race:
Jacksonville, Florida (CNN) – One day before the final GOP presidential debate in Florida, it's all tied up between Mitt Romney and Newt Gingrich, according to a new survey.

A CNN/Time/ORC International Poll also indicates that while Gingrich surged following his 12-point victory in Saturday's South Carolina primary, his momentum appears to be quickly cooling off.

According to the poll, 36% of people likely to vote in Tuesday's Republican primary in the Sunshine State say they are backing Romney as the party's nominee, with 34% supporting Gingrich. The former Massachusetts governor's two point margin over the former House speaker is well within the survey's sampling error.

(…)

The new survey was conducted Sunday through Tuesday, after the Palmetto State primary, and mostly before and partially after Monday night's Republican presidential debate in Tampa, where in a role reversal, Romney aggressively attacked Gingrich.

On Sunday, the day after Gingrich won big in South Carolina, he was at 38% in Florida, with Romney at 36%, Santorum at 11% and Paul at 8%. Looking only at Monday and Tuesday's results, Romney was at 38%, Gingrich 29% Santorum at 11% and Paul at 9%.

"Gingrich's post-Palmetto State bounce did not last long," adds Holland. "Monday's debate may have something to do with that, but the data indicate that the shift to Romney began before the debate started, so there are clearly other forces at work."
The CNN poll also reveals a gender gap, with men supporting Gingrich over Romney 35% to 31% and women supporting Romney over Gingrich 40% to 32%. Again, it's unclear whether this means anything given the outcome in South Carolina, but it's definitely something to keep an eye on, especially considering the fact that Florida's primary is closed so these are Republican women we're talking about, not independents.
So, after all that, this is where RealClearPolitics puts the race: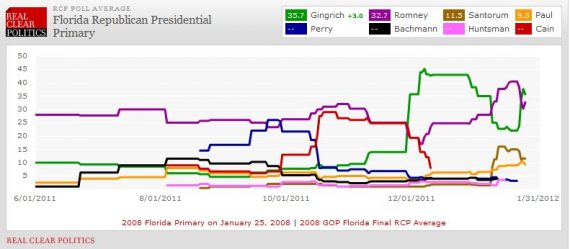 As I said, all of this pretty much guarantees that tomorrow's debate is likely to be as high stakes as the last several have been. I doubt that CNN and Wolf Blitzer are going to be as strict about audience behavior as NBC and Brian Williams were on Monday, so that arguably might help Gingrich. At the same time, though Romney has taken the gloves off since Monday and seems unlikely to retreat from a fight either. One of the areas where the two have been exchanging barbs and accusations today has been immigration. In an obvious effort to appeal to Florida's Hispanic voters, Newt Gingrich has been hitting Romney and defending himself in interviews with Spanish-speaking media:
DORAL, Fla. – Newt Gingrich defended his immigration policy and declared his intent to win a majority of the Latino general election vote in an occasionally testy interview with Jorge Ramos, of Spanish-language network Univision, this morning.

Gingrich's chief rival for the Republican presidential nomination, former Massachusetts Gov. Mitt Romney, is scheduled to appear this afternoon for Univision's candidate forum. Ramos asked Gingrich about Romney's use of the term "self-deportation" for some illegal immigrants in Monday's debate.

Gingrich linked his answer to Romney's newly released tax returns as he twisted the knife into his foe.

"I think you have to live in a world of Swiss bank accounts and Cayman Island accounts and automatic $20 million income a year with no work to have some fantasy this far from reality," he said.

Gingrich, the former U.S. House Speaker from Georgia, is campaigning in Florida ahead of the state's Jan. 31 Republican primary, in which Latino voters are a key bloc — and both Gingrich and Romney both are courting them today in South Florida.

Ramos pressed Gingrich on his own immigration plan, which includes a path to legal status for illegal immigrants who have been here for 20-25 years. That stance has drawn some ire from conservative immigration hawks, but Ramos came from the opposite view, pointing out that Gingrich's plan would exclude most of the estimated 11 million people here illegally. Of the rest, Gingrich said, "I'd urge them to get a guest worker permit."

Gingrich pledged to reform the visa system – including giving an H1 visa to every immigrant with an advanced degree in science or technology.

On the DREAM Act, a long-pending bill that would give a path to citizenship for illegal immigrants who came here as children and go to college or serve in the military, Gingrich reiterated that he only supports the part that applies for the military. Romney in Monday's debate said he shared that view.
In his own Univision interview, Romney hit back at Gingrich's characterization of him as anti-immigrant:
On Wednesday, Romney defended his idea of "self-deportation," which he said would essentially make it so difficult for undocumented immigrants to find work that they would be forced to leave the country. He said Gingrich has previously condoned the idea, even though he is now condemning it.

Even when confronted with an undocumented woman who attended one of his campaign events and hopes to attend college, Romney remained on message, arguing against charging undocumented immigrants in-state tuition rates. He suggested that she try "a college that's not as expensive as others," perhaps even Miami Dade College, adding his "guess is it's not terribly exorbitant."

"I'm not punishing her," he said, in response to a question from Ramos about why he wants to punish the children of undocumented immigrants. "She can go to college. There's no requirement that she goes to a college that provides an in-state tuition break."

Romney said he has "compassion" for the children of undocumented immigrants, as well as immigrants abused by coyotes and legal immigrants waiting to enter the United States. Those legal immigrants are his first priority, followed by abused immigrants, he said. Undocumented immigrants who entered as children have done nothing wrong, he added, but did not say what he would do to help them.
Given the large Hispanic population in Florida, one would expect this to be a big topic in tomorrow's debate, with Romney and Gingrich taking up most of the time. In fact, given the amount of attention that's likely to be paid to the two front runners on any topic tomorrow night, I recommend that Santorum and Paul just agree to meet at the local Denny's and have a late dinner while the debate's going on, they'd probably enjoy it more.