Was Planned Parenthood's Komen Backlash 'Disgusting'?
The backlash against the backlash is baffling.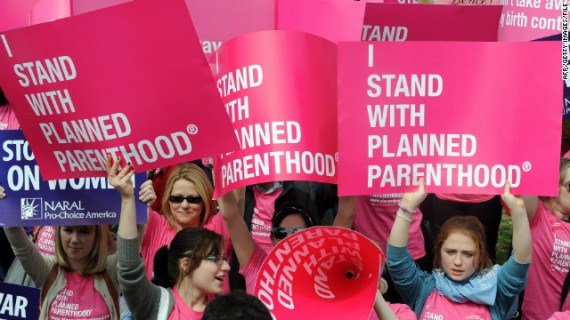 I've followed the recent brouhaha over the Komen Foundation's decision to defund–and then de-defund (maybe)–Planned Parenthood out of the corner of my eye, mostly on account of I really don't gave a damn. But NRO's Daniel Foster drew my interest with his assertion that, "You Should Find the Anti-Komen Backlash Disgusting, Even If You're Pro-Choice." Given that I'm anti-abortion, find Planned Parenthood rather disgusting on its own merits, and had no problem with the backlash, I read on.
He cites Will Wilkinson"s observation, "I'll be damned if this doesn't look a bit like PP throwing its weight around, knocking a few pieces of china off the shelves, sending a message to its other donors: "Nice foundation you got there. Wouldn't want anything to, you know, happen to it." Wilkonson doesn't actually offer any explanation for this, but Foster concurs wholeheartedly:
Look, the beauty of free speech is that, if you're inclined to do so, you can write a check to PP in an act of solidarity, or write a check to Komen as an expression of moral approval. That's all fine. But there's something quite a bit different, something creepy and not a little despicable, about the Planned Parenthood set's besmirching Komen's good name across a thousand platforms for having the audacity to stop giving them free money.

[…]

Imagine I volunteered to run a cub scout troop, and for years, when the annual soapbox derby came near, I knew I could count on Joe's Deli as good for a hundred dollar donation. If one year Old Man Joe decided he didn't want to donate any more — because he didn't like the design of our racer, or because he thought his hundred bucks was better spent on a little league team, or because he disapproved of the scouts' stance on gays — what on earth would justify me going on public access TV to grill Old Man Joe on why he hates kids? What would justify me hacking the Joe's Deli web site or maliciously editing Old Man Joe's Wikipedia page? What would justify me goading a handful of my city councilman into standing up at the next town meeting and publicly calling on Old Man Joe to reinstate his donation?

Nothing. Nothing would justify that. Nothing at all.
This  is incredibly tortured logic.
First, the actions in question were taken by NBC's Andrea Mitchell, some geek presumably unaffiliated with Planned Parenthood, some other people presumably unaffiliated with Planned Parenthood,  and some local city councilman, respectively, and not Planned Parenthood.
Second, your local Cub Scout troop is not a multi-billion dollar international advocacy group that runs a ridiculously annoying annual campaign with the National Football League and gets massive taxpayer subsidies and Joe's Deli is not the national lightning rod for the most controversial public policy issue of the last four decades.
Third, the beauty of free speech is that you get to say whatever you want and other people are free to say whatever they want in response. As Scott Lemieux notes, "Komen's right to 'dispose of its money as it sees fit' (which absolutely nobody denies) does not entail a right to be exempt from criticism — let alone a right to a permanent level of donations."
Fourth, as Simon Maloy and others have pointed out, it's not as if the pro-life forces haven't applied pressure in the other direction. Kathryn Jean Lopez celebrated their victory when Komen pulled its funding, observing, "This Komen-Planned Parenthood relationship has long been a target of pro-life activists and, media bias aside, this appears to be a remarkable turning point."  Yet these same people are baffled that there was a counter-reaction.
It's not just Foster. WaPo's Jennifer Rubin:
It's remarkable, when you think about it: One private foundation decides not to give money to a charity but instead to pursue its core mission through other entities. And for this, a storm of vitriol descends on the foundation from elected officials and elite opinion-makers. If it were any other issue (e.g., pet rescue, education, save the whales), it would be unthinkable for members of Congress to weigh in. I mean a private charity kind of gets to decide where to spend its money, while its donors can continue to give or not as they see fit, right? Ah, but when the topic is abortion, all rules go out the window.
But, again, Komen isn't a private charity; it's a very prominent advocacy group that enjoys millions of dollars in taxpayer subsidies each year. And Planned Parenthood is likewise a recipient of taxpayer dollars and political maneuvering.
Rubin continues:
Planned Parenthood can raise its own money (which it did in spades in the wake of the flap). Those who want to give to a breast cancer charity can donate with the peace of mind that their money will be used to fight breast cancer. (Donors did so generously as a result of the controversy.) Now Planned Parenthood's bosses have every right under current law to do what they do and raise money to fund their organization. But shame on them for intimidating other groups that might contemplate the same move as the Susan G. Komen Foundation made.
I'm sympathetic to part of the argument here. While I find the ubiquity of the Komen campaign annoying and counterproductive, I did operate under the assumption that they were at least using their proceeds to find a cure for breast cancer. I mean, it's right there in the name. Given that Planned Parenthood isn't in that business (although they do perform breast cancer screenings), it seems like an odd use of resources.
Still, the notion that speaking up for Planned Parenthood and decrying Komen for switching sides in a politically charged fight is somehow "intimidation" is absurd.