President Of Boy Scouts Of America Calls For End Of Ban On Gay Scout Leaders
Robert Gates, the former Defense Secretary who now serves as head of the Boy Scouts Of America, has called for an end to that organizations ban on gay Scout Leaders.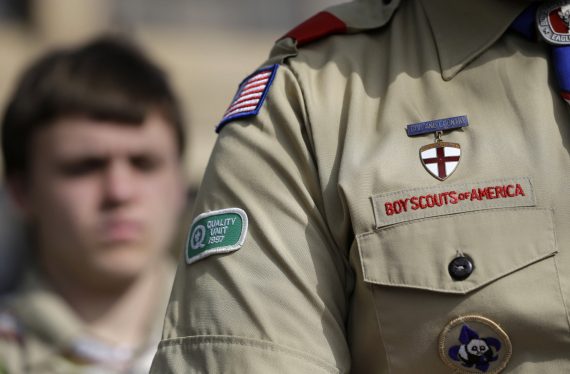 Robert Gates, who served as Secretary of Defense for Presidents George W. Bush and Barack Obama (among other high-level government positions) and now serves as the President of the Boy Scouts of America, said on Thursday that the BSA's blanket ban on gay scout leaders should be repealed:
The president of the Boy Scouts of America on Thursday called for an end to the group's blanket ban on gay adult leaders, warning Scout executives that "we must deal with the world as it is, not as we might wish it to be," and that "any other alternative will be the end of us as a national movement."

At the same time, religious organizations that sponsor a majority of local Scout troops, including the Mormons and Roman Catholics, should remain free to set their own policies for leaders, said the president, Robert M. Gates, the former director of the C.I.A. and the former secretary of defense.

Mr. Gates called for the changes at an annual national meeting of the group, in Atlanta. He said that he was not yet making a formal proposal but that the Scouts' governing body should take up the issue formally at a future meeting.

The treatment of gay men and boys has been a source of wrenching debate over the last decade. Conservative religious groups that sponsor many Scout troops, including the Mormon Church and the Roman Catholic Church, have opposed the participation of openly gay members while local leaders in more liberal areas have called for an end to the ban.

In 2013, Boy Scout leaders from across the country voted, with more than 60 percent approval, to say that no youth may be denied membership "on the basis of sexual orientation or preference alone." But it left intact the policy that no openly gay adults could serve in the organization.

Since then, a Scout group in New York has defied that policy by employing an openly gay leader, and several other groups around the country have expressed opposition to the ban.

Mr. Gates said in his prepared remarks Thursday, released by the Boy Scouts, that the national leadership would take no action against defiant local councils.

At the same time, he said that in the name of religious freedom, the Scouts should allow local sponsoring organizations "to determine the standards for their Scout leaders."

"Such an approach would allow all churches, which sponsor some 70 percent of our Scout units, to establish leadership standards consistent with their faith," he said.

"We must, at all costs, preserve the religious freedom of our church partners to do this."
Josh Israel has further details about Gates's remarks:
In his remarks to Boy Scouts of America's (BSA) national annual business meeting on Thursday, BSA national president and former Secretary of Defense Robert Gates called on the organization to move swiftly to change its "unsustainable" national member prohibition on LGBT adults and vowed to ensure that local Scout councils that defy the current ban will not lose their charters.

(…)

Gates said, "Events during the past year have confronted us with urgent challenges I did not forsee and which we cannot ignore." Examples, he noted, include internal challenges from councils including Greater New York and the Denver Area in open defiance of the national ban, other councils adopting LGBT-inclusive non-discrimination policies, and "social, political and juridical changes taking place in our country," such as the mass outcries over license-to-discriminate proposals in Indiana and Arkansas and the upcoming Supreme Court ruling on marriage equality. "We must deal with the world as it is, not as we might wish it to be," he told the organization, adding, "The status quo in our movement's membership standards cannot be sustained." He said that while the BSA could revoke charters to councils that bucked the national policy, doing so would deny hundreds of thousands of Scouts access and thus he "will not take that path."

Gates also noted that with the evolving legal landscape, it was possible that "the courts simply will order us at some point to change our membership policy," and that this will "probably happen sooner rather than later." Noting that he believes the organization's legal defenses for discrimination have weakened since a 2000 Supreme Court 5 to 4 ruling backed the right of the BSA, as a private organization, to set its own membership standards, Gates said that if BSA waits for the courts to act, "We could end up with a broad ruling that could forbid any kind of membership standard, including our foundation belief in our duty to God and our focus on serving the specific needs of boys." The organization also prohibits youths and adults who do not espouse a belief in God and does not allow girls in most of its youth programs.

Instead, Gates suggested, the organization can move "sooner rather than later" to change the policy to allow the sponsors of each individual Boy Scout unit to determine their own standards for adult leaders. Such a policy would allow LGBT-friendly community groups and religious entities who charter Boy Scout troops and Cub Scout packs to opt not to discriminate, but would also allow other sponsors to continue to exclude LGBT adults if they so choose.
One of the reasons for Gates's decision appears to be the fact that the boycotts that have been ongoing against the BSA since the 1990s over its exclusionary policies toward gays did not really come to an end when the organization took the 2013 action that effectively lifted the ban on openly gay scout members. Even with that action, the ban on openly gay scout leaders at any level of the organization remained in place, although there had been some action at the local level in defiance of that ban. Now, Gates is saying that there will be no disciplinary action against the troops that have defied that ban it is likely to lead others to do the same thing, which should only serve to increase the momentum that would be needed to repeal the ban nationwide. It's unclear just how easy that will be, though, given the fact that the 2013 vote proved to be highly controversial and required several postponements before a final vote was taken. The fact that Gates himself is calling for the ban to be lifted will likely be enough to get it done, but it's also likely to cause controversy with troops that are affiliated with churches and other religious organizations. In that respect, his suggestion that the nationwide ban should be lifted but that the decision about hiring openly gay leaders should be left to each individual Boy Scout troop. That concession may be enough to alleviate the concerns of opponents.
Ending the ban is, of course, the right thing to do. As it is, there have likely been gay Scout leaders and members since the organization was started, but as used to be the case in many other parts of society, they were required to keep that part of their life secret if they wanted to remain part of the BSA. Whatever justification there may have been for the policy in the past, and I struggle to think of a rational one that doesn't involve prejudice or religion, it certainly doesn't exist today. It's worth noting in that the Girl Scouts have basically had a completely open door on this issue for more than twenty years now, and there's been absolutely no evidence that it has had any detrimental effect. The Boy Scouts have been behind the times on this issue for awhile, but it's good to see that they're catching up.
Here's the video of Gates's remarks, the video starts at the 8:40 mark where he begins talking about this issue: