Boy Scouts To Admit Girls
Another big change for the Boy Scouts.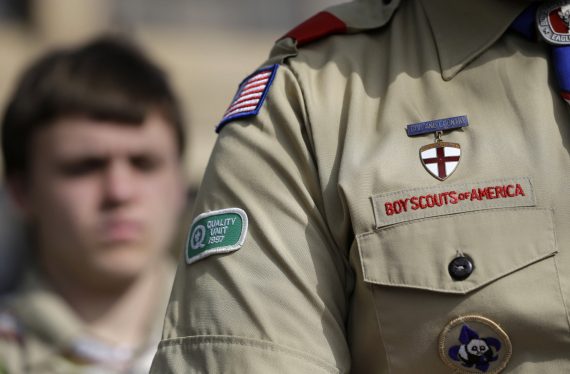 The Boy Scouts won't just be for boys anymore thanks to an announcement yesterday from the Boy Scouts of America:
The Boy Scouts of America announced plans on Wednesday to broadly accept girls, marking a historic shift for the century-old organization and setting off a debate about where girls better learn how to be leaders.

The Boy Scouts, which has seen dwindling membership numbers in recent decades, said that its programs could nurture girls as well as boys, and that the switch would make life easier for busy parents, who might prefer to shuttle children to a single organization regardless of gender.

"I've seen nothing that develops leadership skills and discipline like this organization," said Randall Stephenson, the group's national board chairman. "It is time to make these outstanding leadership development programs available to girls."

The decision was celebrated by many women, but criticized by the Girl Scouts, which said that girls flourish in all-female groups.

"We've had 105 years of supporting girls and a girl-only safe space," said Lisa Margosian, chief customer officer for the Girl Scouts, who added that the organization felt "blindsided" by the announcement. "So much of a girl's life is a life where she is in a coed environment, and we have so much research and data that suggests that girls really thrive in an environment where they can experiment, take risk and stretch themselves in the company of other girls."

For families involved in scouting, the announcement led to a scramble of questioning phone calls and frantic Facebook discussions as parents and scout leaders wrestled with tentative plans for the transition. Next year, girls will be allowed into the Cub Scouts program, which had been limited to young boys. A program for older girls is expected to be available in 2019, giving them a path to earn the prestigious rank of Eagle Scout.

The Boy Scouts has offered girls limited access to some programs before, but it has never before welcomed them into its core Cub Scouts and Boy Scouts programs. And the introduction of girls still does not mean that Boy Scouts' gatherings will necessarily include both genders. The smallest groups of Cub Scouts will continue to be single sex.

Michael Ver Duin, a third-generation Eagle Scout and troop leader in Grand Haven, Mich., said he was "super excited" for the change — an opportunity, in his view, for girls to have the same choices as boys.

"The closest I've had to a negative comment is 'I know there will be some who do not welcome this,' " he said. "The two biggest things I see as a challenge to explain to parents are, 'What kind of problems are you going to have if you had boys and girls on the same camping outing?' and 'Do boys need time to be boys and girls need time to be girls?' "

Others were deeply skeptical. Joseph Carballo, 70, has been with the Boy Scouts for 30 years, most of that time as a scoutmaster of Troop 65, in the Bronx. His two sons, both Eagle Scouts and now in their 30s and 40s, have been with the organization since the 1990s. "And we all have the same view: no girls," he said.

"Boys and girls should have separate organizations for activities," Mr. Carballo explained, as his troops entered the cafeteria of St. Helena's Church for their Wednesday night meeting. "There is an organization for girls. It's called the Girl Scouts." (His granddaughter, he pointed out, is a member.)

For the Boy Scouts, the change is also a chance to boost its sagging membership. The group says it has 2.3 million members between the ages of 7 and 21 and nearly a million volunteers throughout the United States and its territories. At its peak in the 1970s, the organization, incorporated in 1910, was closer to five million members.

(…)

In April, the Boy Scouts began exploring the possibility of opening more widely to girls after receiving inquiries from its members, a spokeswoman for the Boy Scouts, Effie Delimarkos, said. She said the group collected input from families over the summer and, on Wednesday, its directors unanimously voted to allow the expansion.

For some parents, the announcement came as an answer to longstanding complaints that offerings by the Girl Scouts were lacking, particularly for girls with less traditionally feminine interests.

"The problem with the Girl Scout curriculum is that it's very focused on who your leader is for your particular troop," said Rebecca Szetela, a mother of four from Canton, Mich. "If you have a mom who's really into crafts and girlie stuff and being a princess, then that's what your Girl Scout troop is going to be like. If you have a daughter who's more rough and tumble, it's not going to be a good fit."

Some girls, like Ella Jacobs, 12, of Sebastopol, Calif., have long argued for the chance to be allowed into the Boy Scouts.

"My point has always been that there's absolutely nothing wrong with the Girl Scouts, but they weren't the right fit for our family," said her mother, Danelle Jacobs, a lawyer. "Girls should have the choice."

Brian Seeton, a scoutmaster in Canton, Ohio, predicted that the acceptance of girls would play out much like the acceptance of gay Scouts and leaders. "Parents and kids didn't care one way or the other," he said. "It'll only be an issue for the first couple of years and then it'll carry on as it always was."

Bryan Spellman, a scoutmaster in Fishers, Ind., pointed out that there already were girls in some scouting programs, and that while the announcement was somewhat sudden, it would ultimately work out.

"Honestly, I don't mind it at all," Mr. Spellman said. "I think Scouting is one of the greatest youth organizations that we have in this nation. And if that's something that can be shared with all sexes, it can be fantastic."
This latest announcement is the first in a series of changes that the Boy Scouts of America have made in recent years that have changed many of the rather conservative members rules that used to predominate in the organization, many of which became the subject of criticism and even lawsuits, including one that made it all the way to the U.S. Supreme Court. That case, Boy Scouts of America v. Dale dealt with the organization's ban on openly gay Scoutmasters and members and led to a 5-4 ruling by the Court in favor of the BSA which held that its freedom of association as a private organization overrode a New Jersey state law barring discrimination on public accommodation. In some cases, this led to the BSA losing sponsorship from organizations that objected to its policy, but for the most part, it seemed to have little impact on the organization. Over time, though, as public sentiment regarding homosexuality began to change, so did the Boy Scouts. In 2013, the organization announced an end to the ban on openly gay young men being allowed to become Scouts, a decision that led many to question the fact that the ban on openly gay Scoutmasters and other leaders would continue. Two years later, after the head of the BSA called on the organization to rethink its policy on leaders, the ban on openly gay Scout leaders was also lifted. Finally, earlier this year the organization announced that it would allow transgender children who identify as male to join the organization.
It's worth noting that this doesn't mean that there are going to be unisex troops, or that boys and girls will be forced to be involved in the same organization or do activities like camping together. At least for now, there would be separate Cub Scout packs for boys and girls that would apparently engage in their own activities, although there will likely be some coordination and interaction between members at some level. It's also worth noting that there are already some BSA programs that allow girls to participate, what this decision does is open up the scouting experience to girls at all age levels, and even leaves open the option that female members could eventually achieve the coveted Eagle Scout rank if they meet all the criteria that are part of achieving that goal. Additionally, the decision about how to organize the packs and troops that girls would be admitted to would largely be left to the local organizations to deal with as needed. The only thing the decision national level does is allow them to accommodate the wishes of young girls who prefer the more hands-on experience of Boy Scouts to the kind of activities generally engaged in by Girl Scouts.
Not surprisingly, this decision has not come without some controversy. On the one side, the BSA is once again being criticized by many of the same conservative organizations that criticized its previous decisions on openly gay and transgender members and leaders. On the other side, there are the Girl Scouts of America, who seem to be objecting to the fact that they will now be facing competition for the attention of young girls looking for an organization to join. As to the GSA's criticism, the best response one can think of there is that perhaps the organization needs to rethink its focus and become more open to less gender-specific activities if it doesn't want to lose potential members to the Boy Scouts. Alternatively, they could simply accept the fact that the two organizations offer different programs for girls and that this just means there will be more choice going forward. As to the criticism of conservatives, the response is two-fold. First, there's the fact that none of the previous changes the BSA has announced has had anything near the negative impact they feared it would and there's no reason to believe that this one will either. Second, if they don't wish their sons to be involved in scouting then there's no requirement that they have to. In any case, as I noted, this decision isn't going to lead to unisex scouting, at least not for now, and if the organization thinks its a good idea then they ought to be permitted to go forward.