Boy Scouts To Admit Transgender Members
Another major change for the Boy Scouts.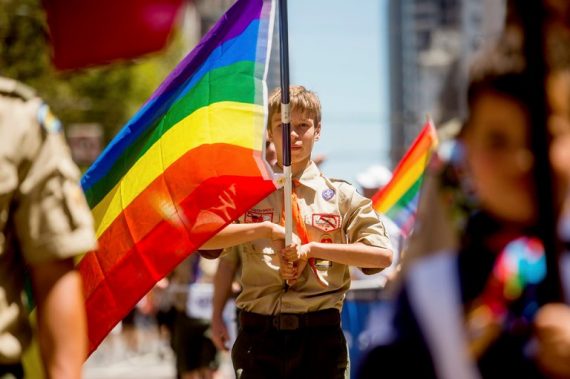 Earlier this week, the Boy Scouts of America announced that it would reverse policy and allow transgender boys to join the organization:
Reversing its stance of more than a century, the Boy Scouts of America said on Monday that the group would begin accepting members based on the gender listed on their application, paving the way for transgender boys to join the organization.

"For more than 100 years, the Boy Scouts of America, along with schools, youth sports and other youth organizations, have ultimately deferred to the information on an individual's birth certificate to determine eligibility for our single-gender programs," the group said in a statement on its website. "However, that approach is no longer sufficient as communities and state laws are interpreting gender identity differently, and these laws vary widely from state to state."

The announcement, reported on Monday night by The Associated Press, reverses a policy that drew controversy late last year when a transgender boy in New Jersey was kicked out of the organization about a month after joining.

"After weeks of significant conversations at all levels of our organization, we realized that referring to birth certificates as the reference point is no longer sufficient," Michael Surbaugh, the Scouts' chief executive, said in a recorded statement on Monday.

The announcement came amid a national debate over transgender rights, with cities and states across the nation struggling with whether and how to regulate gender identity in the workplace, in restrooms and at schools.

In recent years, the Boy Scouts of America has expanded rights for gay people. In 2013, the group ended its ban on openly gay youths participating in its activities. Two years later, the organization ended its ban on openly gay adult leaders.

Advocates for gay and transgender people who had pushed for changes in Boy Scouts' policy praised Monday's announcement.

"From our perspective, they clearly did the right thing," said Zach Wahls, who co-founded Scouts for Equality, a nonprofit group that advocates for stronger protections in the organization for gays and transgender people. "My team and I knew that they were considering a policy change, but we are both heartened and surprised by how quickly they moved to change the situation."

Last year, in response to parent complaints, the Boy Scouts of America removed an 8-year-old transgender boy from the Secaucus, N.J., Cub Scout pack he had joined just about a month earlier, according to The Record, a newspaper in northern New Jersey.

"It made me mad," Joe Maldonado, the boy, told the newspaper. "I had a sad face, but I wasn't crying. I'm way more angry than sad. My identity is a boy. If I was them, I would let every person in the world go in. It's right to do."

Joe's case may have been the first in which a transgender boy was ejected from the program, Mr. Wahls, a former Eagle Scout, said.
As the linked article notes, this move comes less than two years after the organization voted to allow openly gay members and Scout leaders after a debate that had been going on for years among the organization's leader and advocates on both side of the issue, which included both current and former Scouts and leaders, sponsors of Scout Troops, and private citizens unaffiliated with either group who had some stake in the culture war battle that has been going on for the better part of a decade. For a long time, the Boy Scouts resisted allowing openly gay members or leaders and even took the matter all the way to the U.S. Supreme Court, which ruled in favor of the right of a private organization such as the BSA to exclude members on the basis of sexual orientation. Since then, of course, societal attitudes regarding gays and lesbians have changed significantly to the point where, as the President of the organization admitted two years ago, the Boy Scout's position on gay rights was out of date and needed to be changed. The same determination was apparently made in this case. While there remains much confusion and
I will readily admit that this is an area where my views have only recently begun to, for lack of a better term, evolve. For several reasons that I think should be obvious, including the fact that it's not exactly common for the average American to come into contact with someone who is transgender never mind have a close relationship with them, understanding what people who consider themselves transgender is not easy, and it becomes even more complicated when we are talking about children, many of whom are still a long way off from puberty and the point at which children generally become more aware of and interested in issues involving sexuality and gender. Additionally, the question of how to handle a very young child who insists on behaving as a member of a gender other than the one that they are. There remains much confusion and misunderstanding when it comes to issues involving transgender issues, and that uncertainty is amplified when it comes to children. Many would argue, for example, that children who claim to be a different gender are lacking in understanding of what's really going on with their bodies and their lives and that, rather than encouraging them by letting them make life-altering decisions at such a young age, parents and authorities should be counseling them to determine if they are possibly just going through a phase that will change over time. As I've said before, I don't pretend to know the answers to these questions whether they are applied to adults or children, that is a question best left to professionals in mental health and child development.
All of this comes, of course, at a time when the debate over transgender rights is coming to the fore in a way that it never has in the past. In addition to private organizations such as the Boy Scouts, public schools are struggling with the issue of how to accommodate students who identify as transgender when it comes to issues such as access to bathrooms and locker rooms. Red and blue states alike are considering bills that either restrict the ability of local governments to regulate bathroom access by transgender adults and children, and cases involving access to such facilities are pending at all levels of the Federal Judiciary, including the Supreme Court of the United States. No doubt, this debate will expand in the coming years.
As for the BSA's action this week, since they are a private organization this is entirely their decision as is the decision that any individual member or sponsor may make in response to it. Personally, I am fine with the decision notwithstanding the confusion it may cause initially. At the very least, it will provide an opportunity for education and for people to get to know people who are transgender rather than forcing those people to hide their identity for fear of harassment and mistreatment. As I've said before, while I don't completely understand the issues surrounding being transgender I do know one thing. These people are fellow human beings and they deserve to be treated with dignity and respect not ostracized and treated as deviants as social conservatives would do. In the end, if they truly believe that this is how they were meant to live their lives then it really does me no harm, nor does it do any harm to anyone else. If we lived our lives by this ideal, then perhaps we wouldn't have as many problems as we do.
Photo via Reuters and The New York Times