Girl Scouts Uncongratulate Amy Comey Barrett
Sigh.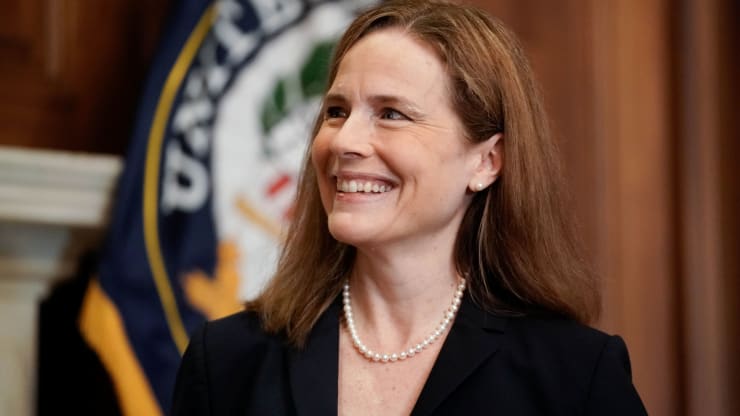 CNBC ("Girl Scouts deletes social media congratulations to Amy Coney Barrett on Supreme Court seat after angry backlash"):
The Girls Scouts on Wednesday night deleted social media posts congratulating conservative judge Amy Coney Barrett for her controversial appointment to the Supreme Court hours after the posts sparked a wave of angry comments — and some praise.

"Shame on Girl Scouts for promoting this. She represents the exact opposite of what we instill in our girls!" one woman wrote in reply to Girl Scouts' Facebook post.

The backlash began right after the Girls Scouts Twitter and Facebook feeds featured an image showing photos of Barrett and the only four other women who have served as justices on the high court. Those women included Ruth Bader Ginsburg, the liberal whose death last month opened the door for President Donald Trump to nominate Barrett for her seat.

"Congratulations Amy Coney Barrett on becoming the 5th woman appointed to the Supreme Court since its inception in 1789," the post said, ending with an emoji of hands raised up.

The post was replicated on the group's Facebook page, followed by a note saying, "Girl Scouts of the USA is a nonpolitical, nonpartisan organization."

"We are neither red nor blue, but Girl Scout GREEN. We are here to lift up girls and women."

"If you would like to debate partisan politics—keep scrolling," the Girl Scouts tweet added.

But that admonition didn't stop a lot of women from weighing in on Barrett, whom liberals consider a threat to the Obamacare health law, abortion rights and LGBT rights because of her conservative judicial philosophy.
I'll spare you the other nonsense that random yahoos wrote on social media. But the headline gave away the punchline:
The Twitter and Facebook posts were both deleted around the time that this article was first published by CNBC.

"This Tweet is unavailable," read the message in retweets of the original post.

The Girl Scouts Twitter account later Wednesday evening posted a new tweet, which said, "Earlier today, we shared a post highlighting the five women who have been appointed to the Supreme Court. It was quickly viewed as a political and partisan statement which was not our intent and we have removed the post."

"Girl Scouts of the USA is a nonpolitical, nonpartisan organization. We are neither red nor blue, but Girl Scout GREEN. We are here to lift up girls and women," the post said.
My late first wife was a Girl Scout, as are my two daughters, who started as Daisies in kindergarten and are now new Junior and Cadette scouts. The organization is decidedly non-partisan although it's certainly political. From the beginning, they've focused on empowering girls.
Here's their self-description:
Girl Scouts offers the best leadership development experience for girls in the world.

Girl Scouts unleashes the G.I.R.L. (Go-getter, Innovator, Risk-taker, Leader)™ in every girl, preparing her for a lifetime of leadership—from taking a night-time hike under the stars to accepting a mission on the International Space Station; from lobbying the city council with her troop to holding a seat in Congress; from running her own cookie business today to tackling cybersecurity tomorrow.

Our Girl Scout Leadership Experience is a one-of-a-kind leadership development program for girls, with proven results. It is based on time-tested methods and research-backed programming that help girls take the lead—in their own lives and in the world.

Research shows that girls learn best in an all-girl, girl-led, and girl-friendly environment. Girl Scouts is a place where she'll practice different skills, explore her potential, take on leadership positions—and even feel allowed to fail, dust herself off, get up, and try again.
I don't know if Barrett was a Girl Scout growing up but, whatever one thinks of her politics, she certainly exemplifies that spirit. She has excelled her entire life and certainly fulfilled her leadership potential, rising at a young age to be one of the most powerful woman in the country.
Yes, of course her nomination and quick confirmation on the eve of an election where the person nominating her and the party confirming her are expected to lose rankles. And, yes, a lot of women find her political beliefs troublesome.
But, just as obviously, the Girl Scouts weren't applauding her judicial philosophy but rather a remarkable achievement by a woman. As the post notes, she is only the fifth woman Justice in the history of a court that goes back to 1789. In those 231 years, 110 men have achieved that distinction. It seems perfectly reasonable for an organization devoted to developing girls into strong women to celebrate this milestone.