Congresswoman Gabby Giffords (D, Az) Shot In Tuscon
A tragedy this afternoon in Tuscon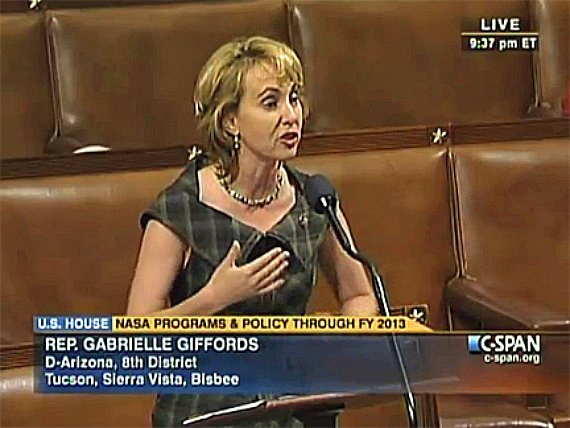 This is pretty much horrid news:
U.S. Rep. Gabrielle Giffords of Arizona was shot outside a grocery store in Tucson while holding a public event, Arizona Public Media reported Saturday.

The Democrat, who was re-elected to her third term in November, was hosting a "Congress on Your Corner" event at the Safeway in northwest Tucson when a gunman ran up and started shooting, according to Peter Michaels, news director of Arizona Public Media.

At least five other people, including members of her staff, were hurt. Giffords was transported to University Medical Center in Tucson. Her condition was not immediately known.

Giffords was talking to a couple when the suspect ran up firing indiscriminately and then ran off, Michaels said. According to other witnesses, he was tackled by a bystander and taken into custody.
Fox News is reporting that Giffords was shot t point blank range in the head, but reports are sketchy right now. Here's hoping that she and her staff members will be okay.
Update: There were initial reports that Giffords was dead but the hospital continues to say that she is in surgery and alive:
Arizona Democratic Rep. Gabrielle Giffords was shot on Saturday morning while hosting an event outside a Tucson grocery store, according to local news reports.

Giffords spokesperson C.J. Karamargin told The Washington Post Saturday afternoon that Giffords was in surgery at Tucson's University Medical Center.
Update II: There are reports that at least one person has died, an aide to Congresswoman Giffords. Additionally, there are confirmed reports on Fox News Channel, via the Department of Justice, that a total of 19 people were shot and five are confirmed dead.
Update III: At a just concluded news conference, a doctor said that he is "very optimistic" for Giffords'  recovery. There is one confirmed death, a child.
Update IV: Capitol Police report that a 22 year old male named Jared Lee Laugner of Tuscon is in custody and was the shooter.