Decision To Name Ship After Gabrielle Giffords Engenders Controversy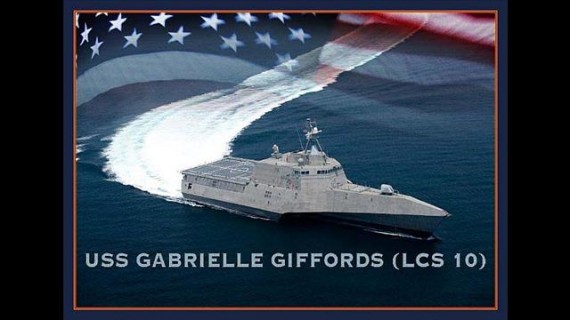 On Friday, the Secretary of the Navy announced that a new ship would be named after former Arizona Congresswoman Gabrielle Giffords:
Secretary of the Navy Ray Mabus announced Feb. 10 that the next Independence variant littoral combat ship (LCS) will be named USS Gabrielle Giffords (LCS 10).

The selection of Gabrielle Giffords, designated LCS 10, honors the former congresswoman from Tucson, Ariz. who is known for supporting the military and veterans, advocating for renewable energy and championing border security. Giffords recently resigned from Congress to recover from wounds she sustained in an assassination attempt in 2011.

"The Navy motto is Semper Fortis, Always Courageous," said Mabus during a ceremony held in the Pentagon Courtyard. "Unwavering courage has defined the Navy for 236 years and it is what we expect, what we demand of our Sailors every single day. So it's very appropriate that LCS 10 be named for someone who has become synonymous with courage, who has inspired the nation with remarkable resiliency and showed the possibilities of the human spirit."

Mabus also announced the ship's sponsor will be Roxanna Green. Green is the mother of Christina-Taylor Green, the nine-year-old girl who was killed while attending the meeting of constituents where Giffords was shot. A ship's sponsor plays an important role in the life of the ship, naval tradition holds that her spirit and presence guide the ship throughout its service life.

"On that dark, tragic day now more than a year ago, Christina-Taylor Green was taken from us. A nine-year-old who had just been elected to the student council, she wanted to become a more active participant in our democracy. Her mother, Roxanna Green, continues to express her daughter's hope for the future and, as the President said, "of a nation as good as she imagined."

"I am pleased to honor Gabrielle Giffords and the people of Arizona with the naming of this ship," said Mabus. "Giffords and the ship's sponsor, Roxanna Green, are sources of great inspiration and represent the Navy and Marine Corps qualities of overcoming, adapting and coming out victorious despite great challenges."
A nice sentiment, perhaps, but one that has come with some degree of controversy among retired Navy officers:
Retired Rear Admiral George Worthington, former commander of the Naval Special Warfare Command, told The Daily Caller that there are many people more worthy of a ship bearing their name.

"Here is the issue. There are a lot of dead Marines out there whose names could go on anything that appears to be an amphibious ship," he said, explaining that a past recipient of the Medal of Honor, Dakota Meyer, might be a good candidate.

Worthington added his email "inbox" has been filled with messages from military friends who are "shocked and angered" by the decision.

"We think fallen Marines and perhaps supporting sailors should go on fantails before random victims," he said.

Former U.S. Naval Institute CEO, retired Marine Maj. Gen. Tom Wilkerson, expressed disappointment at the recent evolution of ship dedication.

"If you were to look at one thing that has changed with Secretary Mabus it has been going from naming warships to honor people who have served or are intimately connected to the sea services to reaching into a more political environment and doing things almost on a feel-good basis," he said, noting his dismay at recent decisions to name ships after Cesar Chavez and former Pennsylvania Rep. John Murtha.

Wilkerson went on to say that what happened to Giffords was a tragedy, but that she was neither a service hero nor a major supporter/sponsor of the sea services and their contributions to national security.

"It is a very clear statement that naming warships has become more politicized than at anytime in our past," he said, "perhaps an effort on the part of the Navy Department leadership to gain more public support

(…)

Former Deputy Undersecretary of Defense Jed Babbin added to that sentiment.

"There is nothing wrong with Gabby Giffords," he said. "She is a wonderful lady, but how inspiring will it be for a young sailor to go aboard the USS Gabrielle Giffords as opposed to the USS Winston Churchill or the USS The Sullivans?"

According to Babbin, the decision is "absurd and outrageous."

"It's certainly tragic what happened to Ms. Gifford, but that does not place her in the ranks of the people for whom ships should be named," Babbin said.
At the very least, it seems historically unusual for a ship to be named after a living person. Typically, this seems to be something that has only been done in the past to honor service members of note or former Presidents. There's also something to the point that there are plenty of men who have died in combat over the past ten years, as well as countless men and women who have served the Navy honorably and with distinction, for whom the honor might seem more appropriate. Is it "nice" that they're naming a ship after Gabby Giffords? Yea, I guess so. I'm just not sure that it's appropriate.