Suspects Dead In San Bernardino Mass Shooting, But Much Remains Unclear
The suspects in the San Bernardino shootings are dead, but that's about all we know so far this morning.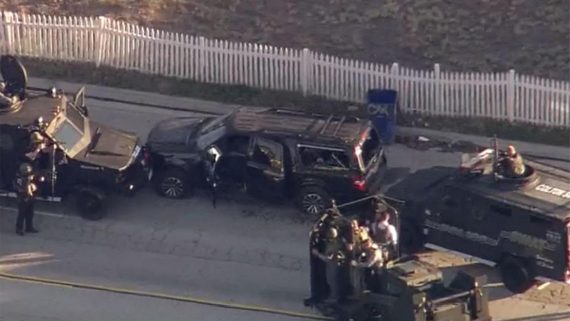 As the day dawns in California, the one thing we know for sure is that the two suspects in the shootings in San Bernardino, California that resulted in at least fourteen dead and seventeen injured are dead and that they were husband and wife, beyond that there's much that remains unclear, including the extent to which the incident may have been tied to or influenced by international terrorism:
SAN BERNARDINO, Calif. — Police officers here spent the night combing the scene of a shooting rampage that left 14 dead and 17 others wounded and scouring the backgrounds of two suspects, a husband and wife who died in a shootout, looking for reasons behind the attack.

The suspects, identified as Syed Rizwan Farook, 28, and Tashfeen Malik, 27 — armed with .223-caliber assault rifles and semiautomatic handguns and wearing masks and body armor — are believed to have opened fire at a social services center here around 11 a.m. on Wednesday, unleashing the deadliest mass shooting since the assault on an elementary school in Newtown, Conn., nearly three years ago.

Mr. Farook had been at a holiday party at the center for the county health department, where he worked as an environmental inspector. He soon left in anger after a dispute of some sort, Chief Jarrod Burguan of the San Bernardino Police Department said, only to return alongside Ms. Malik. Hours later, the couple were killed during a shootout with police.

"We don't have the motive at this time," Chief Burguan said. "We have not ruled out terrorism." David Bowdich, assistant director of the F.B.I's Los Angeles office, said the agency was investigating several possible motives, including terrorism.

"There had to be some degree of planning that went into this," Chief Burguan said. "I don't think they just ran home and put on these tactical clothes."

Through the night, investigators scoured at least three sites looking for clues: the scene of the shooting at the Inland Regional Center, a sprawling facility that provides services for thousands of people with disabilities where the holiday party was held; the site about two miles away where the couple died in a shootout; and a townhouse in nearby Redlands.

Officers used a crane to crash through windows and the door at the small townhouse and set off controlled explosions inside the home, fearing the suspects could have left explosives behind.

Bomb squads had also disposed of explosives the suspects left behind them at the regional center. None of the victims were identified late Wednesday.

Most of the carnage unfolded in a single room of the Inland Regional Center, the police said, which was filled with people with whom Mr. Farook had a personal connection. While shots rang out, others in the building cowered and hid, sending text messages or making frantic calls.

As the suspects fled in a black sport utility vehicle, large parts of the city were paralyzed throughout the day.

Residents were told to remain indoors, and government buildings, stores, offices and at least one school were either closed or put on lockdown. Yellow school buses filled with survivors of the shooting were escorted by police vans to meet anxious relatives at a church.

Late Wednesday afternoon, dozens of heavily armed police officers in tactical gear descended on a residential neighborhood in pursuit of the attackers. Witnesses described a wild scene as dozens of officers closed in on a vehicle, with hundreds of shots fired as the people in the vehicle fought the police.

Chief Burguan said there were at least 20 officers involved in the gun battle.

The chief said that a third person had fled the scene and had been taken into custody, but that the police did not know his role, if any. A police officer was wounded in the shootout and was being treated at a hospital for injuries that were not life-threatening.

In a year repeatedly marked by such massacres, San Bernardino joined a tragic roster that includes Charleston, S.C.; Roseburg, Ore.; and Colorado Springs, where just five days earlier a gunman killed three people and wounded nine at a Planned Parenthood clinic.

Investigators on Thursday were puzzling over the motives over the latest attack, and there were conflicting accounts of what had led to the shooting.

"We will go where the evidence takes us," Mr. Bowdich said.

One senior American official said that Mr. Farook had not been the target of any active terrorism investigation, and that he was not someone the bureau had been concerned about before Wednesday's attack. Other officials said the F.B.I. was looking into a possible connection between Mr. Farook and at least one person who was investigated for terrorism a few years ago.
The fact that the shootings took place at a gathering of people that Farook had worked with for years leads one to think on the surface that this was somehow a workplace grievance related shooting of the type that we have seen many times over the years, as does the fact that Farook was apparently at the event and left after an argument with someone. However, that theory seems to fall apart both in the face of the fact that Farook not only left the event and came back armed, which would fit the pattern of past workplace violence events, but that he came back with his wife who apparently joined him in the shooting, not to mention the fact that the couple seems to have had a plan that was hatched long before Farook initially left the meeting:
ANAHEIM, Calif. — On Wednesday morning, Syed Rizwan Farook and his wife, Tashfeen Malik, left their 6-month-old daughter with Mr. Farook's mother, telling her they were going out for a doctor's appointment, a relative said.

By nightfall, it was clear that was a ruse, as the police said the couple spent the day carrying out a rampage at a social services center that killed at least 14 people before leading officers on a sprawling chase that ended with the two dead in a bloody gunfight in a suburban neighborhood.

Before the attack, Mr. Farook, 28, who was born in Illinois and whose parents are from Pakistan, joined colleagues at an annual holiday party for the San Bernardino County Public Health Department, where he worked for five years as an environmental inspector, officials said. He had attended the same party the year before, and he did not appear out of place.

Soon, however, he stormed out in anger. The nature of the dispute was not clear, but when he returned with his wife, 27, both of them were dressed in tactical gear and carrying assault rifles, officials said. That level of preparation is among the factors investigators are weighing as they examine a motive for the attack.

Chief Jarrod Burguan of the San Bernardino Police Department said at a news conference that the attack did not seem to be "a spur-of-the-moment thing."

A picture began to emerge on Wednesday night of how the couple hid their plan from even close relatives, as Mr. Farook's brother-in-law held a news conference here in Anaheim during which he expressed sorrow for the victims and bafflement at what had driven the couple to commit such a crime.

"I have no idea why would he do that," said the brother-in-law, Farhan Khan, who last spoke to Mr. Farook a week ago. He added: "I have absolutely no idea. I am in shock myself."

It was hours after Mr. Farook and his wife had left their baby with Mr. Farook's mother, whose name was not released, that she learned there had been a shooting at his work party, said Hussam Ayloush, the executive director of the Council on American-Islamic Relations in Los Angeles, which helped organize the news conference with Mr. Khan. At first, the baby's grandmother was tense with concern about her family.

Then she received a call — her son had been named as a suspect.

Mr. Ayloush urged people not to jump to conclusions regarding a motive. "Is it work?" he said. "Rage-related? Is it mental illness? Extreme ideology?"

The authorities could not offer an answer either, with Chief Burguan saying that he was not aware of the suspects having any previous contact with law enforcement.

He added, "We have not ruled out terrorism."
Some reports are saying that the couple had also constructed crude pipe bombs, including some devices that were left behind after the shooting and others that were thrown out of the window of their vehicle as the police chased them during the chase that would end in a shootout that killed both husband and wife. It's unclear, though, if these devices were actually functional bombs, if they were decoys, or if they were attempts to construct a device by people who had no real idea what they were doing and which never would have gone off in any case. It's also, obviously, unclear exactly what was motivating these two people. As I said, the workplace violence argument seems to fall apart based on the fact that Farook's wife was involved and that they had taken obvious steps prior to the event which seemed to indicate that they knew something would be happening to them yesterday, such as leaving their young baby with Farook's mother earlier in the day. Theoretically, I suppose, all of that could indicate a long term plan to enact revenge on co-workers for some perceived slight, but it's pure speculation at this point to think about that and the extent to which there appears to have been a plan belies the 'heat of passion' situation we usually see in workplace violence, as does the fact that the shooters obviously had a plan to escape, and perhaps strike again.
This leads, logically, to the question of whether this shooting was somehow connected to international terrorism, but here again there's not enough evidence to reach a conclusion. The only clues we have in that direction are the fact that Farook had apparently become a "more devout" Muslim in recent years and that he had traveled to Saudi Arabia where he met the woman who became his wife and brought her home with him. The fact that there appears to have been some kind of plan involved here also suggests that terrorism may have been involved, but doesn't necessarily prove anything. There are plenty of Muslim Americans who are devout without being violent, and it's been suggested that Farook's trip may have been part of the hajj, the trip to Mecca that all Muslims are required to make at least once in their life. As for his wife, it's unclear if this is a woman he had been in contact with prior to traveling to Saudi Arabia, or if perhaps this was a marriage that had been arranged by family members as is sometimes still the custom in that country, but the fact that they had a child just a few months ago would suggest that there had been a relationship between the two long before he traveled abroad.
In any case, there are a lot more questions than answers this morning about what motivated Farook and his wife to do this, and it may be some time before we get any clear answers.