Neal Adams, 1941-2022
The legendary comic book artist is gone at 80.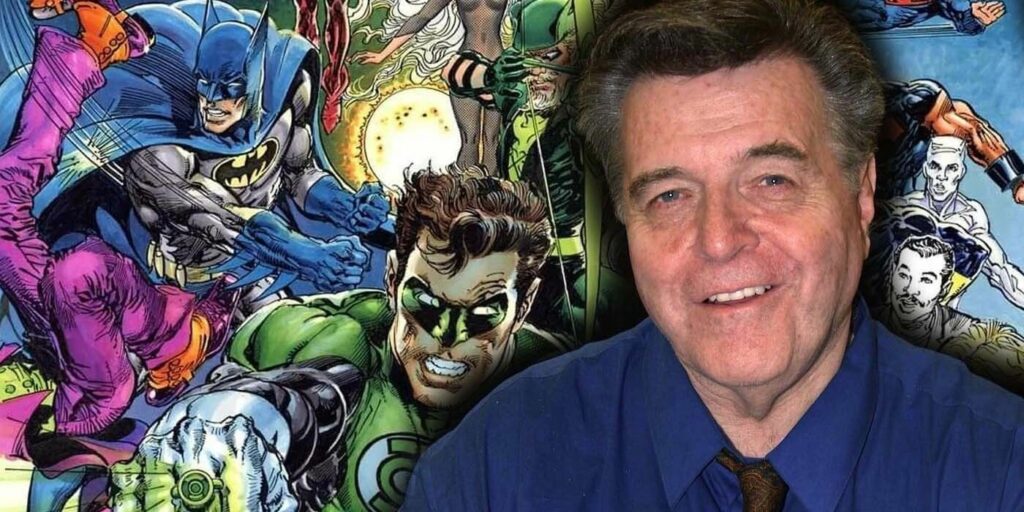 CNN, "Comic book artist Neal Adams has died. He drew some of the most iconic characters you know"
Iconic comic book artist Neal Adams died on Thursday in New York at the age of 80, according to his daughter Zeea Adams Moss and daughter-in-law Saori Adams.

Adams worked with both DC and Marvel comics in the 1960s and 1970s, drawing characters like Batman, Superman, the Avengers and the X-Men. He was one of the creative forces behind the Green Lantern/Green Arrow series of the early 1970s, taking on social issues such as drug addiction and racism.

[…]

In a statement, DC Comics called Neal Adams "one of the most acclaimed artists to have contributed to the comic book industry."

Adams was born June 5, 1941, and received his art training at the School of Industrial Arts in New York City, according to the statement.

At the age of 21, he started drawing the Ben Casey syndicated newspaper strip and in 1967 he went to DC Comics, where he drew covers for war comics and contributed stories to The Adventures of Jerry Lewis and The Adventures of Bob Hope.

"His big break came one year later when he started drawing Batman. The artist showed a natural affinity for the Dark Knight, and in 1970, DC editor Julius Schwartz assigned the Batman comics to Neal and writer Dennis O'Neil," the statement said.

Jim Lee, DC Publisher and chief creative officer, praised Adams' illustrations of the Dark Knight. "Neal Adams was an amazing illustrator, he changed comics. I loved his take on Batman. It was lithe, acrobatic, and dynamic. Neal's work continues to inspire me. This is a huge loss for the entire industry," Lee said in a statement.
Hollywood Reporter, "Neal Adams, Comic Book Artist Who Revitalized Batman and Fought for Creators' Rights, Dies at 80"
Neal Adams, the legendary comic book artist who reinvigorated Batman and other superheroes with his photorealistic stylings and championed the rights of creators, has died. He was 80.

[…]

Adams jolted the world of comic books in the late 1960s and early '70s with his toned and sinewy take on heroes, first at DC with a character named Deadman, then at Marvel with the X-Men and the Avengers, then back at DC with his most lasting influence, Batman.

During his Batman run, Adams and writer Dennis O'Neil brought a revolutionary change to the hero and the comics, delivering realism, kineticism and a sense of menace to their storytelling in the wake of the campy Adam West-starring '60s ABC series and years of the hero being aimed at kiddie readers.

He created new villains for the rogue's gallery — the Man-Bat and Ra's al Ghul as well as the latter's daughter, Talia, who became Batman's lover. The father and daughter, played by Liam Neeson and Marion Cotillard, were key characters in the trilogy of Batman movies directed by Christopher Nolan.

The Batman run also revived some villains who had grown stale, none more so than the Joker, who became less comical and more the homicidal maniac that modern readers and moviegoers know and love, truly taking his place as the Caped Crusader's archnemesis.

"We took a harder edge. We decided that Joker was just a little crazy," Adams told Abraham Reisman for a 2019 Vulture article that made the case that without that classic story, 1973's "The Joker's Five-Way Revenge" in Batman No. 251, comics such as The Killing Joke and portrayals by Jack Nicholson, Heath Ledger and Joaquin Phoenix would not exist.

"It was no secret that we were doing Batman right," Adams said during a panel at San Diego Comic-Con in 2010. "It was as if the memory of DC Comics went along with the statements that both Denny and I were making, that we want it to be more realistic, more gritty. And that's how we remember — whether it was true or not — that Batman should be. And when we did it, everybody went, 'Ah, that's it. We don't need comedy anymore.'"

Adams, also with O'Neil, came up with a then-controversial turn for Green Lantern/Green Arrow that tackled social issues such as drug addiction, racism and overpopulation and introduced the Green Lantern hero John Stewart, who became one of DC's first Black icons. Their 1971 two-part story "Snowbirds Don't Fly" remains an important milestone in comics' evolution toward attracting more mature readers.

It was at this creative height in the mid-'70s that Adams quit drawing for the Big Two, as DC and Marvel were known, and launched Continuity Studios, an artists studio that produced comics, commercial art and storyboards, among other services. The comics division created indie characters such as Bucky O'Hare and Ms. Mystic.

He also proved to be an influence on generations of artists, giving many a boost or break into the industry. He acted as mentor to Bill Sienkiewicz, who would draw an influential run of Moon Knight and New Mutants, and Frank Miller, who would go on to reinvent Batman himself with The Dark Knight Returns.
Entertainment Weekly, "Neal Adams, influential comic artist and creators' rights advocate, dies at 80"
Neal Adams, the influential comic-book artist whose work revitalized characters like Batman and Green Arrow, has died. His son Josh Adams confirmed the news in a Facebook post. He was 80.

Born June 15, 1941, in New York, Adams grew up on a series of military bases. He first broke into comics with work for Archie Comics in the '60s before moving on to illustrations for advertising and the Ben Casey newspaper comic strip that ran alongside the TV medical drama of the same name.

When he returned to comics in the late '60s and early '70s, Adams' skills — now honed by his experience in other fields — revitalized the look and characterization of iconic superheroes. Collaborating with writer Denny O'Neil, Adams brought Batman and his adversaries like Joker back to their darker, more serious roots in direct contrast to the campy tone of the Adam West Batman TV show that had dominated pop culture in the '60s. They also added to the Dark Knight's canon, co-creating characters like Ra's al Ghul and his daughter Talia who have endured to the present day across a number of comics and screen adaptations. It can't be said enough that Adams made Batman look like the coolest character of all time, with his cape constantly flowing behind and around him in physics-defying directions.

[…]

The Adams/O'Neil team also took a politically engaged tone with their Green Lantern/Green Arrow comic, which sent Hal Jordan and Oliver Queen on a road trip across America. These two "hard-traveling heroes" encountered social problems of the day like racism, pollution, and drug addiction — the latter was memorably dramatized in a storyline that featured Green Arrow's sidekick Speedy becoming addicted to heroin. They also co-created John Stewart, the first Black Green Lantern and one of the first Black superheroes in DC period.

Adams didn't just tackle politics in his comics, though. He also worked for years to change the nature of the comic industry to benefit the workers who made the books. Although his efforts to organize a union of comic writers and artists were unsuccessful, his advocacy for Superman creators Jerry Siegel and Joe Shuster was. The reason that every Superman TV show, movie, comic, cartoon, or other content features an unmissable "created by Siegel and Shuster" credit is a result of Adams' work, as was the pension that the two creators received from DC through the end of their lives. Adams also convinced comic publishers like DC and Marvel to return original comic art to the artists, allowing them to autograph and/or auction their pieces for supplemental income.

Adams also mentored other comic artists like Frank Miller (who further revitalized Batman with his 1986 masterpiece The Dark Knight Returns) and Bill Sienkiewicz (whose unique style profoundly impacted Marvel heroes like Moon Knight and the New Mutants). Adams was also a constant presence at comic conventions, drawing art commissions for fans and regaling others with stories of his time in the industry.
By the time I went from casually reading to seriously collecting in 1977, shortly after turning 11, Adams was already a legend. Comics were then in what became retroactively known as their Bronze Age and he was a key figure in taking them there.
Books from the late 1960s and early 1970s were impossibly old from the vantage point of youth but I spent a lot of time and effort finding them. One that still stands out to me to this day is this issue with a January 1971 cover date: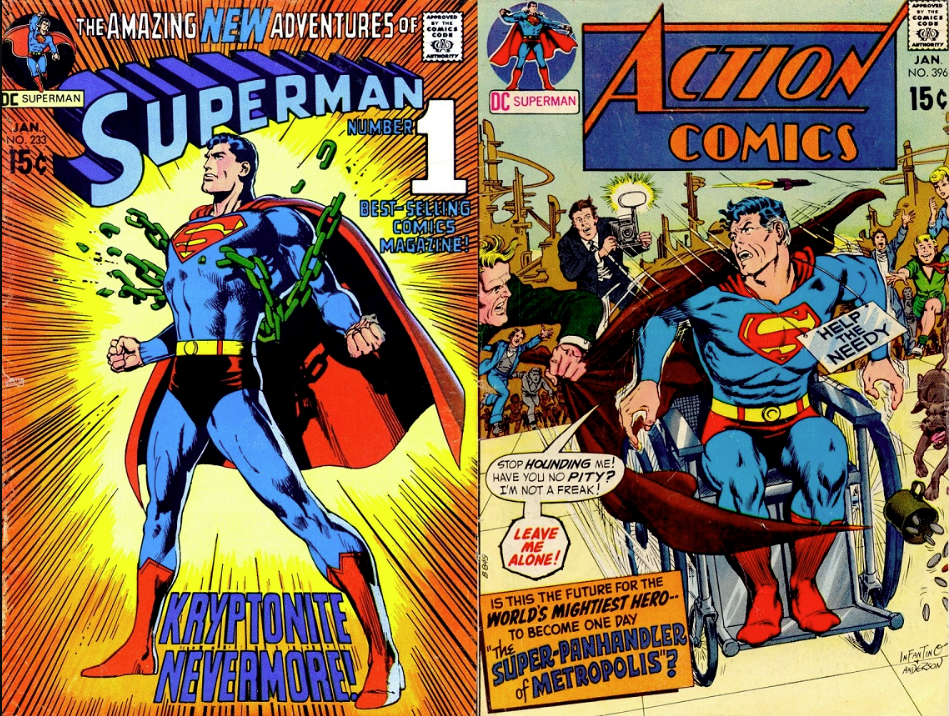 You've likely seen the one on the left, as it has been plastered on merchandise in recent years. It's classic Adams. I had not seen it before in contrast with another Superman book published the same month and drawn by another legendary artist, Carmine Infantino. Even in this stylized drawing, though, Adams' was grittier and more realistic.
It was more apparent on the inside pages, though. This is an iconic Adams sequence: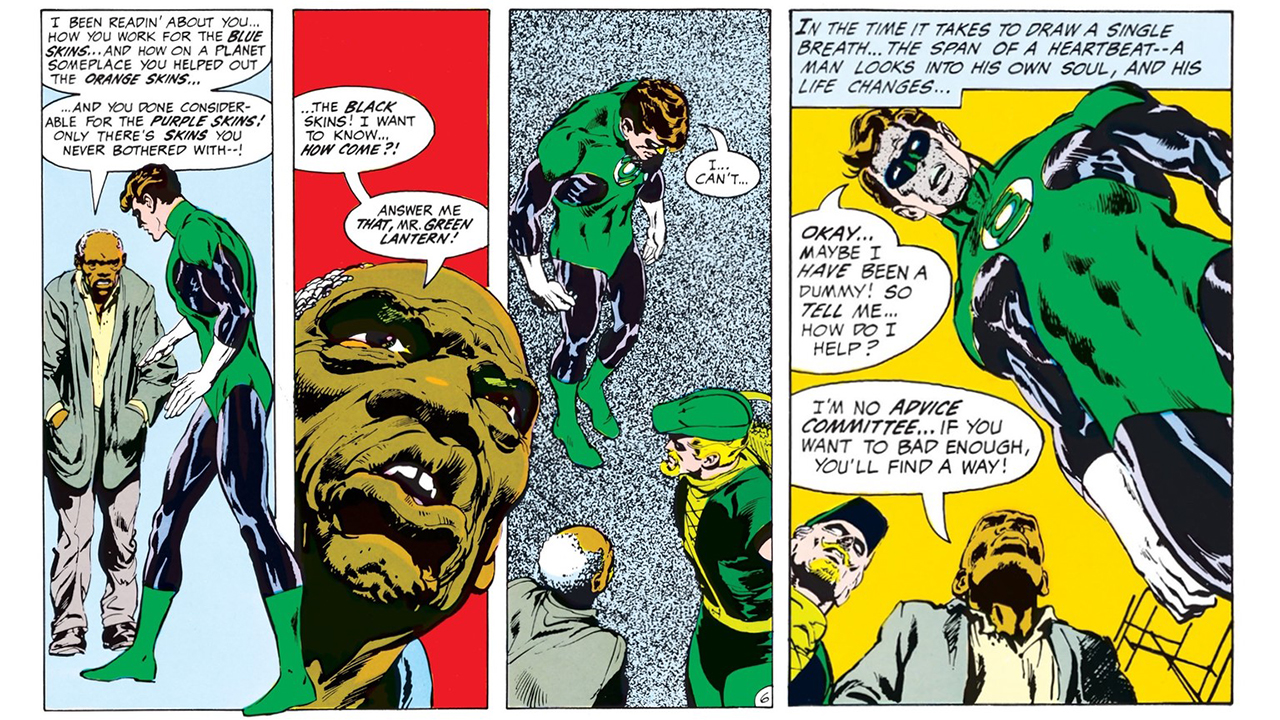 Because he was so influential, inspiring the likes of Frank Miller, it's perhaps not so exceptional in hindsight. But it's so much less cartoonish than what came before.