Iowa Supreme Court Affirms You Can Be Fired For Being Too Attractive
If you're too sexy for your job in Iowa, your boss may be able to fire you.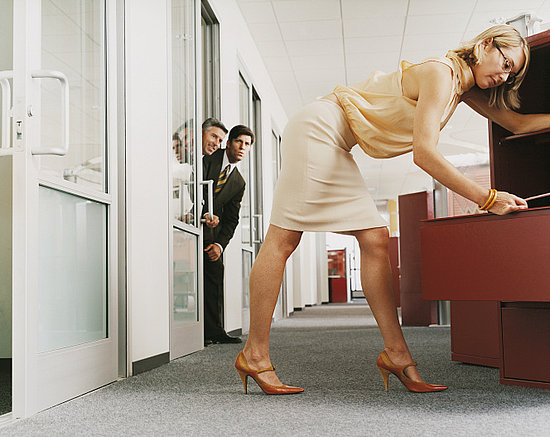 Back in December, James Joyner took note of a decision by the Iowa Supreme Court that rejected a discrimination by a woman who was fired from her job at a small dental office because she was "too attractive." The decision aroused no small degree of controversy, not the least because the Iowa Supreme Court is all-male and the decision was unanimous. Last month, though, the Court surprised many observers by agreeing to reconsider the case, a rare decision at the appellate level in any state. In the end, though, the result turned out the same way:
Iowa Supreme Court justices today gave Melissa Nelson more expansive reasoning but the same result, finding again in an opinion issued this morning that a Webster County dentist did not discriminate against Nelson when he fired her out of fear that her good looks might prompt him into an extramarital affair.

Nelson's lawyer late this afternoon issued a statement blasting the all-male court:

"I am beyond distressed at the lack of awareness and understanding this decision demonstrates," attorney Paige Fiedler said. "Women already have to balance on the very fine line of being respected, professional and well-liked in the workplace without having their perceived charm or attractiveness garner unwanted sexual advances, harassment and discrimination…"

"A decision like this is possible only when the decisionmakers have been sheltered from the day-to-day reality of what it is like to be a woman working outside the home in America," Fiedler added. "It underscores the necessity of having panels of judges from different walks of life, of different races, with varied professional experiences and of both genders."

A lawyer for dentist James Knight, meanwhile, said his client is "extremely pleased to have it over."

"The decision quite honestly … is not stepping away in any way from the decision last December," said Stu Cochran, Knight's attorney. "Our laws were never intended to create an environment where every type of event or unfairness in the workplace results in a lawsuit.

"Bad behavior is not equal to illegal behavior."

(…)

Today's unanimous ruling includes a 17-page, majority decision that finds in favor of the dentist after stressing that "the issue before us is not whether a jury could find that Dr. Knight treated Nelson badly. We are asked to decide only if a genuine fact issue exists as to whether Dr. Knight engaged in unlawful gender discrimination when he fired Nelson at the request of his wife. For the reasons previously discussed, we believe this conduct did not amount to unlawful discrimination…."

A 15-page, three-justice concurring opinion then goes on to stress that Nelson "has stated a claim supported by our law. Yet… the fact of the matter is Nelson was terminated because of the activities of her consensual personal relationship with her employer, not because of her gender."

Court papers say it was roughly 18 months before the end of Nelson's employment that Knight began to complain about the distractions caused by Nelson's appearance. Documents say Knight has acknowledged "that he once told Nelson that if she saw his pants bulging, she would know her clothing was too revealing" and on another occasion said it was good that Nelson had not worn tight pants along with a tight shirt because then he would "get it coming and going."

Documents say Knight's wife discovered in late 2009 that her husband had been exchanging text messages with Nelson (usually about child-related matters) and demanded that the assistant be fired.

The dentist, after consulting with his pastor, eventually explained to Nelson's husband in January 2010 that "she's a big threat to our marriage" and that Knight feared he would attempt an affair if Nelson stayed around.

Nelson's original lawsuit stressed improper behavior by Knight but alleged sexual discrimination and not harassment, today's opinions stress. Nelson's lawyer had argued on appeal, according to court documents, that "if Dr. Knight would have been liable to Nelson for sexually harassing her, he should not be able to avoid liability for terminating her out of fear that he was going to harass her."
In it's opinion, the Court stressed the need to make a distinction between an employment decision that may be distasteful to general sensibilities, or which may seem unfair to most people, and one that actually violates the civil rights laws:
Nelson's arguments warrant serious consideration, but we ultimately think a distinction exists between (1) an isolated employment decision based on personal relations (assuming no coercion or quid pro quo), even if the relations would not have existed if the employee had been of the opposite gender, and (2) a decision based on gender itself. In the former case, the decision is driven entirely by individual feelings and emotions regarding a specific person. Such a decision is not gender based, nor is it based on factors that might be a proxy for gender

The civil rights laws seek to insure that employees are treated the same regardless of their sex or other protected status. Yet even taking Nelson's view of the facts, Dr. Knight's unfair decision to terminate Nelson (while paying her a rather ungenerous one month's severance) does not jeopardize that goal. As the Platner court observed, " '[W]e do not believe that Title VII authorizes courts to declare unlawful every arbitrary and unfair employment decision.' " Id. at 905 (quoting Holder v. City of Raleigh, 867 F.2d 823, 825-26 (4th Cir. 1989)).

Nelson's viewpoint would allow any termination decision related to a consensual relationship to be challenged as a discriminatory action because the employee could argue the relationship would not have existed but for her or his gender. This logic would contradict federal caselaw to the effect that adverse employment action stemming from a consensual workplace relationship (absent sexual harassment) is not actionable under Title VII. See, e.g., Benders v. Bellows & Bellows, 515 F.3d 757, 768 (7th Cir. 2008) (holding that allegations that an employee's -termination was based on the owner's desire to hide a past consensual relationship from his wife were "insufficient to support a cause of action for sex discrimination"); see also Blackshear v. Interstate Brands Corp., No. 10-3696, 2012 WL 3553499, at *3 (6th Cir. 2012) (affirming summary judgment for the employer where the employee presented evidence that she was treated unfairly due to her supervisor's jealousy of her relationship with another employee, and noting that such "personal animus . . . cannot be the basis of a discrimination claim under federal or Ohio law"); West v. MCI Worldcom, Inc., 205 F. Supp. 2d 531, 544-45 (E.D. Va. 2002) (granting summary judgment to an employer when an employee was removed from a project because of a supervisor's animosity toward the employee over her termination of their consensual relationship but there was no evidence the supervisor had made unwanted advances to the employee following the termination of that relationship).
In a Concurring Opinion joined by two other Justices, Iowa's Chief Justice made note of something that I've always considered significant in this case:
It is an undisputed fact in this case, viewing the evidence in a light most favorable to Nelson, that Nelson and Dr. Knight developed a consensual personal relationship. Similarly, it is undisputed that this relationship extended well beyond the workplace. Nelson and Dr. Knight communicated with each other outside the workplace on matters extraneous to the employment. Their relationship was personal and closer than the relationships Dr. Knight maintained with the other employees. Dr. Knight readily acknowledged he grew attracted to Nelson and was developing feelings of intimacy, and it is accepted for purposes of summary judgment that these feelings were more developed than those possessed by Nelson. Yet, during a frustrating moment involving a co-employee, Nelson confided in Dr. Knight that he was the reason she continued to work at the office. She also acknowledged she maintained a closer relationship with Dr. Knight than he maintained with the other employees in the office. Additionally, Nelson acknowledged that another employee in the office viewed her conduct towards Dr. Knight as flirting, although Nelson believed this employee felt she flirted with Dr. Knight because the employee was jealous of the close relationship she enjoyed with Dr. Knight

(…)

The absence of sexual intimacy in the relationship between Nelson and Dr. Knight, and the absence of sexually suggestive behavior on the part of Nelson, does factually distinguish this case from the line of cases that do not recognize a sex-discrimination claim based on a consensual, romantic relationship. Yet, this distinction does not shift this case into the line of gender-discrimination cases that protect women from discrimination based on their physical appearance. Even if Nelson was fired because Dr. Knight was physically attracted to her, the attraction and resulting threat to the Knights' marriage surfaced during and resulted from the personal relationship between Nelson and Dr. Knight, and there is no evidence in the summary judgment record tending to prove the relationship or Nelson's termination were instead consequences of a gender-based discriminatory animus. Ultimately, the question comes down to whether a reasonable fact finder could find that Dr. Knight's reasons for terminating Nelson were, even in light of the relationship, responses motivated by Nelson's status as a woman. Courts evaluate this evidence "in light of common experience as it bears on the critical question of discrimination." Furnco Constr. Corp. v. Waters, 438 U.S. 567, 577, 98 S. Ct. 2943, 2949, 57 L. Ed. 2d 957, 967 (1978).

True to our governing legal authorities, a sex-discrimination claim predicated on physical appearance accompanied by a consensual personal relationship between the employee and employer requires proof that the physical appearance of the plaintiff was a gender-based reason for the adverse employment action.13 An adverse employment action based on a personal relationship that existed here between Nelson and Dr. Knight—or its consequences—is not actionable discrimination based on sex under our statute.
Several facts stand out for me in this case. First, there was clearly a relationship between Nelson and Knight that extended far beyond the office and in which Nelson was a willing participant even though it's clear that Knight was more forward regarding his comments to her than she was in comments about him. Second, there's apparently nothing in the record to show that Nelson ever complained, either to Knight or anyone else in the office, about the attention she was getting from Dr. Knight. For better or worse, this seems to be one of those situations of interoffice flirtation that isn't uncommon, especially in a small office. Indeed, Nelson's pleadings made no claim for sexual harassment related to the text messages and other contact that the two maintained over the course of their relationship. A third important factor, I'd argue, is the fact that this was a small office situation and that Dr. Knight's wife was also an employee of the practice. Had this been a larger business and had it been possible for either party to have been transferred to a different, albeit largely equal, position where they weren't interacting on a daily basis, then a termination arguably might have given rise to a legal claim. Additionally, the added presence of Knight's wife and the threat that the relationship had toward Knight's marriage is an added factor that supports his claim that the decision to fire her was based on an admittedly improper relationship, not because of her gender. Indeed, it is conceivable to see exactly this same scenario playing out in a situation where the supervisor and the employee were the same gender, something which tends to discount the argument that this was gender-based discrimination.
As James did in December, I tend to think that the Court got things right here. The general rule in most states is that most employment situations are considered to be "at will," meaning that an employer can fire an employee at any time for any reason. The only exceptions to this rule exist if there is an employment contract, either with an individual or a union, that sets forth a term of employment and specifies the circumstances that would justify termination, or if the termination is for a reason explicitly forbidden by the law (race, gender, etc.) In the context of a small firm such as this, while the idea of firing someone because the business owner, who works closely with the person in question, is finding it difficult to control his feelings for her may seem unfair or unreasonable, I don't see a reasonable argument that says that it ought to be illegal, or that the employer ought to be liable for damages in such a situation.
Is this a "fair" decision? In some broad moral sense, probably not but, as far as the law is concerned, it's the right one.
Here's the opinion: