Adam West, Television's Batman, Dies At 88
R.I.P., Caped Crusader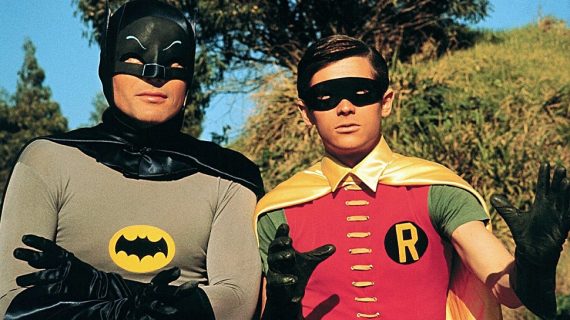 Adam West, who was Batman to a generation and beyond of television viewer long before the Caped Crusader became the subject of multiple big screen adaptations, has died at the age of 88:
Adam West — an actor defined and also constrained by his role in the 1960s series "Batman" — died Friday night in Los Angeles. He was 88. A rep said that he died after a short battle with leukemia.

"Our dad always saw himself as The Bright Knight, and aspired to make a positive impact on his fans' lives. He was and always will be our hero," his family said in a statement.

West became known to a new generation of TV fans through his recurring voice role on Fox's "Family Guy" as Mayor Adam West, the horribly corrupt, inept and vain leader of Quahog, Rhode Island. West was a regular on the show from 2000 through its most recent season. West in recent years did a wide range of voice-over work, on such shows as Adult Swim's "Robot Chicken" and Disney Channel's "Jake and the Neverland Pirates."

But it was his role as the Caped Crusader in the 1966-68 ABC series "Batman" that defined West's career.

With its "Wham! Pow!" onscreen exclamations, flamboyant villains and cheeky tone, "Batman" became a surprise hit with its premiere on ABC in 1966, a virtual symbol of '60s kitsch. The half-hour action comedy was such a hit that it aired twice a week on ABC at its peak. But within two seasons, the show's popularity slumped as quickly as it soared.

West's portrayal of the superhero and his alter ego, Bruce Wayne, ultimately made it hard for him to get other roles, and while he continued to work throughout his career, options remained limited because of his association with the character.

West also chafed against the darker versions of Bob Kane's hero that emerged in more recent years, beginning with the Michael Keaton-starring, Tim Burton-directed adaptations that began in 1989, and followed by Christopher Nolan's enormously successful Dark Knight trilogy.

In February 2016, CBS sitcom "The Big Bang Theory," which had hosted a number of geek favorites over the years, celebrated its 200th episode — and marked the 50th anniversary of "Batman" — with an appearance by West.

Asked by Variety what the character of Batman has come to mean to him over five decades, West said: "Money. Some years ago I made an agreement with Batman. There was a time when Batman really kept me from getting some pretty good roles, and I was asked to do what I figured were important features. However, Batman was there, and very few people would take a chance on me walking on to the screen. And they'd be taking people away from the story. So I decided that since so many people love Batman, I might as well love it too. Why not? So I began to reengage myself with Batman. And I saw the comedy. I saw the love people had for it, and I just embraced it."

(…)

The origins of the "Batman" series are actually quite complex, but the project eventually landed at 20th Century Fox, which handed it to producer William Dozier, who devised the show's camp comedy sensibility.

Both West and Lyle Waggoner were considered for the part of Batman before West was cast, playing alongside Burt Ward as his sidekick Robin.

In a PBS special that touched on the show, Ward noted that West's slow, portentous delivery was occasionally designed to eat up screen time, thus cutting into his co-star's dialogue.

With actors like Cesar Romero (Joker) and Burgess Meredith (Penguin) comprising Batman's rogue's gallery of villains, the show became an almost instant success, urging viewers to tune in for the next episode at the "Same Bat-time." The series spawned a movie — pitting the Dynamic Duo against a team-up of villains — before being canceled after three seasons due, primarily, to its high production costs.

The show came to be viewed with some contempt in comicbook circles, especially after the darker vision of Batman became dominant in the '70s and '80s.

West found serious film work scarce following the series, though he remained in demand for personal appearances as the character and voice work, including a recurring stint on "Family Guy" and animated versions of Batman. Other roles ranged from "The Happy Hooker" and "Hooper" to the Michael Tolkin-directed movies "The Rapture" and "The New Age."

By many accounts, West maintained a good sense of humor about his fame and his caped alter-ego. He remained a favorite of many producers for comedy guest shots, logging roles in recent years on such shows as "30 Rock," "George Lopez," "The King of Queens" and this year's short-lived NBC comedy "Powerless."

West was also prolific as a voice actor. He worked on dozens of animated series during the past 40 years, from numerous incarnations of the Batman character to "Kim Possible," "SpongeBob SquarePants," "The Fairly Oddparents," "The Boondocks" and "Penn Zero: Part-Time Hero."
More from The Hollywood Reporter:
Adam West, the ardent actor who managed to keep his tongue in cheek while wearing the iconic cowl of the Caped Crusader on the classic 1960s series Batman, has died. He was 88.

West, who was at the pinnacle of pop culture after Batman debuted in January 1966, only to see his career fall victim to typecasting after the ABC show flamed out, died Friday night in Los Angeles after a short battle with leukemia, a family spokesperson said.

West died peacefully surrounded by his family and is survived by his wife Marcelle, six children, five grandchildren and two great-grandchildren.

"Our dad always saw himself as The Bright Knight and aspired to make a positive impact on his fans' lives. He was and always will be our hero," his family said in a statement.

After struggling for years without a steady job, the good-natured actor reached a new level of fame when he accepted an offer to voice the mayor of Quahog — named Adam West; how's that for a coincidence! — on Seth MacFarlane's long-running Fox animated hit Family Guy.

On the big screen, West played a wealthy Main Line husband who meets an early end in Paul Newman's The Young Philadelphians (1959), was one of the first two humans on the Red Planet in Robinson Crusoe on Mars (1964) and contributed his velvety voice to the animated Redux Riding Hood (1997), which received an Oscar nomination for best short film.

Raised on a ranch outside Walla Walla, Wash., West caught the attention of Batman producer William Dozier when he played Captain Quik, a James Bond-type character with a sailor's cap, in commercials for Nestle's Quik.

West, who had appeared in many Warner Bros. television series as a studio contract player, was filming the spaghetti Western The Relentless Four (1965) in Europe at the time. He returned to the States to meet with Dozier, "read the pilot script and knew after 20 pages that it was the kind of comedy I wanted to do," he said in a 2006 interview with the Archive of American Television.

He signed a contract on the spot, only asking that he be given the chance to approve who would play his sidekick, Robin, the Boy Wonder. (He would OK the casting of Burt Ward, who had a brown belt in karate but zero acting experience).

"The tone of our first show, by Lorenzo Semple Jr., was one of absurdity and tongue in cheek to the point that I found it irresistible," West said. "I think they recognized that in me from what they'd seen me do before. I understood the material and brought something to it.

"You can't play Batman in a serious, square-jawed, straight-ahead way without giving the audience the sense that there's something behind that mask waiting to get out, that he's a little crazed, he's strange."

The hunky Lyle Waggoner (later of The Carol Burnett Show) and Peter Deyell also tested to play the Gotham City crime fighters, but West and Ward clearly were superior, and Batman debuted at 7:30 p.m. on Jan. 12, 1966, a Wednesday.

The cliffhanger episode would be resolved the very next night — Same Bat-time! Same Bat-channel! The show was originally intended to last an hour, but ABC split it up when it had two time slots available on its primetime schedule.

West said that he played Batman "for laughs, but in order to do [that], one had to never think it was funny. You just had to pull on that cowl and believe that no one would recognize you."

The series, filmed in eye-popping bright colors in an era of black-and-white and featuring a revolving set of villains like the Riddler (Frank Gorshin), Joker (Cesar Romero), Penguin (Burgess Meredith) and Catwoman (Julie Newmar), was an immediate hit; the Thursday installment was No. 5 in the Nielsen ratings for the 1965-66 season, and the Wednesday edition was No. 10.

"Stellar, exemplar, a king to the end," Newmar said in a statement: "He was bright, witty and fun to work with. I will miss him in the physical world and savor him always in the world of imagination and creativity. He meant so much to people."

Batman was nominated for the Emmy Award for outstanding comedy series in its first year, losing out to CBS' The Dick Van Dyke Show. A 20th Century Fox movie was rushed into production and played in theaters in the summer before season two kicked off in September 1966.

However, the popularity of the show soon plummeted, and Batman — despite the addition of Yvonne Craig as Batgirl — was canceled in March 1968 after its third season.

West quickly struggled to find work, forced to make appearances in his cape and cowl at car shows and carnivals and in such obscure films as The Marriage of a Young Stockbroker (1971), written by Semple, and The Happy Hooker Goes Hollywood (1980). He and his family downsized, leaving their home in the tony Pacific Palisades for Ketchum, Idaho.

"The people who were hiring, the people who were running the studios, running the shows, were dinosaurs," the actor said in the 2013 documentary Starring Adam West. "They thought Batman was a big accident, that there was no real creative thought, expertise or art behind it. They were wrong."

(…)

He was born William West Anderson in Seattle on Sept. 19, 1928, the second of two sons. His father, Otto, was a wheat farmer; his mother, Audrey, was a pianist and opera singer.

West attended an all-boys high school, then graduated with a major in English literature from Whitman College. During his senior year, he worked for a local radio station, doing everything from Sunday morning religion shows to the news.

He also starred in a couple of plays at the local theater. "I found that I could move an audience and I was appreciated," he said.

In the Army, West served as an announcer on American Forces Network television, then worked as the station manager at Stanford while he was a graduate student.

He got a job at a McClatchy station in Sacramento, Calif., then moved to Hawaii, where he hosted a two-hour weekday show in the late 1950s with a diaper-wearing chimp named Peaches. (West said he once interviewed William Holden as the actor was passing through.)

West got a contract at Warner Bros. at $150 a week and was placed in one of the studio's TV series — Colt .45, Maverick, Hawaiian Eye, 77 Sunset Strip, Cheyenne, etc. — pretty much every week.

He got his first regular TV role when he played Det. Sgt. Steve Nelson under the command of Robert Taylor on the 1959-62 ABC/NBC series The Detectives, coming aboard when that show expanded to one hour in color.

After he split with Warner Bros., West showed up in such forgettable films as Geronimo (1962) starring Chuck Connors, Tammy and the Doctor (1963) with Sandra Dee and in The Three Stooges film The Outlaws Is Coming (1965) before Batman changed his life forever.

He later starred in a rejected 1991 NBC pilot episode called Lookwell — written by Conan O'Brien and Robert Smigel — in which he portrayed a once-famous TV detective who thinks he can solve crimes in real life.

Then came the gig on MacFarlane's Family Guy.

"I had done a pilot with Seth that he had written for me. It turned out we had the same kind of comic sensibilities and got along well," he said in a 2012 interview. "When Family Guy came around and Seth became brilliantly successful, he decided to call me and see what I was doing. He asked if I would like to come aboard as the mayor, and I thought it would be neat to do something sort of absurd and fun."

The documentary Starring Adam West culminates with him receiving a star on The Hollywood Hall of Fame in 2012.
West's take on the Caped Crusader seems campy and ridiculous, and suffers somewhat in the light of the darker visions of the character that we've seen on the big screen from actors such as Michael Keaton, Val Kilmer, George Clooney, Christian Bale, who played the Dark Knight in Christopher Nolan's definitive trilogy, and most recently Ben Affleck, who contributed his version of the character in last year's Batman v. Superman: Dawn Of Justice. For the generation I belong to, though, West will always be the first Batman. When I was growing up in the tri-state NYC area, reruns of the 1960s show would run after school on weekdays for years and I'm pretty sure I saw every episode at least two or three times, as well as Batman:The Movie, which was the very first big screen adaptation of the character and which hit theaters just after the end of the first season of the show in 1966. Throughout his time playing the role, West brought a sense of fun and camp that fit the era in which the show was aired quite well, and which still holds up today even against the far more dramatic and dark take that we've seen from the film adaptations that have been released over the past twenty-odd years or so. His return to popular television doing the voice over work for Mayor Adam West on Family Guy, it was like welcoming an old friend back home.
It's only fitting that West be remembered for the role he played best.
Here's a clip of West as Batman in a surfing contest with Cesar Romero's Joker, a scene made all the more amusing by the fact that it is rather obvious that the whole thing was filmed in front of a green screen with footage of waves added in later:
And here, of course, is the iconic Batusi:
Rest in Peace, Caped Crusader.