Marvel Comics Creator Stan Lee Dies At 95
Rest in Peace and Excelsior, Stan Lee!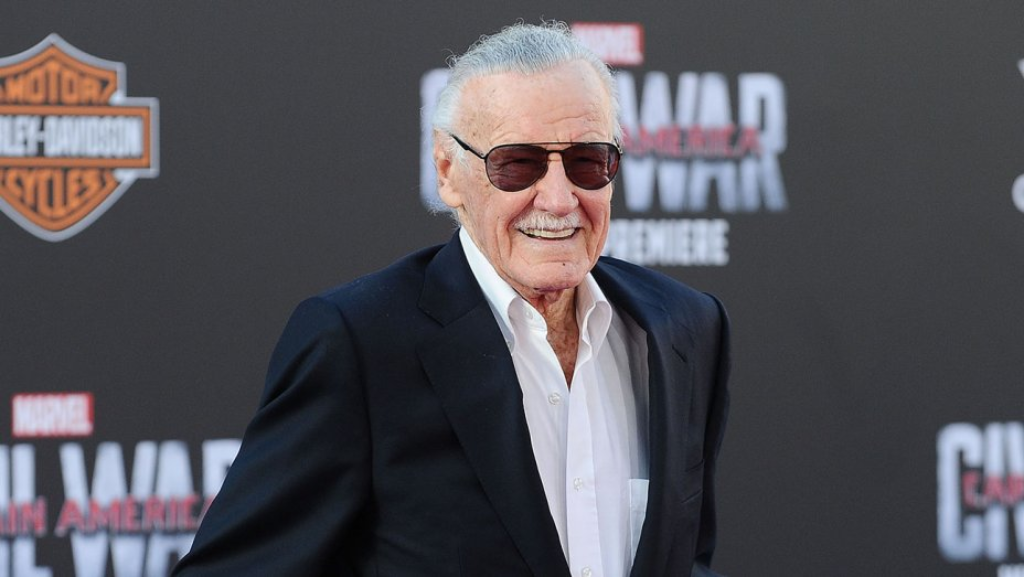 Stan Lee, who as the founder of Marvel Comics and creator or co-creator of most its most iconic superheroes helped to redefine the comic books industry and make superheroes a part of our culture, has died at the age of 95:
Stan Lee, a writer and editor often credited with helping American comics grow up by redefining the notion of a superhero, including the self-doubting Spider-Man, the bickering Fantastic Four, the swaggering Iron Man and the raging Incredible Hulk, died Nov. 12 at a hospital in Los Angeles. He was 95.

The Associated Press reported the death, citing an attorney for Mr. Lee's daughter. The cause was not immediately available.

Mr. Lee's name became synonymous with the company that would become Marvel Comics, which he joined as a teenage assistant and stayed with for much of his adult life.

After toiling in comics for 20 years as a self-described hack, on the verge of quitting the business, he was ordered by his boss to emulate a line of superheroes done by rival DC comics. Mr. Lee's full-color, morally complex heroes helped foster a revival in a largely moribund profession.

Comics had entered a dark age after Senate hearings in the early 1950s that condemned the trade for contributing to juvenile delinquency. What followed was a comics code to monitor standards and ban content deemed immoral and unsuitable for children.

In the '60s, Mr. Lee took a distinctly new approach to characters and setting, as well as to the very interaction with readers who had grown used to comics that were aimed solely at a younger audience and that featuring flawless, square-jawed heroes who had uncomplicated morals.

Michael Chabon, the Pulitzer Prize-winning author of the comic-book-themed novel "The Amazing Adventures of Kavalier and Clay," said in an interview that Mr. Lee's best-known characters were "vain, pompous, conceited. . . . Everything that works in comic books today is indebted to him for that."

"There's no question that Stan and the innovations he came up with saved the comic book and the superhero," Tom Brevoort, Marvel's senior vice president of publishing, told The Washington Post in 2011. "By crafting characters with feet of clay and personal problems — and not writing down to an audience that was perceived to be primarily 8-year-olds — Stan opened the doorway for more sophisticated and interesting treatments of any subject matter in comics. He made comics interesting and rel­evant and fun again."

Lee told The Post in 2012: "All of our characters were freaks in their own way. The greatest example was with X-Men — they were hated because they were different. The idea I had, the underlying theme, was that just because somebody is different doesn't make them better. … That seems to be the worst thing in human nature."

Much of Mr. Lee's success was indebted to his Marvel partnership with artist and frequent co-creator Jack Kirby. Their first superheroes, appearing in 1961, were the Fantastic Four.

They were unlike the perfectly genial Superman, a DC Comics character. Fantastic Four were constantly were at odds with one another. Mr. Fantastic was a boring scientist whom the rest of the group constantly interrupted. One of the Four, the Thing, looked like a monster and often acted like one, and he hated the powers that made him look that way.

Other heroes came with their own weaknesses, such as the Jekyll-and-Hyde-like Incredible Hulk, who could not control the anger that gave him his strength; Daredevil, whose blindness helped develop other heightened senses. Iron Man was a billionaire industrialist modeled after Howard Hughes; his weakness was a a piece of shrapnel dangerously close to his heart, acquired on a trip to Vietnam to inspect the weapons he produced for the war.

(Mr. Lee wrote in his 2002 memoir, "Excelsior!": "Due to his injury, he always had to either wear the iron armor, or an iron chest plate he had fashioned for himself, to keep his heart beating. If that explanation doesn't sound medically correct, hey, he's a comicbook hero and I'm not a cardiologist.")

With artist Steve Ditko, Mr. Lee created Spider-Man in 1962, of whom cartoonist and author Jules Feiffer said, "He took the anxiety and schlumpiness that had become part of the culture from the '60s on and put them into the character of a superhero."

Besides giving the characters human personalities, the artists further attracted readers with the comics' realistic settings. While other heroes protected fictional cities such as Metropolis and Gotham, Mr. Lee's lived in his native New York.

Mr. Lee constantly addressed and engaged the readers. In his memoir, written with George Mair, he remembered one particular author's note: "On the cover I wrote something like, 'Look, this may not be one of the best stories we've ever done, but we've given you enough good ones so that you owe it to us to buy this lemon anyway.' "

"Stan was the first writer to bring an ironic distance to the material," said Marvel artist Gerry Conway, as quoted in Tom Spurgeon and Jordan Raphael's "Stan Lee and the Rise and Fall of the American Comic Book" (2003).

(…)

Mr. Lee has been criticized for not doing enough to acknowledge Kirby and Ditko's roles in creating Marvel's most popular characters. Marvel publicity and press coverage frequently played up Mr. Lee's role and minimized his collaborators.

They were minimized legally, as well. Historically, none of the creators had any ownership rights, not even Mr. Lee. Because there were no royalties, comic artists often struggled financially after they stopped working.

In the 1970s, Kirby attempted to get back some of his original artwork to help support his family and sued. Mr. Lee, who was Marvel's public face, refrained from taking an active role in the case. An elderly Kirby eventually received some of the art, years later, after agreeing to relinquish all claim to copyright.

Kirby and Mr. Lee had a falling-out. Kirby died in 1994.

Stanley Martin Lieber was born in New York City on Dec. 28, 1922, the eldest son of Romanian Jewish immigrants. His father was a dress cutter who was frequently out of work.

Mr. Lee came by his pen name as a teenager. He claimed he changed his name not because of anti-Semitism, like many comic book artists, but because he wanted to preserve his real name to write a real book.

After graduating high school, Mr. Lee took a job with Timely Publications, a company that published Marvel and was owned by his cousin-in-law Martin Goodman. He was hired by Timely editor Joe Simon, who with Kirby co-created Captain America.

During World War II, Mr. Lee served in the Army and spent three years in New Jersey writing scripts for training films. After his discharge, he continued spinning out science-fiction and monster comics for Timely, which was renamed Atlas.

In 1947, he married Joan Boocock, a British hat model. She died in 2017. Their daughter Jan died days after her birth in 1953. Survivors include another daughter, Joan Celia "J.C." Lee; and a brother, comic book artist and writer Larry Lieber.

Mr. Lee credited with wife with pushing him to create the Fantastic Four instead of leaving Marvel in frustration at midcareer. His breakthrough against the industry's self-imposed "Comics Code" came in 1971 when the government asked him to produce a Spider-Man story line that came down harshly on drug use.

The code had a zero-tolerance policy for drugs, even in a negative light, but Marvel ignored the regulations, published without the seal of approval and saw no change in sales. Comic books across the industry stopped following the code's guidelines.

Mr. Lee moved from editor to publisher in 1972, and then moved to Hollywood around 1980, attempting with little success to attain cinematic respectability for his characters. The few projects that came to fruition, such as "Howard the Duck" (1986) and "The Punisher" (1989), were critical and commercial failures.

In 1999, Mr. Lee entered the Internet age with the company Stan Lee Media, which produced Web cartoons and briefly gave Mr. Lee a paper worth of $100 million. The company collapsed in 2001 amid allegations of a massive scam run by Mr. Lee's partner, Peter F. Paul, who turned out to be a convicted felon. Paul fled to Brazil but eventually returned to the United States and pleaded guilty to securities fraud.

In 2002, "Spider-Man," directed by Sam Raimi and starring Tobey Maguire, opened at the box office and eventually grossed more than $800 million worldwide. Citing a previously ignored line in his contract, Mr. Lee sued Marvel for 10 percent of the profits in what he told Variety was "the friendliest lawsuit in the world." He won the case in 2005. Retaining his lifetime contract with Marvel, he started a new comic company, P.O.W. (Purveyors of Wonder) Entertainment.
More from Variety:
Stan Lee, who ushered in a comic-book renaissance by co-creating the iconic superheroes Spider-Man, the Fantastic Four, and the X-Men — characters who made the leap to film with often-spectacular results — died on Monday, his daughter's attorney confirmed to Variety. He was 95.

Lee was taken to Cedars Sinai Medical Center in Los Angeles on Monday after suffering a medical emergency, and was declared dead shortly afterwards.

Working primarily with artist Jack Kirby, Lee — writing as many as a half-dozen titles or more a month — transformed Marvel Comics into a powerhouse, featuring socially relevant stories that spoke to young readers in a way the form hadn't previously. Those works, largely created during a wildly productive stretch in the early 1960s beginning with Fantastic Four, a squabbling and at times reluctant team of superheroes, were part of what came to be known as the Silver Age of comics.

The titles Lee authored included those featuring Spider-Man (with artist Steve Ditko), the Hulk, X-Men, Iron Man, Thor, Daredevil, Captain America, and the Avengers — all of which have been turned into major features.

Lee himself left Marvel — after one of several management changes — in 1972, but he retained the title chairman emeritus throughout his life. Although no longer directly involved with the company, Lee received producing credits — and appeared in cameos that invariably triggered knowing laughs from aficionados — in Marvel's live-action efforts. He filmed cameos in movies including "Deadpool 2" and "Guardians of the Galaxy 2" far in advance of their release, in case he was indisposed. He also turned up playing himself in other venues, such as CBS' geek-inspired comedy "The Big Bang Theory."

A gifted salesman, Lee also became a premiere ambassador for the comicbook industry, reaching out to college campuses through personal appearances and interviews. With his outsized personality, Lee remained much in demand and creatively active into his 90s, creating new concepts for animation and TV.

Born Stanley Lieber (and choosing his professional name by splitting his first name in half), Lee was raised by Jewish immigrant parents in New York City. His younger brother, Larry Lieber, became a comicbook artist.

Through his uncle, the brother-in-law of comicbook publisher Martin Goodman, Lee became an assistant at what was then known as Timely Comics, which eventually became Marvel.

Lee gradually began writing comicbooks under the pseudonym "Stan Lee," he said in his autobiography, because he wanted to preserve his real name for more serious work, such as novels. (He later had his name legally changed.)

He earned his first credit for a Captain America story in 1941. When Kirby and editor Joe Simon left due to a dispute with Goodman, Lee, then a teenager, was named interim editor. As Lee told the story, "Martin looked around and said, 'Hey, do you think you could hold down this job until I can get an adult?'"

Lee served in the U.S. Army during WWII. Afterward, he ran the publishing operation but wasn't particularly happy with the results — churning out romance, monster stories, and anything else Goodman thought might sell.

Envying the success of DC Comics, which sported characters such as Batman and the Justice League, Goodman allowed Lee to try creating something in the superhero genre. Teaming with Kirby, Lee conjured up a new kind of hero — plagued with flaws, insecurities, even romantic problems. Many were outsiders in ways with which young readers could identify.

The immediate success of Fantastic Four spawned a torrent of new Marvel titles — so many that Lee was struggling to keep up the pace. As a consequence (and really out of necessity), he devised a new, more collaborative way of working with illustrators: Lee would plot out the stories, then let the artists draw them before adding dialogue and word balloons based on those images.

As it turned out, that approach worked especially well in capitalizing on Kirby's storytelling skills. "He was really a film director doing comics," Lee once said.

Lee also forged an unusual bond with Marvel's readers, updating them on Marvel publications via editorials that he signed "Excelsior!" Lee later titled his autobiography "Excelsior: The Amazing Life of Stan Lee."

Although Goodman had little respect for the comicbook-reading audience, Marvel began attracting more sophisticated fans and elevated the level of dialogue in comics, which Lee explained by saying, "If a kid has to go to a dictionary, that's not the worst thing that could happen."

Despite their successful collaboration, Lee and Kirby's relationship didn't end amicably. Chafing at what he saw as his second-tier status at Marvel, with Lee running things and occupying the spotlight, Kirby bolted in 1970 and began working for rival DC. The split drove many Marvel fans into separate camps, with some loyal Kirby partisans bearing ill will toward Lee.

(…)

Lee's post-Marvel ventures weren't a match for his earlier career. With lawyer Peter Paul, Lee launched his own company, Stan Lee Media, in 1998, but two years later investigators accused Paul of manipulating the stock. Paul fled to Brazil and was finally extradited back to the U.S., pleading guilty to violating SEC rules in 2003 (Lee was never implicated in any wrongdoing).

Lee later formed another shingle, Pow! Entertainment, listing himself as "creative giant" on his business cards. He continued to create TV, film, and game projects, including direct-to-DVD animated movies under the banner "Stan Lee Presents."

Despite his continuing relationship with Marvel and strong association with the name, Lee sued the company in 2002, maintaining he had been promised a percentage of profits from TV and film productions. He received a reported $10 million settlement in 2005.

A subsequent lawsuit against Lee and the company filed by Stan Lee Media shareholders was dismissed in 2011, ending nearly a decade of litigation. The Kirby heirs also explored their legal options in connection with their father's stake in Marvel characters he co-created, but a federal court nixed their appeal in August 2013.

Lee sold Pow! Entertainment to Hong Kong company Camsing International Holding in 2017. He filed a billion-dollar lawsuit against the company this past May, alleging that business partners took advantage of his dwindling eyesight and duped him into signing away the exclusive right to his name. He dropped the lawsuit in July.

It wasn't the end of Lee's legal turmoil, however. In August, a judge granted a restraining order to protect Lee from Keya Morgan, a memorabilia collector who had been accused of exploiting his close relationship with Lee to embezzle artwork, cash, and other assets worth more than $5 million.

For all Marvel's success in print, Lee's high profile, and the animated cartoons (and later live-action series) produced in the 1960s and '70s, the Hollywood mainstreaming of Marvel didn't begin in earnest until movies like the "X-Men" and Spider-Man franchises in the 2000s. Those films and advances in special effects spawned the current wave of comicbook movies, which have become some of the industry's biggest moneymakers.

Remarkably energetic even as an octogenarian and beyond, Lee was extremely popular in Hollywood in his later years among a generation of appreciative filmmakers who grew up reading comics and carried that passion for Marvel characters with them.

In 2011 Lee teamed with Ricco Capital Holdings, a Hong-Kong-based merger and acquisition boutique, and Panda Media Partners, a joint venture of Fidelis Entertainment, to create Magic Storm Entertainment to launch new superheroes in China and other Asian territories.

Lee's many accolades included the National Medal of Arts in 2008. At the time, he told National Public Radio that he took very little credit for the popularity of Marvel properties in other media such as movies, saying, "It's a monument to the fact that basically I guess those were fairly commercial stories."
Marvel Entertainment has its own remembrance:
Today, Marvel Comics and The Walt Disney Company pause and reflect with great sadness on the passing of Marvel Chairman Emeritus, Stan Lee. With a heavy heart, we share our deepest condolences with his daughter and brother, and we honor and remember the creator, voice and champion of Marvel.

"Stan Lee was as extraordinary as the characters he created. A super hero in his own right to Marvel fans around the world, Stan had the power to inspire, to entertain, and to connect. The scale of his imagination was only exceeded by the size of his heart," said Bob Iger, Chairman and CEO, The Walt Disney Company.

Stanley Martin Lieber, a.k.a. Stan Lee, loved the written word from an early age, and wanted to craft stories like those in his favorite books and films, which he consumed voraciously. From a simple upbringing in the teeming landscape of Manhattan, young Stanley worked his way through a succession of jobs until the day he found himself an assistant at a comic book publishing company — Timely Comics.
In between refilling artists' inkwells, erasing pencil lines from comic pages and fetching an untold number of lunches, Stanley expressed his desire to write and create tales of his own; in the May 1941 issue of CAPTAIN AMERICA COMICS #3, he got his wish. Readers would find a prose story in that issue, "Captain America Foils the Traitor's Revenge," sporting the byline of "Stan Lee." A star was born.

As Stan's roles and tenure with Timely Comics grew and evolved, so did the company itself. With Stan at its helm, Timely Comics morphed first into Atlas Comics and then into the name that would catapult it into legend and forever be synonymous with Stan Lee: Marvel Comics.

As Marvel's Editor-in-Chief, Stan "The Man" Lee made his voice the voice of the stories themselves. Writing virtually every Marvel title and working with such luminaries as Jack Kirby, Steve Ditko, Don Heck, Gene Colan and John Romita, Stan began building a universe of interlocking continuity, one where fans felt as if they could turn a street corner and run into a Super Hero. A rich collection of characters grew out of his nonstop plotting sessions with his artists, including the Fantastic Four, Spider-Man, Thor, Iron Man, the Hulk, the X-Men, and more. Today, it would be almost impossible to find a corner of the Marvel Universe that Stan didn't have a hand in.

Marvel fans found a friend in Stan Lee. He introduced the famous "Stan's Soapbox" to speak directly to his readers, reaching a personal level rarely seen in comics of the day. Always pushing for new ways of creating comics, Stan also inaugurated the "Marvel method" of plotting and art, creating some of the most iconic stories in the industry to this day.

When something mattered to Stan, you felt it in his words, whether in an editorial or in the stories themselves. With passion for the medium, he helped refine and reform the Comics Code Authority and addressed hot-button issues like discrimination, drugs, and intolerance.

Stan stepped up from his position as Editor-in-Chief in 1972 to tackle the role of Publisher at Marvel Comics, and while a strong succession of writers followed in his wake, his spirit and voice remained throughout the adventures that followed. His outspoken love for comics even extended to a series of college campus talks; given any chance to educate and illuminate on the industry, he took it. An entire generation of young readers expanded and strengthened their vocabulary and knowledge through Stan's stories.
Perhaps unlike any of the other big players in the comic book industry except perhaps Jack Kirby and, before the two of them, the creators of other characters such as Superman and Batman, Lee had an outsized influence on an industry that has spread far beyond comic books to become a cultural phenomenon that exists online, in the form of toys and other merchandise, and, of course, in the form of the marvelously successful movies that began with the first adaptation of Spiderman and continued through the Marvel Cinematic Universe, which has resulted in some of the highest grossing movies of the past two decades. While Lee wasn't directly involved with the movies, he nonetheless enjoyed a new round of celebrity as the movies became more and more successful and become known to an entirely new generation of fans in part due to the fact that, much like Alfred Hitchcock, he made an appearance in virtually every movie that included a Marvel character.
His cultural influence cannot be over-stated something that even the Twitter account of Marvel rival DC Comics acknowledged on its Twitter feed this afternoon:
He changed the way we look at heroes, and modern comics will always bear his indelible mark. His infectious enthusiasm reminded us why we all fell in love with these stories in the first place. Excelsior, Stan.

— DC (@DCComics) November 12, 2018
Marvel Entertainment posted its own remembrance, as did Disney:
Today, we pause and reflect with great sadness on the passing of Stan Lee: https://t.co/J0cwgdn677 pic.twitter.com/eOBdZAqdZ0

— Marvel Entertainment (@Marvel) November 12, 2018
"Stan Lee was as extraordinary as the characters he created. A super hero in his own right to Marvel fans around the world, Stan had the power to inspire, to entertain, and to connect." –Bob Igerhttps://t.co/pLTKx1R0dF pic.twitter.com/Uj9fqHpZXg

— Disney (@Disney) November 12, 2018
As I noted, Lee became famous for making cameos in nearly all the Marvel movies, as denoted in this YouTube video:
There really isn't much else that can be said about Stan Lee and his influence on our culture. The number of characters he created or helped to create — Spiderman, the Fantastic Four, the X-Men, Captain America, Thor, Iron Man, Black Panther and so many more — have become a part of our culture and they will continue to do so well into the future.  In the process, he led a long, full, life and earned well-deserved praise for his creations and his body of work.
Excelsior, Stan Lee!