The Latest 'Stop Trump' Effort Is Probably Too Little, Too Late
A renewed internal GOP fight to stop Donald Trump seems to be doomed to fail.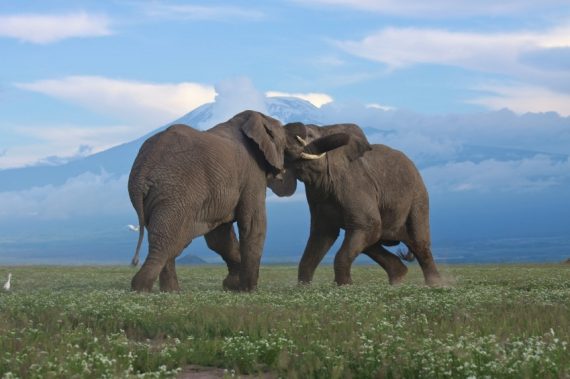 As Dan Balz puts it, last night was a nightmare for the Republican establishment and its options for stopping Trump are quickly dwindling:
The window for stopping Donald Trump closed almost completely Tuesday night, leaving the demoralized anti-Trump forces with two weeks and no agreed-upon strategy for denying the New York billionaire the Republican presidential nomination.

Trump pulled out victories in seven of the 11 contests that made up the biggest single primary-caucus night of the nominating season. His remaining rivals — Sen. Ted Cruz of Texas, Sen. Marco Rubio of Florida and Ohio Gov. John Kasich — and their allies were left to cling to the flimsiest of hopes that a reversal of his fortunes still lies on the near horizon.

For Rubio, the hope of many in the establishment, Super Tuesday turned into a super disappointment. He made a run at Trump in Virginia but fell short. Late Tuesday, he was declared the winner in the Minnesota caucuses. Still, that left his win-loss record this year at 1-14. Meanwhile, he was running third in at least half the states, and in some of those states his percentage of the vote was low enough that he was in danger of winning few or no delegates.

Rubio has been described by many as the future of his party. His performance to date instead has reinforced his image as a politician who has not lived up to that potential. Were it not for the Washington suburbs in Northern Virginia, where a well-educated and government-connected electorate gave him support strong enough to place second, his bad day would have been even more dispiriting.

Despite five days of relentless attacks on Trump, which started at last week's GOP debate in Houston and carried through a raucous weekend of campaigning, Rubio was not able to deliver significant results. He scored well among late-deciding voters; in Virginia they favored him over Trump by about 20 points. But there were not enough of them to overcome the hold Trump has on anti-establishment Republicans who remain in control of the nominating battle.

Cruz did more than enough to argue that he should become the main challenger to Trump, carrying his home state of Texas, as he had long predicted, as well as Alaska and Oklahoma. Along with his victory in the Iowa caucuses at the beginning of last month, he remained through much of Tuesday night the only Republican who could say he had defeated the party's front-runner anywhere.

(…)

Today, those desperate to prevent Trump from hijacking the party recognize his strength and his seeming inevitability but seem powerless to stop him.

Some believe that the most realistic scenario for stopping Trump begins with victories by Cruz, Kasich and Rubio in their home states. Cruz managed that Tuesday; Rubio and Kasich face those tests March 15. Theoretically, that could lock up enough delegates against Trump to prevent him from winning a majority before the Republican convention and force a battle in Cleveland in July for the nomination.

Another scenario calls for two of the three remaining viable candidates to quit the race, allowing the party to consolidate around a single remaining challenger. People have been talking about that for months. When he quit the race last year, Wisconsin Gov. Scott Walker said others should follow his lead in order to bring the anti-Trump forces together early enough to make a difference. What's to say that will happen in time to make a difference in the trajectory of the race?

The fallacy of all this talk was underscored by former Utah governor Mike Leavitt.

"There's this fallacy that some small group can get together and decide the outcome of this," he said. "That does not exist. This is a marketplace of political ideas. The party is responsible for its structure but cannot dictate the outcome."
In the coming weeks, the big tests for Trump, and for the effort by the Republican establishment and conservatives, will be in Michigan, Florida, and Ohio. If Trump manages to win all three then this race will effectively be over. The field would likely be winnowed significantly since losing both Michigan and his home state would eliminate whatever logic John Kasich has for staying in the race would be largely eliminated. Even if Kasich manages to win one of these states, and most likely it would be Ohio rather than Michigan, he really doesn't have a plausible path to victory on his own and would likely only serve to syphon off votes from either Marco Rubio or Ted Cruz in contests between those candidates and Trump, something that of course works to Trump's advantage. Losing Florida would also likely mean the end of Marco Rubio's campaign since it's hard to see how his campaign could credibly continue after losing his home state and likely having only one win, last night's Minnesota Caucus victory, to his credit. At that point, there could potentially be just a one-on-one battle between Trump and Texas Senator Ted Cruz, which is hardly the ideal outcome from the perspective of many on Capitol Hill given Cruz's reputation there. Even in such a head-to-head match-up, the idea that Cruz would be easily able to beat Trump seems naive at best since it assumes that Cruz would get the majority of the non-Trump voters supporting other candidates is seemingly refuted by polling that suggests that those supporters would divide nearly evenly between Cruz and Trump and others that show that a slight majority would actually go to Trump over Cruz. Given that Cruz generally appeals to hard-right conservatives rather than more moderate voters, this isn't entirely surprising.
Another "stop Trump" scenario unfolds if you assume that Kasich and/or Rubio, or both, manage to win their home states. In that case, the game becomes one in which the non-Trump candidates try to trade off enough wins going forward to deny Trump the majority of delegates prior to the convention in the hopes of forcing a floor fight in Cleveland. The problem with this scenario is two-fold. First, the longer the field remains crowded with three or four non-Trump candidates, the easier it becomes for Trump to rack up wins by simply winning a plurality of the votes going forward. Given that we're headed into a period where many of the primaries will be winner-take-all, this plan would obviously quickly backfire on the candidate and party leadership and Trump would easily walk into Cleveland with a majority of delegates at which point denying him victory would be essentially impossible. Even if the scenario were to somehow succeed, though, Trump would still likely end up with far more delegates than any other candidate and a scheme on the floor of the convention that would deny him the nomination and hand it off to someone who had fewer delegates, and less over the overall popular vote, would be seen as highly undemocratic to outside observers and would tarnish any potential nominee as someone who didn't really represent the majority of their own party. In such a situation, many of the people who supported Trump, and possibly even some of the other candidates, could end up voting for someone else on Election Day or just staying home. While the results in the Presidential race and down ballot elections in such a case might not be quite as bad for the GOP as if Trump were at the top of the ticket, they wouldn't be a path to victory either and would likely put vulnerable Senators at risk at the very least.
The efforts to "stop Trump," in other words, are far more difficult than the assured words of candidates like Ted Cruz and Marco Rubio let on, and as the hopes of Republican insiders would seem to hope for. If such an effort were going to succeed, then it probably should have started months ago. At this point, though, the windows are closing and, even as some top Republican donors are apparently talking about pouring new money into a SuperPAC meant to stop Donald Trump from winning the nomination, the odds that such an effort can succeed would seem to be somewhere between slim and none. All of this suggests that we're like to see a chasm develop in the Republican Party that could last for some time to come:
"If the Republican Party were an airplane, and you were looking out a passenger window, you would see surface pieces peeling off and wonder if one of the wings or engines was next," said Tim Pawlenty, the former governor of Minnesota and a Republican candidate for president in 2012.

Even as he rolled up commanding victories in seven states on Tuesday, Mr. Trump confronted a loud and persistent refusal to rally around him as leading figures in his own party denounced his slow disavowal of white supremacists, elected officials boldly discouraged constituents from backing him, and lifelong Republicans declared that they would boycott the election if he is their nominee.

"I could not in good conscience vote for Trump under any circumstance," said Blake Lichty, 33, a Republican who worked in the George W. Bush administration and now lives near Atlanta.

"If this becomes the Trump Party," he added, "we're going to lose a lot of people.

"I could not in good conscience vote for Trump under any circumstance," said Blake Lichty, 33, a Republican who worked in the George W. Bush administration and now lives near Atlanta.

"If this becomes the Trump Party," he added, "we're going to lose a lot of people.

Even as Mr. Trump's performance Tuesday illustrated his strength, Senator Ted Cruz's success in Texas, Oklahoma and Alaska underscored the broader Republican dilemma: There is no consensus among Republicans about who could be Mr. Trump's most formidable opponent, and there is probably not enough time for one to emerge.

The cultural and ideological fissures opening in the party could take a generation to patch, according to Republican leaders, historians and strategists — and many are convinced that Mr. Trump will guarantee Democrats another four years in the White House. "Nominating Donald Trump would be the best gift the Republican Party could give to Hillary Clinton," Bobby Jindal, the former Louisiana governor, said in an interview on Tuesday.
Notwithstanding the fact that Richard Nixon ended up winning the White House four years after the electoral disaster in 1964, it arguably took until Ronald Reagan's victory in 1980 for the fissures created in 1964 to begin to heal, and longer than that, perhaps not until George H.W. Bush's win in 1988 or even the Republican takeover of Congress in 1994, for them to heal completely. In those cases, the healing was helped along by electoral success and a Presidency that helped revive a nation that had been stuck in the post-Vietnam doldrums for the better part of a decade. This time around, it could take longer, especially given the fact that modern technology and media habits mean that people tend to burrow themselves into ideological and intellectual bubbles, and there is an entire industry on the right that seems to thrive on creating conflict within the Republican coalition rather than promoting harmony and compromise. Additionally, any effort by party insiders to try to take the nomination away from Trump could be perceived by his supporters and by others as further evidence in the argument that the so-called establishment cannot be trusted. As long as that's the case, healing would be next to impossible.
In other words, the costs of a "stop Trump" effort could be quite substantial even if it does succeed. As I've noted, perhaps he could have been stopped months ago but most of the people now alarmed by his rise sat on the sidelines, either because they were afraid of becoming the target of his attacks or because they believed that he would eventually implode. Now, with Trump having won all but five of the first ten contests of the 2016 election cycle and seemingly on a path that will eventually get him the delegates he needs to become the Republican Presidential nominee, their efforts seem to be too little, too late and only likely to further tear their party apart.