Donald Trump Dominates Super Tuesday, Cruz And Rubio Say They'll Continue To Fight On
As expected, Donald Trump dominated Super Tuesday, putting himself one step closer to becoming the Republican nominee for President.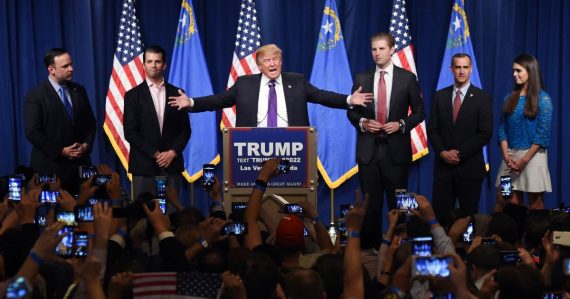 As expected, Donald Trump dominated the eleven contests that made up the Republican version of Super Tuesday, winning seven of them outright, coming in second in three, and coming in third in only one state, while Ted Cruz picked up three wins in Texas and Oklahoma, and Marco Rubio scored his first win in Minnesota, but the important thing is that the results sent Trump further down the road toward becoming the presumptive Republican nominee and that the options to stop him are quickly dwindling:
Donald J. Trump won sweeping victories across the South and in New England on Tuesday, a show of strength in the Republican primary campaign that underscored the breadth of his appeal and helped him begin to amass a wide delegate advantage despite growing resistance to his candidacy among party leaders.

Mr. Trump's political coalition — with his lopsided victories in Alabama, Georgia, Massachusetts and Tennessee, and narrower ones in Arkansas, Vermont and Virginia — appears to have transcended the regional and ideological divisions that have shaped the Republican Party in recent years.

With strong support from low-income white voters, especially those without college degrees, he dominated in moderate, secular-leaning Massachusetts just as easily as he did in the conservative and heavily evangelical Deep South.

Brandishing his Super Tuesday victories as proof of his political might, Mr. Trump said he expected to consolidate the Republican Party behind his campaign.

"I am a unifier," he told reporters at his Mar-a-Lago resort in Palm Beach, Fla., after the winners of about half the day's contests had been declared. "Once we get all of this finished, I am going to go after one person: Hillary Clinton."

Senator Ted Cruz reasserted himself with victories in his home state, Texas, in neighboring Oklahoma and in Alaska, earning a reprieve as he fends off questions about his viability. The wins strengthened his case that he is the only alternative capable of overtaking Mr. Trump.

The results were a grievous setback for Senator Marco Rubio of Florida, who has insistently argued that among the Republican candidates, only he has the political standing to compete with Mr. Trump in a head-to-head race. Mr. Rubio's backers have urged other candidates to stand down and allow him a clean shot at Mr. Trump, who is a polarizing figure even among Republican primary voters.

Mr. Cruz outpolled Mr. Rubio in many of the states that voted on Tuesday, however, especially in the South, and was the only candidate other than Mr. Trump to win more than one state. Though Mr. Rubio handily won the Minnesota caucuses, his otherwise limp finish may have cost him any leverage he had to demand that other candidates defer to him.

Still, Mr. Rubio urged Republicans not to give up hope of thwarting Mr. Trump.

"Do not give in to the fear, do not give in to anger, do not give in to sham artists and con artists who try to take advantage of your suffering," he said in Miami. "I will campaign as long as it takes and wherever it takes to ensure that I am the next president of the United States."

In the states Mr. Trump carried, there was a smattering of resistance in a band of relatively affluent suburbs, including areas outside Atlanta and Washington that supported Mr. Rubio, and areas around Boston that voted for Gov. John Kasich of Ohio.

Republican strategists have expressed fear that in the general election, Mr. Trump would struggle to win the support of suburban women and white-collar voters who might otherwise lean Republican but might recoil from his caustic and racially charged approach to politics.

Several of the states that Mr. Trump won, including Massachusetts and Tennessee, had appeared at one point to be favorable to a mainstream opponent, and Mr. Rubio and Mr. Kasich both visited those states often.

But no candidate invested more in success on Super Tuesday than Mr. Cruz, who spent many days last year campaigning across the South, far afield of the first nominating states, Iowa and New Hampshire.

Mr. Cruz has argued consistently that only a candidate with an unblemished conservative record could mount a strong challenge to Mr. Trump over the long run. The outcome in Texas, the most populous state to vote on Tuesday, will also increase his delegate count as candidates jockey for position in a potentially contested Republican National Convention.

Still, Mr. Cruz also showed the limits of his political reach: He did not come close to Mr. Trump in much of the South, he failed to resonate in more moderate Massachusetts and Virginia, and the lineup of states that vote later in March may be less hospitable to his brand of rigidly ideological politics.

Mr. Cruz, appearing in Stafford, Tex., boasted of his victories but acknowledged that the splintered opposition would make Mr. Trump difficult to stop.

"So long as the field remains divided, Donald Trump's path to the nomination remains more likely, and that would be a disaster for Republicans, for conservatives and for the nation," he said, referring to Mr. Trump as "profane and vulgar."

Mr. Cruz did not directly mention Mr. Rubio, but pleaded with those rivals who had not had similar successes in the primaries to "prayerfully consider coming together" to halt Mr. Trump.

Both Mr. Cruz and Mr. Rubio have adopted a survival strategy geared less toward defeating Mr. Trump outright than toward denying him the delegates he needs to clinch the nomination before the summer convention.

(…)

Without some sort of extraordinary external intervention or an act of political sacrifice from one or more of his opponents, the only real prospect of stopping Mr. Trump's nomination may come through the political equivalent of a gang tackle, with a cluster of candidates effectively banding together to accrue delegates and deny Mr. Trump a majority.

Advisers to Mr. Rubio and Mr. Kasich have acknowledged that a contested convention may be their most realistic chance at claiming the Republican nomination, and that they may have a better chance of blocking Mr. Trump from winning the 1,237 delegates he needs to be nominated than of taking a majority themselves.

Mr. Trump added at least 190 delegates, for a total of over 270, extending his advantage to more than triple the delegates of Mr. Cruz, his nearest rival. But because Tuesday's contests allocated delegates proportionally, his victories fell short of offering him an impregnable lead. Mr. Rubio, however, was in danger of failing to reach the vote threshold, 20 percent, to receive any at-large delegates in Alabama, Texas and Vermont.

In a sign of his determination to lock up the nomination swiftly, Mr. Trump visited two symbolically important states on Super Tuesday: Ohio, where Mr. Kasich is governor, and Florida, Mr. Rubio's home state.

Both states are set to award their delegates on March 15, and Mr. Trump hopes that by winning both, he can drive his opponents out of the race.

Mr. Trump trained his fire on Mr. Rubio in his Palm Beach news conference Tuesday night, belittling him as "a lightweight" and a "little senator."

He dismissed threats from a handful of Republicans who have said they may back a third-party candidate over him. On the contrary, he insisted he would expand the Republican coalition. "We are going to be a much bigger party, and you can see that happening," he said.

Two other candidates, Mr. Kasich and Ben Carson, a retired neurosurgeon, appeared unlikely to gain any momentum on Tuesday.
It wasn't an overall dominating win for Trump in the manner that we've seen previously in New Hampshire, Nevada, and South Carolina, but it was a winning night nonetheless. For a time, it appeared that Trump might fall short in Virginia, with the state remaining two close to call for much of the night thanks to a stronger than expected showing by Marco Rubio, who did very well in the heavily populated suburbs around Washington, D.C., but not well enough to make up for Trump's advantages elsewhere in the state. In the end, Trump won the Commonwealth by roughly three percentage points and appears to walked away with at least 17 of the state's 49 delegates. Similarly, as the returns came in from Vermont John Kasich was battling very closely with Trump for most of the night but, while Kasich came a lot closer than anyone expected, in the end Trump managed to pull off a narrow two-point victory and at least six of the state's sixteen delegate. Since Vermont was a state that most candidates seemed to ignore, one can only assume that Kasich's strong performance there is related to some extent to the large amount of time he spent campaigning in neighboring New Hampshire, where he came in second place. It's likely that much of the media campaign, as well as the free coverage from local media, bled over across state lines and helped Kasich's cause. Finally, Trump's win in Arkansas was narrower than elsewhere in the South but, to be fair, that state had not been polled much at all and the one recent poll there, from January, showed Ted Cruz narrowly leading in the state. Excepting those three cases, though, and of course the four states that Trump did not win, the night went as well for Trump as previous primary nights as he racked up double digit wins and walked away with the lion's share of the delegates in four states. By the end of the night, delegate estimates showed Trump with at least 285 delegates, meaning that he picked up at least 204 delegates last night, giving him a 124 delegate lead and 198 delegates over Rubio. In other words, Trump has 50.35% of the delegates that have been handed out so far and, just a month into the race, just under one-quarter of the delegates needed to win the nomination.
Ted Cruz, meanwhile, ended up pulling off enough victories to end many of the doubts that had built up around his campaign, but it's unclear where he goes from here. Cruz's win in his home state of Texas was expected, of course, and its size was sufficiently large that it ensured that he walked away with the most delegates from Lone Star State, in the end though he doesn't get much credit for this win since it was largely an expected one. His win in Oklahoma was somewhat less expected but the fact that he won by six percentage points but only appears to have won two more delegates than Trump demonstrates the pitfalls of a proportional delegate allocation system in that the value of a win can end up being downplayed when it doesn't translate into a significant net increase in the number of delegates won. The same can be said of Cruz's win in Alaska, where he beat Trump by roughly three percentage points but appears as though he will walk away with only one more delegate than Trump won, thus blunting the impact of a win in a state that had largely gone under the radar.
Marco Rubio, meanwhile, was likely the most disappointing candidate of the night. As I noted above, for several hours it appeared that he might be on the verge of shaking the race up a bit with a surprise win in Virginia, but when that fell through people began to openly wonder if he was going to go another night without winning a single race, an outcome that would have thrown the very logic for his campaign into significant doubt. In the end, though, Rubio pulled off a win in the Minnesota Caucuses, as many analysts had expected he might be able to do given that his campaign had put resources into the state while others largely ignored it. As with Cruz's victories outside Texas, though, the impact of Rubio's victory was blunted somewhat by the fact that he ended up getting the same amount of delegates as Ted Cruz, and only four more than Donald Trump, who finished fifteen points behind Rubio for his first third-place finish of the campaign cycle. As such, while Rubio can finally claim to have on a contest, it was something of a pyrrhic victory as the doubts about his continued viability will only continue for the next two weeks heading into Florida.
With Super Tuesday behind us, it's more accurate than ever to say that Donald Trump put himself one step closer to the Republican nomination, although not close enough yet to claim to be the presumptive nominee. Had Trump run the table last night, perhaps, he'd be able to make that claim, but the odds of that happening were never very good and the fact that it didn't happen should not be taken as a sign of weakness or a sign that his campaign is on the verge of faltering notwithstanding the wishes and hopes of Republican insiders. As things stand, Trump has won ten of the first fifteen states of the 2016 primary season, he's come in a fairly strong second place in four others, and in third in only one state of arguably minor consequence. He has the majority of the delegates allocated to date, and one-quarter of the number needed to win the nomination. And, he ended the night having largely vanquished the arguments raised against him at last week's debate. If the current trends continue, then he will likely end up winning states such as Michigan, Florida, and Ohio, and putting an effective end to the race.
Things aren't looking quite so sunny for Ted Cruz, Marco Rubio, and the Republican establishment that is still dedicated to an effort to stop Trump. To a large degree, Cruz's entire game plan going back to the summer had depended on the idea that, in addition to getting whatever wins he could get in Florida, the Texas Senator would then end up sailing through the Super Tuesday "SEC Primary" states across the state. Instead, Donald Trump ended up taking the majority of those states by overwhelming margins and Cruz is now left wondering where he can pick up wins next. The answer to that question isn't an easy one since we've largely run through all of the states where Cruz's advantages among evangelical and "religious right" voters that could be expected to help him and it's hard to see Ted Cruz playing well in the Midwest, the mid-Atlantic, or the Western states with the possible exception of states like Wyoming and Idaho where a paltry number of delegates are at stake. Rubio, meanwhile, still has all the problems he did the day before yesterday. While the win in Minnesota and close second place finish are something, the truth is that his third place standing in the delegate race right now is a real problem for him. At this point, all of Rubio's future hopes depend on Florida, where he continues to trail Donald Trump. If he manages to win there, then he will likely stay in the race even though his path to victory is entirely unclear. If he loses in Florida, meanwhile, then there would really be no reason for him to continue in the race and his political career would, arguably, be over since a loss in his home state's primary would likely doom any hope for a run in the state again in the near future.
In other words, last night was a very good night for Donald Trump and not such a great night for his opponents. While Trump hasn't sewed the race up quite yet, he's very close to doing so and could largely do it with wins in Michigan, Florida, and Ohio over the coming two weeks, and he is presently leading in all three states. For Trump's opponents, though, the path to victory seems to be becoming a tougher one as the week go on. If Trump wins all three of the big states coming up, or at least two of those three, then it will become next to mathematically impossible for them to catch him in the delegate count or deny him a majority. From there, the only way to stop Trump would be to stage some kind of floor fight on the convention floor in Cleveland that would deny Trump the nomination even if he has a majority, or a substantial plurality, of the delegates. That would be a move that risks fracturing the Republican Party in a way that could have repercussions for years to come, though, and would likely only inure to the benefit of Democrats.