It's A Matter Of Trust
It's no wonder that our politics system is a mess when you realize that people don't trust each other much anymore.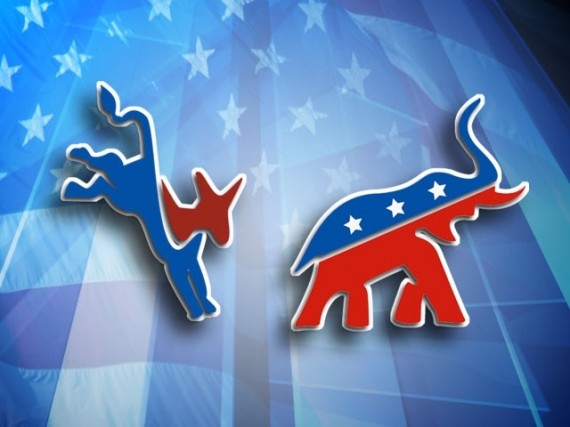 Chris Cilliizza passes on this animated GIF showing the changing responses to a basic poll question — "Generally speaking, would you say that most people can be trusted or that you can't be too careful in dealing with people?"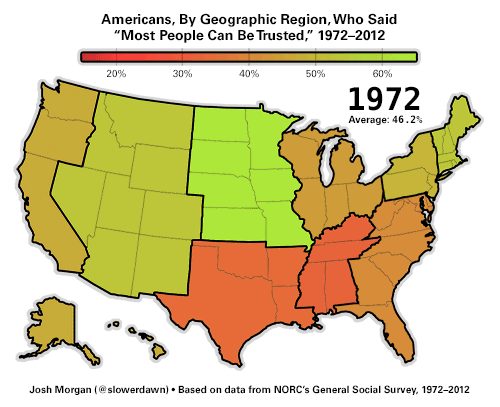 As Cillizza notes, it doesn't paint a pretty picture:
As Morgan notes in a fascinating Medium piece on our declining trust in one another: "The percentage of all respondents who said that most people can be trusted dropped from about 46 percent  in 1972 to about 32 percent in 2012."

Morgan doesn't attempt to draw a single conclusion for the "why" behind  our erosion in trust.  And, there's no way a single factor is responsible for such a large societal change. But, he does not that the ubiquity of television, the Internet and smart phones have fueled less direct human interaction and, therefore, perhaps also fueled a lack of willingness to give others the benefit of the doubt.
I'm not sure it's fair or accurate to single out technology as the reason that our basic trust in our fellow Americans has declined over time, although it no doubt does contribute to it to the extent that human interaction is less common than it used to be. Perhaps it's also just the case that we've become more cynical over time and that the pressures of rough economic times have hardened our edges.
To some extent, this lack of trust reflects itself in our politics, where people on both sides of the political aisle are far more likely to believe the worst about the people on the others side than they seemed to be in the past. It's not enough that you might think your political opponent is wrong, but it's almost now a requirement that such a person be classified as someone who is evil, has nefarious motives, is being duped by others into taking the "wrong" position, or is just plain stupid just because they disagree with you. And, yes, this is something that both sides do all to frequently. It's not healthy for our political culture, or for the nation as a whole, and maybe it wouldn't be so prevalent if we got to know our fellow Americans better and learned that they can be trusted.