Abortion Comments Could Pose Problems For Herman Cain
Herman Cain's comments about abortion could pose a problem for him with social conservatives.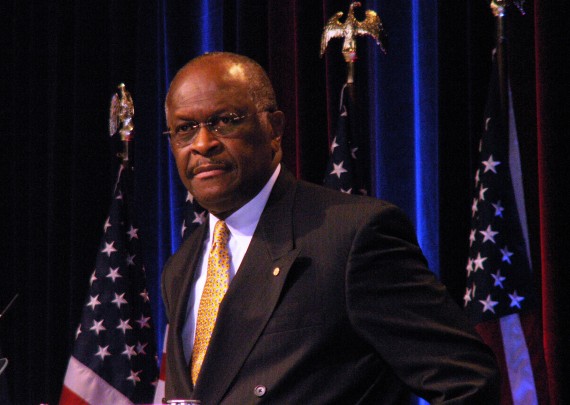 Herman Cain's comments on abortion during a CNN interview aired last night could pose problems for him with social conservatives:
Herman Cain might have some more clarifying to do on another serious issue after he gave a muddled answer on the question of abortion.

Appearing on CNN's Piers Morgan show Wednesday night, Cain said that while he personally believes that life begins at conception, and is against abortion in all circumstances, "it ultimately gets down to a choice that that family or that mother has to make," in cases of rape or incest.

"It gets down to that family. And whatever they decide, they decide. I shouldn't try to tell them what decision to make for such a sensitive decision," Cain said.

Morgan then pressed Cain on the issue, asking if as president, his views would be a "directive."

"I can have an opinion on an issue without it being a directive on the nation," he said. "The government shouldn't be trying to tell people everything to do, especially when it comes to a social decision that they need to make."
Over at Mediaite, Alex Alvarez notes that Cain also seemed to depart from the social conservative line on homosexuality:
Morgan asked Cain about his thoughts concerning homosexuality. Cain explained that, because of his religious beliefs, he believes that homosexuality is a sin in addition to considering it a choice. Morgan seemed not to buy the sincerity of Cain's belief in the latter, but Cain held his ground, adding that neither Morgan nor anyone else has been able to offer him sound scientific evidence to convince him that a person is born homosexual rather than choosing to become gay at some point in one's life. That said, he believes gay Americans have a right to make that choice, and "you don't see me bashing them for it." Furthermore, "I respect their right to make that choice," even though "I don't have to agree with it."

Later, Cain conceded that Morgan "might be right" about homosexuality being something inherent and not chosen, and maintained that homosexuality as choice is "his opinion."
This wasn't the first time that Cain had said something like this. He made similar comments on Meet The Press Sunday, although they didn't get much notice at the time:
Days ago, Cain stuck to a pro-life theme on abortion but also said it was the family's decision in cases of rape or incest or the life of the mother. Cain pressed a no compromise pro-life view on abortion during a weekend interview with Meet The Press, and told host David Gregory he would not support abortion, including in cases of rape or incest.

"What about abortion?  You want to overturn Roe v. Wade.  Could you support or condone abortion under any exceptions at all?" Gregory asked Cain.

"I believe in life from conception, and I do not agree with abortion under any circumstances," Cain responded. "Not for rape and incest because if you look at, you look at rape and incest, the, the percentage of those instances is so miniscule that there are other options. If it's the life of the mother, that family's going to have to make that decision."

Pressed on the life of the mother exception, Cain stuck to his answer, saying, "That family is going to have to make that decision."
And back on October 11th, he said almost the exact same thing in an interview with Fox Business Channel host John Stossel:
As you can expect, Cain's comments aren't sitting too well with many on the right. One Red State diarist said that Cain is basically pro-choice:
There's a simple term for people who feel that abortion is personally wrong, but that the government shouldn't do anything to prohibit it: we call those people "pro-choice." This position is fundamentally indistinguishable from the positions taken by Mario Cuomo, John Kerry, or pretty much any other nominally Catholic Democrat you want to name.

Nobody who doesn't work for NARAL believes abortion is a good thing; the only question that is of significance to a politician is whether you also think it should be illegal. And if you believe, as Cain allegedly does, that life begins at conception, it defies logic and common sense to say in the next breath that the government has no business making it illegal to prevent someone from taking that life. If life begins at conception, but the government has no business regulating abortion, then you must also of necessity believe that the government has no business regulating any form of homicide. Of course, no one truly believes that, which is why the formulation espoused by Cuomo, Kerry, and Cain is really just a focus-group tested way of making people feel better about the fact that you're pro-choice.

I'll be very interested to see if Cain attempts to walk back or qualify this position in the coming days. I had been seriously considering giving Cain a chance (I haven't been all that interested in the 9 9 9 brouhaha since I give it 0% chance of passing Congress), but this is a dealbreaker for me. And if this really was a mistake on this part, then somehow he has gone his whole adult life without ever seriously considering the question of abortion or being aware of the standard Catholic Democrat dodge on the issue. This does not necessarily paint Cain in a good light, but it is certainly better than the alternative: that Cain believed and meant what he said, and is a pro-choice candidate.
As the writer goes on to note, there appears to be very little difference between what Cain has said on more than one occasion and what John Kerry said in 2004:
"I oppose abortion, personally. I don't like abortion. I believe life does begin at conception."

…

I cannot tell you how deeply I respect the belief about life and when it begins. I'm a Catholic – raised a Catholic. I was an altar boy. Religion has been a huge part of my life, helped lead me through a war, leads me today.

"But I can't take what is an article of faith for me and legislate it for someone who doesn't share that article of faith, whether they be agnostic, atheist, Jew, Protestant, whatever. I can't do that. But I can counsel people, I can talk reasonably about life and about responsibility.
Another conservative blogger notes that the position Cain appears to be taking is one that is commonly heard from Democrats:
The rape and incest exception is one held by many, even most, pro-life politicians. It's an unprincipled stand that undercuts the proponent's claim that he believes the unborn child is a person and therefore should be protected by law. (Rick Santorum explained that in an August debate.) But it's a common political position, held, I suppose, out of weak-mindedness, or just to take the edge off what they fear will be seen as a scary, extreme view.

Thing is, if that's your stance, you state it upfront instead of going around proclaiming that you're opposed to abortion under all circumstances, with no exceptions. Personal opposition doesn't count here. Sorry. That's the refuge of mealy-mouthed pseudo-Catholics like Kennedy, Pelosi, and Biden, to name just a few.
It strikes me that it's going to be hard for Cain to walk these comments back, which is what social conservatives are going to want from him. If he'd said it once, it would be easy, perhaps, but we've got him saying the same thing at least three times now and video tape lasts forever. Whether this is a case of Cain misspeaking, or whether these are his honest beliefs, it doesn't really matter. He's strayed off the reservation on an issue that is make-or-break for a significant electoral bloc in the Republican Party, and that is likely to be a problem for him. I wouldn't be surprised to see candidates like Rick Santorum, Michele Bachmann, and Rick Perry jumping on this one relatively quickly, especially in states like Iowa and South Carolina where social conservatives make up a large portion of the GOP.
Here's the video of the full interview via Mediaite: